Illawarra Flame tree. Taken on a Sigma 17-50mm F2.8 EX DC OS lens, focal length 21 mm, ISO 100, 1/1250s.
It has certainly been a year of exciting travel and Mr NQN and I are on the last trip of the year: a road trip to Berry on the South Coast, about two hour's drive from Sydney. The late start on Friday night means that we don't get away until a bit later than planned and we end up leaving about 6:30. By 8pm he is famished and yawning so we stop off at Kiama on the way about 30 minutes before we're supposed to arrive.
After a bit of furiously quick googling, we find Hanoi on Manning. Although we don't have a booking, there's thankfully one table for two free. It's a full restaurant this evening and looked the most full of the town's restaurants. We watch as servings go past-they're generously sized. We order a few items to share and despite how busy the restaurant is, they come out quickly.
Banh Xeo Crepe $12.90
The banh xeo crepe is very crispy on the outside and filled with prawns, pork and bean sprouts inside. The actual crepe doesn't have much of the dried mung beans inside which often gives it added texture and flavour. It also comes with herbs, soft lettuce and nuoc cham dipping sauce.
Grilled king prawns Ban hoi tom nuong $23.90
I love a bit of interaction and these rice paper wraps are fun to make. The grilled prawns actually come in a sauce similar to a caramel fish with black pepper and garlic.
Pho bo tai nam $16.50
The beef pho comes out in an enormous bowl. We noted that the pho was ready but since we had a small table and there were lots of bowls, they didn't want to bring it out in case we had no room so they asked us whether we would like it yet which was a thoughtful touch. The pho broth has a sweet edge to it but is quite good. Mr NQN adds the extras like lime, herbs, bean sprouts and a sweetish plum sauce and digs in. The beef is tender, the noodles slippery and the bowl cavernous, just like he likes it. Refreshed and revived, we hit the road again and arrive half an hour later at our accommodation for the weekend: the Drawing Rooms of Berry.
Our room is actually a self contained split level lodge on the sprawling grounds. Owner Toni is friendly and shows us to our lodge letting us know that their resident wombat Beryl is active at night so we might need to walk slowly around her. We're no challenge for Beryl whom we see darting past across the lawn at lightning speed-we always assumed that wombats moved slowly but not Beryl. She has rockets under the little legs.
Downstairs is the lounge, bathroom and kitchen area with a king sized bedroom with en suite. The kitchen is modern and Toni has filled it with a good range of local Berry breakfast provisions. There's the ubiquitous Berry Sourdough bread, two local jams from South Coast providores, Berry tea shop teas, home made muesli as well as the commercial kind, fruit, Berry Butchery bacon, eggs, proper coffee, South Coast milk and an assortment of spreads. Plus, an all important bag of Belgian chocolate hearts in milk and white chocolate.
The lounge looks comfortable with a large televisions and reception has a large collection of DVDs to borrow. There is a cast iron stove for fires and the bathroom is spacious and has a nice range of toiletries including Molton Brown shampoo, conditioner, body lotion and shower gel as well as soaps and body balms from NZ brand Scullys and soft towels.
We make our way upstairs to the loft bedroom where there is another king sized bed, the room toasty warm from when Toni thoughtfully put on the air conditioning. Two soft, warm robes lie at the foot of the bed. We choose to sleep up here as we have an early rise the next day so the sunlight won't bother us. There is no internet in the lodge, even with Telstra, although there is at reception and Toni will furnish you with a password to use their wifi.
Foodscapes Food Tours
Jacqueline Weiley
The next morning, I wake up excited because I'm spending the day doing one of my favourite things: doing a food tour. The lovely Jacqueline Weiley from Foodscape Food Tours picks us up from our lodge at 9am and we set off for our food adventure for the day where we'll visit six hand picked places in the Berry to Nowra region to dine, wine and shop. Jacqueline is a passionately keen promoter of the region's gems and her popular Foodscapes tours are held twice a month for scheduled public tours. She is also available for private tours with a minimum of eight people.
The Berry Tea Shop
We start the tour in the heart of Berry at The Berry Tea Shop. Do you ever meet those people that have a real knack for creating a thriving business? Paulina and Cliff opened up The Berry Tea Shop two and a half years ago. Their previous business was in Woollooomoloo at Collier's Cafe where they served sandwiches in a business so successful that one day Cliff developed heart palpitations trying to handle the amount of business.
Paulina and Cliff Collier
"I survived on coffee and adrenaline" Cliff says. That health scare prompted a move to greener pastures and having holidayed in Berry, they decided to open a tea store. It's a somewhat divergent business for Pauline whose family have coffee running through their veins with generations of baristas.
They sought to replicate country style hospitality serving tea, scones and cakes. "Tea is about taking that time. It's the ritual of tea and cakes" the effervescent Paulina says. Cliff is British and has definite opinions on teas and conserves and this has influenced their choices and care when it comes to the tea. They can have a tea in their store within two weeks of it being picked in Sri Lanka.
They eschew artificially flavoured teas and concentrate on classic teas with around 36 varieties like white peony, green teas and black tea blends. Their chai is an intoxicating mix strong in cardamom. Each day, customers can sample one of their teas and today's is Christmas tea which is like Christmas in a cup, so popular they sold 6.5 kilos in the last week and a half. As part of the tour, they also give us tastes of the green tea and the white peony.
The first day they opened, it was an instant hit and each table was taken and there was a crowd in the store. Enough to make Cliff quake in the back in panic. "I didn't want this!" he says. Oh and did I mention the store? Jacqueline tells us that she is used to losing people in the store, well as far as losing them shopping. Strap your credit card down because mine went a little awry here buying Christmas presents for friends and family.
Tea themed earrings-I had to buy the gold teapot and cup on the top right
And at the back of the store is their display of cakes. As Jacqueline is a reader of NQN, she knows how much I love cakes and normally a stop usually includes tea tastings but today we're trying the cakes too (for research purposes!). I pick a scone which is made locally and Mr NQN has a slice of hummingbird cake from Milk Wood bakery, the Berry Sourdough bakery's newest premises. The scone comes with Cuttaway Creek's raspberry conserve and clotted cream (yay!) and is an excellent specimen, one of the best I've tried. It's large, fluffy and moreish and comes in two varieties: date and plain.
The hummingbird cake has large chunks of pineapple and shredded coconut and a layer of cream cheese icing. Out of the two though, the scone is the pick of the two. And the most important question, how was the tea? Mr NQN's chai made with milk and served with honey is excellent as is the fragrant Earl Grey.
South Coast Providores
Just a short walk away is our next stop: South Coast Providores. Their distinctive rounded bottom jars were spotted on the kitchen counter at the Drawing Rooms of Berry. Carole and Ian changed their life from promoting New Zealand wines to creating hand made, small batch conserves and preserves using local produce. "And I've been poor ever since!" Carole says laughing.
Carole Ruta
The author of three cookbooks and food judge Carole first started making them for her client's cellar doors but they developed a following and now she uses local grower's plums, citrus and any excess fruit. She takes fruit in batches as small as 3 kilos. Ian is a winemaker who has made wine out of apples and who swears, the taste is identical to a chennin blanc.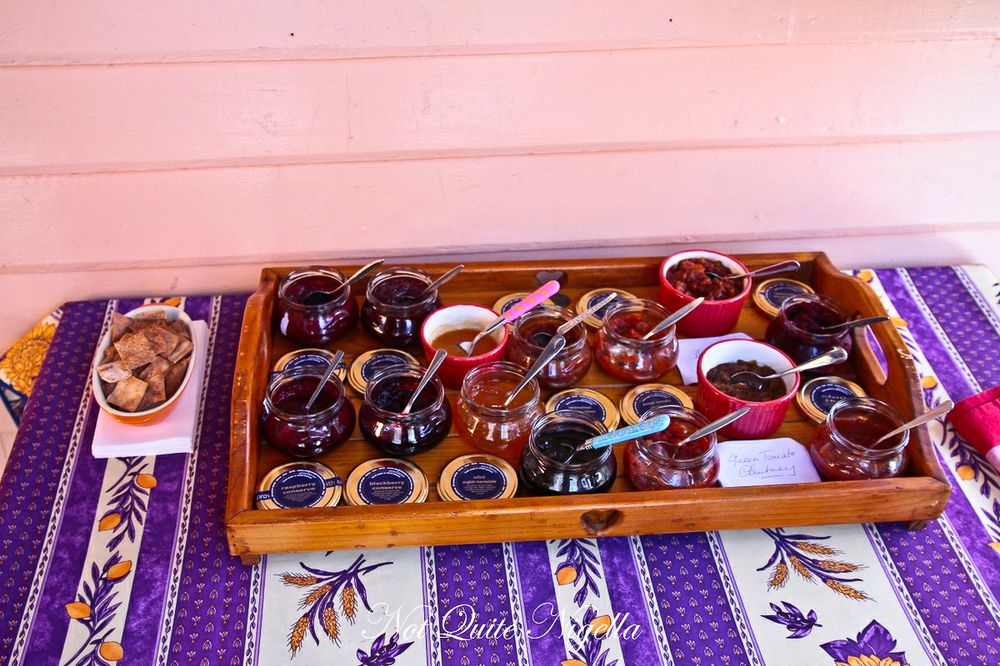 A display of plum puddings and Christmas cakes has depleted rapidly and less than a dozen are left of Carole's 280 Christmas cakes and puds. We go outside to try some of the preserves. Usually these would be served with sausage rolls to sample the chutneys and sauces but we try these with vineyard crackers. The beetroot and red wine relish is sublime, the mango and chilli sauce perfect for seafood and the Seville marmalade ideal for those seeking the authentic bitterness of the Seville orange.
Mr NQN likes the rhubarb and preserved ginger conserve which has little cubes of preserved ginger in it (I buy him a pot for his Christmas hamper). Carole explains that she makes conserves here in the traditional French way rather than jams which is a more complex process as it involves steeping the fruit in sugar and then heating it until the pectin just sets.
Ian Gray
Feast Farms at Foxground
Jess Taylor
It's a short drive to Foxground where we learn all about the ins and outs of an intriguing "farm date" concept called Landshare. They match property owners with growers that want to reconnect with growing on the land but have no land to grow on. We meet Jess who uses half an acre on a Berry resident's property free of charge. The benefit for the land owners is improvement in the quality of their soils through her organic and biodynamic farming principles while she seeks to make a living growing local vegetables for markets, restaurants and stores. Each contract between the land owners and the grower is different, many but not all farm organically and some may pay rent where appropriate. And it's a popular concept with Jess telling us that ten landowners are wanting her to grow on their land.
The hardest part of getting the previously cattle land ready was getting rid of the grass. To do this, she used two pigs who she says are "excellent tillers." Once a local farmer saw what she was doing, he offered her the use of his tractor which she gratefully accepted for the cost of two cauliflowers. She now grows heirloom varieties of vegetables and plenty of leafy vegetables. The only item that she can't grow because of the nature of the contract is perennials like rhubarb and asparagus in case the land owners sell.
Whilst there is demand from local chefs like Berry Sourdough bakery's John Evans, she is not quite yet at the stage where she has enough produce to supply restaurants. She sells at the Jamberoo markets and some cafes and restaurants and she also has a business localfeast.com.au where she drops off South Coast food hampers with local produce and ready made meals to people's accommodation.
Calvin and Hobbes are the two pigs that live here. After a heart breaking time where Jess's two pigs P1 and P2 ended up as hams, she vowed that the pigs would never be destined to become dinner and now they keep her company while she farms "They're my best friends" she laughs.
Blissful stomach rubs
The Butterfactory Cafe and Restaurant
Our next stop is lunch at the 19th century Butter Factory, no longer a butter factory but converted to become a restaurant as part of an unexpected shopping precinct in nearby Nowra, about 30 minutes' drive away. Here, a collective of restaurants, cafe, shops and antique stores are worth a stop in themselves to pick up little gifts or antique gifts or old school lollies at I'm In Heaven, a lolly shop cum bookshop cum everything else store.
We take our seat at The Butter Factory which is a light filled white walled room with an adjoining private room which is popular for weddings. Many of the menu items are local, as denoted by the red asterisks and some of the produce is estate grown too. We choose from the Foodscapes menu and wine is also included in the lunch. Mr NQN selects a wine from the Shoalhaven wine region to go with his meal. It's a Big Spotty Unwooded Chardonnay 2008 by Bawley Vale Estate.
House baked bread with dukkah and olive oil
They bring us a house baked loaf of bread with a thick crust and a lovely soft interior scented with needles of rosemary. We dip the warm slices in the Contadino olive oil and house made dukkah which is strong and salty.
Szechuan salt and pepper squid with fresh green salad and nam jim dressing
The szechuan squid is generously portioned, tender and lightly spicy and served on a bed of salad with a sweet nam jim dressing which is sweet reminiscent of a hoi sin sauce base.
Crispy skin braised pork belly, five spiced apple puree, scallops, greens and calvados reduction
The crispy skinned pork belly is a very generous serve and the pork belly has a crunchy crispy crackling although underneath is a little dry. It sits on a bed of fragrant five spiced apple puree, some juicy scallops with a calvados reduction.
Salted caramel delice, cream chiboust, vanilla poached pineapple $12
Dessert isn't usually included in the tour as time is time is limited and we cover a lot in the eight hours but Jacqueline thoughtfully orders a couple of desserts so that we can try them. The caramel delice was a thin, long slice that was similar to a grainy caramel slice but without the chocolate layer. We didn't really detect much salt in the very sweet slice but there was a contrast from the airy cream chiboust and a little tower of vanilla poached pineapple.
White chocolate mousse, mandarin jelly, chocolate soil $12
The white chocolate mousse came out as three creamy, luscious dollops surrounding a little shot glass of mandarin jelly cubes. The chocolate soil was like finely pulverised Milo and gave the smooth and creamy mousse a nice contrast.
We wander around the precinct where we browse Oceans Breeze and I buy a soy candle in a Christmassy sugared fig and cinnamon (for the Christmas table of course at Christmas dinner ;) ).
Our penultimate stop for the day is at Riverside Strawberries on the banks of the Shoalhaven river. On the way we notice a few honesty stalls including this one that sells pickles and jams. All of the preserves are made using produce on their land and we stop and pick up a fig jam on our way to the strawberry farm.
Riverside Strawberries
Along with hydroponic strawberries, Neil and Jo Woolley grow a range of citrus and other interesting fruit like Irish strawberries (said to be a hallucinogenic fruit) and they also keep an enormous pig called Crackles (sold to them as a miniature pig!). The business originally started as a plant nursery and has now evolved to become a strawberry business. Each year, they buy new strawberry caulks and plant them in cocoa peat and water using capillary action to the roots and above. The cocoa peat allows them to grow without soil so there is less disease. They also pick the strawberries when ripe.
This year they sold 1.5 tonnes of strawberries. The strawberries have a lovely sweetness to them although he notes that because there hasn't been much rainfall (they've received 6 inches in 6 months), they aren't as juicy as they normally are. Neil tells us that his father told him that irrigation keeps the crop alive while rainfall gets it market ready.
One of their cutest inhabitants is Teddy, the Babydoll sheep named because he looks like a teddy bear and there are also Dorper sheep that don't need shearing-to get rid of their wool, they rub up against the fence and before long, they look freshly shorn.
Crackles the not so miniature pig
Two Figs Winery
Jacqueline ends her tour with one of the most spectacular views of the area at Two Figs Winery. At the top of one of Mont Coolangatta's foothills, it overlooks the Shoalhaven River and the ocean to the left. A tour would usually start with Shane taking us outside to the Chardonnay Block with each of us with a glass of chardonnay in our hands. Today, it's gusty so he shows us the early grapes before we adjourn inside. The vineyard was planted in 2003 and soil is clay loam on shale. The conditions grow grapes with a natural acidity so that no acid or sugar adjustors are needed. The chardonnay block is usually the first block picked every vintage season.
Shayne Bricker
We try some of the wines and they're interesting and complex. I particularly like the 2012 Sunday Afternoon and the Dallas Shiraz. Shane notes that whilst critics would never award the Sunday Afternoon because of the residual sugar, as the most popular bottle its sales outstrips other wines 2 to 1. We try the Chambourcin on Jacqueline's recommendation and it's another favourite with its earthy tones and I can easily imagine this pairing well with rustic or earthy food. He tells us that it's a wine that people either like or dislike because of the earthiness. And for dessert? The 2012 Sticky fig is a sweet drop that is all fresh fruit, without that thick, syrupy texture often associated with dessert wines.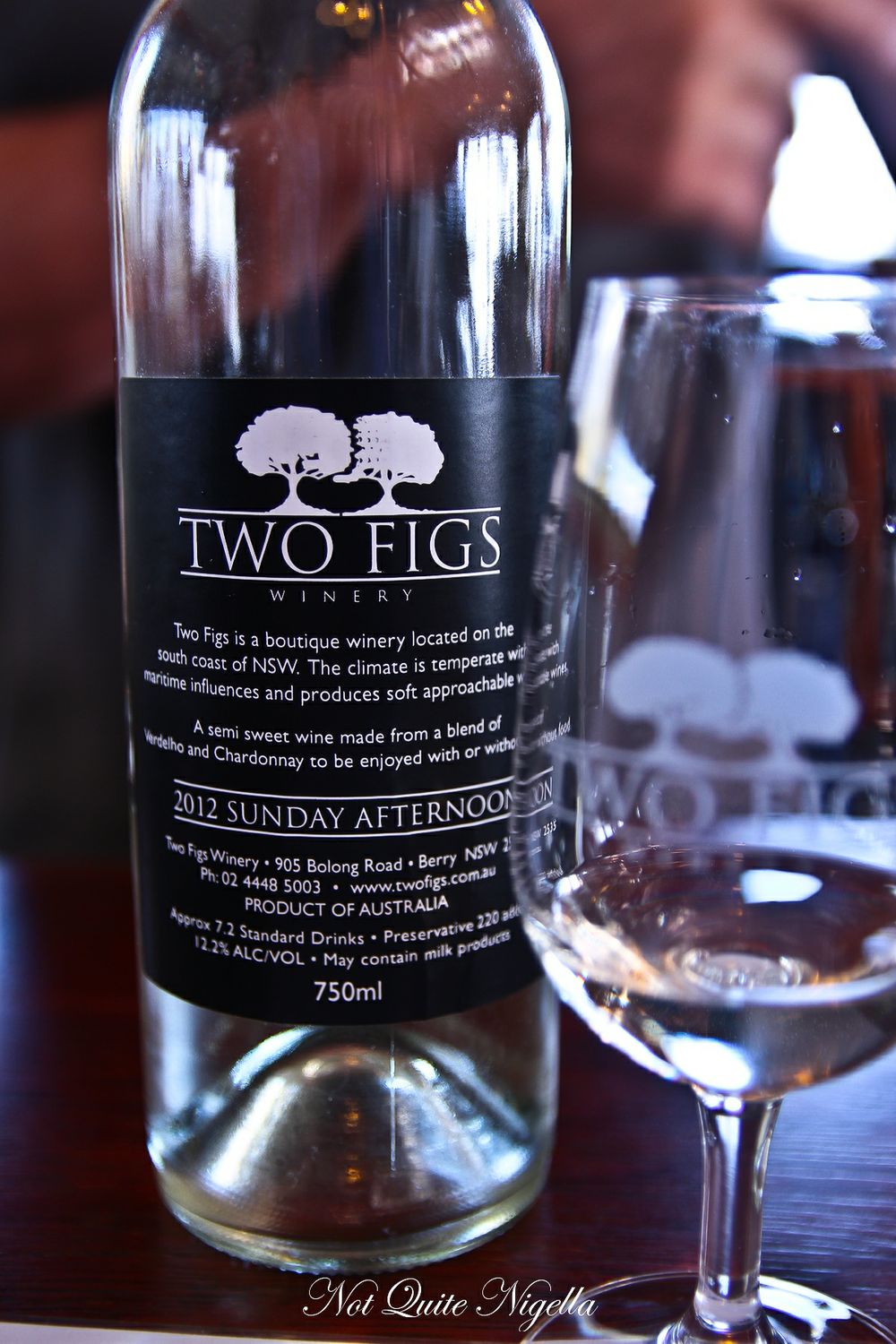 We suddenly realise that it's time to go and the day has flown by and it feels like midday but it's actually 5pm. We gather our shopping and bid a fond farewell to Jacqueline.
The Hungry Duck
It's a few hours work in the lodge before we head out again for dinner tonight. Our meal is at The Hungry Duck and all day, we've heard from everyone about how much they adore the food from here so it's a clear local's favourite. There is a la carte, a 5 course or a 9 course banquet and it is BYO except for Friday and Saturday nights. Service is personable and polite but never stuffy. The focus here is on pan Asian food from Japanese, Chinese to Thai with little influences from chef David Campbell's friendship with Peruvian chef Ricardo Zarate.
Crumbed quail eggs with ponzu mayonnaise
We started with a crumbed quail egg each with a thin layer of crumbing and a gloriously runny yolk. Crispy on the outside and soft and gooey on the inside, it came with a tangy ponzu mayonnaise.
Sashimi of yellow fin tuna with fresh Tasmanian wasasbi
There were four neat squares of creamy yellow fin tuna with soy, herbs, oil and freshly grated Tasmanian wasabi which is a softer, less strong wasabi than the commerical powdered variety and it gives flavour rather than sinus clearing.
Tempura zucchini flowers with aged soy and citrus
These very crunchy and hot tempura zucchini flowers were filled with a Japanese style rice with a slightly sticky texture to it and they're dipped in tempura batter and deep fried til crunchy and then seasoned. They recommend using hands to dip them in the aged soy and citrus.
Carpaccio of alpaca, teriyaki sauce, sesame and chives
Alpaca isn't a particularly gamey or strongly flavoured meat and this carpaccio is thinly sliced and much of the flavour comes from the teriyaki sauce, sesame seeds in white and black and the chives. It's a light, lovely dish.
Home made steamed pork buns
The home made steamed pork buns are hand made and made a la minute or to order. They're the item that everyone told us about and they're indeed worth ordering. The pork char siu filling is soft and perfectly proportioned to the soft, light outer layer. It comes with chilli and white vinegar and dipping it in both, particularly the white vinegar makes for many blissful bites. They're best eaten slowly but not before ordering another few to follow ;)
Steamed blue eyed trevella with vinegared chilli broth and lemon myrtle
The steamed blue eyed trevella comes as two fillets on top of quartered bok choy, in a layer of vinegared chilli broth made fragrant with lemon myrtle and coriander. The fish was beautifully cooked, the texture moist and delicate.
Age dashi tofu, poached abalone mushrooms, daikon and wakame
OK I'll admit, I'm not a huge bonito flake fan and this was very much covered with it. I liked the tofu as it was voluptuously soft and skillfully just held together with the thinnest layer of batter. But the mushrooms with the bonito flakes were a bit too strong for me.
Caramelised pork hock with spicy green papaya salad
Course six and we're onto the heavier meat dishes and the caramelised pork hock is delightfully sticky sweet-so much so that spooning the sauce into our bowl creates strands much like toffee. The meat is soft and comes as four pieces with a spicy green papaya salad giving the rich and sweet meat, a good amount of freshness.
Red curry of duck
I'd made the mistake of thinking that the pork hock was our last savoury dish but then the red curry arrived! The duck is a very generous serve and comes in a rich red curry sauce with peas and snow peas. The duck is juicy and tender and cut into manageable portions and it's so large that we ask for what we can't eat to come home with us as we hate to see it go to waste.
Kaffir and Tahitian lime tart with creme fraiche
And then there was dessert! It was a kaffir and Tahitian lime tart with a quenelle of creme fraiche. The pastry was a little wet so we left that behind but the filling has an appealing amount of lime tartness and the creme fraiche paired with it perfectly.
The next morning, we rose and had a healthy breakfast at the table at the lodge while looking out for any traces of Beryl. Alas, she is a nocturnal creature and there were no spottings of our fleet footed friend.
The Berry Donut van is something of an institution. Sure the service is brusque but the donuts are fantastically good and freshly fried.
We also pop our heads into the new Milk Wood Bakery to see what they have to offer. The items are similar to what you'd find at the Berry Sourdough Cafe but the location is much more convenient as it is on the main street.
Apple and olive oil cake $10.50
I can't resist buying an afternoon snack which is the apple and olive oil cake. Larger cakes are around $40 but I went for this serve which feeds one or two. The cake is very moist, sweet and aromatic.
Our last stop is at artist Lisa Madigan's shop where Mr NQN stops by for a coffee and a home made biscuit while I run around madly doing shopping. Originally from Sydney, she and her husband moved here and the shop and gallery is a showing space for her work as well as other's.
I return with bags full of shopping and Mr NQN finishes up his coffee and biscuit while I make plans for another return as I suspect that many that visit Berry do.
So tell me Dear Reader, have you ever considered a tree or seachange? Would you go sea or would you go tree? And have you ever made conserves (as opposed to jams)?
NQN and Mr NQN explored Berry as a guest of Destination NSW. The meal at Hanoi on Manning and the last day's meals were independently paid for.
Hanoi on Manning
1/10 Manning Street Kiama NSW 2533, Australia
+61 2 4232 3315
www.hanoionmanning.com.au
Drawing Rooms of Berry
www.drawingrooms.com.au
Foodscapes Food Tours
www.foodscapetours.com.au
The Berry Tea Shop
1/66 Albert Street Berry NSW 2535, Australia
+61 2 4464 1218
www.theberryteashop.com.au
South Coast Providores
89 Queen St, Berry NSW
Tel: +61 (0) 418 223 464
Open Thursday to Monday
southcoastprovidores.com.au
Feast Farms at Foxgrounds
http://localfeast.com.au/tag/foxground/
Landshare
www.landshareaustralia.com.au
The Butter Factory
739 Greenwell Point Road , Pyree
Tel: +61 (02) 4447 1400
www.butterfactory.com.au
Riverside Strawberries
135 Terara Rd, Terara, NSW
Two Figs Winery
905 Bolong Road (Entrance Back Forest Road), Berry NSW 2535
Tel: +61 (02) 4448 5003
twofigs.com.au
The Hungry Duck
85 Queen Street Berry NSW 2535, Australia
Tel: +61 2 4464 2323
hungryduck.com.au
Berry Donut Van
73 Queen Street, Berry, NSW
Milk Wood Bakery
109 Queen Street, Berry, NSW 2535
Tel: +61 (02) 4464 3033
http://berrysourdoughcafe.com.au/milkwood-bakery/
Lisa Madigan
Shop 1, 70 Albert Street, Berry, NSW
Tel: +61 (0) 415 138 909
www.lisamadigan.com.au