Our trip to Canberra was planned as we all love art galleries and the Vanity Fair Photographic Exhibition was the main draw for Queen Viv, Miss America and I. Mr NQN's Canberra motivation was a rally drive with Neal Bates - being half Finnish, he is rally car crazy and the chance to meet Neal Bates and be a passenger was a dream come true thanks to the people at Toyota!
So after having a look at the  exhibit we went to the Old Bus Depot Markets. My friend The Second Wife recommended it after her recent trip to Canberra.  In a large converted bus depot it's spacious and filled with food on the left and arts and  crafts on the right. Naturally we head straight to the food and the first stand we see is the Batemans Bay man roasting nuts. He's proffering up a scoop of freshly roasted honey macadamias to those that walk past. The packets of nuts are very reasonably priced with peanuts at $3 a packet and macadamias and pecans etc for $4.50 a 100g packet with a myriad of flavours such as green mango macadamias, wasabi and seaweed macadamias and maple toasted pecans. Of course we buy some, it's cold ok and we need some warming up or so we convince ourselves...
Our next stop is the hydroponic herbs and lettuce stand. I have to admit I have a black thumb. My herbs live by some sheer miracle but I kill plants as I forget about them (which is why I am cautious about having children!). However they have guaranteed that this is unkillable so perhaps when we get back to Sydney to Fox Studios markets I may buy a box to see whether I kill them or not.
We next stop at the organic chocolate stand where we purchase some organic chocolate bear lollipops and some dark ginger truffles.
There are also cherries from Young with a friendly couple that offer us samples of their cherry wine. They tell us that cherries are among the hardest fruits to grow when compared with other fruits. We bought a bag of Poppa's Dried Cherries from them but a lot of the cherries had the seeds still in them either whole or crushed up so I didn't use them for the cake I had intended to just in case someone accidentally bit into them and cracked a tooth.
Pretty much everything in the food section has generous plates of samples to be offered and there's none of that obligation that can often go along with samples where they stare at you and then ask if you want to buy some straight away which is a pleasant change. We sample a fantastic carrot dip from a man who also sells baklava and other delicious Middle Eastern sweets. He tells us "Try more! Try everything! Keep trying!". We love the carrot dip so much we buy two lots. It's freakishly good whilst being low fat and contains carrot, yogurt, spices and garlic.
Feeling cold and thirsty, we find a man who is making a killing with his drinks. Three vats of hot drinks hold Mulled Apple Cider, Mulled Wine and Hot Honey, Lemon & Ginger as well as a machine dispensing freshly squeezed oranges via a Lotto ball like mechanism. We get a cup of the Mulled Apple Cider (made using absolutely huge cinnamon sticks) and sip the hot beverage gratefully.
Mulled Apple Cider $4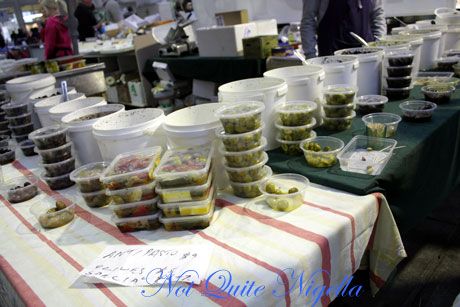 Olives, olives and more olives to sample!
Cheese, cheese and more cheese to sample!
Another plentifully sampled stand was the olive and cheese stands where fat, juicy olives and creamy soft and hard cheeses in an amazing array of flavours can be tried and purchased. They also have a sausage selection next to the cheeses.
_Sausage selection: mild on the left, hot on the right
_
There are also ready made foods and snacks to eat ranging from Ethiopian to Spanish but the stand with the crowd is undoubtedly the Crepes and Baked Potato one.
It has started raining so we have a quick browse of the collectibles section at the front of the markets (prices are higher than in Sydney generally which is saying something!) and we high tail it back to our hotel for some warmth with a belly full of samples and drink.
So tell me Dear Reader, what are your favourite types of samples? Cheeses? Olives? Chocolates? Wine? Or something else entirely?
The Old Bus Depot Markets
Wentworth Avenue, Kingston Forehore, Canberra, ACT
Open every Sunday 10am-4pm
http://www.obdm.com.au/