A friend recently said that when they think about Canberra they think about roundabouts and politicians (and perhaps how much the two have in common ;) ). But in the last few years Canberra seems to be determined to show everyone else how much there is to do here. Hospitality businesses have sprung up like daisies in spring. So much so that there's a big list of things to see and do when you're in the national capital. So if you are planning a gorgeous Autumn road trip or a weekend in Canberra, let me offer you 14 fun things to do in Canberra!
Number 1. Stay in a former Prime Minister's Room at Hotel Kurrajong. While serving as the Prime Minister of Australia, Ben Chifley declined the offer to live in The Lodge. Instead he took a room at the nearby Hotel Kurrajong. He lived in room #181 for many years while he was in and out of office and it would also be the room in which he passed away in. The room still has the original wood panelling and can be booked as a regular room.
It is said that a ghost of a man in a grey suit sometimes haunts the hotel. The ghost is said to point towards Parliament House, a sign that some take to mean that he has unfinished business there. The Hotel Kurrajong has now transformed into a gorgeously elegant hotel. If the idea of staying in room 181 doesn't appeal, try one of the front rooms. Suite #4 is my pick which is a stunning and spacious suite set in front of the courtyard area.
Number 2. Relax and eat at Joe's Bar. The concept behind Joe's Bar at the East Hotel was to have a home away from home and a comfortable setting for people to dine in. That means people don't have to get dolled up to enjoy some of chef Francesco Balestrieri fantastic Italian cuisine. The lemon salt and black pepper calamari might be one of the best you've ever had (tender calamari, crunchy outer and squid ink aioli) and their page of Joe's updated cocktails are worth trying too.
The Giant G&T or Black Lavender are both as delicious as they are pretty. The menu changes seasonally and coming up in winter are two ambrosial dishes: stracciatella di bufala with nduja and toasted bread and the oxtail gnocchi. Both will have the Italian words rolling off your tongue!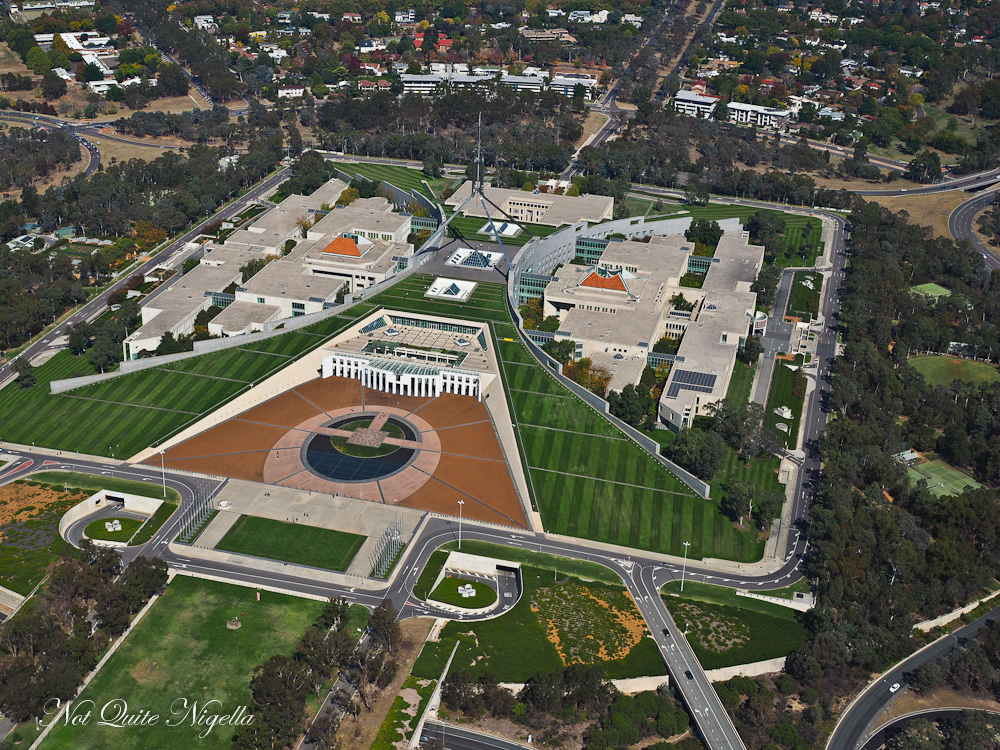 Number 3. Helicopter across Lake Burley Griffin and Parliament House. People can also book the a 1 hour helicopter ride (references to the former Member for Mackeller entirely mandatory) from Canberra Helicopters. They can take you over Parliament House (getting quite close!) and Lake Burley Griffin and they can land you at your favourite destination for lunch.
Number 4. Have a long weekend lunch with friends or family at Pialligo Estate. Which brings us to one of the best places for a weekend lunch in Canberra. Pialligo Estate has quickly become one of the must visit destinations in Canberra. Located near the airport on 55 acres, their gardens grow 40 types of fruit which supplies about 50% of the restaurant's produce. The food offering has expanded from a Farmhouse restaurant to the addition of Garden Pavilions, the perfect choice for a sunny day.
The menu differs slightly from the Farmhouse menu and is designed to be a casual, share menu. The tomatoes and prawns with Pialligo estate Olive oil are succulent and moreish. But my favourite dish was the gloriously tender Atlantic salmon with green lentils and piquant red cabbage. The salmon is so luscious that you may just not want to share. And on your way out you can buy farm picked produce or some of their charcuterie and smallgoods including their award winning bacon.
Number 5. Eat a Tomahawk Steak at the Capitol Bar & Grill. A what steak? You heard right, a tomahawk steak. At the QT Canberra's Capitol Bar and Grill the tomahawk steak is one of the most popular items on the menu and one for serious meat enthusiasts. Served with the bone on (and nibbling on the bone is a real treat) the beef is wagyu with a marbling score of 5-6 and is cooked over wood and coals to produce a delectable char and crust on the outside while remaining pink and succulent on the inside.
It is served with creamy potatoes, mashed minted peas and black truffle baked garlic butter field mushrooms. If you don't feel like something quite as substantial, then the Sicilian Japanese tuna is fantastic as is the steak tartare.
Number 6. Try the Riddle Room. Two young local Canberrans Chris Krajacic and Jesse Mount decided to create Canberra's first riddle room. Riddle Rooms or Escape Hunts haven't quite made it to mass appeal in Australia but surely that's just a matter of time. For those of you that fancy yourself as detectives or puzzle solvers they are a fantastic way to spend the time with your friends. Located in a residential area in the back of Chris's father's house don't let the simple set up fool you. It's enormously fun.
People get "locked in" to the Nightmare room where they have to solve clues in order to escape and solve the mystery. One point of difference between this one and others is that they take you through the whole process afterwards and let you know how you went compared to everyone else. Open in January this year they've had 250 groups come through. It's ideally suited to groups of 3-4 people over 16 years of age and the design and electronics were done entirely by the two of them. And don't feel bad if you can't solve it, only 37% of people solve it in the hour they are given. Could you be one of them?
Number 7. Attend the seasonal "The Forage" event. Four times a year this street food event takes place. It allows local, small food based businesses to come together and diners can enjoy the food in an outdoor festival environment.
Artisinal produce dominates with small producers and although the event is small in footprint it is heavily patronised. Bombolini sold out of 900 donuts in just under two hours while queues waited for Cubano sandwiches, soft tacos, paella and kombucha. Pull up a bale of hay and take in some crisp Canberra air!
Number 8. Have a high tea at the Hotel Kurrajong. Canberra has definitely cottoned onto the love of afternoon tea and whilst there are plenty to choose from, a fantastic one that comes up only for special occasions is one at the Hotel Kurrajong. The next one is on during Mother's Day and features a range of house made goodies. Crisp tart shells are filled with strawberries and custard or lemon curd and meringue. Sandwiches are divine and the sweets layer also features their signature crisp gingerbread biscuits. A pot of loose leaf tea is also included. Guests of the hotel throughout Mother's Day can also opt to have their tea in the privacy of their own suite.
Number 9. Drink a Ghost of Mary cocktail at Lucky's Speakeasy. The QT hotel is known for its old fashioneds. Rumour has it that Bill Samuel's Jr. the owner of Makers Mark bourbon was served an old fashioned there and proclaimed it to be the best he ever had. And while they do them (regular and one with peanut butter and jelly courtesy of American beverage manager Jared Thibault) the one that stole all of our hearts was the Ghost of Mary. This cocktail is made with pancetta and japaleno infused vodka, tomato consomme, celery bitter, American bacon salt and pickled chilli asparagus. It's spicy and savoury and gorgeous. Not for those that fear a bit of heat. It's available from May, 2016.
Number 10. Segway around the Parliamentary Circle. Segway laws around Australia vary from state to state and if you love Segway as much as I do (it's like cycling for lazy people so what's not to love?) then Canberra's Seg Glide company are the sole Segway operators in Canberra. And they are allowed to take guests Segwaying within the Parliamentary Circle.
Planning your next trip? Ensure you have the right coverage with HeyMondo travel insurance that includes COVID-19 protection. Plus, if you use our link, you'll receive 5% off the price. Find the best deals on flights from all airlines in various currencies with SkyScanner and set up alerts to get notified when prices drop. For reliable transportation options, look no further than 12Go Asia, offering train, bus, ferry, and flight transfers worldwide. Book your transportation now and enjoy a stress-free journey.
When you purchase through these links I will get a small commission at no cost to you. Thank you for supporting me! :)
There are 15, 30 and 60 minute rides that commence once training has been done and I would recommend the 60 minute ride because that is where the real views kick in. A note though: during school holidays and weekends there isn't commentary although the guides are happy to answer questions if you ask and give information. Because the circuit is relatively flat it is a good place for Segway beginners although those wanting off road Segwaying may not find it exciting enough and those wanting photos may find the 2-3 photo stops a bit limiting (you are not permitted to take pics while Segwaying). It is however worth it for the views across Lake Burley Griffin across to the National Library, through Nerang Pool especially in Autumn and past the National Carillon.
Number 11. Have breakfast at The Cupping Room. When I visited Canberra in 2014 I was struck by the number of hipster cafes on offer. And with hipsters, there usually comes good food and coffee. One of the latest places is The Cupping Room. It's not a reference to the art of cupping massage but rather the art of coffee. There are several kinds of coffees to choose from from espresso, pour over or batch brew. The seasonal blend said to have hints of berries and vanilla is excellent. I also order a pear, kiwi and mint juice which is divine.
In terms of food, the "Jamon" is as visually stunning as it is delicious. It features serrano jamon, burrata, beetroot cream, a gorgeous pink peppercorn vinaigrette, caramelised fig and crouton slices. It's deceptively rich and a part of me doesn't want to mess the perfect pattern up by eating it. A tip: even on a week day it is very busy and you may have to queue so come before 12 on weekdays or very early on weekends.
Number 12. Get Your Freak Shake on at Patissez. Love 'em or loathe them the crowds certainly indicate that freak shakes are here to stay. And one of the most well known places for freak shakes is Patissez (pronounced "patter say"). They are visually arresting that's for certain and a part of me wondered if this was all style over substance. Despite the fact that they look almost too big, they actually taste really good and show that you can't just sticky anything in a mason jar and pile things on top. If the idea of one of these sounds too much they also do half servings, served in a mason jar.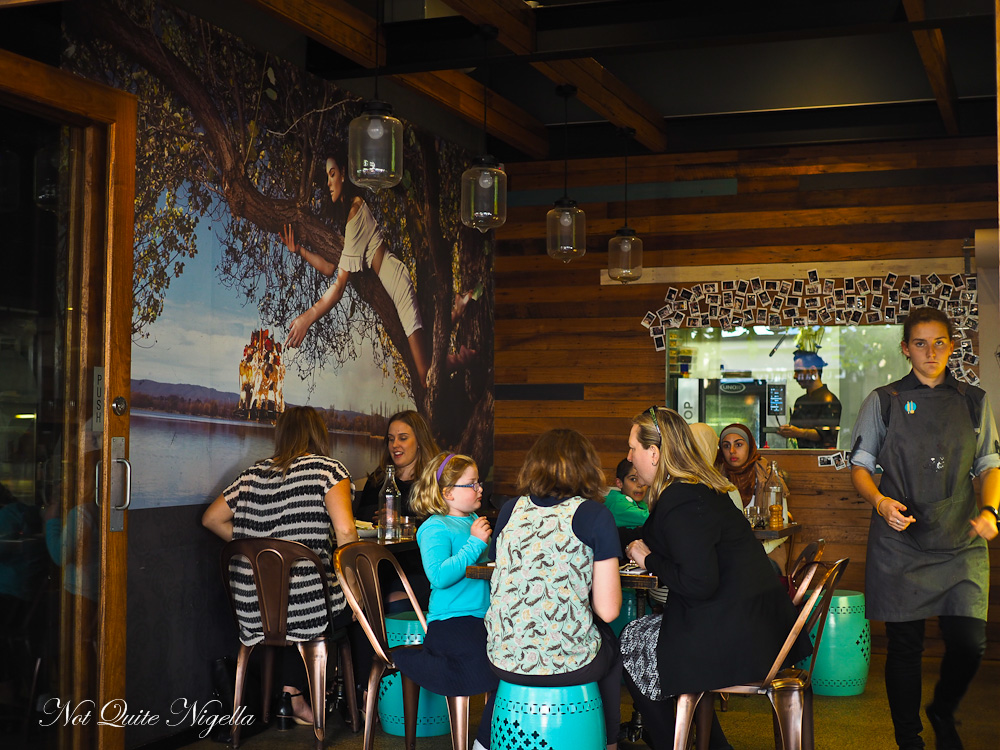 Number 13. Have breakfast in a bookshop at Muse Canberra. This cafe and bookshop is located in the lobby of the East Hotel and the breakfast is fantastic. We swooned over the spicy Sriracha eggs benedict with pulled ham hock and hollandaise on sourdough which was perfectly paired with a perfectly made virgin Mary. Health conscious peeps can also try a brown rice bowl with avocado, beef tapa, chilli jam, carrot and sprouts and a freshly made juice or a locally roasted Red Brick espresso coffee.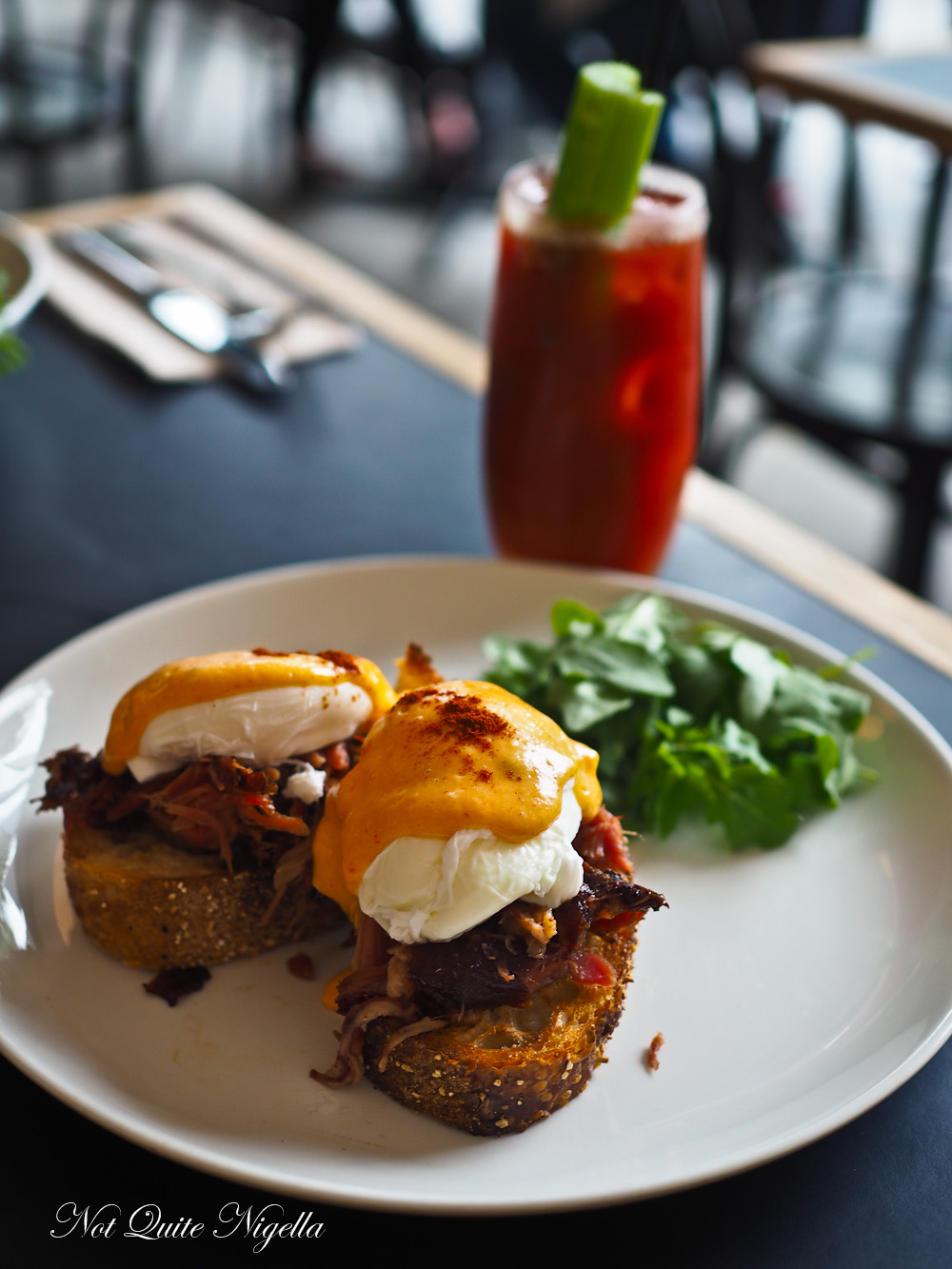 while you're waiting for your meal to arrive you can browse the adjoining bookstore which has an excellent selection of books in a wide range of subjects. They also have authors visiting the bookshop. East hotel guests have breakfast here included as part of the accommodation.
Number 14. Eat a Petit Feast at Buvette. This is an afternoon tea with a real difference. The Hotel Realm's Buvette restaurant has a brand spanking new offering for afternoon tea that is ideal for those wanting something either more substantial for afternoon tea or for whom the savouries are more important. Petit Feast is held on Saturdays from 11:30-2:30pm and for $65 a person you get a very generous spread of afternoon tea starting with a glass of Mount Majura rose. The idea of it is to feast and you need to come with an empty stomach because there is a fabulous range of goodies from English style sandwiches, Spanish charcuterie and cheeses to a fantastically crisp bottomed French quiche, oysters, a light as air duck liver pate, rillettes, olives, bread and crispbread.
After this a sweets platter arrives and this is a colourful selection of petite sweeties from lemon meringue tart, tiramisu, macarons and friands. There are no scones and tea or coffee isn't included in the price and they use tea bags instead of loose leaf but I'm quibbling here as this is a seriously generous and delicious selection. Diners can also have bottomless Mimosas for $15 a person.
So tell me Dear Reader, which offerings did you like the look of? Are you a fan of helicopters? And when your last trip to Canberra? And are you on the Freakshake train?
NQN visited Canberra as a guest of QT Canberra, Vibe Hotels, Hotel Realm Riddle Room and East Hotel. Meals at The Forage, The Cupping Room and Freak Shake these were independently paid for. I would also highly recommend Driver Steve Executive Cars Canberra for wonderful old fashioned courtesy and service.
Hotel Kurrajong
8 National Circuit, Barton ACT 2600
Phone:(02) 6234 4444
https://www.tfehotels.com/brands/kurrajong/hotel-kurrajong
Joe's Bar
69 Canberra Avenue, Kingston ACT Australia 2604
Phone:(02) 6178 0050 http://www.joesateast.com/
Canberra Helicopters
Canberra ACT
http://canberraheli.com.au/
Phone:0448 128 254
Pialligo Estate
18 Kallaroo Rd, Pialligo ACT 2609
Phone:(02) 6247 6060
http://www.thepialligoestate.com.au/
Capitol Bar & Grill
1 London Circuit, Canberra ACT 2601
Phone:(02) 6247 1488
https://www.qthotelsandresorts.com/canberra/
Riddle Room
16 Marjorie Bernard Ln, Franklin ACT 2913
http://riddleroom.com.au/
escape@riddleroom.com.au
The Forage
http://theforage.com.au/
Lucky's Speakeasy
1 London Circuit, Canberra ACT 2601
Phone:(02) 6267 1270
https://www.qthotelsandresorts.com/canberra/
The Cupping Room
1/1-13 University Ave, Canberra ACT 2601
Phone:(02) 6257 6412
http://www.thecuppingroom.com.au/
Patissez
21 Bougainville St, Griffith ACT 2603 https://www.facebook.com/patissez.pty.ltd/info
Muse Canberra
69 Canberra Avenue, Kingston ACT Australia 2604
Phone:(02) 6178 0024
http://www.musecanberra.com.au/#welcome
Buvette
18 National Circuit, Barton ACT 2600
Tel: +61 (02) 6163 1818
http://hotelrealm.com.au/restaurants/buvette-bistro-wine-bar/