I'm at Wasavie restaurant, patissier Adriano Zumbo is sitting across the dinner table from me, Reem is at my side and he is completely unawares of the couple behind him to his left that are nudging each other and pointing at him. I can't lip read much but the words "Masterchef" seem to spring to their lips a lot. Life must be crazy for Zumbo nowadays.
Sonoma Goodie bag-breads are fantastic as is the Spelt Maple Oven Roasted Muesli which has some very delicious almonds in it.
A little earlier that night Reem and I were at the new Sonoma Bakery opening at Fiveways in Paddington (love their olive loaf toasted) and who should pop in but pastry god Adriano Zumbo. He is definitely the most popular man in town and we watch as eager admirers stand back and watch and spotting a gap in the conversation, introduce themselves. I don't blame them, I'd do the same.
But anyway, back to dinner...Wasavie is one of those Japanese restaurants I had meant to go to for the longest time and knowing that Zumbo, Reem and I love Japanese, we grabbed a table in the second room, not the communal table which seems to be the more popular place to dine at but was full up. We choose a few light things to eat after having eaten quite a few tasty sourdough canapes. The waitress lets us know that as the kitchen is busy then the sushi and sashimi plate will be about 30-40 minutes which isn't a problem.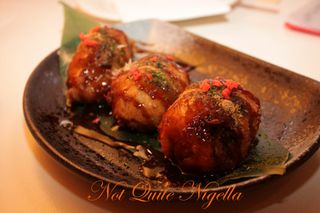 The Potato and Wagyu croquettes come with that fantastic Japanese tangy BBQ type brown sauce. They're huge, about the size of Duck Eggs and freshly cooked, crunchy on the outside, soft with mashed potato inside which collapses in with a gentle poke of the chopstick. It's good value for $6 and all of us weren't quite sure what they would be like given the price. "It's probably got about this much Wagyu in it" says Adriano making a 5 cent coin size with his hands. Thankfully it turns out bigger than that and I thought it might be Wagyu mince but it is instead Wagyu pieces with a bit of gristle in all of them. Nevertheless it's still moreish and agree that we could go for more of these.
The tofu and seaweed salad is dressed with a Japanese sesame dressing and is a salad of mixed leaves, some seaweed and cubes of soft, pillowy tofu on top with thinly sliced spring onions.
The Sushi and sashimi plate comes out and it has a selection of sashimi, nigiri as well as some nori rolls. The sashimi is beautifully silky and melt in the mouth, particularly the salmon. I find the nori rolls a bit too big for my taste and when they're so big I find it hard to eat them in one bite and taking smaller bites means that it falls apart.
As for the conversation, it was lots of fun but of course it was off the record so I'm afraid I can't spill my lovelies.
So tell me Dear Reader, who is your ideal dinner companion (dead or alive)?
Wasavie
8 Heeley Street, Paddington, NSW
Tel: +61 (02) 9380 8838
Open Tuesdays and Wednesdays from 6pm
Thursday to Sunday 12noon to 3pm and from 6pm onwards