"Please don't let that be our table...please don't let that be our table...please don't let that be our table..." I say to myself quietly willing the woman leading us to our table to head towards the better lit and slightly quieter tables outside. Thankfully she leads us to the outside area which is brighter and conversation can be conducted at regular levels.
PaperPlanes is the newest venture from the guys at LL Wine and Dine in Kings Cross. There are many similarities: interesting aesthetics, dark and moody lighting, lip reading noise levels, the very relaxed and friendly waitstaff and serves on the small side for the price. Suspended from the ceiling are colourful skateboards and white paper cranes (not planes ;) ). It looks like the menu has folding instructions so that should you wish to make a paper plane you can, although I don't know if that is encouraged with their menus ;)
I had stalked the menu and seen Jenny's blog post on her visit there so I knew what we should order. We ask the lovely French waitress her recommendations and she gives us her choices. Louise orders a cocktail and Viggo a beer! Louise's cocktail was one that she was drawn to because it was unusual and looking around, we see many others had also ordered it. She takes a sip and her verdict, alas is she is not smitten. It contains Minties infused vodka with wasabi paste, cucumber, fresh mint and lemon. We note the table next to us returns their cocktail.
I have to admit, I'm not a big edamame eater but the chilli salt does give it an interesting flavour.
There were two types of gyoza, the regular pork and cabbage and the prawn and lemon one. We opt for the former as Viggo is allergic to shellfish and we didn't want him to miss out. They're filled with pork and cabbage, more filled than what you would normally get. They are then steamed and then pan fried and given a slightly crispy edge. It comes with chilli oil and ponzu dipping sauce with five pieces per serve.
Nachos at a Japanese place? The last time I tried nachos in Tokyo it was a disaster (picture a bag of corn chips and a jar of salsa plonked on top of it) but this is of another ilk. With thick pieces of cassava cracker on the side and a shot glass of salmon tartare cubes, salmon roe and wasabi on ice we spoon some of the salmon tartare onto the cassava crackers. The use of real wasabi here which is a smoother, less harsh animal that the tube variety is welcome and the texture of the salmon, roe and wasabi is creamy against the crunchy, thick cracker.
I appreciated having quantities next to the items so that we knew how many to order. The scallops, lightly grilled on both sides are said to be from Hokkaido and are as fat as a Canadian scallop (as opposed to Australian ones which are thinner). There is fresh apple, pickled pear and onion puree and whilst the taste was pleasant and the texture soft, I didn't get the "I want another right away" feeling that I usually get with scallops.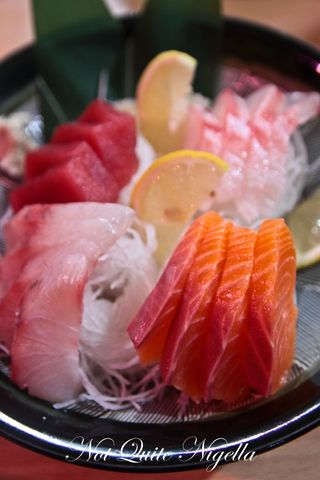 Sashimi plates can be ordered in quantities of 10, 16 or 20 pieces and today's selection is kingfish, salmon, tuna and snapper. They're all lovely, fresh pieces although I think most of us could have demolished this whole serving to ourselves we love sashimi so much.
I didn't know what to expect and this is a surprise. Not tasting particularly Japanese the first thing I think of is of German food. The mochi, thread through the skewer looks like the fat from the pork belly but has a very nice texture against the smoked speck and the jalapeno give this a spicy hit. It's unusual but in a good way.
The whole shiitake mushroom, stuffed with prawn meat had an excellent balance of flavours. Definitely the kind of skewer you'd want more of.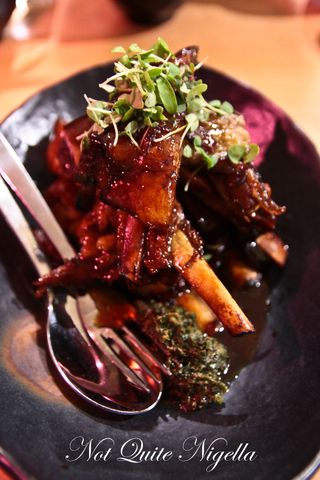 The ribs were soft and covered with a thick soy based sauce which allowed the rich flavour of the lamb to come through. We ordered the five grain brown rice which had a nice, nutty texture and this mopped up the sauce. We left much of the mint salsa behind.
There was a delay for the order of the chicken and they apologise and shortly after our enquiry it arrives. The sake flamed teriyaki chicken tastes not unlike regular teriyaki chicken. The difference and what I liked best were the heavenly mushrooms which went so well with the umami properties of the teriyaki sauce.
The steamed broccolini comes with a small pot of miso and dill hollandaise which was creamy and mostly scented with the strong herb dill with an ever so slight saltiness and flavour from the miso.
The theme of PaperPlanes is Japanese pop and this is a lemon cheesecake in a terracotta pot plant. It's rich and creamy although a Japanese cheesecake would have been an even nicer touch.
The green tea rocher is like a Ferrero Rocher but with a dusting of green tea. It's the favourite dessert at the table and is best eaten whole allowing the liquid chocolate in the centre to dissolve against the tongue and the crispy deep fried shell laced with green tea to shatter along with the crunchy hazelnut in the centre.
Viggo points out that from the top, it looks like a teddy bear's eye and it certainly does. The black egg is a coconut milk curd with macadamia oil and a ristretto cocoa sauce. The coconut milk curd is nice by itself but it isn't quite a harmonious combination with the coffee and chocolate and an Asian flavour like black sesame might have been a better match.
It's almost 11pm and the outside area has cleared and we get the bill and brave the chilly Bondi strip so warm during the day.
So tell me Dear Reader, when you make a reservation do you ask for a particular table? And do you like to sit where you can talk or do you like it when there is a lot of activity and noise around?
PaperPlanes
Shop 15, 178 Campbell Parade, Bondi, NSW
Tel: +61 (02) 9356 8393