So there I was, sitting down at a table with a plate full of food in one hand, a table full of food in front of me and I looked up in alarm and saw that the waitress was coming towards us with a bowl of udon and a plate of tempura. Assessing the situation quickly she smiled and said "Should I serve this later?" and gratefully, I nodded.
Yes we had over ordered again.
The reason for the over zealous ordering was our inability to understand exactly how big the sushi is at Sushi Tengoku. In Japan, tiny things rule, whereas here at Sushi Tengoku, the enormous inhabit the earth. And when I say the sushi is big I mean, it is biiig.
Sushi Tengoku is as close to our local as we will get and Mr NQN find ourselves here one evening. Ordering at this unprepossessing place near the intersection of Kensington is done by way of filling out a double sided checklist and stating desired quantities of things. A metal pot of tea is brought along with the pen and paper. The floor has two wait staff, both furiously busy and there are two sushi chefs at work rolling the enormous sushi rolls and shaping massive nirigi sushi.  It is a no frills, simple sort of place, you help yourself to drinks from the fridge and refills for the tea and spoons. People come in hopeful for a table and some are turned away and some are told to wait and you are advised to book ahead if you don't want to wait as it gets very busy here.
Everything arrives all at once. The most popular item that evening seemed to be the assorted sushi platter where for $32, you get 12 pieces of nigiri sushi. It's hard to convey size in photos and the nearest reference was my iPhone-they're not quite iPhone sized but getting there. The fish blankets the rice and wraps around it. Picking the pieces up with chopsticks is hard and they inevitably fall apart from soy sauce dip to mouth but I sense that Mr NQN is very pleased with this plate. In fact he claims that every time that I go away travelling, he will go here for dinner and sit at the bar which isn't really a bar but a long narrow table that faces the wall.
The picks were the salmon, tuna, kingfish and the squid which had a wonderfully creamy texture to it (although be warned, this is the hardest to pick up as it is sliced into thin pieces). And one thing that I only just noticed when going through the photos is that we only got 10 pieces of sushi (the eel sushi was put on an extra plate), not 12 as we were supposed to.
We really ordered this more for curiosity sake but I ended up really liking the salmon head. There's not a lot of meat but there's enough and the teriyaki sauce is moreish and worth ordering rice for. There were two pieces here and the second piece has the cheek meat that was soft and tender and some pieces were so soft and jellied that they reminded me of roasted bone marrow.
The volcano maki was a bit of a mixed bag for me. Whilst I like the topping which was made up of those unashamedly odd crab sticks and masago or capelin roe the inner which was scallop was a bit dry for me. And my presumption, an incorrect one, was that they would be similar to the ones at Kobe Jones just based on the name.
The chicken katsu was absolutely massive and it was fortunate that Mr NQN had just cycled over 90kms that morning so he was a bottomless pit of hunger that day. Now see that layer of breaded, deep fried meat? There's another one just like it underneath it as well as a ginger and sesame dressed salad and that lovely sweet, tangy bull-dog sauce to dip the crunchy katsu in.
Mr NQN wanted some udon to fill him up and we tried the vegetable tempura version of the udon which came with five pieces of tempura battered zucchini and sweet potato. They were a bit cold but that was because we couldn't fit the rest of the food on the table so it was held for us and the vegetables were slightly underdone. The soup wasn't very strong in flavour either and this was eaten as a filler - not that we needed it as we ended up leaving with three boxes of food to take away with us (and it seems almost everyone does!).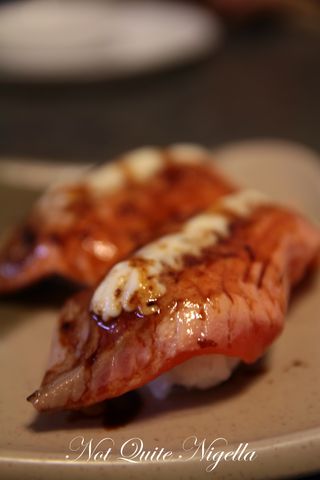 The next evening Mr NQN and I return. He wants more of the tuna nigiri and I want to try the enormous futomaki that I had seen go past us. It's a Sunday night and as we are eating earlier it is much quieter. We order much more conservatively this time now that we know the serving sizes. The smell of the blowtorch signals that our aburi salmon isn't too far away. The salmon comes grilled on the top with a layer of sweet soy glaze and mayonnaise and melts in the mouth.
The futomaki filling that appealed to us most was the eel as they tended to offer deep fried items in the futomaki rather than the raw tuna or salmon. This has a filling of egg omelette, masago, eel, spring onions, cooked prawn and lettuce. The seaweed only just reaches around the other side and from watching me trying to wrestle with this enormous beast Mr NQN takes the alternate route and grabs a piece with his hands, dips it in the soy sauce and pops the entire thing in his mouth.
The seafood salad was not a cooked seafood salad but a sashimi salad with cubes of tuna and salmon sashimi on top of a finely shredded cabbage salad, cucumber, tomato, green onions and topped with popping beads of masago. The dressing is a moreish mildly spicy chilli dressing and the serve of tuna and salmon sashimi is incredibly generous. We fish piece after piece of sashimi out in this never ending bowl. The only downside was that there was a bit of a puddle of water at the bottom of the bowl but apart from that, this salad was very good value.
So tell me Dear Reader, have you ever ordered so much that you couldn't fit it on the table?
Sushi Tengoku
121 Anzac Parade, Kensington NSW 2033
Tel: +61 (02) 9663 3388