I could already picture his voice in my head as I walked towards him with an enormous hourglass gourd that was about half the size of me. "Honey meet Hyotan, the bottle gourd" I said to Mr NQN. To his credit he didn't ask me what on earth I was doing with it but simply smiled and rolled his eyes. I think he realises that I could really just come home from shopping with anything.
We were north side shopping when we decided to stop by the small enclave of predominantly Japanese restaurant on small Wilkes Avenue in Artarmon. We had previously visited Rahmen Genki restaurant there in this mini Little Tokyo and I had heard from a friend that Sushi-Ya was worth a visit too.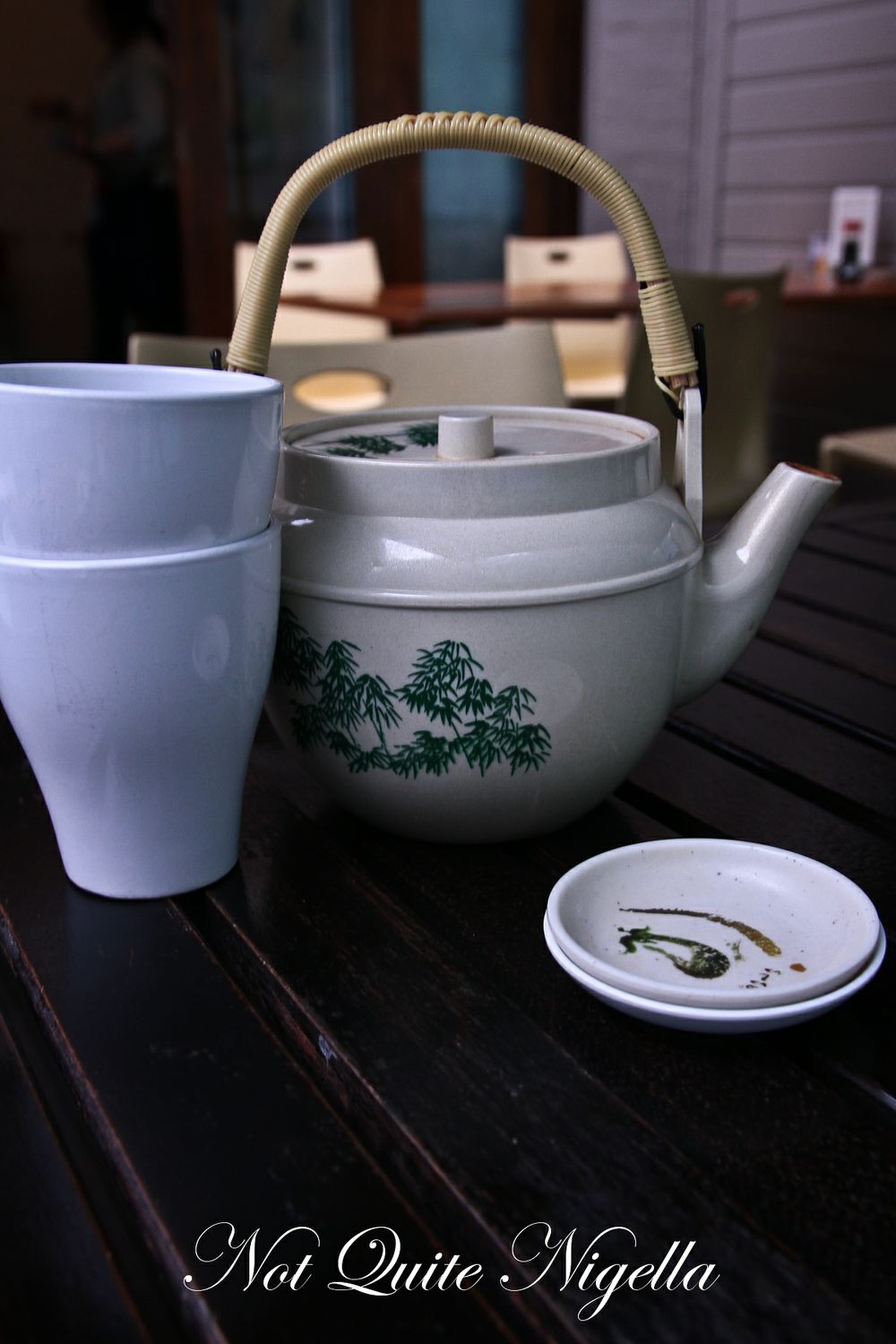 We make our way down to the end of the avenue where there is an outdoor section as well as a smaller eat in section. There are plenty of staff all eager to seat us and take orders and we flick through the multi page menu. It's hard to narrow things down and I smile when I see the "hamburg set" which was one of those things that I recall ordering a bit when I lived in Japan-like a hamburger without the bun but with lots of sauce. Still the name Sushi-Ya prompts us to keep our order mainly sushi based and we finally get our order together.
Salmon lovers roll
Things are modest here, a teapot with green tea is melamine and there are Ikea mugs to drink from. But any reservations are swiftly put away when the plate of sushi arrives. We had chosen the combination set and you can choose from a range of two items from two columns. We had chosen the Salmon lovers roll and the chicken teriyaki as we were told that was a best seller.
The salmon roll comes out as six large inside out rolls filled with crab stick, avocado, egg omelette and topped with masago, salmon pieces and thinly sliced avocado. They're large and have to be eaten in a few bites where they inevitably fall apart but they're worth it.
Teriyaki chicken (second half of combination set)
The second half of the combination set arrives and it is the teriyaki chicken. The pieces of chicken come out as small, furled balls of thigh meat and it looks to be lightly coated and then deep fried and then dunked into the sweet teriyaki sauce which makes it that much better with the added crunch. It comes with an undressed cabbage, lettuce and tomato salad. Rice isn't included in this combination set although miso soup is but rice can be ordered which would be a good idea as the sauce is very good and worth dipping some rice in for.
Salmon belly sashimi $17.90
My order was the salmon belly sashimi. Mr NQN loves tuna but I'm a salmon person and you don't often get the salmon belly on offer. It's fattier, as expected, but has a glorious texture to it and melts in the mouth.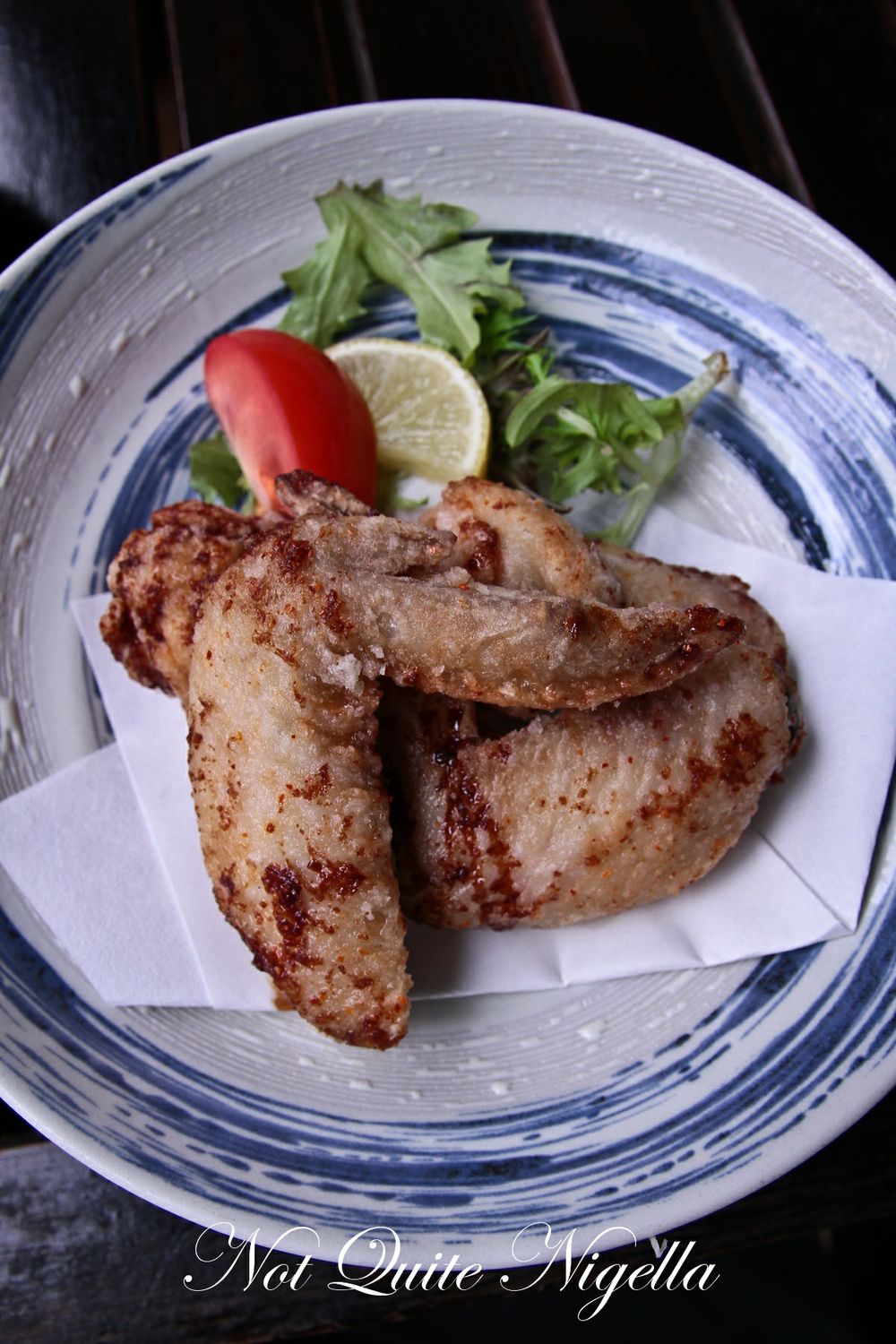 Chicken wing karaage $7.90
I love chicken karaage and I love chicken wings so I thought that I'd love these more. I expected something that was deep golden and crunchy like chicken karaage but a wing version. These aren't bad but they're just lightly deep fried with a little marinade on them. I suppose they just weren't what I expected.
As we were dining late, there was no time nor stomach space for dessert although we did spy a taiyaki waffle pancake. I'm not complaining though, from our trip I've managed to get myself a full tummy and Hyotan, the bottle gourd!
So tell me Dear Reader, are you a salmon or a tuna sushi lover?
Sushi-Ya
10 Wilkes Avenue, Artarmon
Tel: +61 (02) 9411 1377
Lunch: Tuesday-Sunday
Dinner: Monday-Sunday