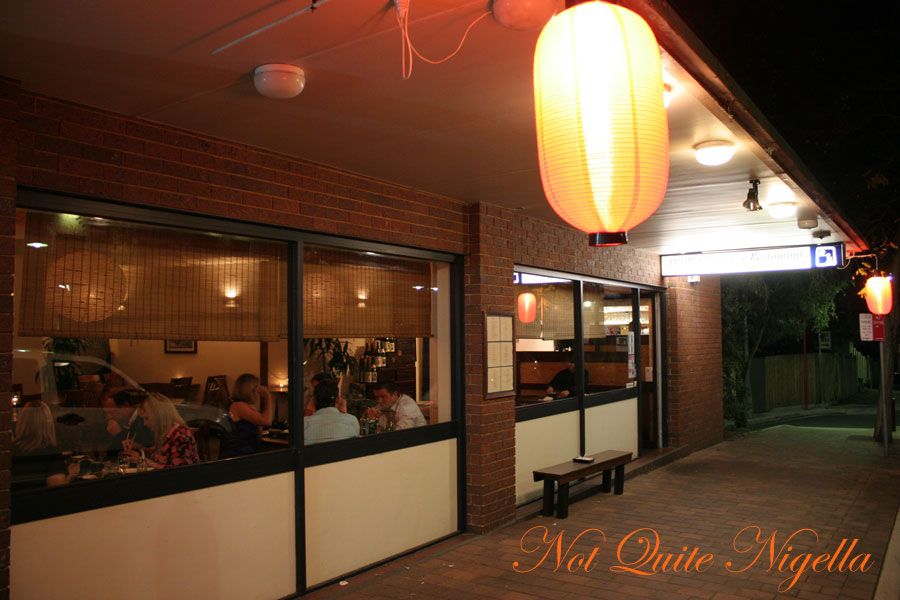 Despite the range of Thai restaurants on every corner of Kirribilli's streets (we count 4 in one small space) we resisted and chose to dine at Ainoya, a Japanese restaurant we've walked past on our way to Kirribilli markets many a time, always closed during the day. We're lured by good reports of the food and promises of melt in the mouth Japanese food. The interior is all blonde woods and Japanese paper lanterns. As we're a table of 6, we are seated in the deep sunken table where we remove our shoes and put them to the side. This causes the men some anguish and confusion but we get there in the end. Service by the smiling owner is lovely but his staff are a little more formal and rigid. When Hot Dog brings a beer out they tell him that he can't drink it there but the owner smiles and gestures that of course he can. I ask if they can take my new (snow white) coat only to be given a blank look and be told by the waitress "Sorry you'll have to take that". Hmmm I don't relish the idea of folding up my coat to lie on the bench next to me all night but I have no choice.
We peruse the menu and order a selection of dishes to share. We mostly choose entrees as they are what have caught our eye. We order the Salmon and Avocado roll $7 for 4 pieces; Tuna Sashimi $17, Chicken Karaage $12; Aburi Sushi platter (blow torched sushi!) $19; Ika -Tem (Squid tempura with wasabi-mayo sauce) $14; Teriyaki Chicken $18; Wagyu Saikoro Steak $26; Kamo Tataki (Roasted duck with ponzu sauce) $19; Grilled Salmon $28; Ocean Trout with basil sauce $17 and a California Roll $7.
_ Tuna Sashimi $17_
We're not kept waiting long until the food comes out. The first to arrive is the Tuna Sashimi. I'm much more partial to Salmon Sashimi personally but the pale pink two-toned tuna sashimi is gorgeously fresh.
Ika -Tem (Squid tempura with wasabi-mayo sauce) $14
A huge pile of calamari rings arrives liberally topped with spring onions and a wasabi mayo sauce. I'm usually fearful of wasabi but they mix it just right, to give it a hint of zing rather than a sinus clearing explosion. The tempura calamari is a little cold and not as crispy as I'd like (I like my tempura earth shatteringly crispy) though but the overall flavour is good.
Aburi Sushi platter (blow torched sushi!) $19
The Aburi sushi platter is a long plate of 5 pieces of inari sushi that have been charred and drizzled with mayo and their bottoms dipped in a delicious sweet teriyaki style sauce. It literally melts in the mouth it's so delicious and I wish there were more pieces.
Chicken Karaage $12
The chicken Karaage is next, 5 large pieces of deep fried chicken with a slightly spicy thousand island style sauce accompanying it. Surprisingly the chicken lacks flavour and whilst it's hot and fresh, even the thousand island sauce can't save it.
Salmon and Avocado roll $7 for 4 pieces
The Salmon and Avocado roll comes out next, it's decent but I'm not going rapturous over this as I normally do over this combination. The overall sushi rice is a touch dry and whilst it's not bad, it's nothing particularly special when you have so many other delicious sounding things to order.
Teriyaki Chicken $18
Our square plate of Teriyaki chicken arrives, thick with lusciously sweet Terikyaki sauce and juicy dark meat pieces of chicken. Although it could be argued that this is a boring choice, it's a satisfying one with the sticky sweet teriyaki gorgeous against the meltingly soft chicken.
Ocean trout belly with caviars $17
The Ocean trout belly with caviar and sauce of extra virgin olive oil, basil, tomato and pine nuts arrives, with 6 rolled up fat belly slices sitting in a pool of basil olive oil sauce. Despite it's cross cultural leanings, it works extremely well, the soft ocean trout melting in the mouth against the rich basil sauce.
Wagyu Saikoro Steak $26
The dish that had everyone excited was the Wagyu Saikoro Steak. I've had some fantastic Saikoro steak in Tokyo so I was really looking forward to this. Unfortunately this really fell short, with very little flavour and the beef pieces being quite chewy. The dipping sauce wasn't particularly satisfying either and we are glad that we didn't order two of this dish like we had originally intended.
Pirikara Grilled Salmon $28
The Pirikara Grilled Salmon with mushrooms, daikon, salmon caviar and ponzu fresh chili sauce arrives, a large blanket of salmon fillet covered with dark shiitake mushrooms, lattice of mayonnaise and daikon. I try a piece of it and it is utterly divine - gorgeously crispy on the outside and beautifully soft on the inside. It's so damn good, I get another piece straight away whilst urging everyone else to try some.
Kamo (Duck) Tataki $19
The Roasted duck (rare) with ponzu sauce arrives, the thinly sliced rare pink duck resting against a trail of noodles. The dipping sauce is not my favourite, I usually love ponzu sauce and whilst it's nice, after the salmon dish, it just doesn't compare texture or flavour wise.
California Roll $7
One of the group needs to order another dish as he's hungry so he orders a California Roll. Much like the other sushi rolls, I am not particularly enamoured of it but the tiny bright orange roe dotting the outside give a satisfying pop in the mouth.
We take a break whilst we contemplate the dessert menu, we're fairly stuffed but can't resist the sound of some of the desserts so we order the Shiratama $9 and the Ice cream terrine $9.
Ice cream terrine $9
The ice cream terrine is an enormous slab of black sesame ice cream (the blue shade) with green tea ice cream and red bean ice cream in the centre. The black sesame is a little too strongly flavoured resembling something a bit too charred. It isn't terrible by any means but I've had nicer black sesame ice cream. The green tea and red bean are much nicer, particularly the red bean but there is just a small amount of these compared to the black sesame. The cream pattern is unusual, the only thing I can think of is a Submarine-a Submarine Ice Cream Terrine perhaps?
Shiratama $9
The Shiratama by comparison is gorgeously good, the green tea ice cream strong and resplendent in its green tea flavour, the sweet red beans and soft chewy mochi a perfect foil for it. I usually only have a small amount of dessert but find myself eating a lot of this dessert.
Despite the state of fullness I leave thinking about that grilled salmon and the blow torched sushi.
Ainoya Japanese Restaurant
Shop 3, 34 Burton St
Kirribilli NSW 2061
Open: Tuesday - Sunday from 6:00pm
Tel: +61(02) 9922 1512
Email: info@ainoya.com.au
Website: www.ainoya.com.au