The Big Merino
Australians have a love of big things. Big icons of things in smaller towns to be precise. These were often used to lure tourists who were also into photographing and seeing large things. There's even a movie about it called "Big Dreamers". There's the Big Banana in Coffs Harbour where my brother in law The Assman worked as a train driver and more close to home, there the 97 tonne and 15 metre tall Big Merino dubbed "Rambo" which we've happened upon. Standing proud and grey, Queen Viv told us of the tale where his modesty was clipped as it was deemed too offensive. Well, the balls are back baby and we find ourselves contemplating them closely.
_They are lighter in colour you know...
_
"They're a lighter colour!" exlaims Queen Viv and indeed they are a lighter shaded family jewels. Locals were offended by the sight of the anatomically correct Merino but apparently he has had them restored in their lighter colour. We can't go up very far - once upon a time you could see out his eyes, but we feel affection to this dignified beast that had some rather undignified things done to him in the name of decency.
The Loaded Dog
We check into Queen Viv's friend's place for the night-they run a farmstay at the Magellan Observatory just near Lake Bathurst. Although it's closed to the public at the moment, they've opened up for us and  we settle in and warm up while Mr NQN gets a one on one tour of the observatory and sees some amazing sights, made that much more visible being out here where the sky is a blanket of black velvet rather than in the city. Which brings me to the question, rather suddenly I admit, but what are grounds for divorce? Starving your wife until she is ready to try and make a meal out of a teabag and some sugar? Mr NQN has taken quite a while to come back and we are all cold and famished and when  he finally returns looking like he has just climbed Mount Everest (i.e. cold and excited) we take farmstay owner Zane's recommendation of the Loaded Dog in nearby Tarago for dinner.
Inside the Loaded Dog
Everyone is friendly and most importantly we spy a fireplace which we immediately gravitate towards. We contemplate the menu and then order and pay at the counter and wait with our buzzer which will alert us when the food is ready. We see meal after meal pass us by and the only thing we can think is "country sized" with the dog done steak (t bone) being particularly large. After torturing us with a parade of goodies our buzzer goes off and we tuck in.
Salt and Pepper prawns $19.50
There are quite a few prawns on the plate and whilst the salt and pepper coating isn't what I'd call light, the seasoning is good and the size large and the prawns are very fresh.
Loaded Rissoles $15
Mr NQN's rissoles are two huge brown balls smothered in gravy. They're soft, moist inside and he is most impressed by his choice.
Scotch burger $12.50
Queen Viv is surprised that her steak is easy to cut and tender. Her burger has beetroot on it (a must) and she says that it is just what she needs.
Lamb chops $19.50
Miss America receives a generous serve of 3 lamb chops in a red wine sauce and is in heaven. He resorts to picking them up with his hands and chomping away contentedly. We retire to the farmstay and sleep well under the silent sky. Miss America can't sleep-as a resident of Potts Point he is used to hearing a constant buzz of noise interrupted by garbage trucks and noisy drunks.
Can you spot the Peahen hiding?
In the morning we are joined by Magellan Observatory's resident peacock and a peahen, The peacock with it's irridescent beautiful tail is curious and loves the camera whilst the peahen is scared and runs away.
I've always thought that I've been particularly lucky with the blog. Things just present themselves to me at the right time. Setting sail the early morning we drove through an adorable little country town called Braidwood. Reminiscent of a more country version of the Leura Mall, we stop to have a bite to eat for breakfast when what might drive past us but a pink and white retro car. If you know me, you'll know I love retro and when Queen Viv points it out I go for my camera and say "Oh please stop!' and the car does just that and parks. We stand back hoping to get a picture of the car once the driver has alighted and we can do so quietly without bothering them. Then the driver exits the car and it's a girl dressed to match the car in a black and pink dress, long socks, rolled hair and and earrings. She happens to own the retro vintage store there and she must be used to photo requests as when we ask her she grabs her glasses for a full effect of the retro look and poses. We browse the shop and there's a stunning dress in just the style of Mad Men which I'd love to buy but I'm allergic to Mohair.
Cant' you just see Joan from Mad Men in this dress?
Window shopping itch scratched we make our way down the street to find some breakfast. The French Toast is winking to Queen Viv from the Corinthian Cafe menu outside so we go in and order some French Toast, Bacon and Eggs and a Croque Madame. The coffee is Kaldi (air roasted) and is very good indeed.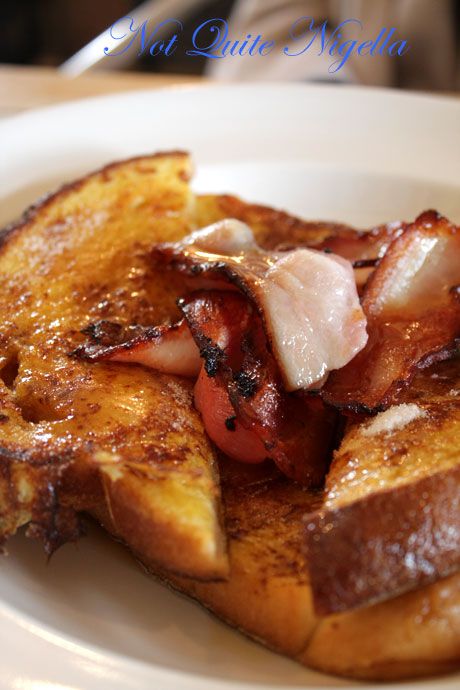 French Toast $12 with coffee
Like most we're freezing, but the fireplace isn't turned on which would have been a nice touch. We see all other patrons enter and look longingly at the fireplace too. Many menu items are gluten free and there is gluten free bread for those that may want it. Our Breakfasts arrive and Queen Viv's French Toast is the pick of the bunch with several large, soft pieces of eggy bread and real thick, maple syrup generously portioned out.
Croque Madame $12 with coffee
My Croque Madame is a fairly standard country staple (and made with the local Dojo bread which is a thickly sliced white loaf) and perhpas I've been spoilt by Brasserie Bread's version. Mr NQN and Miss America's Bacon and Eggs have a lot of bacon but again standard country style of food.
Bacon and eggs $12 with coffee
Gluten Free Lemon cake $4
We get a piece of the gluten free homemade lemon cake to take with us which is quite nice. It's like a polenta cake rather than the super moist almond citrus cakes.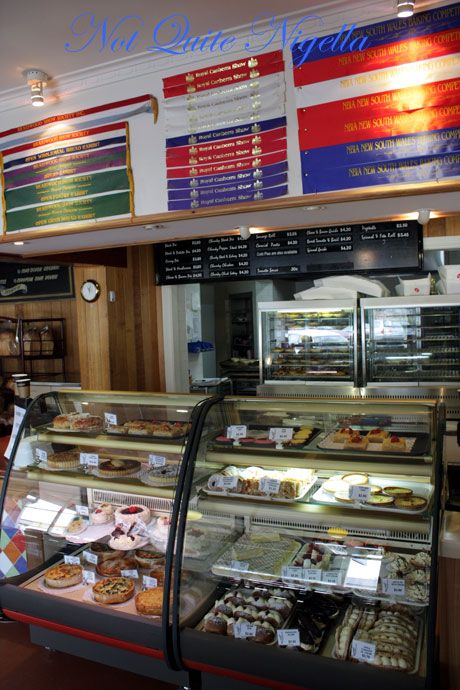 We then trace our steps to the Braidwood Bakery. They have a stunning array of breads, pastries and cakes. Another blogger Fiona had suggested that we visit here to buy some pastries. We buy a chunky beef steak pie, a vanilla slice, an apple slice and a fruit bun which we later polish off between eating.
Chunky Beef Steak Pie $4.20 plus sauce 30c
The beef steak pie had delicious large chunks of beef in it and a shortcrust top and base.
Vanilla Slice $3.50
The vanilla slice was fantastic with a lovely thick vanilla custard that oozed out with every bite.
Apple Slice $3.50
I bought the apple slice for MR NQN as heloves apple pies and dsserts with more apple thahn  pastry. The fact that they had difficulty picking this up attests to it's softness and the amount of apple pieces. He devours it hungrily rubbing his stomach afterwards contentedly.
So tell me Dear Reader, would you have objected to seeing the Big Merino's family jewels on display?
The Big Merino
off Goulburn's Southern exit from the M5 Hume Expressway
Magellan Observatory
461 Covan Creek Road, Lake Bathurst, NSW (by appointment only)
The Loaded Dog Hotel
1 Wallace Street Tarago, NSW
Tel: +61 (02) 4849 4499
The Criterion Cafe
56 Wallace Street, Braidwood, NSW
Tel: +61 (02) 4842 1388
Open Thursday to Monday
Braidwood Bakery Cafe
99 Wallace Street, Braidwood, NSW
Tel: +61 (02) 4842 2541