Definition of a Poacher:
–noun
Step 1 - a person who trespasses on private property, esp. to catch fish or game illegally.
Today we're not exactly trespassing but we're partaking in the Poacher's Way trail, a collective of 25 artisan food merchants, bakers and artists that have joined together to create the Poacher's Way trail. Originally started by Susan Bruce who was a former London investment banker cum sailor who started the Poacher's Pantry in Hall the trail encompasses 25 different hand picked establishments spread out within driving distance all over Canberra. They range from artisan bakeries, historical pubs, unique wood fired ceramics and sustainable spas.
**Clonakilla Winery
Wine buffs no doubt are getting rather excited around about now. Clonakilla's Shiraz Viognier is one of those hotly desired wines. On the 1st of September a line forms outside the cellar door and people buy their precious supply of Shiraz Viognier. Restaurants have strict allocations and it is said to be one of the Top 10 contenders for Australia's best wine. Today we are lucky enough to get a full tour of he facilities by Clonakilla's Tim Kirk, the fourth child of the Clonakilla family business. It starts off with an unassuming cellar door. Clonakilla is named after his grandfather's farm in Ireland. Clon means "field" and killa means "church of". So for example Kilpatrick means church of Patrick.
Tim Kirk Winemaker
Tim father's noticed that the temperature and conditions here were similar to that of the Rhone Valley or Bordeaux. In 1976 their first wine was released and after some years Tim the former theology student and school teacher started to work in the wine business. The label image is from a seventh century gospel manuscript and the script is a traditional Celtic font. Tim believes in "Liquid Geography" and this means capturing the landscape or geography (or terroir) in a liquid form so that people can identify the wine as coming from that unique region. It should be reproducible and recognisable.
French Oak barrels
_
_
The Shiraz Viognier was Tim's idea after visiting Côte Rôtie in 1991 and tasting the viognier there. It was also the first time in the world that viognier was put onto a label as the French never put grape varieties on the label (it is a new world tradition). This year about 2,000 cases of the wine will be unveiled. We do a tasting of six of their wines and they're all very different with everyone having clear preferences for what they like. Despite some of us not liking muscats the muscat wins us all over while some prefer the Hilltops Shiraz over the lighter O'Riada.
Their sign! "We are in the vineyard, please honk your horn LOUDLY!"
Poacher's Pantry
Our lunch is at the renowned smokehouse Poacher's Pantry. We start off sampling their wines and smoked goods which is a complimentary service offered to all patrons where you can taste up to twelve of their Wily Trout and Fingerlings wines and eight of their products before sitting down to a meal should you be undecided as to what you would like.
We sample the chicken breast, duck breast, semi dried tomatoes, lamb sausage, beef breseola, lamb, sirloin rolled in black pepper and kangaroo prosciutto. The kangaroo prosciutto is strong and lean almost like a jerky. Katie, Susan's Bruce's daughter who is doing a fantastic job of showcasing their produce, tells us that she serves it with beetroot risotto with some strips of kangaroo prosciutto and goat's cheese.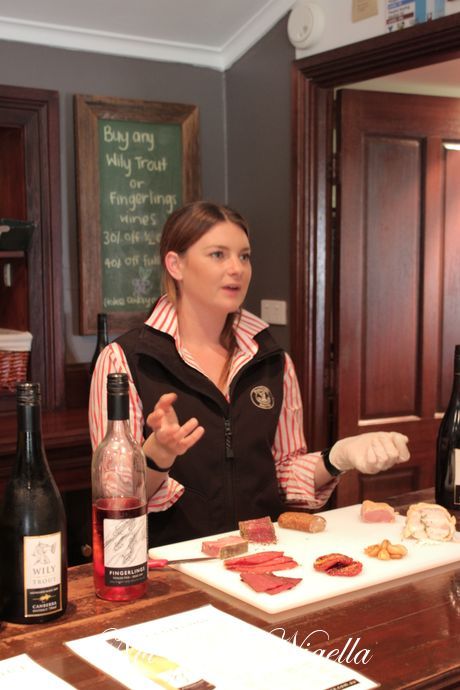 We take a peek into the chillroom which has a range of their meats including lamb, pork and kangaroo prosciutto as well as their smoked chicken which proved to be a favourite with its tarragon and lemon centre.
Smoked meat and dip platter
We then sit down to a stunning platter paired with gorgeous local  soy and linseed bread and crackers. On the plate there are dips such as a nut and pomegranate dip (divine and strong with coriander seeds), red capsicum, beetroot dip, artichoke dip and a French onion dip. There are a range of their smoked meats, ham and dolmades too. It's absolutely moreish and many of us struggle with stopping because we actually have mains coming out next!
Duck ragu with pappardelle pasta
Our mains emerge and they look impressive. Up first is a duck ragu with a thick pappardelle type pasta that has been cut up. It is rich and tomatoey with carrots and a generous amount of meat.
Poachers Pantry Lamb Cutlets
Then there are the Poacher's smoked lamb cutlets which have been lightly cooked so that the fat caramelises and becomes sweet and juicy.
Mushroom risotto
The star for me and most at the table however is the humble mushroom risotto. Made using shiitake and oyster mushrooms it is absolutely divine and creamy. There is even runny brie on top but it doesn't even need it. It's the kind of dish we keep spooning more out of while at the same time protesting that we are full.
_Hey there cutie!
_
Old Saint Luke's Studio
We stop at Old Saint Luke's. Ian and Moraig are two ceramicists who are besotted by the idea of a wood burning kiln. They have a nine metre kiln that get fired up just twice a year for four and a half days and requires feeding with wood every ten minutes. Each time they use the kiln they use around about twelve tonnes of firewood and they cast six month's worth of work. The reason why they are so interested in the wood burning kiln is the unique properties that ash and wood burning give the ceramics. If these were fired in a gas kiln they would be white all over but these have patterns and colours all over them. They are glazed inside so that they are functional too but the outside has no glazing. Twice a year they have a huge sale of their wares although the studio is open on weekends too.
Both of their styles are quite different. On the left is Ian's version of a basket and on the right in Moraig's.
The nine metre kiln
Gundaroo Colonial Inn
Our next stop is a gorgeous pub in the small town of Gundaroo. Now before you ask why is this worth stopping at, you must get a look into the pub. Built in 1872 It's beautifully and sympathetically restored with plenty of the original work still intact (including parts of the roof) as well as using timber from the local region. It was a community effort that made finding the large roof beams in the pub area possible as locals would call in sightings of large felled trees.
George Nicola the Greek born owner and his chefs peter serve up cuisine Greek style-that means with a genuine Greek flavour and typical Greek generosity-the calamari and Cypriot halloumi are particular standouts. We can't fit in any of the sweets so he kindly packs some up for us including Greek almond biscuits and the most divine melonakorama.
That evening we return to the Gundaroo Colonial Inn for a quick drink before our dinner extravaganza at Grazing. The crowd is mostly locals and we take on all of the taboo subjects like politics! Like most country folk, they're pretty laid back and with a good story. I sip on my deliciously spiced mulled wine fragrant in orange zest and cinnamon and spices ($6.50).
Grazing
We make our way down the road to Grazing, one of the most well known and loved restaurants in the Canberra area which has had much praise heaped on it through chef Tom Moore's community based cuisine. Local food features on his menu often and Tom is a rarity-he's a chef that likes to come out of the kitchen and talk to the diners. His enthusiasm for the produce is refreshing and he shares stories with us of showing local school kids the truffle hunting season where they devise a menu and cook it and match the food along with the wines from the area. There is a herb garden out the back that supplies the restaurant with all of its herbs and forty chickens that supply them with all of their eggs.
Private dining room
We start with a lovely local sparkling wine and some soft bread from their Knead bakery. The bread is dipped in a local olive oil and paired with a lovely La Barre Blood Plum Vinegar.
Ravioli
The ravioli is a herbed pasta filled with scallops and smoked Snowy River trout,  bay capers and tomato and tossed in local verjuice and brown butter sauce. The pasta has tiny flecks of herbs and the filling is delicate and not overwhelmed by the capers and sweet tomato. The verjuice gives the rich brown butter sauce a piquancy.
Jeruselum Artichoke soup with savoury toasts and a slice of shaved truffle
As much as I loved this soup, I couldn't finish it knowing that we had so many courses to go.  The Jerusalem artichoke soup was given an earthy depth from the truffle shaving and the buttery, crispy toast is divine dunked into it.
Terrine
The terrine was a rabbit terrine edged in prosciutto and served with pickled winter vegetables and a carrot and orange marmalade. The rabbit in the terrine is not too gamey and the carrot and orange marmalade is interesting and strong in aniseed._ "When I do rabbit, I always have to serve it with carrot"_ Tom says cheekily. He also tells us about the folk from around here and that recently a man from 50kms away drove up with a trailer full of pontiac potatoes that he was selling. Tom bought a bag and used them at the restaurant and he says that they were the best potatoes he has used. They were fresh and just picked from the ground and about a quarter of the price of what he pays for potatoes.
Tom shows us the Russian kale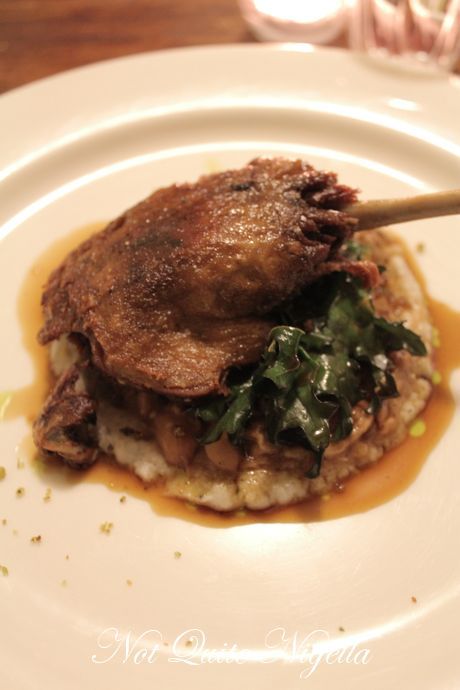 Duck Confit
"I once said on a tv show that duck fat was so sexy that I would bathe in it" Tom says as they're setting down our duck confit. Our last savoury dish is the duck confit which is served cassoulet style on bacon and garlic braised white beans with truffle cauliflower puree and herbed breadcrumbs. The duck is crispy on the outside but soft and fall apart on the inside. I also love that there is a crunchy layer with the breadcrumbs which breaks the softness of the dish.
Dessert time!
Desssert assiette plates
We try all five of their dessert (barring the cheese plate, there is only so much room that we have). The crumble features heirloom  rhubarb and raspberry crumble served with clotted cream and a raspberry cassis syrup. It is delicious with the buttery crumble (although I'd love a bit more crumble topping please ;) !) .
I'm usually too full or chocolate but the dark chocolate and salted caramel delice is served with malted ice cream, a sesame seed crisp and chocolate crumbs. The chocolate is divine and smooth as silk and is not too sweet given the dark chocolate and salted caramel. The malted ice cream is something special too-so unusual and yet so reminiscent of malted milkshakes and is instantly my new favourite ice cream flavour.
The gingerbread is nice enough but a little dry as gingerbread can be. It's served warm with a splash of maple syrup on top and cardamom ice cream. The prune tart however has won many heart tonight. Made using superb pastry (we had an inkling it would be great give that they own a patisserie) the pastry is a toasted hazelnut pastry. It is filled with prunes in a brandy custard tart and served with an orange milk sorbet and hazelnut praline. The whole thing is an exercise in lovely complementary flavours.
I wasn't really in love with the creme brulee as there was a bit too much tartness for me via the lemon custard and the medlar, lemon and thyme sorbet (medlar being similar to quince). The popping candy is interesting but it feels that there might be just a few too  many elements for me.
It is the end of a truly fantastic day grazing. We make our way back to the Novotel where we sleep like well fed and contended babies.
So tell me Dear Reader, do you prefer chocolate or fruit desserts at the end of a meal?
NQN travelled to and explored Canberra as a guest of Accor Hotels and Australian Capital Tourism.
Clonakilla Winery
Crisps Lane, Murrumbateman NSW 2582
Tel: +61 02 6227 5877
Opening hours:
7 days - 10am - 5pm
Poachers Pantry
431 Nanima Road, Hall ACT 2618
Tel: +61 02 6230 2487
Opening hours:
Farm shop & cellar door
7 days 10am - 5pm
Sat/Sun brunch 10am
4 Fri/Sat/Sun lunch from noon 5
Gundaroo Colonial Inn
23 Cork Street Gundaroo NSW 2620
Tel: +61 Crowes Bar (02) 6236 8155
Crowes Restaurant: (02) 6236 8060
Old St. Lukes Studio
Shingle Hill Way, Gundaroo NSW 2620
Tel: +61 02 6236 8197
Opening hours:
Sat/Sun & most Public Hols
10.30am - 5pm
Grazing
Cnr Cork & Harp Streets
Gundaroo NSW 2620
Tel: +61 02 6236 8777
Opening hours:
Thurs - Sat dinner
Fri - Sun & most Pub Hols lunch