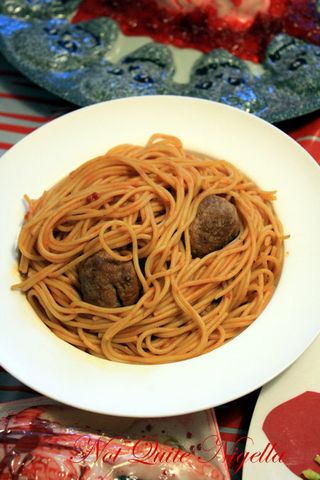 During Halloween, Mummies seem to be the order of the day here (see Mummy Hot Dogs) and when I saw a picture of this in Claire Crespo's The Secret Life of Food, I knew this was a definite winner. This mummy spaghetti is easy too and can be done with pre bought sauce and pasta (and you'd better believe I used pre bought with the amount of prep I had to do).
Did you make this recipe?
Share your creations by tagging @notquitenigella on Instagram with the hashtag #notquitenigella
Spaghetti Mummy
An Original Recipe by Lorraine Elliott
Preparation time: 15 minutes
Cooking time: 30 minutes
500g/1.1lb packet of spaghetti

500g jar/1.1lb of pasta sauce

300g/10.6ozs Chevups skinless sausages (skinless preferred or simply cut the skins off regular sausages and remove)
Step 1 - Boil the spaghetti in plenty of salted water as directed. In the meantime, shape the sausage meat into balls with 2 large balls for the eyes and some tiny ones to hide under the spaghetti. Fry the meatballs until cooked through (the larger ones will take longer to cook than the smaller ones).
Step 2 - Drain the spaghetti and toss with the pasta sauce. Place the spaghetti in a bowl and hide the little meatballs underneath so that they can't be seen from the top. Place the two large eyes on top and push them in a bit so they look like they're poking out - you may need to arrange the spaghetti so that it goes across where you are putting the eyes much like the mummy wrapping would.