Are you the Scream Queen of Halloween? These Halloween treats are not for the faint of heart. They're five of the most gruesome, realistic Halloween foods that I've made over the years! Brace yourself for some ghoulish fun and have some smelling salts ready!
DID YOU MAKE THIS RECIPE? Share your creations by tagging @notquitenigella on Instagram with the hashtag #notquitenigella
Rated 5.0 out of 5 by 1 readers
I created these creepy eye pies for Friday the 13th because on this date even the pies have eyes! A vanilla scented rhubarb tart is given a creepy twist with the easiest Halloween friendly decoration!
I don't know what possesses me sometimes to make the things that I do but one day I woke up and wanted to make marzipan teeth. In this post I show you how to make your very own silicon mould to cast your own teeth so they are easy to shape. Then we paint and glaze them to look as realistic as possible!
While I love baking, it's the gruesome decorating that I like the most. And with Halloween it doesn't matter if you're messy or mess things up, because ugly rules in Halloween! Just take a look at these stitches (made of royal icing) and scars on the flesh topped brownies!
You know that you've made it when actor Ryan Phillippe Instagrams your creation (sadly without credit!). This corpse pie (unknowingly) has shades of the Golden State Killer and shades of just plain scariness and is one of the most copied Halloween recipes of mine!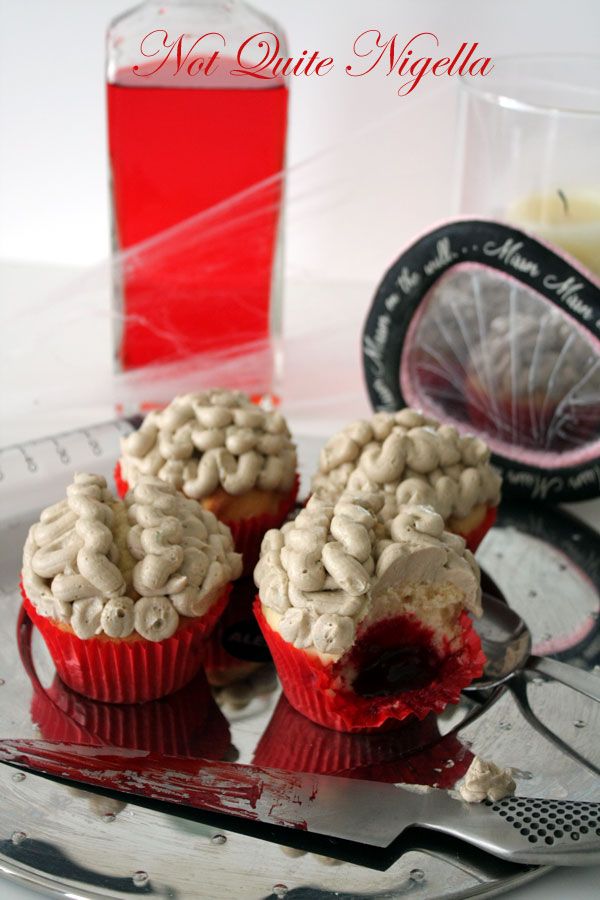 I think this Blood Clot and Brain cupcakes recipe really kickstarted my love for making truly gruesome things. The reason why these are so popular is because they're easy to make. The brain is just buttercream piped in a pattern while the blood clots are jam! Perfectly harmless really!
So tell me Dear Reader, which item did you find the most gruesome?