My friend Teena has been telling me about Ganache many times over. You see she is a friend of the owner's wife and as a croissant fan or fiend, she adores the croissants here. So after a lunch together one day we make our way over to Ganache in Castlecrag. Having undergone a recent renovation earlier this year it looks oh so French in an understated way.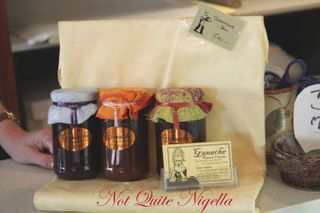 I meet the chef and owner Didier Sockeel who has been feeding the families of the North Shore for almost 8 years now. Formerly from La Renaissance in the Rocks, he has built his own following and on weekends, the lines stretch out onto the street. This Tuesday afternoon it's hard to find a gap in the crowd to take pictures of the cakes. He tells me that croissants sell out by noon (and the empty croissant case is evidence of this). Almond croissants are usually made from the unsold croissants from the day before but Sockeel has to ensure that some are put away every day in order to make them.
We get an assortment of small cakes to eat in, a Carambar caramel (like the French version of Fantales with jokes instead of trivia printed on the wrapper).
The Concord is a delicious, unexpected surprise. With curls of meringue on the outside and a layered carmael and chocolate inside, the mousse filling is light and very smooth on the tongue which contrasts well with the dry meringue curls on the outside.
The Raspberry Charlotte cake has a raspberry mousse inside and an icing sugar dusted sponge on the outside. The top is particularly good with a strong raspberry taste.
The Black and White cake I am told by Teena is one of Didier's own creations. With a rich chocolate sponge base and a white chocolate mousse layer it is draped in white chocolate.
We open the Carambar and it is similar to a baton shaped version of a Fantale chocolate sans the chocolate. It even has a little joke inside (although the Carambar jokes are said to be bad at best) and you get points which you can exchange for Carambar products.
Other purchases by Teena are the pies below.
My original visit was some time before but I felt that I couldn't publish this story without trying some of their famous croissants and pain au chocolat. I rang that morning at 11:15am and they had 4 of the original croissants left and 6 of the others so I quickly put some aside for me and came in that afternoon at 1pm to pick them up.
Mr NQN enjoys his Nicuraguan Coffee very much.
The Almond croissant is deliciously crisp with the syrup providing a little crunch on the outside and the almond cream inside giving it a gooey texture among the crisp, flakey pastry.
The pain au chocolat is so multilayered and you can see each distinct layer. It's quite good although I still have a hankering for more of that Almond croissant.
We took the croissants home and plied them with the vanilla and cherry jam and ham and cheese and they were buttery, flakey and layered. Worth the trip? Absolutely. But remember to ring and reserve some to avoid disappointment.
So tell me Dear Reader, which is your favourite French pastry? The Croissant, Pain au Chocolate, Eclair or something else entirely?
Ganache Patisserie
85 Edinburgh Rd, Castlecrag, NSW
Tel: +61 (02) 9967 2882
Tuesday-Friday, 7.30am-5.30pm; Saturday, 7am-3pm; Sunday, 7.30am-2.30pm