It's coming up to crazy season, that's right, Christmas is almost upon us! December is a hectic time and Christmas meet ups with friends seem to happen in November as December fills up months in advance. When Kath asked us whether we'd like to go to Baroque Bistro, the brand spanking, new and shiny thing on the block owing to some miracle of planning there was a date we were all free in November. Baroque Bistro is by the same people that own La Renaissance, the lovely patisserie in The Rocks and rumour had it that you could watch all the chefs baking all sorts of goodies  in the window and on the other side, there was a beautiful view of the harbour. It's open 7 days a week from 8am til late and given the location and view, the prices are a veritable steal.
Our waiter explains that there is only the duck leg available in the duck dish tonight which is usually duck done two ways making it a duck done one way only so we bypass it. Trish, Kath and I are eager to share so that we can try more so we order a few things that we all like the sound of or are curious about. The waiter is a tad confused about our need to share as he wants to assign each position in the table with a dish and this results in a main going missing a little later.
We try some baguette with oil and salt while we await our food. I don't eat much of this although the bread is nice and fresh. I know we have 3 courses to come!
The baby spinach and asparagus salad is flecked with snails and orange segments and is well dressed. The snails have a soft, slightly chewy texture similar to a clam or other mollusc.
The black pudding on puff pastry with roasted apples was something that Kath was particularly curious about as she had never tried black pudding, or blood pudding. It's tasty indeed and the sweetness of the apples goes well with the crunch of the pastry and the rich saltiness of the black pudding.
I try some of Trissa's baked eggs which aren't bad although I don't tend to order egg dishes as I prefer meat and fish. There doesn't appear to be quite enough baguette for the serve though.
Ellie's poached chicken salad is delicious with tender chicken and a salad with an Asian-ey flavour to it via the soy and sesame dressing although it does seem unusual to see this dish in a French restaurant.
The favourite dish of the night is the ocean trout. As soon as we all try it we moan in pleasure. The ocean trout is soft and perfect against the silky carrot puree and fresh herbs. There's even talk of us ordering a second serve of this particularly as a mix up means that our lamb rack arrives 20 minutes after the rest of the mains.
The braised beef cheeks are lovely and rich and soft with a thick sauce and the batons of parsnip sit in a thick, gelatinous sauce. I'm particularly fond of slow cooked meat as it's so soft and warming. It's perfectly lovely although it was never going to stand up next to the perfection of the ocean trout.
The lamb rack which arrives later is tender and beautifully cooked. The potatoes aren't bad although they are a little dry in texture.
I don't try any of the beef (today's cut is rump) but the fries are hand cut and nicely seasoned. Ellie ordered it medium rare and half of it looks cooked through whereas one half was medium rare.
Sadly the Paris mash is bland and whipped light and most of this is left behind. Kath remarks that it tastes like Deb and truth be told it does a bit  :(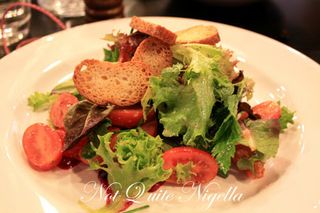 We were very much looking forward to dessert and so we dig into this. The obligatory photo taking means that the pistachio ice cream had melted into almost a pool but our first instinct is that it tastes much more like almond than pistachio. The brulee is very eggy with only the faintest crack and it's especially strong in egg white.
The croquette breading on the outside is quite savoury in flavour much like savoury croquettes and the oil has that same savoury croquette flavour. It's not bad although I'd like a sweet biscuit crumb or sweet brioche crumb. Once we break it open the chocolate oozes out like lava.
I had to order this - well you might know me and my fetish for apple desserts. Quite frankly I'm obsessed. This dessert is my favourite. The best part of this for me is the nougatine which is deliciously crunchy, nutty and caramel-y and it comes with a mousse which when combined with the apple (which is as soft as poached pear) and the crunchy nougatine and powdery dust of the breton shortbread, produces a nice sensation indeed. The mini macarons however are really just for decoration as they are rather hard.
The chef thoughtfully brings out a plate of colourful macarons. We are given chocolate, lemon, jasmine, cassis, passionfruit chocolate, vanilla strawberry, olive oil & avocado and olive oil, avocado & chocolate. The Jasmine is my favourite most undoubtedly as I love jasmine macarons having been spellbound by one at Herme in Paris. This one is fragrantly lovely and distinctly jasmine. The macarons here are harder on the outside, some are quite hard whereas others are softer. I also like the olive oil and avocado as it's true to flavour and unusual.
So tell me Dear Reader, are you looking forward to Christmas? What will you do this year?
Baroque Bistro & Patisserie
88 George Street The Rocks, Sydney
Tel: +61 (02) 9241 4811
Open 7 days 8am til midnight