I should really subtitle this story to be "How much can a petite female food blogger eat?". Even though Karen and I have both polished off 2 burgers not only 30 minutes ago, we find ourselves compelled and positively drawn to the Alliance Francaise building opposite Bécasse where their chef Justin North has just opened up a cafe a mere 5 weeks ago where he supplies them all manner of French goodies. What we had originally intended as a quick dessert stop (which was completely and wholly unnecessary given the prior ingestion of food), turned into a full blown affair once we saw the menu. Oh yes it was good and it was very reasonably priced so what's a girl to do? Ladies, you're with me right?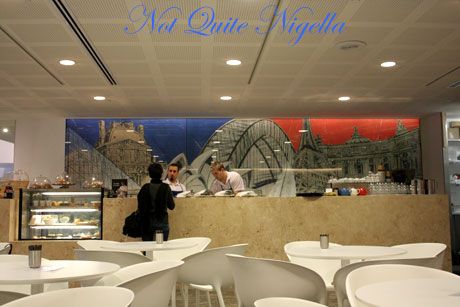 Our waiter Brad is very friendly and says that this must be our first time as he's never seen us before which  is nice and personal service indeed. He lets us know that we order at the counter and then asks if we can understand the menu. We both speak Menu French so we're safe. After much dithering we hone in on the favourites and order those. Sadly only one is not available - the Citrus Mille Feuille but we take his suggestion of the chocolate pot.
Display of goodies
Frisee aux Lardons $10
It's not long before our food arrives. Another waiter was perplexed as we were taking photos "Aren't you going to eat that before it goes cold?" he asks. He's obviously unfamiliar with our kind ;) The frisee salad aux lardons is a pretty, small plate of chicory or frisee leaves, lardons, caramelised shallots, a soft cooked egg and crispy baguette croutons. It reminds me so much of the meals we had in Paris and it's flavoursome, perhaps erring towards too salty but the lovely poached egg in the centre gives it a creaminess. And I feel that you would need more baguette croutons for the amount of salad.
French Brioche Toast $6
I take a slice of the French brioche toast with a rhubarb and pear compote (there was also a choice of strawberry & lime jam or maple syrup). My initial confusion was that I thought it was French Toast made out of brioche but it is just French Brioche toasted-it appears word order is indeed very important! Nevertheless the brioche is lovely and buttery and the pear and rhubarb compote is out of this world good. They need to bottle it so that I can take it home and ladle it over some vanilla bean ice cream and add some Pashmak (Persian fairy floss) on top and serve it at a dinner party. One thing that Karen notes and I agree with, is that the toast is a little more browned that I usually brown my toast.
Croissant with butter and Jam $4
The croissant with butter and jam is interesting. Buttery certainly, but not as flaky as some (and I admit I love the flakiness of croissants). We'd hoped that it might have been warmed but it isn't. Still, it's moreish and I find myself going for more and more of this.  And the other reason for our intestinal fortitude is the strawberry and lime jam. Yep strawberry and lime. And yes it's even better than your wildest dreams come true.
Petit pots au chocolat $8
I was a bit wounded that the Citrus Mille Feuille wasn't available but one scoop into this and I've forgotten it completely. The chocolate is nutty and incredibly silky smooth but not too sweet. Think of a small pot of Nutella crossed with a pudding i.e. Nutella's sophisticated cousin. It's not moussey or airey and it's definitely more pudding-ey in texture. The toasted pistachios are sprinkled on top and then there's a quenelle of vanilla bean cream. It's rich though so a little goes a long way and when we sit back, vanquished waving the white flag of surrender a friendly French waitress picks up our plates and notes the chocolat pot saying "That is my favourite, did you know that he puts a surprise at the bottom of caramel?". Well that woke our stomachs and taste buds and we grab our spoons and ferret around the bottom ad lo and behold, there's a thick dollop of caramel at the bottom. Ah yes life is good and food should always have (good) surprises.
Une dollop de caramel
Banana bread
Brad brings by a piece of toasted banana bread for us. He's a darling and we try this at home. it's beautifully moist and very banana-ey. What a find for a CBD starved of fantastic, quick, inexpensive meals and not a snooty waiter in sight.
So tell me Dear Reader, what's your favourite French pastry? A croissant? Pain au chocolat? Or an eclair or Saint Honore?
Le Grand Cafe by Becasse
Alliance Francaise Centre
257 Clarence Street, Sydney CBD
Tel: +61 (02) 9264 7164
Open Monday to Friday 8am to 6:30pm
Saturdays: 8am to 3pm