There are some restaurants that are held in great affection. Perhaps it's the food, or perhaps it's the service, perhaps it's the fact that they're a unique proposition in a city where there is already a variety of restaurants abound or perhaps people make great memories while there. This evening, at Mere Catherine, it was a reunion dinner. Our little group had travelled to regional France together and we had, shock horror, enjoyed each other's company so much that we wanted to catch up again and Mere Catherine , a classic French institution in Potts Point would help us relive the French memories.
Booking at Mere Catherine requires you to call on a particular day at a particular time. They're not being inhospitable or difficult (and in this climate of no booking, we're just so glad that they take reservations) but it's a way of managing bookings. You see, it is a cosy 18 seater restaurant and chef Gerard Humair answers the phone for reservations. He has asked us as a table for six to come at 6:30pm so that they can give us the appropriate amount of attention - as we'll later learn, the floor is handled by his wife Nanette alone. I'm asked to call again a few days before the booking to confirm.
When Judith and I walked in at 6:20pm, we were the first diners and it was love or cosy affection at first sight. From Nanette's sincere, warm greeting, to the kitchen slightly visible behind a screen to the simple but homely furnishings, you feel as though you're in someone's home.
Nanette is tiny,with curly, light blonde hair with a gentle manner. Gerard the chef who toils alone in the kitchen is tall, wears a black baseball cap and glasses and sports a silver moustache. We ask Nanette about the name. Mere Catherine or mother of Catherine, is not the name of someone's mother.  Simply chosen because it is a classic French restaurant name and they serve classic French cuisine. She tells us that they aren't allowed to change the menu but then brings us the white board menu "which they can change."
Mere Catherine is BYO as well as being licensed. Which brings us to the wine list which a friend of mine Teena had mentioned was unique. "Would you prefer white or red wine?" Nanette asks. We answer red and she brings the wine list to the table. By wine list we mean she brings three bottles of red wine which we can choose from. By now, everyone is swiftly falling under the charms of Mere Catherine and Richard chooses a red and we're ready to order.
Gratin coupole French onion soup $17.90
The reason why we were asked to dine so early is that things like the French onion soup are served at the table. Nanette brings two little silver cups and a bowl to the table and proceeds to whisk egg yolk and brandy into the French onion soup. I take a spoonful of the deep, rich broth and is it exquisite. Deep, velvety and smooth, you just don't want it to end.
Le Pate du Chef $25.90
The pate is a coarse ground duck liver pate, strong and served with white sandwich bread toasts with fanned cornichons on top. It's good but I really only have eyes for the French onion soup.
Escargot $17.90 for 6
"Slippery little suckers" and I almost avoid zinging one of these buttery shells into the lap of another diner - _just. _I can never get those escargot holders to work for me so it's with a hand on a hot shell that I fish out the hot, garlic buttery morsel of escargot.
Roast Quail flamed Armagnac $46.90
For mains, I was tossing up between the duck which was roasted until crisp or the quail with the golden raisin sauce and I was swayed by my intrigue with the raisin sauce and  the fact that the duck doesn't come with a sauce. The quails come to the table in a copper pot and Nanette serves them with a flourish, spooning scoop after scoop of the rich raisin and Armagnac laden sauce with the two quails. It is a dish meant to be eaten with the hands and she places a finger bowl next to my dish. I dig in starting with a leg. What I first thought was perhaps too much sauce ends up being just the right amount, I tear the hot meat from the quail and stir it around the sauce and it is a wonderful combination. Comforting, slightly sweet but never overly so, I lick my fingers in appreciation.
Chateaubriand, sauce Bearnaise $66.90 for two
Filet mignon
Roast chicken in tarragon sauce $28.90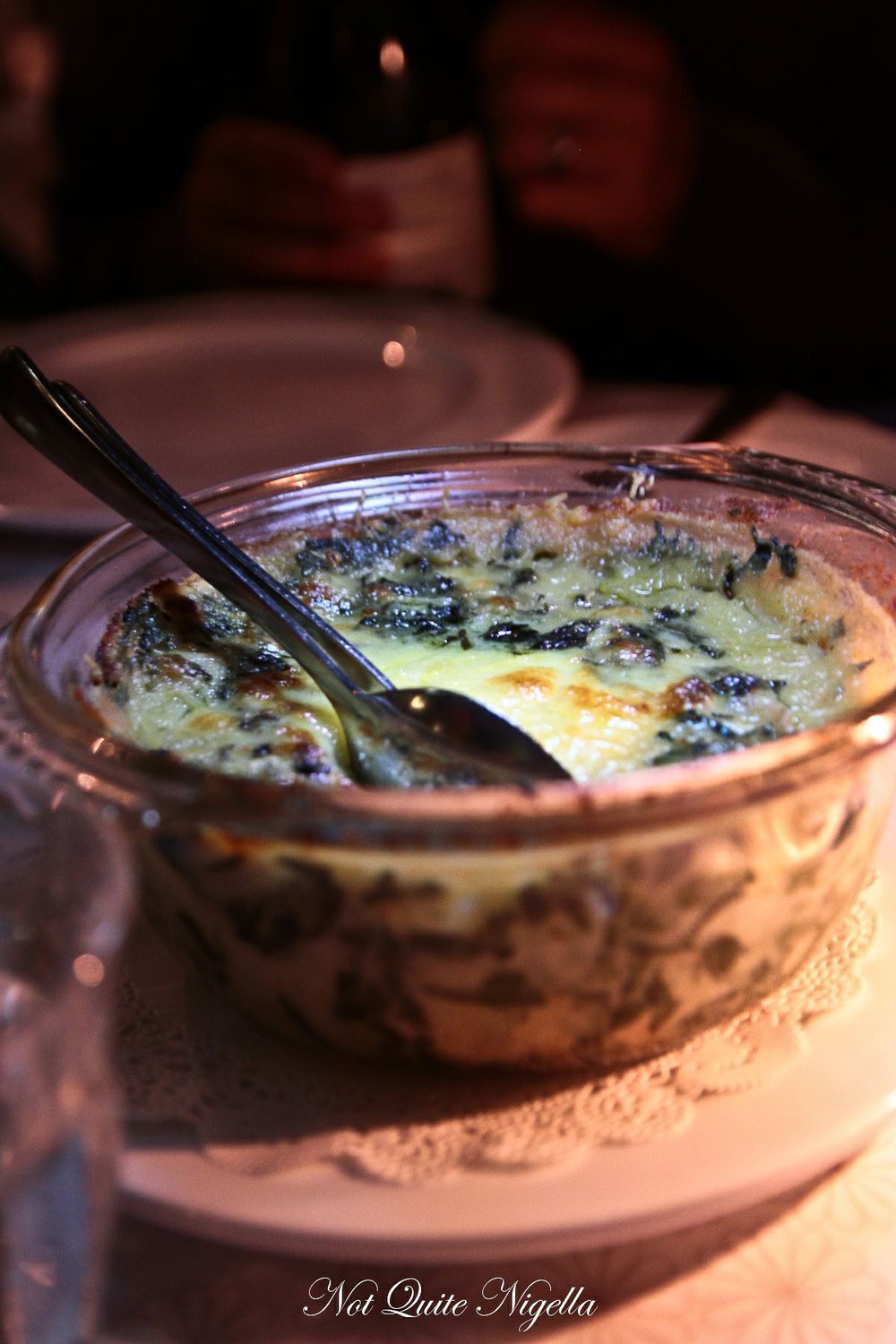 Creamed spinach
The creamed spinach is soft and velvety with the light flavour of nutmeg and the prized parts are the crispy baked in sides. It's one of those sides that you can't stop picking at.
Potatoes
Alas, I'm afraid that I didn't quite get to try these! A shame as they looked very good.
Roquefort salad $21.90
The roquefort salad is said to be enough of feed six as a side and it is deceptively generously portioned. The roquefort dressing is tangy and creamy and served in layers on the crisp iceberg lettuce. In fact we can't finish it, particularly as we had our eyes on the final prize: dessert.
Chocolate mousse $14.90
The chocolate mousse was a special and we ordered two of these to share amongst us along with one of each other dessert. The chocolate mousse was delectably rich, I think half of it would be enough for most but sharing the two among the six of us turns out to be a fortuitous decision.
Les Profiteroles aux Chocolat $14.90
We enjoyed the two fat puffed profiteroles stuffed full with custard and topped with lashings of whipped cream and chocolate.
Creme caramel $14.90
The creme caramel was a home made wobbly caramel topped with a squirt of whipped cream. The creme caramel was eggy but not overly sweet.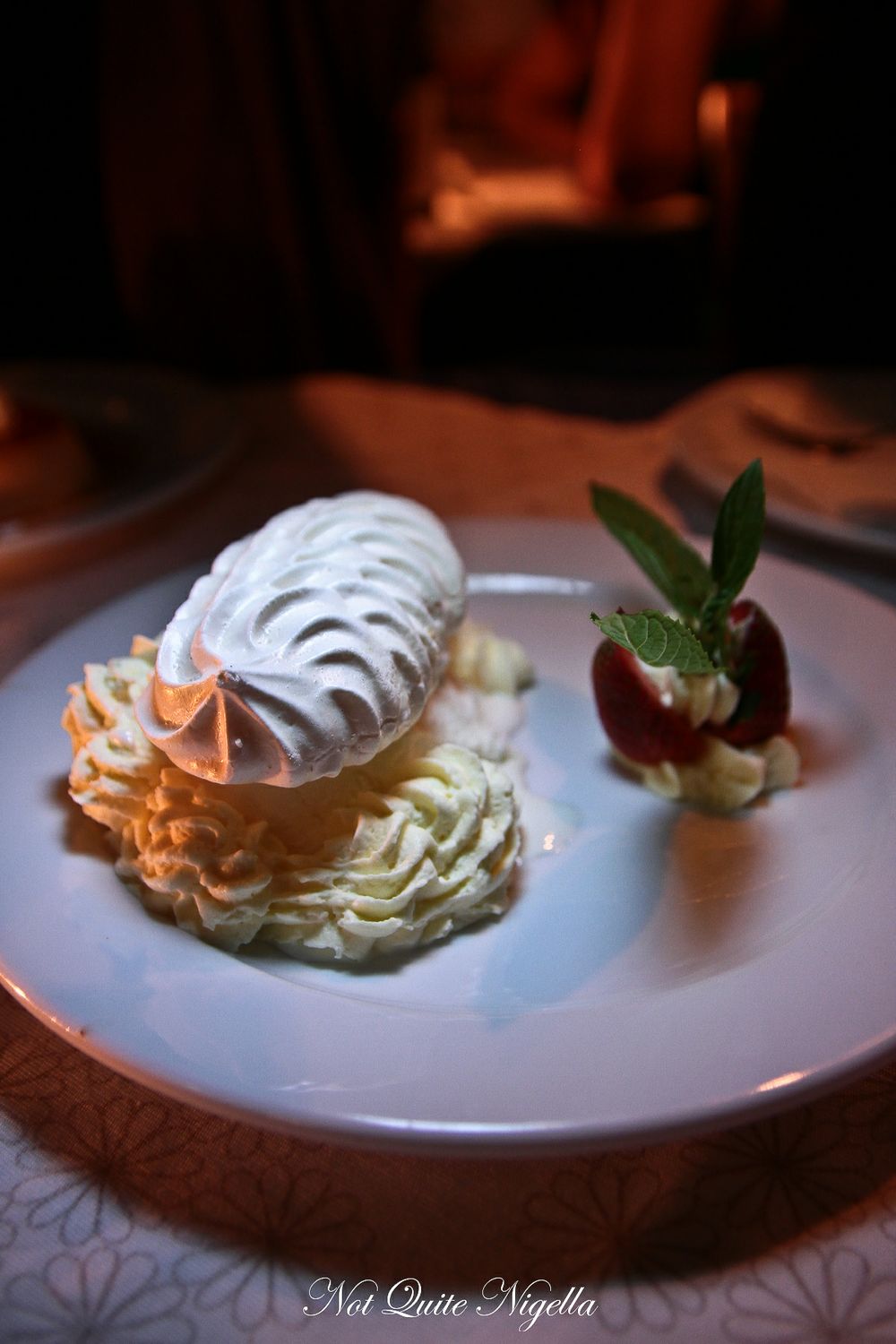 Les Meringues Chantilly $14.90
The crunchy meringue was a good textural contrast to the whipped cream and ice cream. To the side was a split strawberry filled with whipped cream and mint leaves.
Around about now, the rest of the tables get a bit happy on food and wine. We've watched couples exit, people leave to go to the bathroom (at the backpacker's next door) and the whole restaurant sings Happy Birthday to a woman dining with her partner. He plants several long kisses on her mouth and then she gets up and sits on his lap and gives him a long lingering kiss A gentleman at another table yells "let's clap for love!!!" and the applause grows louder as calls for the chef Gerard to come out. He comes out from the kitchen and waves and smiles to a loud round of applause.
So tell me Dear Reader, what is the most important thing to you at a restaurant? The food, service, atmosphere or price and why?
Mere Catherine
166 Victoria Street, Potts Point, NSW
Tel: +61 (02) 9358 2000
Tuesday to Saturday 6pm-11pm