"Flemington Markets?" the cab driver says looking at me dubiously like I've landed from another planet. It's 5:30am and I guess my half asleep state makes him question my destination (or perhaps I mumbled incoherently). It was my second 4am rise in 2 days. And like the Breakfast on the Bridge, it was something that I gladly rose for. When I was invited to experience a Day In the Life of Justin North, I had an idea that it would be busy (he owns four establishments after all) and full of good food. Little did I know, just how exhausted I would be by the end of it and still no closer to solving the mystery about how he has the energy to do it all.
It's pouring today - only yesterday, rains had pounded Sydney furiously and they had continued throughout the night into the next day. I'm waiting in the main office at Flemington Markets with a few other people including four competition winners, two from Melbourne and two from Brisbane who had entered a competition to experience "A Day in the Life of Justin" and dine at his restaurants Becasse and Etch.
Justin and his lovely PA Victoria arrive and he explains that there are three large sheds at Flemington Markets and that he and James his Head Chef at Etch head to Flemington markets 2-3 times a week to stock up on fruit and vegetables. The reason why they don't use a buying agent is so they can get to see the produce themselves and the price fluctuations are so varied that it makes sense to make the decision themselves then and there whether to purchase or not based on what they want to put on the menu. "Watch out for the forklifts" he warns us a couple of times. I'm ready for them having experienced something like this at Tsukiji Markets in Tokyo.
Justin picks up a trolley and explains that today's list is a relatively small one as they just need to top up supplies. The items on the list have "B" for Becasse or "E" for Etch next to them as that is where they'll end up and he buys for all four places: Becasse, Etch, Plan B and Le Grand Cafe. We're starting in the grower's shed where the actual growers sell their produce. Before we can start, a man comes up to him and poses for photos. He then passes out some Corella pears to us to sample. They're a friendly lot here and they love a camera.
Justin samples some pears and purchases them. Sampling is common here so that people can try before buying large box. He shows us a box of a dozen eggplants for $15 and give us one to handle. It's heavy and firm, in fact I don't think I've ever held an eggplant that heavy before. He explains that as they age, they get lighter. Dare I say that most of the eggplants in the supermarket have never been this light (or as reasonably priced). He asks the grower where his farm is and it's in Windsor as he likes to know where the produce originates from.
Broad beans
There are broad beans that look a little mottled on the outside and when asked why he would buy them, he answers that looks can be deceiving.  Sometimes they may look perfect on the outside but they aren't as sweet and they're dry on the inside. He buys a tray of beans and cites the beans as an example of how pricing fluctuates week on week. A week or two ago, the same box of beans cost $120, this week it's $40. The straighter beans are more sought after and command better prices whereas the curved beans less.
Artichokes and zucchini flowers
He then stops by a stand with zucchini flowers. They're in perfect condition with the petals unwilted and fresh. And how much for a box of these 80 zucchini flowers? $30. Yes if you've ever tried to buy these you'll know how expensive they can be and that a box of 80 of them for $30 is a steal along with a nearby box of artichokes that is $10. He buys the zucchini flowers and then moves onto the next stand. I ask if he has his favourite sellers and he says that he knows where he can usually find good thing and there are some sellers that sell very unique things which he seeks out.
Tamarind Root
Apple Mint
Holding a Golden Beetroot
We stop by a stand where a Tony herb grower from Dural sells some amazing herbs. There's Apple Mint, Pineapple Mint, Chocolate Mint which all smell distinctly just like the names suggest and Lemon Thyme which are all beautifully fragrant. He tries grape tomatoes which he'll smoke and shows me a fresh tamarind root and shows us a golden beetroot where he explains that he plays with the minds and tastebuds of diners by doing n orange and beetroot gel with golden beetroot which is orange in colour and a blood orange which is a purple colour. Everyone seems to know him and they call out greetings.
Golden tomatoes
Trying radish sprouts
We then head off to the agent's stand which is different with items neatly packed in boxes. These are the people that deal with the larger supermarkets etc. Justin buys some golden yellow tomatoes which he'll use in a tomato sorbet and the seller shows him some radish sprouts which we all sample.
He holds out a punnet of blueberries and tells us that we are to take three blueberries. This will give you the best indication of the punnet as blueberries can vary so much within a punnet and just trying one may mean that you dismiss the punnet because one may not be sweet. One of the agents Donna hands out a punnet of strawberries and she explains to us that they aim to get as much for the growers as possible. If they don't, the growers won't send them anything and the growers have an idea as to how much a box of produce can fetch. They certainly rise early: she has three kids and she sleeps between 6:30pm to midnight.
The cart gets bigger and more is stacked on (they key is to stack the heavier items like onions and potatoes towards the bottom) and he explains that on days where they stock up more they will buy up to 3 of these carts and load them into a van which will then get allocated to each restaurant and he then divides it up for each restaurant and gives them the total for their produce.
No it's not Matt Moran...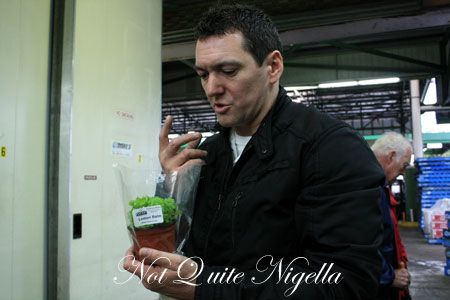 Lemon balm
He then purchases a 5kg tray of figs for $40 (at other times they are $80-$100) and we finish off in this shed at Export Fresh stall where we sample an amazing array of micro herbs called "Pocket Herbs" like lemon balm and Greek basil as well as mizuna and mesclun lettuces. The name "Pocket Herb" is because it comes from Pocket Valley although it seems to suit the product as it is pocket sized too. The grower explains that these products will go into the stores for consumers to buy eventually but they initially place these in the restaurants to help to introduce it to the consumer market (also because they only have enough to supply to restaurants). The items then become popular and are then stocked in more stores.
In the classroom of the Sydney Seafood School
Our next stop is the Fish Markets in Pyrmont. Traffic is bad during peak hour and it's made worse with the rain. We're running a little late but we arrive there and grab a quick bite to eat before heading up to see the new Seafood Cooking School. The walls are lined with salmon skin (yes truly) and he shows us the demonstration "classroom", the cooking area and where participants will dine.
Auction area
Red Scorpion Fish
He shows us the auction area where agents go to buy fish (see my story on the behind the scenes of the Fish Market auctions here) and all through the night trucks back up to the entrance and unload the fish and then he takes us downstairs to Claudio's where he goes through the fish varieties with us. Fish such as the red scorpion fish or gurnard are great for bouillabaisse and fish such as skate is expensive in Europe but very reasonable here at $4.99 a kilo.
We then head to Etch where we'll spend some time in the kitchen although as it's a small kitchen (it's quite seriously small) there's no opportunity for us to do prep or help out in there. Justin sits down and explains how Etch works and about his commitment to supporting the industry and educating and training up chefs. James his Head Chef at Etch started at Becasse when they were a 30 seat restaurant located in Surry Hills 8-9 years ago and worked his way up from Chef de Partie to Sous chef to the Becasse Head Chef and then to the Licensee at Etch. He leaves the menu writing to James and Tristan and gives them freedom whilst balancing this with supporting them without crowding them or stifling them and the same goes for Becasse where he tries to support the apprentices as much as possible.
He explains why all the baking has been done in house. The kitchen is one that isn't used between midnight and 7am which is essentially time in which they're paying rent but the kitchen isn't working. To rectify this, they then employed a baker who comes in at 2am and bakes for all of the restaurants as well as Plan B and Le Grand Cafe. The next stage? A cookery school and retail stock.
Someone asks him how he got started and he tells us that he left school after finishing 6th form and getting his school certificate. For him the most enjoyable part of school were friends and the arts subjects. He and his friend joined a cooking school in the hope of meeting more girls (which they didn't) and he liked the way that working in kitchen linked up to the art world. He moved from New Zealand's Blenheim to Nelson and then up to Wellington in the North Island where he finished his apprenticeship at age 19. It was 1992 and Liam Tomlin and Dietmar Sawyere had just opened Brasserie Cassis.
"Liam is like Gordon Ramsay times ten" says Justin and who realised that Tomlin was a man absolutely obsessed with food. At 5:30am they'd be making the sixteen sauces from scratch for the day and Tomlin would be there showing them how to do it.  He tells us that Tomlin felt that there were three motivators in life: Money, Sex and Fear and that he would say to them that he wasn't going to pay them, he wasn't going to f**k them so he was going to scare them. He saw that Tomlin was grooming him to be successful and he was encouraging yet did not allow him to get away with anything.
He then went to work with Raymond Blanc who experimented with food and showed him a different attitude towards food and he finds that the two sides, the discipline from Tomlin and the creativity from Blanc still carries through in his cooking today. He was scheduled to work in New York but had to wait a few months and during that time he returned to Sydney to work at Banc with Tomlin. That evening, he went to have a drink at Wine Banc Bar and there he met his wife Georgia. And the rest they say is history as he never made it to New York and they opened up Becasse.
We all get into our personallised, embroidered Etch chef's jackets which we get to keep (YAY!) and we go into the kitchen. He explains that they lease the space from the company that owns the Inter Continental. They have modified the menu to suit the kitchen and he introduces us to James. I spy the produce that was purchased this morning being used in today's dishes.
_Hiramasa Kingfish with avocado and toasted lime and wasabi mayo
_
We sit down to lunch with a matching wines and our first course is a gorgeous Hiramasa Kingfish marinated with wet salt, sugar, coriander, star anise, garlic, thyme and chili. It's rubbed all over the fillet and left to infuse overnight. In the centre there's lightly toasted lime segments, a mayonnaise based wasabi and a dressed sliced avocado with baby coriander (from this morning). It's heavenly, the thin slices of kingfish pairing expertly with the creamy avocado and toasted lime and wasabi mayo. Just very well balanced with a lovely Asian influence but not overtly so. The wine is a lovely Austrian wine called Gobelsburger. We notice that he only sips it and he explains that he doesn't drink much any more. He now practices Pilates and yoga as he realised that his stressful work and constant sampling saw him climb to 120 kilos and this combined with smoking meant that he was a classic heart attack waiting to happen. We learn that he is also allergic to crustaceans or any sea creatures with legs.
Roast rump of Riverina lamb with Royal Blue Crushed potatoes. Served with Chateau Saint Marie.
Our main then arrives and I'm excited to see it's the dish that caught my eye in the kitchen. It's a roast rump of Riverina lamb with Royal Blue Crushed potatoes (steamed rather than boiled so that the goodness doesn't get lost in the water), a gremolata puree and a candied olive gel. He explains that he uses agar agar instead of gelatine as it is more stable at warmer temperatures and prefers to use items in a gel form as it maintains their true flavour. Reducing them down is fine but it concentrates the flavour and for an item like olive that may be too strong. The dish is delicious-the lamb is perfectly tender and I'm a big fan of the gremolata and black olive gel. They're served with proscuitto topped potatoes which are beautifully crisp and golden and some steamed broccoli with toasted almonds which are simple but satisfying.
Proscuitto topped roasted potatoes
Only last weekend he mentioned going to the Blue Mountains with his wife Georgia (who works at the front of house at Becasse and Etch) and two kids, 3 year old Sophia and 1 year old Charlie where they were sampling some produce. We ask him how he handles it with 2 young kids and both of them working such long hours and he says that they make us of the child care centre in the Building complex next door and that either he or Georgia will pick the kids up from there, take them home and feed them and bath them and then he will return to the restaurant later to cook. I'm exhausted just thinking about it.
So tell me Dear Reader, do you buy your fresh produce mostly from markets or supermarkets?
Etch Dining
Intercontinental Hotel
62 Bridge Street, Sydney CBD, NSW
Tel: +61 (02) 9247 4777