It's not every day that an olive oil producer invites you to visit their olive grove during harvest time. So when the invitation came by email enquiring as to whether I'd like to tour an olive grove and then be cooked a lunch by Gabriel Gate, it was a rather quick and easy decision to say yes! The reason for my enthusiasm is that one of the biggest issues for the Australian Olive Oil industry is the influx of overseas oils which were recently tested by the ACCC (Australian Competition and Consumer Commission) and found to be adulterated or refined with blends of other oils whilst still claiming to be Extra Virgin.
Extra Virgin is the highest grade of olive oil from the first pressing of olives which doesn't contain any other oils or solvents, has less than 0.8% acidity, no faults and has the greatest health benefits. It was common practice to pass off lesser or blended oils to non Mediterranean countries and these were slipping through the system as Australia had no mandatory testing and certification regulations until action was taken this year. The Australian Olive Association has drawn up a list of criteria to qualify an oil for Extra Virgin Olive Oil status including the properties above but products must also have undergone organoleptic and chemical testing. Australian producers that have agreed to this practice can put the "Australian Certified Extra Virgin" symbol on the bottles. One supermarket chain Aldi has signed up to only sell oils that adhere to this practice. "Pure" or "light" olive oil tags are misleading and these are simply names for lesser quality oils. Light is light on taste (rather than calories) and pure is a blend of extra virgin and virgin which has more acidity and slight defects.
Being slightly terrified of light planes, I was not going to be a good candidate for a flight from Essendon Airport to Charlton to visit Cobram Estate. Until I discussed it with my friend Carbon Debit who knows a thing or two about planes and she volunteered to take my place. It was also not really a light plane as it seats 22 and when we saw how magnificent "Air Nostalgia" was with it's gorgeous metal exterior and rivet work I almost expected Don Draper to walk up to it, give his mysterious "Mona Lisa" smile, take off his hat and board. Inside it's fully refurbished (at great expense) and our pilots welcome us on board and tell us that they fly this plane "for a bit of fun". Our flight attendant tells us that we can put our hats and coats in the storage compartments (that's for you Don!) and we get our little breakfast of yoghurt, muffin and fruit salad. As we leave, they beep the horn-yes there's a horn and we're off!
We touch down at Charlton and take a coach to one of Cobram Estate's Boundary Bend sites. The this site is massive with 1.5 million olive trees, the adjacent site has another million trees, they have 5 sites altogether. Their sites combined are in the top 10 of the world in production capacity of olives. True to the invitation, they're mid harvest at the moment which entails harvesting 24 hours a day 7 days a week in two twelve hour shifts for an eight week period. The only thing that will stop them is wet weather. Olive trees are particularly hardy as unlike many fruit trees, olive trees will sacrifice the crop to save the tree. Their aim here is to get the fruit off the tree as soon and as early as possible to allow the tree to rest for as much as it can over Winter. It will then flower in October and early November and then fruit set will occur. Unlike many overseas olive farms who specialise in one type of olive tree they do a lot of cross pollination here which increases the yield at least 1-3% to make it more commercially viable.
The albertina is a squat tree which produces a delicate olive early and this is always the first that they pick from. We also pass frantoio trees and barnea trees (seen as the workhorse of the olives). All olives start off green and then turn black and the earlier that you pick the olives, the fruitier the olive oil will become, even within the varieties so it is possible to control the flavour of the oil based on the time of picking. This year they will harvest over five million litres which they consider to be not a large crop. This is because of the hot weather they experienced at the end of October and November which affected the flowering.
To harvest the fruit they use a harvester which they themselves build in Mildura. They have 11 of these machines which do the work of 40,000 people. These enormous machines require one driver and one picker. The harvester straddles the tree and thin poles beat the fruit from the branches. We pick an olive and bite into it. It's very bitter and not what one would call palatable and the best way I can describe the type of lingering bitterness is if you ever had a hard plastic toy as a child and bit into it. That bitter plastic taste is the same (well I used to bite everything when I was little so why not a toy?). They say that tree shakers can damage the root system so they prefer not to use them, tree shakers also only have a 60% efficiency when the fruit is at this early stage whereas their harvester has a 95% efficiency.
We go into a building where the olives are pressed (which incidentally, smells absolutely delicious). After being crushed, they're formed into a paste and they go through a malaxer which spins at 3,000RPM. The centrifugal forces push the water and paste outside away from the oil which is lighter in weight. They then go through a final separation at 6,000 RPMs. Every two hours the people in the lab test the olives for acidity and peroxide levels. This is to avoid contaminating a larger batch with high acidity problems and each batch is traceable. High acidity occurs when olives have been sitting around for too long before being processed although here, the whole process from picking to being ready to bottle is a total turnaround of eight hours.
We go into the storage room which holds 4.5 million litres with each vat holding 150,000 litres. The enemies for olive oil are light, heat and air so they add a nitrogen blanket to reduce oxidisation. About 10-20% of oil stays here to blend into the next year's batch to help keep a consistent product. The olive waste, once the pips are remove is used as a fertiliser as it is high in energy and looks like tapenade!
We return to the main building where we embark on an olive oil tasting where we are given 6 cups to taste. And what makes a good olive oil? Freshness (measured by the free fatty acid content), balance, aroma and flavour intensity and complexity. During olive oil tastings, blue cups are usually used so that colour isn't seen and whilst colour doesn't affect the quality of the product it can certainly affect the taste. We start with the first oil which is the "light and delicate" blend and gradually go to the stronger ones with fresh and fruity (#2), to the single varietal oils like the Manzanillo (#3) which is a special one with a strawberry jam aroma to it.
The Hojiblanca (#4) is next and I can see that the first three are yellow in colour whereas the last three are greener in colour. I really like the stronger olives oils for eating and the Hojiblanca and Picual (#5 which is good for tomato and rocket salads) are my favourites. Number 6 is a premier product which is not quite finished but has a pronounced bitterness to it at the end and is less fruity and is said to be best for meats. And the way to taste it? It's hard to describe it but the closest thing I can say is the scene in Silence of the lambs where Hannibal Lecter tells Clarice Starling that he ate a census taker "with fava beans and a nice chianti". His sucking in mouth movements are similar to the way that we suck up the oil and aspirate it across our tongues.
The official IOC (International Olive Council) tasting cup and tasting room-pictures from Cobram Estate
We cleanse our palate between course with water and slices of Granny Smith apple. And the surprise? We get to choose our two favourite oils of the day and they will go straight to the storage tanks and bottle them for us fresh! These will go well with the three bottles that we were given in our hotel room earlier.
Gabriel Gate
We then adjourn to the outside patio where none other than the charming Gabriel Gate has cooked us a three course lunch with of course olive oils from Cobram Estate. These courses are paired with the different oils and different wines.
_Two appetisers (Cobram Estate Light & Delicate Extra Virgin Olive Oil) _
The two appetisers are served in ceramic spoons with prawn, olive oil, cauliflower and tarragon in one and beetroot, avocado and olive oil in another.
Tuna confit with fennel and herbs (Cobram Estate Fresh & Fruity Extra Virgin Olive Oil)
The Tuna is cooked through and Gabriel explains that he does this for people that don't like raw tuna. I'm in the camp that does so I find this a bit dry. The use of shredded boiled egg is interesting giving it an almost Nicoise salad aspect to it.
Slow-cooked veal and mandarin casserole (Cobram Estate Picual Extra Virgin Olive Oil)
My eyes light up when the main arrives and I see a marrow bone. The flavoursome veal eases off the bone in one piece and with the winds whipping through the estate it's pure comfort. It's lightly accented with the perfumed mandarin. I think I'm one of a few that even touches the bone marrow and I take my knife and spread the marrow on some bread and bliss. I don't think marrow is everyone's cup of tea as I see it's mostly untouched (arrgh give it to me!).
Marinated Goats cheese with pears and walnuts (Cobram Estate Premiere Extra Virgin Olive Oil)
One of my favourite courses is the wrinkled goat's cheese which is perfectly paired with the pears and walnut and thick nutty bread. Yes I am full and yes I will continue eating. Gabriel pops out from the kitchen to welcome us - I note his chef's whites have blue, red and white buttons for the French flag colours.
Raspberry & Olive Oil Shortbread (Cobram Estate Hojiblanca Extra Virgin Olive Oil)
Dessert is a divine olive oil shortbread. Having never made shortbread with olive oil before, only butter, it's got a crispier texture to it and it sits on a pool of perfectly sweet strawberries, blueberries and raspberries with a berry cream emulsion.
Just a few days later I visited a NSW based olive company. Alto Olives were winners of a Sydney Royal Easter Show Gold Medal last year for their Vividus varietal. Christie and I are off to visit their Lakelands processing plant. As a smaller olive oil producer, things are done slightly differently here and the focus is on organic and biodynamic methods of growing and production. They also produce table olives here. The altitude on which their olives are grown helps contribute to higher levels of the polyphenols. These antioxidants are desirable as they are good for you and also help prevent oils from going rancid. This also affects the taste and reaction to the oils. High polyphenol oils are said to either have a bitter taste to them or have a throat catching characteristic where you involuntarily cough after trying them.
For Alto to achieve a blend of oil that they want in a bottle they will crush 50% of the olives using a disc crusher. 25% using a hammer mill and 25% using a de-pitter and they believe that this produces a balanced oil with the best flavour profile. The paste is then malaxed for 45 minutes at a temperature no higher than 27C (for an oil to be considered a cold pressed oil it cannot exceed this temperature). The oil is then extracted from the paste using a horizontal decanter centrifuge. The raw oil is then passed through a vertical centrifuge for final clarification. The oil is then stored in an oxygen free environment for 4-6 weeks for natural settling. It is then racked off which means that any last settled sediment is removed before the oil is gently filtered, using gravity only, through a cotton bed filter to produce the end result, their Extra Virgin Olive Oil.
How do the produce the table olives? They are pickled in a 7.5%-10% brine solution and the final brine is at 6%. They sit for 12 months to mature and develop. Inexpensive varieties use caustic soda to speed up this process and instead of taking 12 months it takes 6 weeks although the flavour and texture suffers - remember those horrible Pizza Hut olives? This lengthy period also contributes to the higher prices.
The process of picking here is different too. For the oils they use the tree shaker where the trunk of the tree is shaken for three seconds with one tree shaken every 4-5 minutes. They find that they get a 80-90% efficiency depending on the ripeness of the olives. However for the table olives each olive is hand picked to avoid bruising and oxidisation.
Organic certification took three years to acquire and they tell us that entry to the US and Japan markets is impossible without organic certification. They plant less trees here so that it is less crowded. As they are Biodynamically farmed, every input has to be composted first which can be time intensive with the sludge composted onto the trees from two months to a year later. This is called humus.
After our tour we break for lunch where Australia on a Plate who distribute Alto oils have laid out a spread for us. It includes pimentos stuffed with Meredith goat's cheese, capers, almonds and parsley with the delicate olive oil, nitrate free jamon, boquerones or white anchovies, artisan chorizo with Pedro Ximinez vinegar, yabbies caught last night from Alto's property in Hopeful paired with an Alto oil mayonnaise . We end off with a range of divine cheeses including Jindi Old Telegraph Road, Old Sapphire and Fire Engine Red and a Caprinelle with some delicious marzipan (and not that kind that smells like almond essence).
Afterwards we also do our olive oil tasting where everyone enthusiastically embrace the tasting technique where they suck it through the teeth and aspirate it all over their tongue. We try the oils and they all have distinct tastes and the one I am most interested in the award wining Vividus which is so unusually gorgeous with an absolutely clear flavour of green bananas! Among the Alto extra virgin olive oils we tried was a supermarket brand which would be considered highly faulted. The smell alone is wrong as it smells distinctly of motor oil. Only a few are game to try it and when they do they report an oily residue build up on their tongue.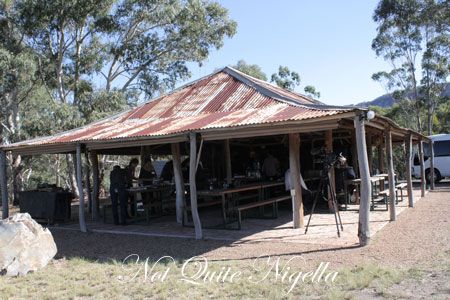 Westerly, the lovely daughter of Robert Armstrong who owns Alto Olives is a judge on the Australian Olive Association and she tells us that when judging an oil it is done in a plain room without any distractions at all. Eight points are awarded to aroma and twelve points are awarded for taste which includes complexity, balance, length of flavour and mouthfeel. Westerly says "I always find it a funny mental image, all of us sniffing and slurping oils in our white coats".
The basic rules before they start is that perfume is not allowed to be worn and judges must wash their hands with fragrance free soap. Chewing gum and smoking before judging is also not permitted to avoid any lingering flavours which may confuse the palate. There was a problem once with hints of lavender being detected in the aroma of an oil during a judging but this was of course quickly attributed to the lavender hand wash that one of the judges had just used before the start of the show!
The judges are separated into panels with 3-4 judges per group and may include associate judges present in some groups although their scores do not count towards the judging (these associate judges must participate in a few shows before they can officially become judges). For every panel a 'head judge' is appointed and their job is to lead the panel in the judging and collate the scores and remarks of all the judges in that panel. They also act as the go between with the chairperson of the show if there are any questions or issues that cannot be solved within each panel.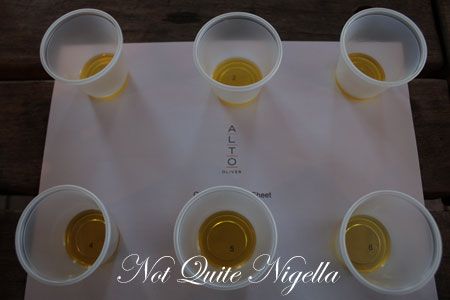 Each panel judges a certain number of oils in a particular class which are to do with estate origin i.e. single or multi and usually in a day a panel might judge between 15-25 oils. All the oils are presented in identical dark green bottles with only a number on each bottle which masks any sort of visual cues. Generally speaking the oils are grouped into the 3 major styles, mild, medium or robust. "This means that the judges are not comparing styles but are focusing on whether an oil ticks all the relevant boxes in its own particular grouping".
Flavoured oils are then judged in their own separate group. "During the judging we sniff, slurp swish and spit" Westerly says. "We discuss each oil and give comments and a score out of 20. Attributes like complexity, balance, bitterness & pungency and finish all contribute to the scoring". In total there are 3 medals that can be awarded: bronze, silver and gold as well as trophies for best in class. For a bronze award the oil must score between 13 - 14.5 points. For a silver award the oil must score between 15 - 16.5 points. For a gold award the oil must score between 17 - 20 points.
I consider myself lucky to get such a great hands on education in olive oil-but at the same time realise that there's a lot more to learn!
So tell me Dear Reader, what kind of oil do you use at home?
Cobram Estate
http://www.cobramestate.com.au
Alto Olives
http://www.alto-olives.com.au