A stunning 1890 sandstone home in Katoomba provides a girls' only respite from the daily grind in the cushioned depths of luxury. Guests book the exclusive use of Lavender Majestic where a 24 hour butler tends to your needs whether they be furnishing you with cups of tea, stoking the fire or laying out platters of food. They can also arrange for in house spa treatments in their very own treatment room, an afternoon tea served in the conservatory and a perfume making workshop. You may never want to leave...
The idea was immediately appealing. Spending a weekend with two of my closest girlfriends in the Blue Mountains? With nothing on the agenda except for afternoon tea, spa treatments, a perfume workshop with butler service? Add to that evenings in front of the fireplace watching Orange Is The New Black. Perfection. If I had written a list of all of my favourite things to do with my gal pals in a weekend it would be this.
Lavender Majestic is one of the two properties that specialise in Blue Mountains Girls weekends away. It is popular for hen's nights, birthdays away, relaxing getaways or what have you. The main idea behind them of course is to get away and relax with your bestest girls. Lavender Majestic is more luxurious with butler service while the other house Lavender Manor is located further up the mountain in Blackheath and is more of a self catering affair.
"The idea behind this is that when I go away I end up doing the same thing that I do at home (cleaning etc). It's just a different sink," explains owner Nicky Vaux. This is why she offers the idea of butler service for those that truly do want a break from the rigours of every day life and to be pampered.
Lavender Majestic is located in Katoomba, just ten minutes' walk from the centre of Katoomba. It is also Nicky's personal home and when these weekends are on, her family live in another property in Sydney. For this weekend Nicky is playing the role of the butler for the first night which is something that she does on occasion. She is intuitive and thoughtful bringing you things before you even knew that you needed them.
Her time working at The Ritz in London and Grosvenor House in Park Lane has clearly helped. For those who aren't used to butler service (like us for example) it does take a little time to get used to but I'm talking a couple of hours. Before long we can't imagine a stay without a butler (and oh how coming home will be a dose of reality!). Nicky is unobtrusive and understands that the main aim is just to have time with your friends.
The house is spectacular. This 1890's sandstone house was originally built by retail tycoon Mark Foy (who also built the Hydro Majestic Hotel) and served as his family home. It has been extensively refurbished and has a beautiful garden with a large oak tree, barbecue and outdoor spa. The property has featured on the television show The Bachelor as one of the date locations.
Indoors there are three bedrooms, the main one downstairs and two upstairs. Belinda has the main bedroom downstairs which is decorated in pretty toile patterns. I stay in the upstairs Queen bedroom with a spacious ensuite filled with plenty of light while the enormous bedroom goes to Queen Viv. This room sleeps four gals in style with two chairs for looking out onto the Southern Highlands from the view perch. This room also has its own balcony. The only things that I thought could possibly be improved are that the upper level rooms are cold at night (they have their own split level air conditioners but these can be noisy and drying) and it would have been great if the bags were taken care of.
Downstairs we congregate in the kitchen for cups of tea and later during the day when the sun streams in, the conservatory is the place we curl up in. Nicky pulls out a tray of warm fig, ginger and macadamia biscuits from the oven and fixes us tea in a range of vintage and vintage style cup and saucers.
Each stay at the house include the entire use of the house plus some packages include a massage or facial for every guest. Not only that but the house has its very own treatment room so you really don't have to leave (which is such a convenient idea especially in Winter!). Spa therapist Helen uses Biodroga products and she has been working with Nicky for a decade now. She's really a gifted therapist and facialist - do you know how some therapists are good but others have "magic hands" that perform wonders? Helen has magic hands. Queen Viv emerges from her massage saying "I feel like a freshly ironed sheet!".
It's my turn next and I have a facial where I fall asleep as she starts to apply the massage while the products infuse. My skin actually manages to glow afterwards (something that it stubbornly refuses to do 99.9% of the time) and while Belinda has her massage Queen Viv and I chat with Nicky in the kitchen while she lays out cheese for us. We wanted to make the most of our time here so we brought our own items to eat including cheeses, smoked salmon, olives, breads and dips.
Once Belinda is finished, we move into the lounge room where Nicky lays out the platters and the fireplace is roaring. There is Foxtel although I have brought my Netflix along (alas the wifi isn't quite strong enough for streaming Orange Is The New Black) and we watch quality television shows like Keeping Up With The Kardashians, Four Weddings and what seems to be an endless loop of the AhhBra ad.
"Look you get 11 bras!" I tell Queen Viv daring her to ring in and buy some. The television show Botched causes alarm when a woman that spent thousands becoming a caricature come to life asks to be spraytanned the colour of "wood stain". That's after she gets heart shaped tattooed nipples. Who else are you going to watch these shows with I ask?
The consequence of working long hours earlier that week is that by 10pm we are all tired so we retire to our respective rooms. I go upstairs to take a shower and settle into bed. There's a chocolate on my pillow and earplugs on the bed and the all of the blinds have been drawn. And in the welcome box there are three sachets of skincare.
The next morning unfolds at our leisure. I'm terrible first thing in the morning and should never be approached before my first cup of tea (ever seen a grizzly attack? Yup that's me). After Nicky brings me a tray of tea (and she remembers just how I like it), I get dressed for breakfast and feel like a different person springing down the steps.
There's a menu of items for breakfast to choose from as well as a spread of muesli, pastries and fruit toast with black cherry jam and butter. I help myself to some toast and Nicky brings in the avocado and mushrooms on sourdough toast with a poached egg. It's just the right size for breakfast and we find ourselves polishing our plates.
At 11:30am we have our first appointment of the day in the conservatory. Artisinal Perfumer Julie Nelson from Aromatique Essentials holds personalised fragrance workshops for guests. They can either be one on one classes or in groups. Queen Viv is a perfume enthusiast and she is in her element talking to Julie.
Julie has been in the beauty and fragrance industry for 20 years and is an aromatherapist. On the table she has a range of essential oils and she explains that most of today's modern perfumes are made from synthetics whereas she concentrates on botanicals. The oils are split into three segments: top, middle and base oils.
We start with the base notes and these woody or resin scents are the fixatives that hold a fragrance together. She has a mixture of oils from various countries as well as CO2 extracted oils which involve the gentlest extraction process. The fragrances for the CO2 oils appear to have many more notes to them than say the distilled oils. Next are the middle notes or the florals or the herby fragracnes that are the heart of the fragrance.
We follow this with the top notes or the fresh, citrusy sharp notes. We take notes with the oils that we like and discover that we all have different tastes in perfume. Queen Viv loves complex, musky smells that are often described as "sex" and "dirty laundry" while Belinda brings her favourite fragrance "Good Girl Gone bad" along. I like my fragrances as simple florals as they remind me of flowers and good memories and I find that complex fragrances overwhelm me. For me, aroma is tied back to a specific memory so simple is best for me.
Julie recommends spraying perfume on top of our heads. And did you know that some oils can age like a red wine? She tells us that some oils particularly ones like patchouli can last for 70 years and become sweeter with age. The three hour workshop concludes with Julie taking our list of our favourite aromas and hand blending them into either an eau de toilette or a room spray for us. She asks us a series of questions including our starsign, favourite food, season and time of the day and three words to describe ourselves before filling in a vial with the oils. She has us guide her as to our preferences and we give ours a name and a tassel and our perfume is done!
Around this time Nicky bids us farewell and in her place as our butler is Andrew who is also a genuine, warm and friendly presence (who incidentally is the king of the fire as in he really knows how to make a roaring fire!). Queen Viv has to leave to get back to Sydney for work so I invited my lovely friend Lulu to join us for the next treat. Long time readers may remember that I am the godmother to Lulu's daughter Evie. Lulu was invited to the weekend but wasn't able to make it but was luckily able to steal away for a delightful afternoon tea.
Since January 2015, the Blue Mountains Tea Company's Mel Jones creates bespoke afternoon teas for clients in a range of settings. Some helicopter in from Sydney and are picked up and driven by 4WD to scenic points such as Narrow Neck and Point Pilcher where Mel has an afternoon tea waiting for them. It's particularly popular with people that are in Sydney for a short amount of time like cruise passengers. She also caters for all of the dietary requirements as well as for children.
The table is decorated with a range of her vintage tablecloths and china. The tablecloth was hand embroidered by her grandmother while a pretty tea set is her mother's. She hands out a tea menu with a range of teas for us to choose from. I choose a Leura Lady Grey tea while Lulu goes for a Leura Earl Grey and Belinda a white peony tea. This is all served on Royal Albert china. Mel is very generous and says that we are welcome to try more than one tea.
Mel lifts off the lace covers to the afternoon teas and they're very generously portioned with eight sandwich points per person in four different fillings including herbed chicken, cream cheese and cucumber, roast beef, horseradish and watercress and a smoked salmon muffin.
Our scones are next and there is a fruit and a traditional plain scone served with thick cream and locally made raspberry jam. Mel also explains about tea traditions and how traditionally it was a male dominated experience. However the tradition of afternoon tea is a female experience. First when Catherine de Braganza who married Charles II in 1660 disembarked the ship to her new home in England, she was handed an ale. Not agreeing with her, she had to be given tea to nurse her back to health. While she wasn't said to have introduced tea to England, she helped popularise it. Later Anna Russell the Duchess of Bedford was said to have started the tradition of afternoon tea in the mid 1840's.
Mel then brings out the last tier - the sweets tier and this is a delight. There are fantastic matcha cookies sprinkled with sesame seeds and drizzled with white chocolate; an orange and almond chocolate tart with a fabulously short tart shell and an Earl Grey and orange tea cake served warm.
Dinner that evening is out (separate review to come) where I get to meet Ringo, the man that Belinda is dating and when we come back Andrew greets us.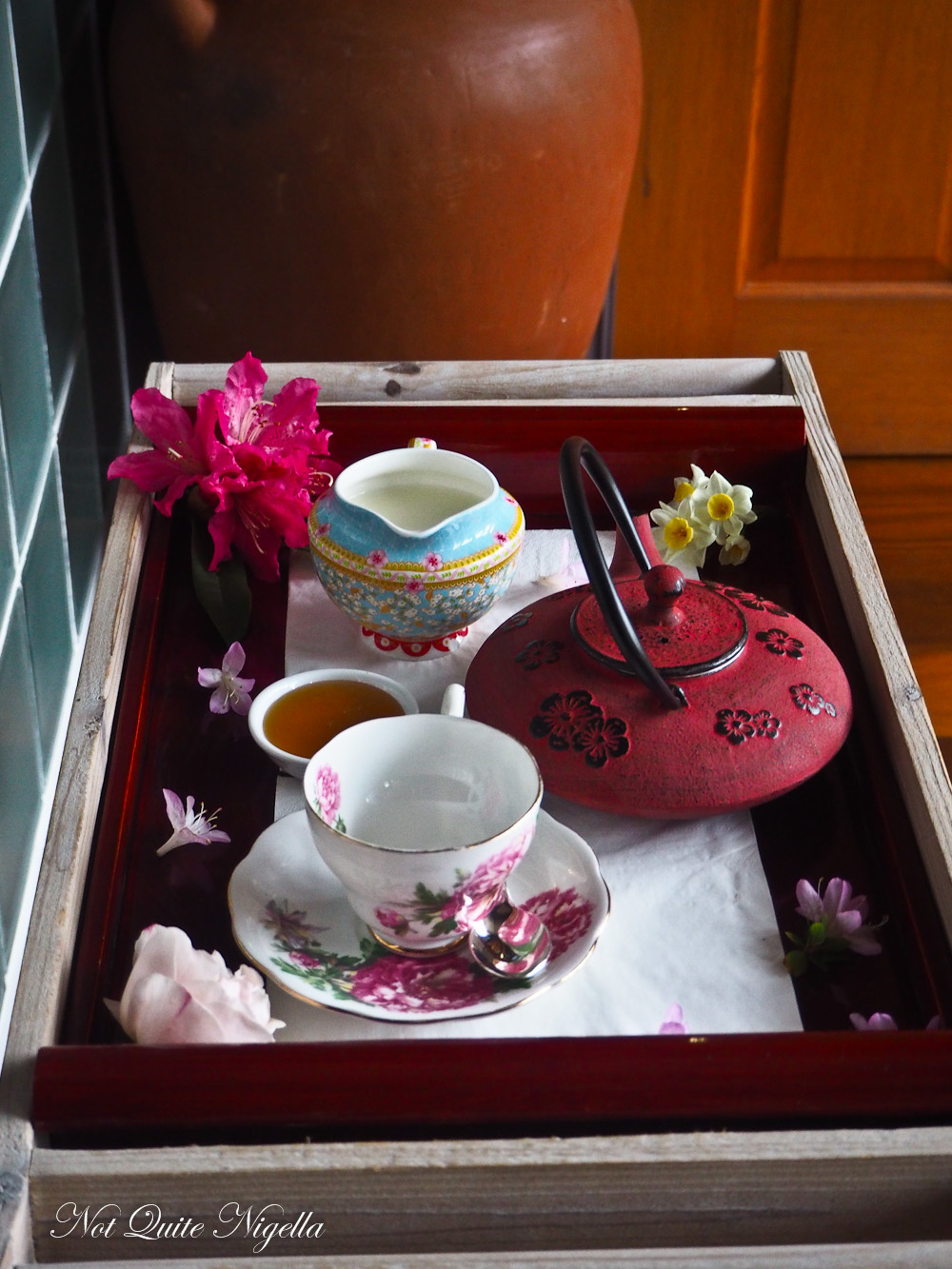 We watch some television in front of the fireplace before retiring to bed. I spray some of today's room spray onto the bed and it smells wonderful, floral and soft just the way I like it. I have a terrific night's sleep and the next morning I am awoken by the gentle rapping on my door. It's Andrew with my tea just as requested. It comes just as ordered with some fragrant blossoms. And up until this weekend, I didn't realise that I wanted butler service which makes it an extra special treat. If only for the occasional weekend...
So tell me Dear Reader, do you think you could get used to butler service? And what sort of shows do you like to watch with your closest friends? Do you ever do getaways with your best pals? And do you believe that some spa therapists have "magic hands"?
NQN stayed as a guest of Lavender Majestic but all opinions remain her own.
Lavender Majestic
Blue Mountains Girls Getaways
www.bmgg.com.au
Tel: 61 (0) 412 884061.