Street Food from all over the world comes to the Blue Mountains. Former Vesta chef Mischa Laurent has opened up a casual eatery called 8 Things. As the name suggests, there are 8 things on the menu to choose from and it's already looking like a hit with locals and visitors.
"So we're ordering one of everything?" asks Nina. She knows me too well. And when I see the prices at 8 Things I don't feel so bad ordering more knowing that we can take things home and then have an easy Sunday night after a weekend away in the Blue Mountains.
We stand a bit back in the queue wondering what the system is at 8 Things. Because it's 12:40pm on a Sunday and there's people everywhere and all tables are taken. A lovely woman sees our confusion and offers her table to us and says that her family will be leaving soon. We order at the counter and then take a seat as she gets up. But our half of the table are being eyed by the group of women on the other half of the table. A brief standoff ensues and I look at them and then at us and realise that we can all fit around the table snugly. "We can all squish in together," I suggest and then we all exhale with relief. Stand off over!
For an eatery that has been open for only a month (at the time of visit) they seem to have everything sorted. Food arrives quickly and soon we're covering our half of the table with food. And vegetarian Nina gets three options out of the eight which pleases her greatly. Service is very friendly and they check twice on how much we like our chilli (we like it a lot!).
Teh Tarik $4 and Kombucha $4
The teh tarik is a pulled sweet milky tea, strong in sweet milk and with just the right amount of tannin. The kombucha is for Nina.
Mullum Tofu Fries $8
First up are the piping hot and delicious Mullum (short for Mullumbimby) tofu fries served with sambal oelek and mayonnaise. They're well seasoned and not bland at all with a crunchy outer and a soft interior. Yum.
Hanoi Pho $15
We noticed that there were lots of big bowls of pho coming out to tables. This is a lovely version of pho with soft beef brisket slices, rice noodles, coriander lemon and bean sprouts. We slurp on this feeling ourselves warm up from the inside.
Tokyo karaage $15
As a fiend for fried chicken I was excited to see the Tokyo Karaage chicken which comes as four large, soft and juicy pieces of seasoned chicken pieces served with a fantastic wasabi mayonnaise and shredded cabbage salad.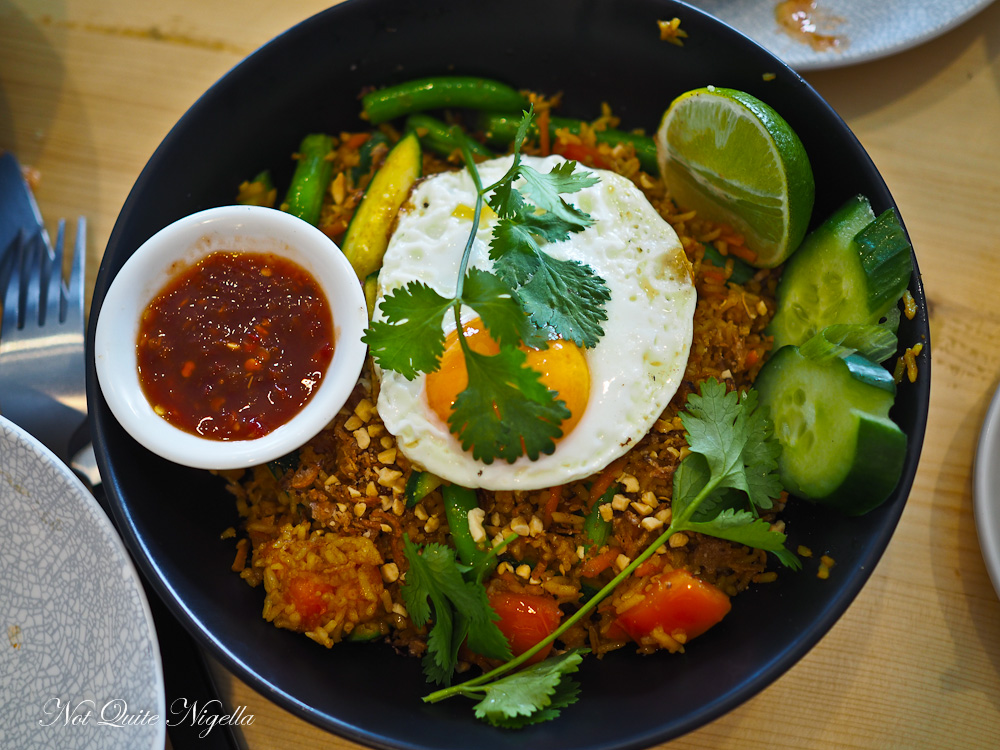 Penang Nasi Goreng $15
Both Nina and Garth love fried rice and this has seasoned fried rice, vegetables and a fried egg on top. This wasn't bad but I think it could have had a bit more flavour to it.
Katoomba Boomba $16
I felt the same way with the Katoomba Boomba, what they describe as an "Ever changing healthy vegetarian meal". This has stir fried vegetable, steamed rice and crispy tofu from the tofu fries above. My favourite part was the tofu fries. Of course ;)
Port au Prince Ceviche $18
We are all big fans of the Port au Prince ceviche made up of slices of gorgeous kingfish, green paw paw, cucumber, coriander, lime, chilli and coconut milk. It's fresh with lime with a creamy finish from the coconut.
Munich Leberkase $12
Just to show a bit of variety there is a German street food with a sesame seed bun filled with a big sliced of pork meatloaf, sauerkraut and German seeded mustard. I have to admit that I preferred the other dishes to this although we did see quite a few of these go out to customers.
Casablanca Hot Dog $13
One of my favourite items of the eight was this lamb merguez sausage served with tabouli, harissa and sumac onions. It had a wonderful hit of chilli from the harissa and the salad accompaniment was moreish and gave the hot dog enough moisture so that it wasn't dry.
We ask for takeaway containers-after all eating 8 things with four people is bound to produce leftovers. And this just means that dinner for tonight once we make the drive home is sorted!
So tell me Dear Reader, do you take things home for dinner if you don't finish them? Have you ever ordered the entire menu? And have you ever had a standoff for a table?
This meal was independently paid for.
8 Things
133 Katoomba Street, Katoomba, NSW Tel: 0414 403 323
Open 11am-4pm Tuesday to Sunday
http://8things.com.au/