Headed to the Blue Mountains for a little break? Take a look at where you can eat, relax and drink in the greater Blue Mountains area. There's a high tea with a stunning view, fireplace fine dining, a new craft brewery making best selling beers and an exquisite Japanese Bath House experience.
The drive from our accommodation in Bilpin to our first stop in Medlow Bath is around 1 hour and in this time we get to witness the destruction from this year's bushfires. Here entire vistas are blackened trunks as far as the eye can see, rolling hills reduced to grey and black ash ruin.
Hydro Majestic Afternoon Tea, Medlow Bath
We are headed towards Medlow bath at the Hydro Majestic Hotel for their afternoon tea in the Wintergarden restaurant. Located in the former casino you walk through the hotel's reception area and enter an expansive room with incredible views of Megalong Valley below.
We are lucky enough to have cloud free sunny day and the view is hypnotic. Service is a little hesitant and uncertain but it's not a huge issue.
We are having the Wintergarden afternoon tea and there's also an Eastern afternoon tea on offer with dumplings in place of sandwiches.
We order a pot of Earl Grey tea as well as the Tea Blossoms green tea ball with green teas rolled with marigold, jasmine and globe amaranth that unfurls in the glass pot.
We dive straight into the sandwiches. They're all delicious especially the triangle and square sandwiches. There are also tiny charcoal buns filled with smoked pork and a smoked salmon roulade. I love that there are so many sandwich varieties.
There is a plain scone as well as a fruited scone with pearl sugar on top. I spread some thick cream and then some strawberry jam.
We help ourselves to the cakes, there's a strawberry and mango sponge and jelly layer cakes as well as a chocolate dome and a fruit panna cotta.
Lyttleton General Store, Lawson
After tea, we stop by the Lyttleton General store to buy some items to take with us for self catering. There are plenty of local fruit and vegetables and they also do vege boxes (I've received one) with local produce.
Mountain Culture, Katoomba
If there is one business that is thriving or benefitted from COVID-19 it is the beer industry. The Mountain Culture Brewing Company opened in Katoomba and has been the subject of much buzz. Housed in a former Civic Video store the craft brewery is open on weekends for eat in burgers and beer and on weekdays you can shop for beer.
Owner DJ McCready is originally from North Carolina and was a brewer in Nashville and was on his way to New Zealand for mountain climbing and hiking when he was picked up by Modus Operandi brewery as a founding brewer. He has now settled in the Blue Mountains after meeting and marrying an Australian woman Harriet who shares his passion for climbing and hiking.
His Hazy IPA (just that, a hazier in appearance with a creamier mouthfeel than traditional IPAs) is considered the best Hazy IPA's in the country. Hazy IPAs are the latest thing in the beer industry right now and these use different yeast and hops to create the hazy appearance.
Their Be Kind Rewind Hazy IPA sold out immediately when it was released 2 hours prior to our visit and the only stock left is in the fridge. We buy some tall tins of this. There is also another hazy IPA called the Scenic Route which is lighter for session. "Session beer" is a lower alcohol beer for long drinking sessions where the drinker doesn't get excessively intoxicated.
And the name Be Kind Rewind? It's named after the message on video tapes as a tribute to the former video store.
Darley's, Katoomba
For Mr NQN's birthday dinner we visit Darley's at Lilianfels. The restaurant is housed in a separate building from the hotel and was the original homestead of Sir Frederick Darley, the sixth Chief Justice of NSW. Family photos and memorabilia line the walls and his painting sits in the bar.
Service is lovely from the moment they open the door and welcome you. As we are the first dining this evening they lead up to one of the restaurant's two fireplace tables.
The amuse bouche is duck liver parfait with plum and mandarin gel, crispy duck skin and onion soubise. It is a delicious mouthful to start with.
Then we segue onto the entree. We start with the pork belly with smoked eel, wakame, enoki mushrooms and black garlic. It's an earthy, umami dish rich in flavours and at the centre is a sticky melting slice of pork belly.
My course is a heirloom purple carrots with harissa, buttermilk, carrot mousse, crunchy hay with coriander. It's a vegetarian course but no less full of flavour than the pork.
In the colder weather we gravitate towards beef on menus and this is two rare cooked slices of wagyu beef with kohlrabi, molasses glaze, leeks and juniper. It's a well balanced dish with every mouthful a delight.
We are both quite taken with the toothfish course. It's a perfectly cooked fillet of Glacier 51 sustainable toothfish topped with raw scallop pieces, diced chorizo, sesame, a light smokiness from the clam fumet, powdered scallops that add so much flavour and the thing that brings it all together is a divine crustacean sauce. If anything I don't think it needs the sweet potato as that is a bit too much of a contrast from the toothfish flavours.
Since it was Mr NQN's birthday he got to choose the desserts and he always prefers fruit based desserts. The poached pear dessert is lovely with a section of poached pear, honey cremeux, ginger crumble and a scoop of pear sorbet.
We were warned that the coconut gelato was on the sour side but I'd say it's more refreshing. The coconut cream gelato is rich and creamy and to its side is finely shaved fennel, basil and preserved lemon.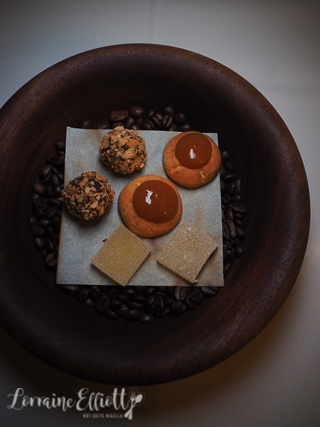 And to finish? Some petit fours with tea and coffee. There's a soft, wobbly yuzu pate de fruit, jam drop cookies and my favourite, a chocolate truffle injected with grape sorbet!
Japanese Bath House, South Bowenfels
The next day is a grey and drizzly cold day which just happens to be ideal weather is a visit to the Japanese Bath House in the Blue Mountains. I've wanted to go here for the longest time but it is just a bit further out of Katoomba, Blackheath and Leura which is where we normally stay but Mr NQN expressed an interest in this and we were lucky enough to get a booking here due to a last minute cancellation. Open from Friday to Sunday it is used as a private retreat by the owner for the rest of the week.
When you enter, you take off your shoes and roll up your pants and then walk through a warm foot bath to clean your feet. They explain the rules to us and we start by having a shower in the change rooms.
All the private bures are booked up but we use the public baths. Here they observe Japanese traditions although it isn't a nude bathing bathhouse as you wear swimsuits and everyone is together so there is no separation based on gender.
The cost of $90 includes three hours with access to all public baths and a pair of slippers, small absorbent towel and a wet bag to take with you. As we got a last minute booking we didn't have swimsuits so they kindly loaned us some (mine was very cute!). All you need to bring is a large body towel (although they can also sell you these for $12).
Most of the baths sit at a comfortable 38C/100.4F with two baths at 40C/104F although the two degrees didn't make much of a difference to me in the cold. The first dip into the bath feels very hot but once you immerse yourself you acclimatise quickly. You sit and soak for as long as you feel like before towelling off with the mini towel and wrapping yourself with a towel or robe and then finding another pool to soak in.
There are a total of 28 pools here including 3 private bures as well as a herbal steam room with a cold dip pool. There are scenic caves that look down upon a misty Lake Lyell while you sit in a round pot shaped bath. We spend the next 3 hours going from pool to pool and by the end we've had so much fun trying all the pools. I have a favourite spot and that is the granite bath for two under the red torii gates.
After our bath I'm a bit peckish and we take a seat in their restaurant area and order some food. We have a ginger and lemongrass tea made with real ginger and lemongrass that comes in a tiny teapot. It's perfect for warming up. I have an unagi box which is a bed of steamed rice with two luscious fillets of unagi or eel with shichimi togarashi chilli on top. I can't imagine anything better on a cold winter's day.
So tell me Dear Reader, have you ever been to a Japanese Bath House? What is your favourite thing to do in winter?
NQN and Mr NQN were guests of Destination NSW but all opinions remain her own. The Japanese Bath House and Mountain Culture visit were independently paid for.
Hydro Majestic Hotel
52-88 Great Western Hwy, Medlow Bath NSW 2780
Mon-Fri 11:00am - 3:00pm
Sat - Sun 10:30am - 3:00pm
+61 2 4782 6885
https://www.hydromajestic.com.au/dining/hydro-majestic-afternoon-high-tea
Mountain Culture Beer Co
23-25 Parke St, Katoomba NSW 2780
Monday to Thursday 12–6pm
Friday & Saturday 12–9pm
Sunday 12–7pm
mountainculture.com.au
Darley's Restaurant at Lilianfels Blue Mountains Resort & Spa
5/19 Lilianfels Ave, Katoomba NSW 2780
Tuesday to Thursday 5:30–8:45pm
Friday & Saturday 5:30–9:30pm
Sunday & Monday closed
darleysrestaurant.com.au
Phone: (02) 4780 1200
Japanese Bath House
259 Sir Thomas Mitchell Dr, South Bowenfels NSW 2790
Friday 2–9pm
Saturday 12–9pm
Sunday 11am–5pm
Monday to Thursday closed
Booking required
https://www.japanesebathhouse.com.au/