The view during our drive to Orange
Our arrival to Orange was under the cover of darkness - not deliberately so but by the time we got ourselves together and made the 4 hour drive down to Orange (and there were the obligatory stops along the way), the sky was pitch black and out in the country away from the city lights, it gets very dark indeed. It was close to 10:30pm on the Friday night when we arrived in our borrowed Toyota Prado Kakadu 4WD thanks to the nice peeps at Toyota.
Our Toyota Prado Kakadu
I'm normally rather ambivalent about 4WD's - you see I used to live in Mosman where I am sure that 99% of the 4WD's there had never touched a speck of country dirt but for country driving, and particularly after this drive, I'd definitely rather go in one given the gravelly dirt roads. Apart from the suspension, from an amenity standpoint, it has a cool box to keep drinks and food chilled and the sound system in it is excellent (apparently the result of their sound engineer in Japan being somewhat of a sound aficionado) and if you happen to have children, it keeps them amused with DVD screens and headphones. And then there's the lack of rattling and rocks hitting the car when driving on country dirt roads (it was so quiet and smooth I fell asleep several times).
The Black Sheep Inn: a converted shearing shed
We arrived at the Black Sheep Inn, an award winning Inn just a few minutes outside of the city of Orange. As planned, our key was waiting for us in the door and the other guests were close to retiring. So we did the same and awoke the next morning to a lush breakfast prepared by Helen, the owner of Black Sheep Inn.
Rhubarb and strawberry compote with Greek yogurt and pine nuts
Served on a converted old wool sorting table there were six other guests already enjoying breakfast. We were served fresh strawberry and watermelon juice, coffee, Ronnefeldt tea and our first course, a rhubarb and strawberry compote with Greek yogurt and pine nuts. The rhubarb and strawberry are slightly tart and enhance the creamy sweetness of the Greek yogurt and crunchy pine nuts. Helen tells us that the strawberries were sourced from a local farm as the focus here in Orange and the Black Sheep Inn is local produce. Although I'm not a yogurt in the morning kind of person, I eat everything on my plate.
Corn and coriander fritter with smoked salmon and a poached egg
Our next course is a corn and coriander fritter with a smoked salmon rose and a large poached egg with a lime twist. She explains that the eggs are local and come from a free range, organic farm. This dish is very good indeed and I finish it in no time due to both hunger and lust and look around and see that I've finished first (I hate it when I do that, it makes me look so greedy).
Home made preserves
Our last course is some freshly toasted sourdough squares with their home made raspberry jam, marmalade and honey. I'm too full to try this so I have a couple of bites - the raspberry jam is particularly good. And with a quick chat with our friendly American dining companions about food of course, we set off for Orange Markets.
Held on the second Saturday of the month, the Orange Farmers markets are housed in the centre of Orange. Entry is with a gold coin donation although this will also give you entry into the raffle. There is a decided emphasis on fresh produce and local produce at that. People drive up in their vans and set up their stands and proffer their fruit, vegetables, meats as well as baked goods, olive oils, jams etc.
Trunkey Creek nitrate free bacon
I see many around me clutching fragrant bacon and egg rolls and I make a mental note to come back. I see that they have nitrate free bacon which looks unusual-instead of being pink it's a light grey shade, much like roast pork.
Budgi Werri Prunes
Orange Paling Yards stand
Jams, chutneys and sauces
We walk around and see stands with unusually flavoured jams (no samples though and I'm on a jam ban at the moment after bringing back 18 jars from Austria), Budgi Werri prunes which are lusciously soft, Huntley Berry Farms, Paling Yards Grove,  and we bump into Gina Allen who catered the Toyota Prado launch. There are also some signs that state the altitude at which the fruit and vegetables are grown with the tagline "Produce with Altitude".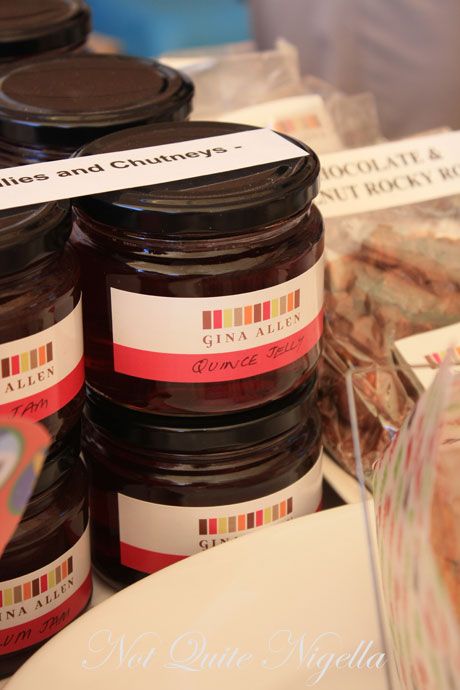 Gina Allen's Quince Jelly
Cherry season!
Berry Ice block $1
I buy some biscuits from her as well as a cheese and spinach roll as it smells so buttery good. We try the dressings at the Paling Yards Grove stall and they're delicious, particularly the poppy seed and the lime and dill. We buy a berry ice block for $1 from Huntley Berry Farms (things in orange are very reasonably priced) but it tastes more like apple juice than berries to me.
Straniere Olive Oils
Jam flavours like Crabapple Jelly, Dumpie Dearie Jam and Tangelo
Guess what this is?
Garlic!
I spy some small, purple flowers. I ask what they are and he hands me a tiny morsel which looks like a seed. "Bite into it but you might want to spit it out" he says and I take a bite. The most pungent garlic aroma comes from this absolutely tiny seed. I buy a few bulbs of the organic, locally grown garlic in both the smaller and larger regular garlic head size and then buy some of the small garlic flower heads (5 for $1). I take them home to dry out as they're still quite fresh.
Explaining the garlic taste
Bacon and egg roll (using nitrate free bacon) $6
We walk back past the meat stand and I enquire as to whether the bacon and egg rolls are using the nitrate free bacon. The young girl says that unfortunately they're not but then her mum says "Why not, we can do one for you" which delights me as I really wanted to try it but knew that I couldn't bring it home as there is no room fridge at the inn. They fry a packet up and then make me a bacon and egg roll with BBQ sauce but then make sure to put a plain piece of the nitrate free bacon on top so that I can taste it without the BBQ sauce. We try it and it's fantastic. Not as smokey as bacon but oh so good. We finish of the whole roll happily.
The shop "A Slice of Orange" in the city centre of Orange sells most of the produce that is sold at the markets if you don't happen to be in town when the markets are on.
Back in Orange's city centre we stop by The Teahouse and the friendly owner greets us and asks us if we'd like to sample of the teas. I love Turkish Apple tea and so I ask to try that and she hands me a cup of Iced Turkish Apple tea. Clever strategy as it's in my basket within the first few sips. She asks if I'd like some samples and then shows me the three earl grey tea varieties which she gives to me in generous sample sizes. We walk past a group of ladies that are partaking of an afternoon tea there and look wistfully.
We then go for a little drive that afternoon to the neighbouring areas and we stop at Millthorpe where we visited an Old Fashioned Sweets shop called Olde Tyme Delights where sweets can be purchased by the number or by weight. We spied all sorts of goodies including the following made into lolly form: chicken's feet, ears, NZ Boysenberry & Creams, hats, giant Coke bottles, seafood cocktail and piglets!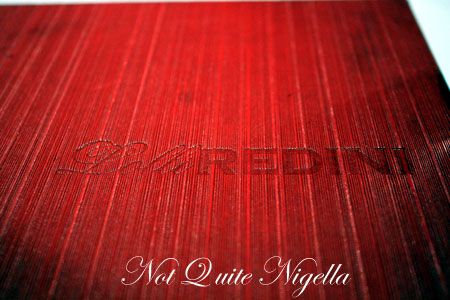 That evening, we booked ourselves into Lolli Redini, said to be one of Orange's best restaurants with a SMH Good Food Guide Chef's hat. Most restaurants here have a two course minimum and here two courses is $60 and 3 courses is $75 not including wine. We walk into the restaurant and it's buzzing inside with large tables of families and friends eating and drinking as well as couples. The interior is a warm red and larger tables have some banquette seating. We breathe a sigh of relief as it's quite dimly lit but by pure coincidence they seat us at the table under the lights.
Complimentary nibblies: grissini wrapped in Spanish proscuitto
While we are deciding they bring out bread and an appetiser which is grissini wrapped in Spanish proscuitto. It's lovely and garlicky with the grissini crunchy against the salty, delicious proscuitto. The small olives are the items that we both love and Mr NQN eyes me up making sure I don't take more of my allotted share. The pips are large and the olives small but they've got a lovely flavour without being too overpoweringly salty.
Six Moonlight Flat "Clare de Lune Bouton" Rock Oysters served with Lemon & Lime Granita and cucumber spaghettini
The oysters are topped with a lemon and lime granita and cucumber noodles which is nice and refreshing but the granita is a little on the sweet side making it taste like a sweet sorbet.
Signature Twice baked Heidi Gruyere Cheese soufflé with shredded spinach salad and toasted walnuts
The cheese soufflé is rich and wobbly and turned out into a pool of rich creamy cheese sauce. It's topped with red onion, greens and walnuts which is nice although the walnuts could perhaps do with a bit more of a toasting beforehand. It's light and lovely in texture and I use the rest of Mr NQN's bread roll to mop up the creamy cheese sauce.
_Roasted Moisture Infused Pork and Crackle, Honey Roasted Pears, Paris Mash and Buttered Wombok Cabbage _
I recall some happy memories of the Murray Valley moisture infused pork we were given at an Australian Pork dinner a while back. When I saw this I clapped once I saw the magic word "crackling. We had only discussed this dish that very morning with the fellow American guests at the Inn. In the U.S., pork belly isn't seen to be a premium cut at all and they told us that it is mostly used to flavour soups whereas we have it appearing on our high end restaurant menus regularly. The pork it has to be said is wonderfully juicy and the crackling is good although it's not that gorgeous earth shattering crackling as the moisture infused pork is soaked in brine which means that the crackling doesn't crackle up so much (unless you dry it out for a day). The honey roasted pears are a nice complement to it (although some more pear would not go astray) and it's a good alternative to roast apples. We also adore the super creamy Paris mash.
Veal Roasted Pancetta and Sage, grilled parmesan polenta, smoky pancetta speckled lentil sauce, Swiss brown mushrooms
The pancetta wrapped veal is good but needs a bit more seasoning. It's paired with lentils and wilted, buttered spinach and soft shallots and whilst it's a good dish, when you consider the juicy pork dish it's hard to compare the two. We glance at the clock, we're in and out in 1.5 hours and way too full to contemplate dessert.
We ask about who Lolli Redini is - certainly it's not the chef's name (which is Simmon Hawke) and they explain that Lolli Redini was the name of an artist, now 80 years old, who is called GraziaLolli Redini, from the Tuscan village of San Gimignano.
So tell me Dear Reader, if you were going to open up a restaurant, what name would you give it?
NQN and Mr NQN travelled to Orange as guests of Toyota Australia
Black Sheep Inn
91 Heifer Station Lane (off The Escort Way / Forbes Rd) Borenore-Orange NSW
Tel: +61 (02) 6369 0662
Orange Farmer's Markets
Held every second Saturday of the month from 8am-12noon
http://www.orangefarmersmarket.org.au/orange/default.htm
The Tea House
215 Lords Place, Orange NSW
Open monday - friday 10.00am - 5.00pm, and saturday 10.00am - 1.00pm
Old Tyme Delights
7 Pym Street, Millthorpe
Open Friday-Monday 10am-4.30pm Cash Only
Lolli Redini
48 Sale St, Orange, NSW
Tel: +61 (02) 6361 7748
A Slice of Orange
Shop 2, 200 Anson Street, Orange, NSW
Tel: +61 (02) 6369 0396
Ppen 7 days a week. Mon - Fri: 9am to 5.30pm, Sat: 9am to 3pm and Sun: 10am to 3pm.