My Cherry Earrings!
Little did we know that our arrival to Orange was literally right at the right time. Not only had we arrived just in time for the Orange Farmer's Markets, we also arrived the day before cherry picking season was about to end. This year was particularly good for cherries which you may have noticed at the supermarket with cherry prices being reasonable and cherries being plump and fat with few bad quality ones. After our expedition raspberry picking in New Zealand we were excited to try our hand at other fruit picking.
As cherry freaks, we decided to visit Hillside Orchards who offer PYO (Pick Your Own) cherries. When we arrived at 5pm we were told that unfortunately we had arrived too late. Even though they close at 6pm the last of their visitors need to arrive by 4:30pm. Our faces must have shown a major disappointment and after telling them that we were heading off the next day they relented as long as we promised to be back within 45 minutes so that they could close. We quickly headed out towards the cherry trees with a single minded mission: pick as many cherries as possible!
Some of the trees have been picked over by other eager visitors but we manage to find a tree plentiful in gloriously red cherries. We try a few to see which shade of red we should go for as they're not all a deep red and the bright red cherries are also sweet. Picking them is very easy, just twist and snap at the top of the stems and they come off easily and we find quadruple or quintuple bunches and even siamese twin cherries! The stems are firm and attached and stay that way-of course by the time we get them at the supermarket, the stems have started to dry and darken and the cherries detach so it's a novelty finding such strong stems.
After a furious 20 minutes picking, we head back to the shed to pay for our bounty. In the shed there are also pre-picked fruit in buckets should you want to skip the whole PYO experience and just buy fresh. We talk to the owner there who tells us that we are lucky as we are there for the penultimate day of picking and that tomorrow, five tour buses will converge and pick to their heart's content and the season will officially end there. Fruit seasons have changed over the past few years - normally cherry season starts mid November and finishes mid January but this year it started early on the 28th of October and finished mid December due to unseasonably warmth earlier in the year. These timings also depend on the temperature during Spring. Orange experienced a heatwave in Mid November and a full bloom on the 10th of October. While they only offer pick your own cherries here, they tell us that apricots are usually picked mid December to mid January but they're not in season yet and figs which were usually picked at Christmas are available from March to April nowadays.
There are usually about 17 varieties of cherry including varieties such as Sun, Stella, Vista, Suburst and Dons. Having this many varieties allows them to extend the season further which they also do with other fruit like apples. These are usually picked in cooler months but planting varieties such as Pink Lady, Delicious, Granny Smith and Jonathans means that the season spans from late Janaury to mid May as each variety responds different to heat and some bloom earlier than others. In February they expect nectarines to come into season and in March peaches.
This year's cherry season was particularly good and they packed eighty bins and they only had to discard two bin's worth of cherries whilst normally they usually have to discard 30% of what is picked. This year the Don was the sweetest variety and the quality of yield means that they can sell it at up to $9 a kilo with our pick your own bounty costing us a modest $7 a kilo. This orchard was specifically planted for Pick Your Own sales and seven tonnes of cherries are picked on a weekend. Tour groups of Greek, Spanish and Russians come here to pick cherries and one couple picked 100kg of cherries to give to everyone they knew as a gift.
And how were the cherries? They may not have been the fattest cherries but they certainly were the freshest lasting for a week without any issues at all with a wonderfully sweet flavour. Mr NQN shared them with a colleague of this who pronounced them "The best cherries I've ever tasted".
Huntley Berry Farm
We take our bag of cherries back to the car and store it in the Toyota Prado Kakadu's Chill box (so useful!) and head over to Huntley Berry farms the next day. The tour buses are in full force and there are also cars full of small groups and couples. The man behind the counter is gruff and hands us our baskets and points us in the direction to pick.
The sun is strong so we don our hats and go towards the various marked rows. They're mainly raspberries, silvanberries and gooseberries but the gooseberries are quite sour. Most of the raspberries aren't quite ripe yet so we pick a few but not as many as we'd like.
Gooseberries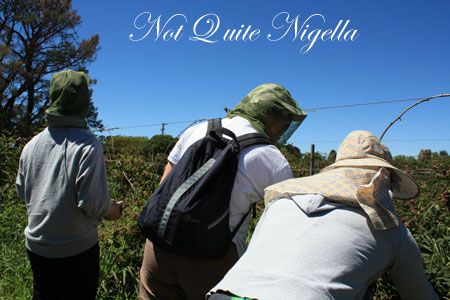 Head Gear!
The strawberries are in a separate section and I recall Queen Viv's advice about picking strawberries being hardest as you need to squat down to get as them as they're so low. The strawberries are gorgeously sweet and bright red and come in all shapes and sizes but again they're not very plentiful.
There is an adjoining cafe which sells refreshments as well as a multitude of jams in some fabulous flavours with all varieties available for sampling. The berry picking season here is mid November to May and during the month of January youngberries, boysenberries, silvanberries, jostaberries, gooseberries and currants are able to be picked. In February there are strawberries and blackberries and in March you can pick raspberries, strawberries and blackberries and in April and May feijoas can be picked.
Driving around Orange, we also spot self serve apple stands which are small, unmanned chilled rooms where you can purchase apples using an honour system. We're loaded up with other fruit so we don't buy any instead munching on berry bounty on the drive back.
So tell me Dear Reader, what is your favourite berry?
NQN and Mr NQN travelled to Orange as guests of Toyota
Hillside Orchard
Forbes Road, Borenore
Tel: +61 (02) 6365 2247
Open 7 days 9am-6pm (last entry 4:30pm)
Huntley Berry Farm
Near Orange Airport, Huntley Road, Orange
Tel: +61 (02) 6365 5282
Saturday to Sundau 10am-4pm
Monday to Friday 9am-4pm
Just because a farm should always have a chicken...