The next morning on our Mudgee adventure I awoke to find this. No, some  elves had not locked us in the bedroom for the night, but I did my usual hotel room ritual of securing the room before sleeping. I realise that it may be considered odd but I just can't sleep unless there is a lock on the door. cough Is that weird? Perhaps, we should move on... ;)
Now that I've revealed the extent of my madness (I watch way too many crime shows) we get up earlyish to make our way to the Leaning Oak Dairy where Gloria and Alan Cox make a delicious range of goat and sheep's milk cheeses. The size of their land didn't allow for cows to graze so they chose goats and sheep instead. Gloria favours the goats ("goats are adorable" she says) while Alan prefers the sheep. They have several varieties of goat including white saanens and anglo nubians - Gloria tells us that saanens produce a lot of milk but anglo nubians produce a creamier milk.
Julia Gillard is in the paddock with a red collar around her neck and she looks to be happy and separated from her twin Tony Abbott. I haven't gone mad although I realise I should explain what I am talking about. Julia Gillard is a black anglo nubian goat who, along with her twin Tony Abbott was born on the 21st of August-election day. "Julia's a good milker"  Gloria says.
The Cox's started their dairy farm four years ago after visiting Italy, Spain and France and seeing the way they the small farms operated and thought that the idea was quite romantic.. Gloria laughs "It's really bloody hard work...I don't need a gym membership anymore"
Once a day the goats get milked-twice a day would be ideal but they simply don't have enough time to do it more often. The goats produce anything from 1 litre to 9 litres of milk per goat and thye're habitual creatures and like to stick to routines.
We watch the goats being milked and it only takes a few minutes for the automated milking to be done on each goat. While they're being milked they feed on hay. The tubes attached to the teats are described as like vacuum cleaners but with a pulsating motion rather than a constant sucking or drawing motion.
We go inside to try some of the cheeses which are all made using a vegetarian rennet. There are a range of fresh cheeses including a Goat Saint Maures which is a French style cheese with a mold. This comes in several varieties apart from plain, including a sweet honey one, a garlic and chive one. The cheese is mild and creamy with a distinct tang to it.
Some of the cheeses have a stronger "goaty" flavour to them which Gloria says that Australians don't tend to like as much whereas the French love a strong cheese. They actually make a cheese to cater for those that like the stronger cheese. "The best name for that is smelly goat's cheese" Gloria says and they recommend ageing a cheese to allow it to ripen further if you like a stronger flavour.
They also make a goat's feta (a delicious pesto one), a nutty goat's brie and goat's blue along with their sheep's milk cheeses, all priced at between 410-$12. They sell their cheeses at local markets as well as ones in Warwick Farm, Camden, Thornleigh, Warriewood and the Central Coast and produce about 400 cheese a week.
Oh and Tony Abbott's (the goat's) fate? He now lives at a service station!
Clothes at Cherry Red
We take a drive into town and as the shops were shut yesterday we decided to do a bit of a nosy around to see what retail mischief I could get up to. "Research honey, research" I told Mr NQN.
We pop into Red Cherry and Juliet Horsley homewares as well as an unassuming looking bookstore called Little Lane Books with rare and out of print books where I spy some of my favourite things ever-tin toys! I buy a couple - they're quite boy oriented toys here but I can't help myself. One day, when I have a big enough space I may start a collection. Mr NQN wouldn't let me buy the fire engine though-party pooper! ;)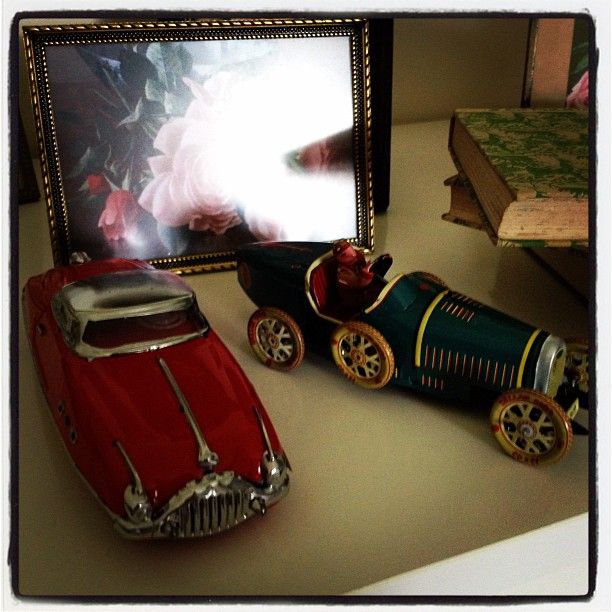 My purchase!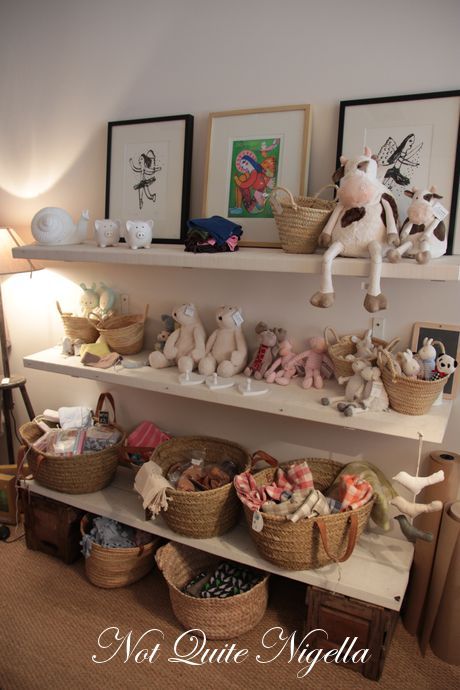 Goodies at Juliet Horsley Homewares
Market Street Cafe
We make our way to lunch-we were too full from the night before to contemplate a proper breakfast and with some cheese for breafkast (no-one's complaining here) we were hungry for lunch. Chef Aaron Cole's focus is on local produce with at least 90% of the products featured on the menu being local. The menu changes regularly, daily even, and his local suppliers may turn up with a range of items and they're often a complete surprise. In exchange they trade bread (he makes his own sourdough which sells well) or other items with him. He tells us that this way of supply makes him think about produce an entirely different way.
His suppliers are people that grow and produce food for themselves and their family and he gets the extras.
The cafe itself has a decidedly French theme to it. French cookbooks line the fireplace (with a downturned bunch of dried bay leaves) and there is French music playing. There are local jams, purple beans, garlic and pork available for purchase. The menu is short and sweet. I ask for a recommendation and Aaron suggests the Ormiston pork cutlet as everything bar the mustard and butter is local.
I'm curious about the French influence and he recalls a trip he took with his wife where they visited specific areas chasing particular French dishes. But whilst he applies French cooking techniques and procedures the food itself is always going to be locally sourced and he considers the produce that he is currently using "better than anything else, anywhere."
Chef Aaron Cole
Chai
The chai is slightly sweet and quite milky although it could use some more spices as it is very lightly spiced.
"I wonder if we should order some bread so that we can try out his sourdough" I say to Mr NQN as Aaron approaches, serendipitously holding a plate of his sourdough bread with a Mudgee olive oil. Now if only wishes were that easily granted! Perhaps I should ask for that Blue Jean Birkin next! ;) His sourdough comes in white and wholemeal. It has a nice, light crust-crispy but thin and won't take off your upper palate. The inside is dense and moist although not quite as holey as other sourdoughs.
Ormiston Free Range Pork Cutlet $15
The pork cutlet comes out with some lyonnaise potatoes, a dressed salad with some dijon butter. The pork needs nothing else but simple preparation and as I'm eating the second mouthful I tell Mr NQN that if I can't have the firetruck I want to buy some pork so  we put the American ribs on hold (which I later made into marmalade ribs). I don't think I even needed the dijon butter but the potatoes and salad were eagerly eaten.
Salade du jour $14
The salad that came out was sizeable and looked like a popular choice with the surrounding tables. Interestingly, the pancetta in the salad was not crisp fried which we are used to seeing but instead served like prosciutto curling around like stripey red and white ribbons.  The salad featured asparagus, purple beans, lettuce, grated carrot , red onion, cucumber and snow pea sprouts which all come from a woman called Sally who lives about 20 kms away. She used to grow for the larger Sydney markets but was unable to make a living doing this so instead she turned her hand to landscape gardening. Now she supplies Aaron with his vegetables.
Back at Trelawney Farm, we spent an afternoon doing work and then a bath with Chippy the waterborne chipmunk bath toy was the perfect way to relax. It was only when we spotted the time at 5.50pm and we weren't even dressed that we spring into action. We were expected at Lowe wines for twilight tapas.
Outdoor bath
Rushing to get ready we were sidetracked by this little guy trying to cross the road. And of course our excuse was "sorry we were late but we just wanted to make sure the turtle crossed the road ok!"
David Lowe (facing camera)
We arrive at Lowe wines which is at the end of Tinja Lane. The building is eye catching and we take the runway of grass up to the winery and cellar door. For the last few weeks they've started twilight tapas dinners which have been incredibly popular and have sold out every night. The tapas set menu was created because there was some confusion with locals and the concept of the smaller plates. For the very reasonable price of $33 per person you get six courses of Spanish tapas plus one glass of complimentary wine (pinot grigio for us).
Lowe Wines have three growing locations, the vineyard here is organic and there is also one near Rylestone and Nullo Mountain the last with similar conditions to Germany. Owner David Lowe is the president of the winemakers association. When he was studying wine, they were the first to study "homoclime" which involves identifying similar climatic regions within the world and this helps with matching wine regions in Australia to those in Europe.
David, who is very friendly and loves to talk wine comes over and gives us a taste three of the Nullo Mountain wines. The Nullo Mountain late picked Riesling 2006 and 2010 is a favorite of mine as it is sweet and delicious. I'm not sharing my glass of this and that's rare!
Chef Lindl Taylor carries past some produce and many of it is picked fresh from the garden outside just an hour or so ago.
Sapling Gully olive oil, freshly pulled radishes, potato bread, white anchovies
There is a loaf of soft, tender potato bread (always a favourite for us) and this is served with just pulled garden fresh radishes. The white anchovies give the crisp radishes an acidity and the salad made up of sweet tomato, red onion and cucumber is fresh with herbs and vinaigrette.
Corn fritter, pancetta and goats curd portobello mushroom
Arriving sizzling on a cast iron pan there is a large corn fritter, soft, moist and eggy (rather than a floury beast). On top of this is a grilled portobello mushroom, hotly spiced which is pleasing to both of us. And on top of this is some thyme goats curd peeking underneath the crispy pancetta.
Leather jacket with lemon aioli
The leather jacket comes out simply grilled with slices of lemon and a lemon aioli. The fish has a good taste of char from the grill and retains a good moisture within.
Mr NQN who likes red wine, tries three Lowe reds, all organic, including their multiple award winning Zinfandel.
And how clever are these plates? They're two sided with the larger side above for the mains...
And then you flip them over and the other side is for dessert!
Chef Kim Currie prepares the paella
Chicken and chorizo paella
The paella comes out with piece of chicken and discs of chorizo. The sunny shaded rice is skilfully cooked, I sometimes find paella a bit gluggy and wet but the rice grains are glistening with an ideal texture.
Veal with pisto
The basil infused veal comes as tender, flattened ribbons of veal with a flavour packed pisto. It comes with garden vegetables including capsicum, thyme, zucchini, tomato and garlic which along with the pisto, really brings the veal to life. There are also roasted rosemary potatoes and whole cloves of sweet caramelised garlic.
Dessert station
Ricotta and hazelnut stuffed white peach torta
The dessert is self service style at the dessert station and we take a white peach pastry and add some ricotta cream with hazelnut praline and a peach and a knife and slice it up. The ricotta cream is divine, smooth and like a sweet, thick silky yogurt and the tart is slightly tart with the soft baked white peach. The fresh peaches need a little more ripening but I'm just being a glutton now as I am stuffed full.
Roth's wine bar
When is a hardware store one of the oldest wine bars in Australia? When it still holds a bar license and yet is still considered a hardware store. Roth's wine bar apparently has the longest consecutive bar license in Australia. As it's a Friday night we venture back into town (now that we know that Mr Turtle is safe) to pay a visit there. At the quiet end of Market Street, they feature live music on Friday and Saturday nights and every two months or so they bring out musicians like Tim Freedman, Tim Finn and Katie Noonan.
The atmosphere is welcoming and you can sit in an armchair or nab the prize spot on the couch and select from their tapas menu. Or you can eat your food outside in the courtyard where there may be live music playing.
Mudgee Wines 2011 Verdelho and Elephant Mountain 2009 Shiraz $7 each
On their recommendation I have a glass of local Mudgee Wines 2011 verdelho and it's lovely and smooth with a distinct taste of pear. Mr NQN goes for the local Elephant Mountain shiraz and Kirsty the owner tells of how they convinced the Italian winemaker, who was only supposed to stay for one vintage to stay. Apparently the town of Mudgee fell in love with him and he fell in love with living here.
We adjourn to the courtyard where there is band playing and a good day and night was had by all!
So tell me Dear Reader, if you could call your pets after a politician, which one would you choose? And do you have any strange little rituals when you sleep?
NQN and Mr NQN travelled and explored Mudgee as guests of www.visitnsw.com and www.visitmudgeeregion.com.au 
Trelawney Farm
427 Henry Lawson Drive, Eurunderee NSW
www.trelawneyfarm.com
Leaning Oak Dairy
Cnr Cassilis (Ulan) & Buckaroo Rd, Mudgee, NSW
Tel: 0420 744 810
Market Street Cafe
79 Market Street Mudgee NSW 2850
Tel: +61 (02)6372 0052
Lowe Wines
Tinja Lane, Mudgee NSW 2850 Australia
Tel: +61 (02) 6372 0800
Roth's Wine Bar
30 Market Street Mudgee NSW 2850
Tel: +61 (02) 6372 1222