I'm a sucker for shopping and brunch - that's perhaps the only way to wake me in the morning. After our peaceful sleep at Trelawney Farm, the next morning we awake and make our way back into town to have breakfast. Not at any ordinary place mind you, but at a converted butcher shop.
Owner James lived in the polar opposite location of Kings Cross in Sydney and 10 years ago moved to Mudgee to bring up his kids. Renovating the 1875 butcher shop was a challenge and "took some work...there was a smell in the tiles" he says shaking his head before adding that the solution to the pervasive smell of raw meat was the smell of coffee roasting.
The shop's former life as a butchers is still evident and there is the original decorative ceiling and a decorative metal rail in an arc shape from times before refrigeration. The breakfast menu has a butcher friendly list of items including the Butcher's Breakfast and the Butcher's Benedict (with bacon and tomato instead of smoked salmon) as well as lighter offerings such as muesli and pancakes. All of the cakes and cookies are made for them but not on site. And it does a busy trade although according to James it's quiet today - perhaps it is compared to Kings Cross! ;)
_Butcher Shop Cafe Owner James O'Neill
_
Buttermilk pancake with seasonal fruit, maple syrup and yogurt $15
The pancake come out as one large, thick pancake (I'm thinking this too is butcher friendly) and topped with cubes of watermelon, honeydew, banana and halved grapes. There is a generous pour of maple flavoured syrup and a thick dollop of tangy natural yogurt. The pancake is thick and soft with a slightly crispy top.
Butcher's Benedict $16.50
The Butcher's Benedict comes as two thick pieces of buttered toast, two poached eggs, some bacon and two halves of grilled tomato on the side. Sort of like a big breakfast minus the mushroom and baked beans. It is topped with hollandaise which was a little too much on the tangy side.
Freshly squeezed orange juice and vegetable juice $5 each
In keeping with the butcher sized themes, these were actually small serves of the juices - a freshly squeezed orange juice and a vegetable juice with carrot, apple and ginger which are thirst quenching and served cold with ice. The size of these was enormous and they were very refreshing.
The bathrooms-either choose ladies or gents or republican or royalist!
We go for a little walk around town and duck into some shops including Mainly Mudgee which stocks a wide range of local artist Rachael Flynn's "Red Tractor" designs and I buy a set of cards and envelopes. They also stock a range of Mudgee made foods.
I always like going to vintage stores in regional areas because they often have really cute things whereas a lot of vintage stores in the city are picked over and comparatively expensive. This is my haul from Vinnies - check out that cake holder and the mother of pearl coasters-instant love. And psst! This whole haul was just $10 although we gave more because it was for charity.
Mongrel Wines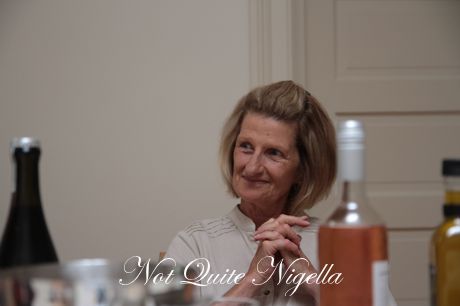 Sue Fairlie-Cunninghame
"We are the antithesis of everyone" Sue Fairlie-Cunninghame says. You might know her name - formerly the executive editor of food and wine at the now defunct Vogue Entertaining and Travel, she and her husband David now divide their time between Sydney and Mudgee. "We do everything ourselves, we even do the deliveries" she says. "We do it per amore (for love)" David adds.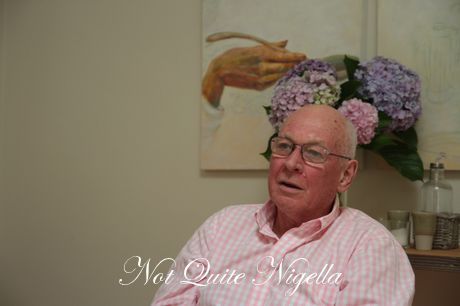 David Fairlie-Cunninghame
Up until a few months ago Sue and David grew grapes on their property but have now dug them up and instead buy in grapes from various farmers. The oversupply means that there is no shortage of supply and their philosophy is diversity - this is reflected in their wines which are different every year. They work with a wide range of winemakers pairing winemakers with the grape that suits them best. Food friendly wines at a $20 price-point are also a feature. All of the grapes are from Mudgee except for the tempranillo which comes from Orange.
And why the name Mongrel? Sue tells us that this was controversial in Mudgee. The name was given to their wines for two reasons  - their shiraz vineyard which is the only wine that stays relatively the same, comprised of nine different shiraz clones. Secondly, their winery was planted on a hill which was a sheep camp and as a result of the sheep depositing their droppings, the ground was full of nitrogen and was quite "feral." The vines needed a lot of pruning and bunch trimming and at times Sue could be heard to be calling out "you bloody mongrel of a thing!"
We try some of the wines and I particularly like the 2010 Mongrel Riesling, a dry, Germanic style Riesling and the 2010 Mongrel barbera (and I'm not usually much of a red wine drinker). Sue encourages us to try the food laid out which is prosciutto, olives, goats curd and crackers to see what works with the food. The wines are particularly popular with 25-40 age group and she tells us that they've developed quite a following, perhaps initially lured by the name and the striking bottle. They also hold lunches here with a main, dessert, coffee and a glass of one of two wines for $20 a person.
The cellar door is open from Friday to Sunday or by appointment and there are no plans to expand the operation. "We're rusty and we want to stay rusty" David says.
Botobolar
Back in town we do a bit more browsing and wine tasting. Botobular is Mudgee's largest organic winery and they have relocated their cellar door to down-town Mudgee where they conduct wine tastings of their bio-dynamic, low preservative and organic wines as well as sell organic products. Their best sellers are The King and KK's choice - KK being Kevin Karston, owner of Botobular (which means black tree, of which there is one on the property).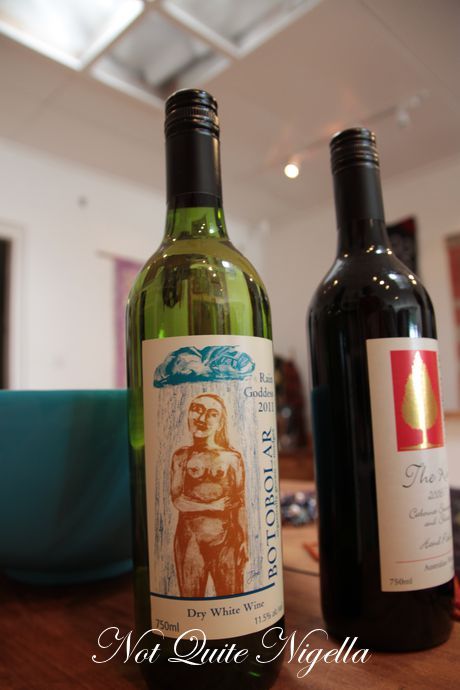 Mudgee Gourmet
We also stop by at Mudgee Gourmet near the Small Wine-makers' Centre. It stocks Mudgee's largest range of Mudgee products featuring over 30 producers. Items are all artificial preservative and additive free and the shop is divided into sweet or savoury and there is also a selection of oils and products like hazelnuts.
And almost everything can be sampled so that you can try before you buy. Our favourites from the samples that we tried were a Pride of Oak ginger marmalade and the "Precocious pear and liqueur muscat syrup" and "Passionate plum and port syrup" from The Grape Alternative.
Di Lusso Estate
It's lunch time next (all of this shopping and wine tasting is hard work!) and our next stop is Di Lusso winery. Owner and former banker Robert Fairall or "Roberto" as he calls himself is very friendly and welcoming. It's incredibly busy - forget adding a posh restaurant to your winery if you want people to visit, just add a wood fired pizza oven and that will do the trick! It's a family friendly sort of place and there are large tables and lawns for kids to run around on as well as pétanque.
Apart from wines there is also a fig salsa (fabulous!), fig vinaigrette and extra virgin olive oils - sadly it wasn't quite fig season when we visited or you know I would have been all over those fresh figs. And why Italian if Robert isn't Italian? His former life as a banker meant that he travelled in Italy extensively and he was taken with their idea that food goes with wine and is a support act to wine. He specialises in matching food to wine and people can choose their food and have a wine from their range to match it. He only makes Italian wines in hard to find varieties like aleatico, picolt, appasimento and arneis among others and we notice that there are a lot of Italian customers here. The wine "is only there to make the food taste better" he says.
They're also known for their moscato, a very drinkable 6% alcohol moscato which is sweet, bubbly and very drinkable. "But only blondes can order it" prompting mock outrage from a customer who nabs herself two bottles. His range of wines has low tannins and high acidity and most don't see any oak. He makes a large range of wines but small in number and they're all matched to food and he reels off a list of a meal matches to all of the wines.
Robert Fairall
Before lunch we try a range of their wines including the more obscure Italian varieties including Greco di Tufo 2011 which he describes as a "big textured, salty wine" which he tells us is polarising but we quite like it. It's also a hard grape variety to grow as the grapes are bunched tightly together and are susceptible to things like botrytis. We also try the Vino Rosato 2011 which he tells us goes well with a vegetarian pizza and the Sangiovese 2010 with its distinct rosemary character which goes well with lamb. Di Lusso means indulgence.
We sit down with president of Fine Foods Mudgee and local caterer Rebecca Sutton. Pizzas are $20 across the board and they're quite large and to add a glass of wine that is matched to your food is an extra $5. The waitress recommends sharing one and so we ask for half an Italian antipasto and half a pizza emilia. "Shhh don't tell anyone I did this" Rob says and before long he is rolling the dough out and a few minutes later our pizza has arrived!
Italian Antipasto ($20 for whole pizza)
The Italian antipasto has salami, chorizo, beef polpetti (meatballs), sun dried tomato and mozzarella. It's full of flavour and the meats add texture and flaovur as do the sun dried tomatoes. The crust is nice and thin too-perfect for picking up and eating with hands.
Pizza Emilia ($20 for whole pizza)
The pizza emilia has grana padano, pancetta and a nice hit of garlic which I can smell as soon as it is set down in front of me. And even though I love the cured meats in the first pizza, the garlic hit means that I really enjoy this too.
Tiramisu $10
Sadly they had run out of the dessert pizza as it was late in the day (topped with pears, cinnamon, almonds and mudgee honey-arrgh! How delicious does that sound?). We order the tiramisu which wasn't bad although didn't quite have the kick of coffee or alcohol that I wanted.
It's afternoon bath time again! I always make it a policy if there is a bath to take out the time to have one. I'm usually quite pressed for time but even a 15minute bath does wonders for the soul and it is the one place where technology is not really allowed (knowing me I'd drop it in the water). Like Goldilocks I try the second bath in the Barn End Cottage and it's one of those curved ended claw foot baths. It's not really meant to be used as a shower -  if you do, waterspill on the black painted timber floors is inevitable even with the two bath mats provided so you are best to use it as a soaking tub and the other bath in the Coach House as the shower.
Chef Bechora Deeb
Refreshed, it's time for more writing of that afternoon's activities and then it is time to get changed for Deeb's. Now everywhere we've gone, people have asked us where we are dining and I'm always interested in their first reactions (I find that their expressions and reactions can give a good indication of how they feel about a place). When we tell people that we're going to Deeb's for dinner their reactions vary from delighted to swooning. It seems Mudgee are in love with Sybil and Bechora Deeb who run their very popular Middle Eastern restaurant about 10 minutes out of the main town area but just a few minutes away from us at Trelawney Farm.
Known for the grounds and their garden lunches, Sybil is British and with a naughty sense of humour and quick with an anecdote. Her husband Bechora is Lebanese and is sweet and sincere and avuncular in nature. Their garden is full of edible treasures including quinces, pomegranates, loquats, figs and persimmons as well as a 100 year old peppercorn tree with long thin branches that reach out every which way. Everything at Deeb's is made by Bechora. "We don't visit the supermarket" he says and there are large mason jars with olives, dried eggplant which he soaks, dips in butter and flour and then fries as well as countless other items all made by him. Previous to moving here, they lived in Sydney and he worked for the Lebanese Embassy for 12 years and then for the Lebanese archbishop Abda Kahliffe for 22 years.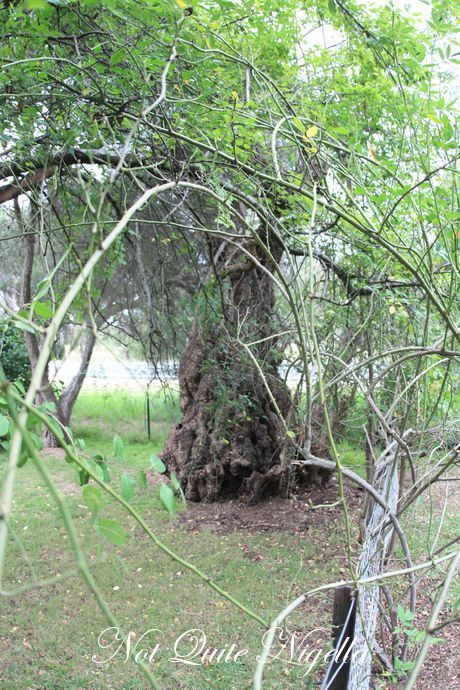 Black peppercorn tree
He tells us that he never looks at cookbooks and that it is the 55 years in the kitchen that helps him devise recipes. His uncle taught him how to make mountain cheese, a long, laborious process and he makes five cheeses including the Syrian cheese that we will be having. When he travels and sees friends they do recipe swaps with each other too broadening each other's repertoire.
Sybil and Bechora live behind the restaurant (a converted Eurunderee school) and there is also other accommodation. Other guests arrive and we take a look at our menu. There a four course menu for $55 per person and BYO incurs no corkage.
Egyptian rice cake with Syran cheese and Lebanese bread
The first course, a little one that was a nice surprise as it didn't appear on the menu, is an Egyptian rice cake, crispy on the outside with a mild, rice flavour inside (the flavour reminding me of Finnish Karelian rice pies) and served with a tomato, chilli sauce. This is paired with the Syrian cheese made out of yogurt that Bechora makes himself and is similar to a farm cheese. The cheese particles are small and it is a dry cheese mixed with green onions and cinnamon.
Salmon fattoush
The smoked salmon fattoush salad is a salad made up of rocket, crunchy Lebanese bread and a lemon and olive oil dressing with smoked salmon pieces. There is also pickled carrot, garlic and onion and the salad is refreshingly good.
Manoush
The manoush or flat bread comes out warm from the oven, covered in dried thyme, lemon and sesame seeds. It sits in a ceramic bowl that is made locally. Then comes the dish we've been waiting for - the lamb. We've ordered one of the lamb and one of the Zamboozic and I'm so smitten by the lamb that I ask him for the recipe which he gives me verbally passing on some of the secrets. I'll do this at home and let you know how I go! ;)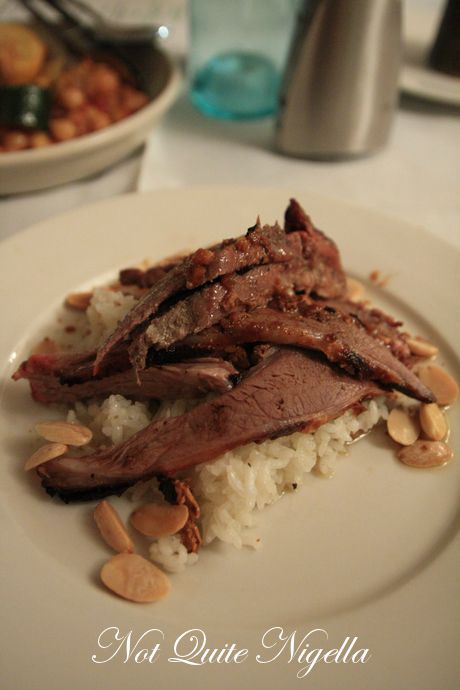 Lamb au jus
The lamb is tender and spiced with pepper and cinnamon and it comes with a fantastic rice which he also explains how to make. First he fries the rice in butter and seasoning before cooking it giving it that wonderful flavour and this is studded with almonds to give it crunch.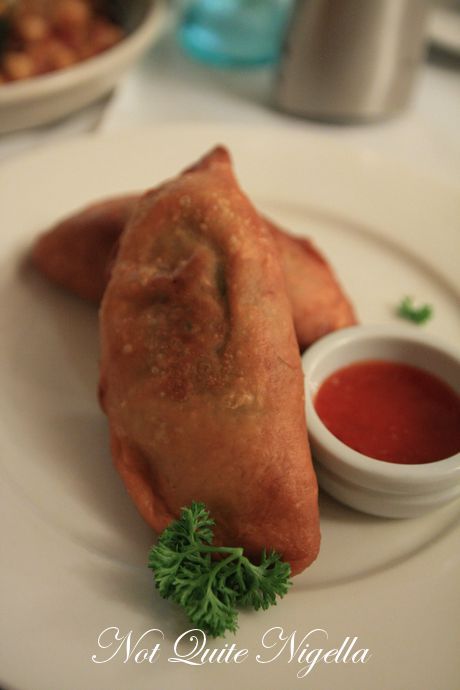 Zamboozic
The Zamboozic is delicious too. Filled with spinach and almonds, the golden pastry is soft and yielding and filled with the flavoursome spinach filling which is still moist and not dry at all.
Vegetables in season
The vegetables from their garden are a variety of squash as well as onion and some chickpeas in a sweet and sour type of sauce. The vegetables are very fresh and the sauce provides a flavour contrast to both mains.
Yogurt Dumplings
The yogurt dumplings were not what I expected - they came as three golden deep fried balls that were crisp with toffee on the outside and soft on the inside releasing a syrup as soon as you took a bite. They're served with fresh peach slices and a light whipped cream. Heaven...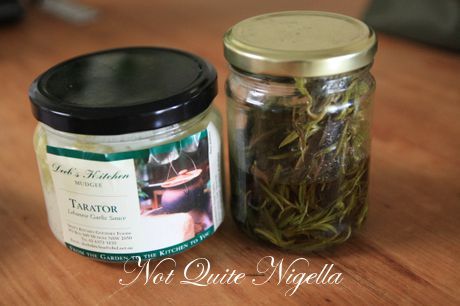 We almost hate to leave but alas the night is getting on. Bechora hands us a jar of Lebanese thyme to have with our breakfast on toast as well a jar of my favourite garlic sauce "taratoor." Bechora isn't done with us yet and the softly spoken chef invites us to come and visit him again after March when the garden will be blossoming or in winter where he makes clay "bush ovens" filled with soups and stews. Lemons will be made into lemonade and lemon desserts. It's an invitation we can't refuse.
So tell me Dear Reader, are you a republican or royalist? And do you match wine to food or vice versa?
And oops I forgot about Wallpaper Wednesday! Thanks Tiff for the reminder! :D Here is a crackle bread wallpaper from yesterday's post. xxx
NQN and Mr NQN travelled and explored Mudgee as guests of www.visitnsw.com and www.visitmudgeeregion.com.au 
Trelawney Farm
427 Henry Lawson Drive, Eurunderee NSW
www.trelawneyfarm.com
The Butcher Shop Cafe
49 Church Street Mudgee NSW 2850
Tel: +61 (02) 6372 7373
Mongrel Wines
571 Spring Flat Rd Mudgee NSW 2850
Tel: +61 (02) 9908 3421
Botobolar Wines
95 Market Street, Mudgee NSW 2850
Tel: +61 (02) 6373 3840
Mudgee Gourmet
Small Wine-makers' Centre
Cnr Henry Lawson Dr and Ulan Rd, Mudgee NSW 2850
Tel: +61 (02)6372 0030
Di Lusso
Eurunderee Lane, Mudgee Sydney NSW 2850
Tel: +61 (02) 6373 3125
Deeb's Kitchen
Cnr Cassilis Road & Buckaroo Lane Mudgee NSW 2850
Tel: +61 (02) 6373 3133