"Well it calls for A LOT of butter" the waiter at L'Atelier de Joel Robuchon informed me assuming perhaps that this very statement might put me off asking for the recipe for Pommes Puree aka mashed potato. Little does he know that:
a) I'm one of those people that if you tell me I can't do it, I'll try even harder to do it
b) I unashamedly love butter
There are certain dishes that some chefs are known for and Joel Robuchon is known for his mashed potato. I thought "Oh I'm sure it's nice enough, but how good could it be?". Like most of you, I've had some fabulous mashed potato so why would his version be necessarily that different. So I took a spoonful and was reduced to a gooey buttery mess. It was utterly buttery and creamy and smooth yet light. How could this be? How could it taste So. Damn. Good.? And that's when I called the waiter over to try and wrestle a recipe out of him or at least a hint. Of course he wasn't going to give away the secret apart from the excessive amount of butter in it and the mash remained a distant but very fond memory.
About a year later, I received a book in the mail from Great Grand and Famous called "Great, Grand and Famous Chefs and their signature dishes". I flicked through it and my glance landed on Joel Robuchon's Pomme Puree recipe. I clutched my heart in joy and marked this for a future dinner party dish. I read the quantities - yes there was a lot of butter but oddly enough, there wasn't a lot of cream, just milk. It appeared that along with the significant helping hand of 1/4 kilo of butter to 1 kilo of potatoes (not as frightening as I thought as I had envisaged a 50:50 ratio) the method differed slightly. The key here is to remove as much water as possible, beat in the butter a little at a time, and then the milk, a little at a time. The final finishing was of course to pass it through a sieve to ensure that it was as silky smooth as possible.
I decided to make this with a rack of lamb, one of Mr NQN's favourite dishes (shhh don't tell his vegan mum about that!). I wanted to cook him something that he'd like like as he was on holidays and he adores mashed potato but had missed out on trying Robuchon Pommes Puree. What did he and our guests think? Thankfully they adored it. If you are a mashed potato fan and like it rich, buttery and smooth, then this recipe is worth trying if only just the once (and I should think that using that much butter may concern some quite right). I now had changed my friend's minds about Joel Robuchon who they'd thought was a little evil after seeing him on an episode of Iron Chef marking down the Japanese Iron Chefs down drastically in favour of the French chefs. It seems that if one wants to leave a lasting impression, you'd best to do it in the way of food. Now instead of that "mean Iron Chef judge" they now refer to him as that "a quarter kilo of butter chef". And their tone is one of pure reverence and not of mocking.
So tell me Dear Reader, what's your favourite way to cook and eat potatoes? Roast potatoes? Chips or wedges? Or something different entirely?
Pesto Rack of Lamb with the Ultimate Pommes Puree Mash
Serves 4
12 lamb cutlets (about 1.2 - 1.3kg rack of lamb)
100grams finely grated parmegiano reggiano
1/4 toasted nuts (I used cashews)
1.5 bunch fresh parsley with a few sprigs of fresh basil, mint and whatever fresh herbs you like
For Pommes Puree
For Pommes Puree
Step 1 - Make the Pommes puree first. Scrub and clean the whole potatoes, leaving the skin on. In a large saucepan, bring water to the boil and cook them uncovered over moderate heat until a knife can be inserted into the potato easily. Drain immediately. Bring 1 cup of milk just to the boil and set aside.
The butter and milk added
Step 2 - Pass the potatoes through a potato ricer with the finest setting and put into a heavy bottomed saucepan on low heat. With a flat bottomed spatula, stir the potato vigorously for 5 minutes to remove all moisture. Add 1 tablespoon of butter at a time until it is throughly incorporated. Your arm may be sore by the end of this but it's worth it, trust me.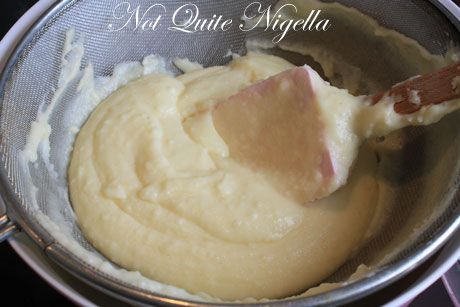 Passing the mash through a sieve
Step 3 - Slowly add the milk a little at a time or in a thin stream if you have someone to help you. Ensure that it is fully incorporated. Season with salt and pepper.  Pass the potatoes through a fine mesh sieve into another heavy bottomed saucepan. If the puree is too heavy oor stiff, add more butter and milk stirring all the time. This can be made up to 1 hour in advance. To keep warm, place in the top of a double boiler, uncovered, over simmering water and stir occasionally to keep smooth.
Adapted from Great, Grand and Famous
For Lamb Rack
Step 4 - Preheat oven to 200C/400F and line a baking tray with parchment. Season lamb cutlets with salt and pepper. In a medium-hot saucepan add oil and sear lamb cutlets on sides and across the fat at the back (I find it easier to sear one side, then teh back adn then the other side). Then place on parchment lined baking tray and bake for 7 minutes. While the cutlets are baking, add the breadcrumbs, herbs, reggiano and process. Add oil until it comes together almost like a pesto. Place in a shallow plate or bowl.
Step 5 - When lamb is ready, brush the fat side with mustard and then press into the pesto mix. When you are ready to serve it, bake it in the oven for a further 2-3 minutes. Serve with pommes puree.