Happy first To Market To Market for 2010 Dear Readers! I hope everyone's year started off with a bang and that happiness continues. In aid of this, this month's To Market To Market features a fantastic selection of the nicest goodies I was sent over these past few weeks.
* A big thankyou to the lovely people at these companies who agreed to send out packs of these items to some lucky Not Quite Nigella readers so that you too can sample their goodies instead of just reading about them!*
Just leave a comment at the end of the story telling me which product you'd like to try and why. You can enter once a day. I'm very sorry overseas lovelies but these can only be posted within Australia. I shall select winners on the 31st of January, 2009.
And the winners are!
Achachas: Alex H. and Anna T.
Polka Dot Cookies: Nadine H.
Relish This: Phuong Anh N., Cristina A., Kathy S., Nicki K. and Andrea L.
Jollie: Syrie W, Kristy D. and Tommy C.
Villa Maria: Jen W.
Congratulations to our lucky winners! :)
Achachas
"Acha what?" You may be asking. Well if you're a fan of tropical fruit, and in particular mangosteens, then you might just love these. These succulent fruits are grown in North Queensland and are available in NSW, Queensland, Melbourne and Canberra. They're similar to a mangosteen inside albeit slightly tarter and have a pearly, smooth white flesh. They are fun to pop open and provide a fun, travel sized snack.
Thanks to Achacha, two lucky Not Quite Nigella readers will receive a sampler bag of Achachas! NSW, Queensland, Melbourne and Canberra addresses only.
Polka Dot Cookies
I do love a good cookie and even better is an iced cookie. These pretty Polka Dot Cookies presented me with the most difficult dilemma however. As I was photographing them, all I wanted to do was eat them as the vanilla aroma was beckoning to me. As I lifted up the "Not Quite Nigella" teapot to my mouth I thought it was one of the most adorable things I had seen so I couldn't bear to eat it. I compromised and ate a cupcake one and it was made of a sweet, crumbly vanilla shortbread biscuit topped with fondant and cute royal icing. This series of cookies is called the "Red Delicious" gift jar and is designed for foodies like us.
Thanks to Polka Dot Cookies, one lucky Not Quite Nigella reader will receive a gift jar of Polka Dot Cookies worth $45! Sydney metropolitan addresses only.
Relish This
Relish This
I'm a huge fan of seasonal and limited edition items. To me, they signal the changing of the seasons and an exclusivity that appeal to my beating heart. I had tried Relish This relishes before and adored them as they're all hand-made, nutritional, gluten free and absolutely artificial gunk free. This is the Mango and chilli relish which is only available in the Summer months. I loved it in a chicken and mango salad and as a sauce to serve with fresh prawns.
Thanks to Relish This, five lucky Not Quite Nigella readers will receive a large 300g jar of Mango Relish!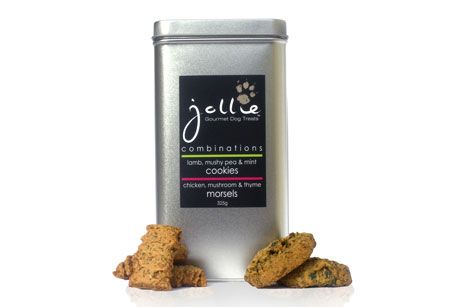 Jollie Dog Biscuits
With the human cookie needs taken care of above, how about your four legged canine friends? I can't say that I tried these but I did give these to a lucky dog who loved them. I can't speak dog of course but I believe he did communicate this to me by vigorous ingestion.
Thanks to Jollie Dog Biscuits, three lucky Not Quite Nigella readers will receive a tin of Jollie Dog Morsels in either Beef, Cashew & Rosemary Morsels or the Chicken, Mushroom & Thyme Morsels!
Villa Maria
I was saving my bottle of Villa Maria to have with friends who are big wine drinkers. Villa Maria Estate is New Zealand most awarded winery and I was hoping to impress them with my wine choice. I am happy to report that they were suitably impressed with this lovely Sauvignon Blanc!
Thanks to Villa Maria, one lucky Not Quite Nigella reader will receive a bottle of Villa Maria wine! Must be over 18.
So readers, please leave a comment as to which item you'd like to try and why and you could be receiving it in the mail! Thanks again to these generous brands Achacha, Polka Dot Cookies, Relish This, Jollie and Villa Maria for providing prizes.
Best of luck and enjoy!
Lots of love,
NQN
xxx
Pssst! In some other exciting news, I'm the first non U.S. blogger to be featured on Take Thou Food's Take 5 questionnaire! You can see it on Sean's fabbo site here :)