Please forgive me, I know I missed October's 2M2M story but Your Honour, I barely had time to breathe. I take this chance now to apologise too to my friends for cancelled dates and super short emails. I think SIFF took it out of me and Halloween finished me off and come November 1st I was barely crawling across the finish line. This month's To Market To Market is quite late as a result and I missed the October deadline so I hope you'll forgive me! But when you get a look at the goodies in store I think you'll understand!
* A big thankyou to the lovely people at these companies who agreed to send out a pack of these items to some lucky Not Quite Nigella readers so that you too can sample their goodies instead of just reading about them!*
**Just leave a comment at the end of the story telling me which product you'd like to try and why. You can enter once a day. I'm very sorry overseas lovelies but these can only be posted within Australia. I shall select winners on the 22nd of November, 2009.
Our lucky winners are:
Bombay Authentics: Katina F. & Laura F.
Vivi Candle Holders: Melissa K & Rianna C.
Madame Flavour: Theresa D., Samantha L., Emmelyn T., Reen L. and Monica Q.
Pure Chai: Catherine C.
Viva Wipes: Kate Mc., Marc T., Helen L., Bel J., Gabrielle D., Ming C., Ellen E., Pamm. & Mark.
Miracle Frooties: Kay C., David G., Leone B., Tania T. & Jacqueline H.
Ferrero pack: Debbie H., Matilda A., Carol O., Alex G. & Amy H.
Bombay Authentics
The lovely people at Bombay Authentics sent me a most gorgeous assortment of luxury curry sauces and chutneys to try. It didn't take me long to try them and the curry sauces were very easy to cook with and tasted wonderfully spicy (and yes I mean spicy!) whilst the chutneys were lovely and cooling and flavoursome as well as being rather different from the usual chutneys. They are also Gluten free and GMO free.
Thanks to Bombay Authentics, two lucky Not Quite Nigella readers will each receive a box containing: Rogan Josh sauce, Tikka Masala sauce, Mango Chutney, Coriander Chutney and Mint Chutney.
Vivi Party Cake Candle holders
There  is a way to make a birthday cake even more special (and that's apart from all the slavery making or buying the damn thing) and one way is to use these gorgeous Silver Plated Party cake candle holders. As soon as these were sent to me I cooed, yes I had finally found elegant birthday candles and they're even shaped like crowns! Viviana de Gallegos's designs are loved by celebs like The Queen (yes _the _Queen), Princess Mary, Madonna, David Beckham, Sharon & Ozzy Osbourne, Gordon Ramsay, Gordon Ramsay and Cheryl Cole!
Thanks to Likco and Vivi, two lucky Not Quite Nigella readers will receive a box of Vivi Party Cake Candle Holders worth $44.95 each!
Madame Flavour tea
Now if I were ever to invent a tea, it would be a tea like this.  It would be using white tea because we all know that has more antioxidants and it would have a floral flavour to it. It would come in a silk-like purses and come prettily boxed as these and would taste amazing as these. I tried the Peony white and Rose which was gorgeous with a subtle rose and peony flavour, in fact I am carefully rationing my supply as we speak. There is also Sultry Chai, Earl Grey Twist, Elegant Breakfast and Green, Jasmine and Pear flavours.
Thanks to Madame Flavour, five lucky Not Quite Nigella readers will receive a box of Madame Flavour tea!
Pure Chai
One of my favourite breakfasts is the Chai spiced oatmeal with rhubarb topping and one of the easiest ways to make this is with Pure Chai Chai Powder. It comes in two flavours: honey & vanilla and chocolate so you can choose whichever you may feel like or what might go well with the fruit you use (I love chocolate chai oatmeal with stewed cherries on top).
Thanks to Pure Chai, one lucky Not Quite Nigella reader will receive a pack of Honey & Vanilla and Chocolate Chai!
Viva Wipes
Once upon a time, on a TV show I shan't name (ok it was Fresh), they told me to spray my stainless steel fridge with olive oil spray to clean it. This worked for a little bit but then my fridge got dirtier and dirtier and it seemed to attract grime no matter how much I cleaned it. It was a pain to clean and I never really got it to sparkling the same way until I tried these. If only I had the forethought to show you a before and after I would have. Now it would be more of a reflection of my legs in the fridge it had become that shiny.
Thanks to Viva, nine lucky Not Quite Nigella readers will receive a set of Stainless Steel wipes and Glass & Mirror wipes!
Miracle Frooties
Despite the above photo, please know that I have not turned into a pill pusher. The pills I speak of are Miracle Frooties where you can turn the sourest fruit into something sweet. I can sense all sorts of fabulous applications for this and no doubt you will come up with your own. I tested them on a fresh lemon and it turned it sweet, I drank my juice and it was the sweetest juice ever. I have all sorts of evil plans to take over the world with these. In the meanwhile...
Thanks to Miracle Frooties, five lucky Not Quite Nigella readers will receive a pack of Miracle Frooties!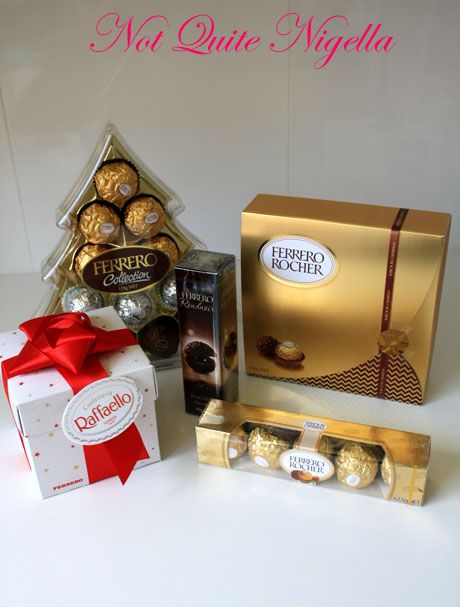 Ferrero
Last but definitely not least, I have a longstanding love of Ferrero Rondnoirs and it usually involves me hiding them from my dark chocolate monster Mr NQN who can polish off a box in one sitting and still look for more. When I received an early Christmas present from Ferrero - even the deliveryman said "This bag looks like a whole lot of fun". In it I received a 128g Christmas Tree with an assortment of Ferrero chocolate (including the white coconut one I was _dying _to try!), a 120g box of Raffaellos, a 150g box of Ferrero Rochers and some cute stocking stuffers with a 4 pack of Rondnoirs and a 5 pack of Ferrero Rochers. And this is the bit here I feel like Oprah....
Thanks to Ferrero, five lucky Not Quite Nigella readers will this very pack! Yes Christmas has come early :)
So readers, leave a comment as to which item you'd like to try and why and you could be receiving it in the mail! Thanks again to these generous brands Bombay Authentics, Vivi, Madame Flavour, Pure Chai, Viva, Miracle Frooties and Ferrero for providing prizes.
Best of luck and enjoy!
Lots of love,
NQN
xxx