Hello my lovelies! I know you've been waiting for one of these for a while. And truth be told, I had meant to do one for the longest time but September and October (and actually this whole year) has been so busy that I could barely stop to think! But no matter, for hear ye hear ye, we had a fantastic selection of goodies for you this month with a mammoth 16 brands featured! All you have to do for the chance to win something is tell me which item you'd like to try and why. And before you know it, a package could come knocking at your door containing the delicious goodies! These can only be posted within Australia and the giveaway ends at Midnight AEST on the 7th of November, 2010.
Lotus & Ming
I love dumplings with something of a zealous passion and when I received a box of Lotus & Ming goodies I may or may not have done a happy dance (Ok yes I did). These lovely morsels are dumplings with a slight twist from your usual. BBQ pork buns aren't just BBQ pork buns but instead they are smokey BBQ pork buns. Won tons aren't just won tons but they're peking duck and apple wontons. My favourites were the Peking Duck and apple wontons, the chilli chicken dumpings and the scallop and shiitake dumplings which were so addictive! I seriously missed these when they were gone from my plate :( They also have a great range of fifteen different types of low fat dumplings (yes, all of our prayers have been answered!) as well as vegetarian and vegan goodies as well as dipping sauces and premium seafood like salt and pepper squid and salt and pepper baby whiting.
Thanks to Lotus & Ming, five lucky Not Quite Nigella readers will win a fantastic pack of Lotus & Ming goodies. Drumroll please.... Lotus & Ming Scallop & Shiitake Dumplings, Lotus & Ming Chilli Chicken Dumplings, Lotus & Ming Peking Duck and Apple Wonton, Lotus & Ming Shitake & Leek Spring Rolls, Lotus & Ming BBQ Pork & Plum Spring Rolls, Lotus & Ming Whole baby Whiting, Lotus & Ming Sauce Soy Fusion and Lotus & Ming Sauce Spicy Plum. The total value of each pack is $107.90! As the products are frozen, delivery can only be to the Sydney Metropolitan area.
Barilla
I have a funny story about Barilla. They were kind enough to send me a big box of goodies to try out and this box contained all sorts of great pasta and sauces as well as polenta, bread flour, grissini and pesto (and even their wholemeal pasta which is really good too). It was a veritable treasure trove of deliciousness. Because I travel a lot and Mr NQN doesn't get to go with me as he has to work (how dull!) he is often left to fend for himself. I don't often have time to make him something to eat and I got a plaintive email from him one night saying "Our cupboards are totally full but I have nothing to eat". I mean the man has no idea what to do with truffle salt or paperbark! You see his culinary skills extend purely to cooking pasta and eating it with a bought sauce. So I pointed him in the direction of the Barilla treasure trove and he happily dipped into it every night. Our favourites were the tomato and olive, arrabiata and ricotta sauces, the wholemeal pasta and the cheese tortellini.
Thanks to Barilla, ten lucky Not Quite Nigella readers will win a pack that contains two pasta and two sauce, apron, pasta tin, grissini sticks, Mulino Bianco, instant polenta (to make these polenta fries with gorgonzola sauce!) and a pizza kit! Plus Barilla are also currently running a store promotion wherein if you buy two pastas and two sauces then you then register online for a free cooking class at Casa Barilla. It's a demonstration style cooking class, with Executive Chef Luca Ciano demonstrating two pasta dishes. And because the winners will be getting two pasta and two sauce in this box they can register straight away and get to go to the class. So not only do 10 lucky NQN readers receive pasta and other goodies to eat, they also get a place at a cooking class!
Twisted Yogurt
The other night I went to the opening of Twisted Yoghurt store in Bondi Beach and made sure that I brought along yoghurt freak Mr NQN. I like yogurt but he seriously luuuurves the stuff. I've tried some of the other frozen yogurt places and their yogurt is just way too tangy rendering it way too strong for me (and way too strong for him too) so I remained somewhat nonplussed by the whole frozen yogurt phenomenon. Then I tried some Twisted yoghurt and I was utterly smitten. It was just the right level of sweetness, not overpoweringly sweet and it had a tang but it wasn't so tangy that your face screws up when you take a spoonful. What Twisted yoghurt does is twists two flavours out of their 18 flavours of yoghurt together so that you get a very cute combination of flavours such as my favourite: green tea and acai berry (aka "Daily Dose") or green tea and passionfruit (aka "Passion Pop") or Mr NQN's favourite the original and mango (aka "Lip Licker"). It is also all made from the non fat Greek yoghurt with live cultures. And because it's in Bondi Beach and is inhabited by beautiful people, it is 98% fat free. The texture is light and very, very creamy (read: it doesn't taste low fat!).
Thanks to Twisted Yogurt, fifteen lucky Not Quite Nigella readers will win 2 x 1 litre take home packs so that you can pick and try two flavours (or four if you twist them up!). They blast freeze their take home packs so that they remain creamy and smooth. The winners will need to pick up your prize from the Bondi Beach store at 36 Hall Street, Bondi Beach.
Madame Flavour
I am a huge tea drinker. If you were to step into my kitchen you would see a huge canister of loose leaf Madame Flavour Earl Grey with a twist, my current flavour that gently infuses my favourite tea Earl Grey, with lemon myrtle. Madame Flavour tea pods are great because they come in adorable silky purses and I always look at tea as a welcome break in the day and it is always so much nicer to make tea using nice tea bags if you aren't brewing loose leaf tea.
Thanks to Madame Flavour five lucky winners will receive the full retail range of infuser pods! This means: two boxes of 25 aromatic Madame Flavour English Breakfast Infuser Pods, one box of 25 Earl Grey Twist Infuser Pods, one box of 18 sensual Sultry Chai Infuser Pods, one box of 18 Green, Jasmine and Pear Infuser Pods and one box of White with Rose infuser pods!
Green & Black's and Fleur Wood
"What does fashion designer Fleur Wood have to do with food?" I asked when I received her new book Food Fashion Friends.  After all, fashionable people don't tend to eat much. Or do they? Fleur's new book is a girly tome full of recipes. I must admit I was skeptical at first. I own some of her dresses and thought that they might be full of cocktail party finger food served with a glass of champagne (which is about all that I've seen fashion people eat) but there are lush recipes including a stunning rhubarb meringue cake (you will be mine cake!) and a lemon cake with Earl Grey icing. OK some of the pictures are like a fashion magazine and styled to the hilt like a fashion spread but there are some lovely recipes contained within.
Thanks to Green & Blacks organic chocolate, one lucky Not Quite Nigella reader will win a copy of the new Fleur Wood book Food Fashion Friends worth $59.99 as well as a selection of Green & Black's chocolates with 100g bars of Mint Fondant, Almond, Dark 70%, Milk, Maya Gold and Butterscotch!
Saxa Salt Flakes
Well we've all heard about Maldon salt but of course this salt comes all the way from Merry England which is all very fine but also has a tonne of food miles added to it. There is now an Australian salt that rivals Maldon and it is by Saxa. The salt comes from the pristine Great Southern Oceans of Australia too which are so lovely and pure. Chef Justin North endorses it and has created some recipes to go with it (I'm doing the pork belly for Christmas ;) ). They are aimed at the premium end of the market (hehe you know I wouldn't put just _any _salt on here!) and are priced at $7.99 a box.
Thanks to Saxa, twelve lucky Not Quite Nigella readers will receive a box of regular Saxa Salt Flakes and a box of iodised Saxa Salt Flakes!
Sandhurst
I'm sure you've all seen the Sandhurst items on supermarket shelves. They're great to put in the cupboard for guests that just pop in (arrgh the dreaded pop ins!). They have a range of lovely goodies but I have to confess my very favourite were the lite semi dried tomatoes. They still packed the intense flavour of a semi dried tomato but they were really low fat too-diet win! Summer bikini win! Along with Lite Semi-dried tomatoes they also have Antipasto mix, Kalamata olives, Prima Scelta Chargrilled Artichokes, Rainbow Olives and Panino mix or Jalapeño stuffed olives
Thanks to Sandhurst, ten lucky Not Quite Nigella readers will win a pack worth $30 each with sixof the above items (I'll make sure they include the lite semi dried tomatoes, you'll love them! ;) )
Bonne Maman
**Years ago I got in major trouble on my flight when I came back from Europe. Why? Well I had bought about six jars of Bonne Maman jam to take back with me. Of course back then there wasn't much of a range available as there is now. I ended up taking all six jars out of my luggage lest I pay the dreaded overweight baggage charge and instead I carried them all around the airport like a mad woman. They are great jams and come in lovely flavours with more than 50% real fruit and fruit chunks-I love the chunks! And you probably won't be surprised to learn that I take to these chunks with a spoon.
Thanks to Bonne Maman, five lucky Not Quite Nigella readers will receive two jars of Bonne Maman jam!
Sun Rice Sweet Cakes and Sun Rice Tumbles
If it seems like I'm your snack pimp, so be it. I am actually trying to send you down a healthy route though. Sun Rice have got two new products-Sun Rice Sweet Rice cakes and Sun Rice Tumbles. One has chocolate one doesn't. I'll leave it up to you which one you devour first. The Sun Rice sweet rice cakes come in three flavours: honey (my favourite as it tasted like Honey Weets cereal and I had a nostalgic moment), caramel and apple and cinnamon. They're just like rice cakes but give you a little sugar hit with some crunch too. The Tumbles, well you coat anything in chocolate and it's going to instantly taste better (politicians excluded from this general rule). The first one is the classic which I admit I wasn't particularly taken by-it is puffed rice "tumbled" in milk chocolate while the crunchy was my favourite as it had puffed rice and cornflakes tumbled in cocoa cream and milk chocolate. A bit more crunch is always good ;)
Thanks to Sun Rice, five lucky Not Quite Nigella readers will receive a pack containing all three Sun Rice Sweet Cakes (sorry tea and canister not included) and a share pack and a bar of both the Classic and Crunchy flavours!
The Unexpected Guest
I am a huge granola fan. I like my muesli toasted and with plenty of goodies stuffed within. I'm very picky like that. And The Unexpected Guest's freestyle granuesli answers both of my specific cereal concerns. Granuesli (aka granola muesli) is considered freestyle as each batch is slightly different. It is hand made in small batches using organic ingredients. It's for those days where you want something that tastes home made or cafe made (as opposed to coming in a grey cereal box) but you'd rather sleep in than cook. They also post their granuesli anywhere in the world!
Thanks to The Unexpected Guest, five lucky Not Quite Nigella readers will win a 500g bag of The Unexpected Guest's Freestyle Granuesli!
Black Swan Yoghurts
When I told Mr NQN that we were expecting a yoghurt delivery he actually high fived me. Men are such funny creatures. Despite my proclivity for sweets, my favourite yogurt is a lovely, thick natural yogurt. As far as dairy goes, I am a full fat kind of girl although I wish I had a taste for low fat. So I wasn't too hopeful when a low fat and a non fat yogurt arrived. After all fat equals flavour right? But the low fat natural yogurt is actually very creamy indeed. It's a Greek yogurt which is my favourite kind of yogurt so I happily dug in. It was creamy and not watery at all and I even managed to make a lovely labne (yogurt cheese) out of the low fat yogurt which I considered a bit of a miracle. As for the non fat I didn't even get the chance to try to make that into labne as Mr NQN devoured that as fast as Charlie Sheen on a news headline.
Thanks to Black Swan, five lucky Not Quite Nigella readers will win a 500g tub of natural low fat yogurt and a 500g tub of non fat yogurt! Due to delivery of cold goods, this can only be delivered to Melbourne based readers.
Endeavour Vintage Beer
The subject of beer is a contentious one with my friend's husbands. Philippe adores boutique beer while Hot Dog loves "regular" beer and calls Philippe all sorts of cruel names when he takes out a bottle of designer beer out of his "chilly bin". I served the Endeavour Beer Pale Ale and Amber Ale at my recent Halloween party. Hot Dog took me aside and was dying to tell me about it. He loved it so much that he took an empty bottle home with him so that he could buy some at the store. In fact it was a hit with everyone that tried it. And I think Hot Dog has crossed the floor to the boutique beer side ;)
Thanks to Endeavour Beer, six lucky Not Quite Nigella readers will win a four pack of Endeavour Beer's Amber Pale Ale and Reserve Pale Ale!
Table of Plenty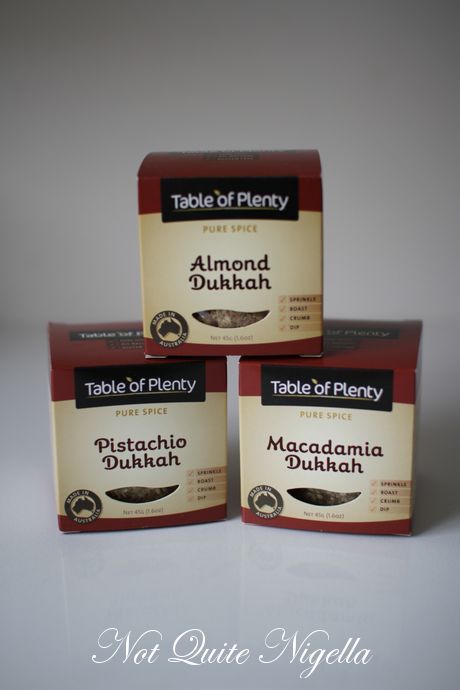 I must admit I'm torn on some dukkahs. Some taste and look like sawdust. The ones I like are the ones that are full of nuts and full of flavour and the Table of Plenty ones definitely fall into the latter category. They come in three flavours: pistachio, almond and macadamia. And not only can you dip bread in oil and then dukkah for a snack, you can also use them with meat and vegetables to add more flavour.
Thanks to Table of Plenty, two lucky Not Quite Nigella readers will win a set containing the three dukkahs!
Australian Almonds
My bag is an absolute jumble of things. There are lip glosses and lipsticks enough to stock a store, as well as a fork, and a tin of almonds. I get very, very anxious if I don't eat and my pleasant demeanour can turn wolf like if I am not fed on a constant basis. So carrying around a little tin of almonds is always handy.
Thanks to Australian Almonds 10 lucky Not Quite Nigella readers will receive a mini purse sized almond filled tin!
Harvest Box
I try not to be a snacker but come a certain time of the day, I become obsessed with crunching on something good. I try to reach for something healthy but with a kitchen full of sweets and goodies this is not always possible. Harvest Box have come up with an idea whereby you get delivered a box of four snack sized but healthy goodies delivered to your desk. You don't even need to get up to talk to the vending machine or bash at it if it swallows your change. They also have a Not Quite Nigella reader code whereby you get the first box for free and the second box half price when you sign up! The code is: 298MB24AF
Thanks to Harvest Box, one lucky Not Quite Nigella reader will receive a month's worth of Harvest Box deliveries (4 in total)!
Smirnoff Vodka
It's BBQ weather! And if you're going down the easy route of barbecuing dinner but want something to drink at the same time that is also easy and requires no mixing then Smirnoff have a Vodka and Ocean Spray cranberry and Vodka and Blood Orange. OK it is in a cask but don't let that scare you, it's more for convenience that it is and not for any other reason. They retail for $26.99 each. I used them in my Halloween party where I created the brain cocktails!
Thanks to Smirnoff, two lucky Not Quite Nigella readers will win a pack containing one Smirnoff Vodka and Ocean Spray Cranberry and one Smirnoff Vodka and Blood Orange!
So readers, leave a comment as to which item you'd like to try and why and you could be receiving it in the mail! Thanks again to these generous brands Twisted Yoghurt, Barilla, Lotus & Ming, Madame Flavour, Green & Black's, Saxa, Sandhurst, Bonne Maman, Sun Rice, The Unexpected Guest, Black Swan, Endeavour Beer, Table of PLenty, Australian Almonds, Harvest Box and Smirnoff for providing prizes!
* The lucky winners are:
Lotus & Ming: Michelle L. Naomi F. Meg S. Jasmyne M. Virginia V.
Barilla Claire K. Jennifer M. Nani M. Lauren Q. Alex P. Roz K. Melisa M. John T. Michelle B.
Twisted Yoghurt: Tess U. Nilru V. Alina K. Samantha V. Corrie S. Sarah W. Liv S. Charis L. O-Siang W. Leonie I. M. Lim Nadia K.
Green & Blacks: Katrina Amy G.
Saxa: Barrine I. Nilru V. Jodie V. Emma S. Stefania M. M Viering, Sally M. Helen L. Michelle T. Emmanuel S.
Sandhurst : Caroline K. Padmini V. Kathy Y. Holly M. Yen K. Jasmine J.
Bonne Maman: Sarah S. Anna L. Gillian T. jackie T.
Table of Plenty: Jonathan C. Allen L.
Australian Almonds: Christine de V. Margaux R. Sarina S. Sharon B. Christine Mc. Ann A.
Harvest Box: Melly L.
Smirnoff: Caroline T. Melissa W.
Madame Flavour: Conor M. Melissa M. Maria L. Liz W. Lachlan D.
Sunrice: Kristine R. Jackie Y. Christine Y. Rebecca W. Aye L.
The Unexpected Guest: Kayleen Y, Roxana N. Annie H. Sophie L. Linda V.
Black Swan: Jonathan C. Heidi T. Ruby B.
Endeavour Beer: Nicole W. David G. Anna J. Paula C. Angela H-H. Jan J.
Best of luck and enjoy!
Lots of love,
NQN
xxx