"It's there!!!" I hissed.
"No, that's a man in his house" Mr NQN replied, dragging my arm away.
"No, see that table? It's a bartender at the bar. Can't you see it's a restaurant?" I countered.
"No it's not, besides, you're really quite blind aren't you? And imagine if it's some guy just enjoying his accommodation and here we go and knock on his door and disturb him."
"All right." He convinced me knowing of my hatred of the drop in. And it's lucky that I did listen to him because the door that we were thinking of knocking on was a guest's.
I should rewind a little. Mr NQN and I were booked into nineteen23, upon a tip given to me by Janet from House & Garden magazine who was a Blue Mountains local.  We booked in for dinner and we make our way to the car park for restaurant guests and day visitors for Silvermere guest house.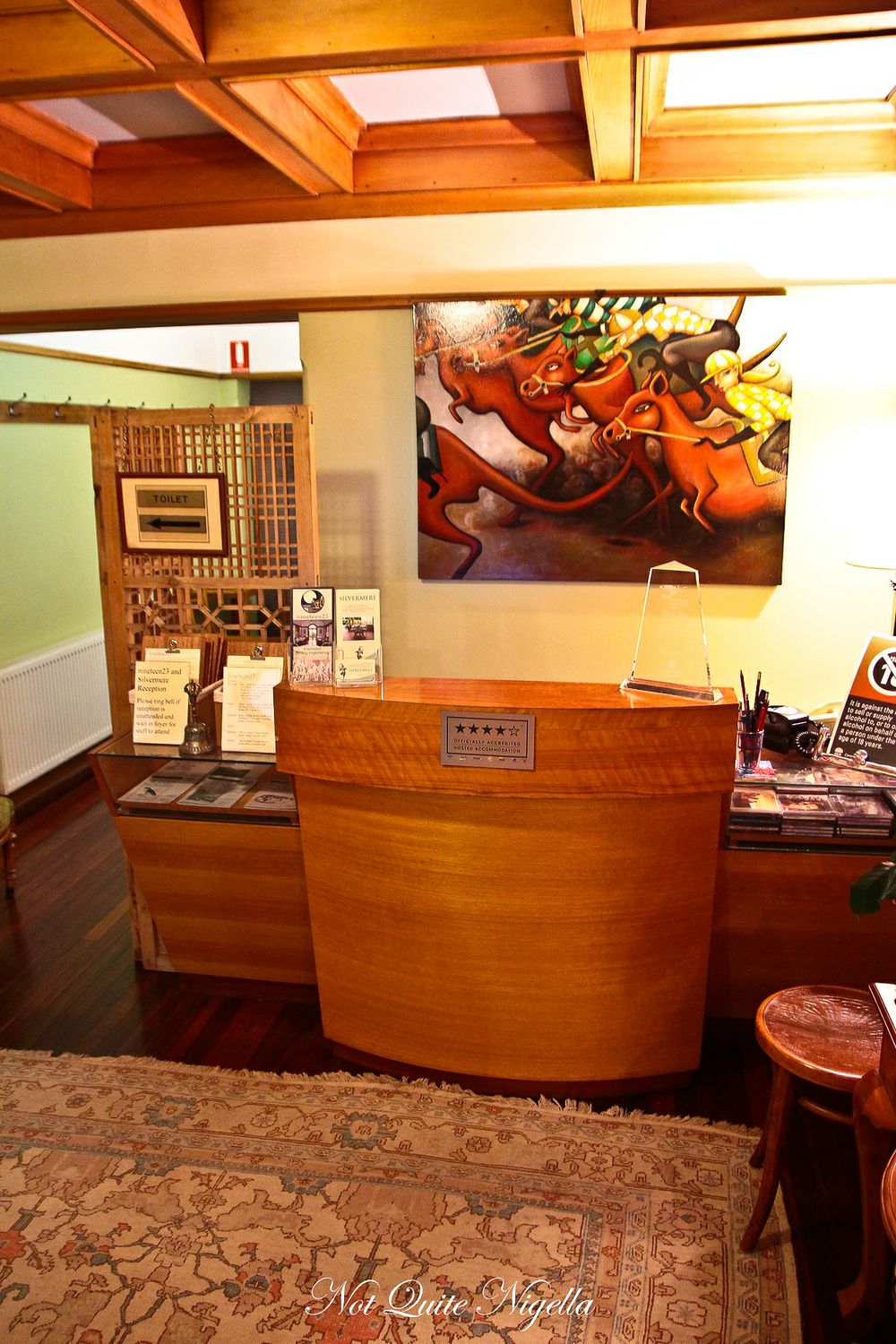 After following the sign for reception we arrive at the Spanish mission style house built in 1923 (hence the name) and tinkle the bell a bit breathless from rushing as we were late and from the cold night air (6 degrees and counting). Following the instructions, we ring the bell and wait. And wait. So we ring it again and a moment later the maitre'd appears. We apologise for being late and are led into the dining room.
"It's very romantic" was the way that getting lost was described to us by maitre'd Martin. It's a warm dining space with white marble tabletops, art deco chandeliers and bentwood chairs. Large glass doors and windows show us the last remnants of the view outside and we are the second table seated and by 8pm all the tables will be full.
The restaurant is only open from Thursdays to Sundays and the chef Sharon McGoogan is formerly of Wolgan Valley Resort and Darleys. The menu is a 7 course share menu for a rather incredible $65 a person (or $100 pp with matching wine). Their aim is said to "use local and regional produce to deliver a wholesome, honest dining experience, without the Sydney price tag".
If you have no dietary requirements, you can have the chef's choice where the chef will select dishes-or you can also choose from alternate choices. "The chef will come out and read you" Martin says, joking. Dishes are seasonal and the menu changes every two weeks or so with a portion of the menu's dishes being replaced. But as we are dining at the start of spring, they have completely redone the menu only keeping one dish.
Mixed nuts
They bring out some mixed nuts immediately and these are roasted in Chinese five spice. Quite moreish indeed! And service is really lovely, deferential yet still sincere and friendly.
Lobster parcels-dipping sauce
Our first morsels come out and indeed, everything is set to be as romantic as possible with a plate to share set down in the centre of the tables and share plates given to each of you. The first is a lobster parcel which is a crunchy pastry filled with lobster and vermicelli and served with a soy, chilli and coriander kecap manis. It's beautifully crisp and like a sophisticated spring roll.
Smoked trout avocado, sweet corn, watercress salad
We were wondering which item we would receive and indeed, looking around other people get the alternative choices to us. This is a salad with large chunks of smoked trout, avocado cream, sweetcorn puree, pickled zucchini and watercress salad. It's a lovely entree with the pickled zucchini giving the creamy elements and rich and smokey trout a nice acidity.
Baby beetroot, jannei goat's curd, jamon, basil and candied walnuts
With tiny golden beetroots and baby purple beetroot this salad sat on a bed of Jannei's goat's curd with thin shaving of jamon, candied walnuts and basil. It was light and refreshingly earthy. Although it did occur to me during these courses that I had wished that there was some bread to mop up these delicious sauces.
Confit pork belly, apple and celeriac puree, apple chips, caramelised eschalots
I was hoping that we'd get the confit of pork belly and was delighted when this was set down. It is two neat squares of pork belly, jellied and unctuous with crispy crackling. There was a slick of smooth apple and celeriac puree, caramelised eschallots and apple and two perfectly crisp apple chips-so good that I had to inquire how they got them so crispy (and they were nice enough to explain how to make them -see this post if you're curious ;)).
Barramundi, green pea puree, Trunkey Creek chorizo, arancini, pea shoot dill and pickled onion salad
This was my favourite dish and Mr NQN's (and I should add I kept saying that when a new course came out). The barramundi is perfectly cooked and comes with a smooth pea puree, a fantastically flavoursome pickled onion, pippies, pea shoot tendrils and a crunchy polenta covered Trunkey Creek chorizo arancini ball which had tiny pieces of the spicy chorizo.
Chocolate delice, pear sorbet, black berry gel, brandy snaps
The dessert is a two tier chocolate delice. On the bottom is a paper thin chocolate sponge with a layer of milk chocolate mousse and on top of this is the lightest, airiest white chocolate mousse. Sometimes I find white chocolate desserts overly sweet but this had just the right amount of sweetness. Added to this was little dabs of blackberry gel, crunchy brandy snaps and a fresh pear sorbet.
Talegio, fresh apple slices and house-made lavosh
It must be said that even though it is seven courses, you aren't left clutching your stomach as they're a neat serving size. One last course is the cheese course with a talegio from Lombardy, Italy served at just the right temperature with the cheese given fragrant ripeness from being outside the fridge. On top of this was an apple jelly and crunchy house made lavosh which was strong in fennel seed.
We reluctantly brave the cold winds outside, run past the gentleman whom we almost annoyed and head towards the car. In the dark Mr NQN assures me that snakes sleep at night and that I won't accidentally step on one and awaken it. We exit the driveway and I look at the glowing lights on the right.
"Oooh I wonder what is there?" I ask in wondernment.
"The restaurant that we were literally just sitting at" Mr NQN answers laughing and shaking his head.
"Oh."
So tell me Dear Reader, are you a fan of drop ins? And do you ever let the chef bring out what they want or do you prefer to choose?
Nineteen23
1 Lake Street, Wentworth Falls
Tel: +61 (02) 4757 3311
Dinner: Thursday-Sunday. Lunch Saturday and Sunday. Licensed only on Saturday dinner and weekend lunches.