When I was asked if I'd like to come along on a Media trip to Wolgan Valley Resort & Spa in the Blue Mountains it didn't take me long to decide to start packing. Wave the word resort and spa in front of me and my ears swivel round (well if they could) and eyes go from tired to alert within nanoseconds. And when I hear the words Luxury and Emirates well the rest of my body goes in packing mode and I may have done a happy dance. So strap yourself in, this is a long story...
Logs found on the land made into a wall design
A trough turned into a lighting fixture
Wolgan Valley is a resort nestled between two National Parks and is Australia's only conservation based luxury resort. And did I mention the price tag? A cool $1995 a night. But before you pick up your jaw off the floor, I should add that the tariff is for 2 people and includes all meals and many activities so provided you spend and eat wisely it's not too bad at all considering. And you get the run of the property as only guests are allowed on the premises and there are wildlife tours, horse riding, stargazing, walks, painting & photography tours, cooking master classes and mountain bike tours (two activities a day per person are included in the price) and if you get sick of all the amenities and feel the need to rough it, they can arrange for you to camp there.
Oil can lamp
The size of the land is enormous - about 4,000 acres which for those familiar with Sydney, measures from Circular Quay to the Airport. The resort itself only takes up 2% of that land and it is the only resort that is connected to National Park (after much discussion and lobbying). We arrive after a scenic 3 hour drive down we pull up to the "homestead" which is the main lobby and dining area and walk inside. Inside is a stunning lobby which is unlike most 5 star lobbies. Sliced log pieces decorate the wall, oil cans are made into lamps (my lighting fixture obsession gets a thorough workout here) and RM Williams boots are used as props.
An old fashioned clothes wringer made into a lamp
Clock made from a huge sequoia tree
Many of the touches are recycled: the front door handles are made from carriage wheels that have been straightened out, there's a clock that is made from a giant felled sequoia tree that was found on their property, there's a lamp that has been made with a recycled drizabone and the staff are dressed in RM Williams. Interestingly, many  weren't trained hospitality staff, they were more recruited from regular sales jobs because of their attitude (as the former GM of a shoe store, I wholly understand how hard it is to find staff with the right attitude).
We get a little tour before going downstairs to their country kitchen for lunch. It has a more casual atmosphere here. Environmentalist and OAM recipient Ian Kiernan greets us and gives us a quick outline of his work restoring the Wolgan Valley homestead at a cost of $2million using Burra Charter guidelines. We're then invited to our lunch and the menu is divided into light bites versus heartier bites and as the package is all inclusive, you can have as much food or as little as you want. Food is sourced locally and they try to source it within 100 miles as much as possible utilising the produce from Orange, Mudgee, Blue Mountains, Windsor, the Hawkesbury River as well as the Hunter Valley. My traveling companions Myriam, Lucie, Mel and Ed are understanding - they seem to understand the need to order different things for the blog after just a morning tea together so we order a few different things. I get the daily antipasto selection from the 1832 garden and local farmers, which is said to showcase the region's food served with crusty bread and a salad of fine herbs and leaves.
Daily Antipasto selection
Our food arrives and I'm a bit surprised at my antipasto. Lucie whispers "Are you a vegetarian?" and I say "No definitely not". The selection is well presented but it's perhaps missing cheeses and cured meats which often accompany an antipasto selection. It's nice enough, especially the mushrooms and sun dried tomatoes but I'm not keen on the grilled squash. It's accompanied with a bread roll.
Wolgan Ploughman's Platter
Lucy offers me some of her Ploughman's lunch which is definitely the pick as far as platters go as it has a few kinds of cheese. The ash coated goat's cheese and cheddar are particularly wonderful. There is also some absolutely gorgeous country style pork and pistachio terrine.
Arborio crusted calamari with a balsamic aioli, preserved lemon and fennel salad
I think Myriam senses I am still hungry and gets a copy of the menu so I can order something else. I order the arborio crusted calamari with a balsamic aioli, preserved lemon and fennel salad and it arrives quickly, piping hot and wonderfully tender. I've never had ground up rice used in place of flour and it adds an extra crunchy element although it's unusual and the rice sticks to my teeth a little longer. The squid is nice and tender inside the crust.
Crispy lobster spring rolls with fresh vegetables and glass noodles
I try Myriam's crispy lobster spring rolls and they're delicious with decent sized chunks of sweet lobster and a delicious dipping sauce and fresh side salad with herbs.
Lemon Meringue Pie
We sneak in some room to share a slice of lemon meringue pie which is good despite the fact the meringue looks a little singed at the tips (thankfully it doesn't taste like it). The crust is a little thick but tasty but the lemon curd is delightfully zingy.
Chocolate tart
I try some chocolate tart and it's deliciously chocolatey. It's unusual in that it looks thick and fudgey but it's light like a mousse.
The Villas
Now I know this is the bit you were curious about. What does a $1,995 room look like? Well it's not a room, it's a Villa and to be blunt, it's absolutely gorgeous.  On the outside of each villa there are 2 bikes (I can't ride but I know this will help persuade Mr NQN to stay here for Christmas) and there's a slim outdoor closet to fit in your boots and other outdoor clothes that you may not want to bring inside.
Did I mention each villa comes with its own swimming pool?
Bryon Bay teas
There's a bottle of wine and two glasses, a fabulous mini bar with a great range of loose leaf Byron Bay teas including herbal teas (the Earl Grey is lovely) as well as Byron bay cookies company biscuits and Whisk & pin biscuits and a delicious dried fruit salad (although a savoury snack would be lovely too). The bed is gorgeous and apparently for sale for $3,000 which is a bargain, I feel like Goldilocks having tried every bed in Sydney in the last 2 weeks.
Shower with skylight
There is a deep bath that can fit two (or possibly even three! not that I tested it), double sinks to avoid arguments (another thing that may persuade Mr NQN to come back for a visit) and a sun drenched shower which has a skylight above it and a toilet with a bidet opposite. The toiletries are by Babor for this resort and smell delicious. Slippers are fluffy and soft and the towels are thick and thirsty.
Walk in closet
There's also a closet that would make Carrie Bradshaw proud and a fast internet connection. A bottle of wine greets me as well as a personalised note. See? If you used your time wisely you could definitely make the $1,995 worth it.
A Wollemi Pine tree
Rainbow!
We're off soon after for our 4WD drive tour of the property which goes for about 1.5 hours. In this time we spot wombats and kangaroos and wallaroos on the properties as well as eagles scanning the grass for prey. They show us areas where you can have picnics and they stop at a Wollemi Pine grove where they have planted some Wollemi Pines (the dinosaur aged plants).
Spot the wombat!
After our tour, I am booked into the Timeless Spa for a facial and a massage. I walk in and I am shown to the relaxing room where I'm offered a choice of herbal teas. I take detox (after October I need it) and settle in and admire the lamp and wonder how I could fit it in our apartment or sneak it into my luggage. My therapist Abbey comes in and shows me to my private spa room. There are 6 rooms in total with 2 beds in each room so if you want to book in with a partner you can do so. Each has its own private bathroom and changing area and shower so that you can stay in your own area the whole time for maximum privacy. In the corner is a Japanese bath  which I prefer to regular bathtubs (I searched high and low for these for our bathroom but couldn't find one). I lie down and she explains what she is going to do and I relax.
The spa waiting room
The creams smell delicious and not too strongly perfumed which is nice, some smell almost like food. I fall asleep during the massage as it's so relaxing and it feels like I've been there for 2 hours whereas  I've only been there for just over an hour. While the mask is infusing she massages my hands and arms and once it's over I walk out in a blissed out zombie state. The facial doesn't come terribly cheap, it's about $200 but it is undoubtedly the best I've ever had so for me it's worth it for the quality. Sadly, and I say this with a sob, the facial treatments aren't included in the cost of the resort package. Otherwise I'd tell Mr NQN that we were definitely going and book us in tout suite!
While I'm dressing, there's a knock at the door and the turn down service is here with Petit Fours. Happy dance ensues.
Main dining room
Bone art
I dress quickly, I'm already late for dinner but in my blissed out state I'm in about as much hurry as someone that lives on an island. I call for a golf buggy to pick me up (heels and the dark walkway don't mix) and arrive to the main dining area. We're shown to a table and amongst us there are suppliers from Hereford Prime, Lakelands Olive oil and Peter Bourne.  It's good to be able to chat to them about their produce and hear how they're working with the resort. As for the food, we were warned that there was 9 courses heading our way but when alarm registered on our faces they said "degustation sized ones".
Chef Dwayne Goodman
Globe Artichoke Soup with Dijon Mash Stick
We start with a 2008 Bloodwood Riesling from Orange and a Globe Artichoke soup with a djion stick mash. The soup is a lovely velvety texture with the artichoke flavour being quite mild in it. And I know you're going to ask what is a Dijon stick mash. It's mashed potato mixed with dijon mustard, frozen and coated in a tempura batter and deep fried. And it's good and tastes creamy and soft inside.
River trout cured in Bathhurst with Wild lime vodka with pickled cucumber and nigella
The River trout cured in Bathurst with Wild lime vodka with pickled cucumber and nigella packs a vodka punch. It's good although I thought that there was possibly too much vodka making the delicate fish a little bitter. The texture and mouthfeel is lovely though.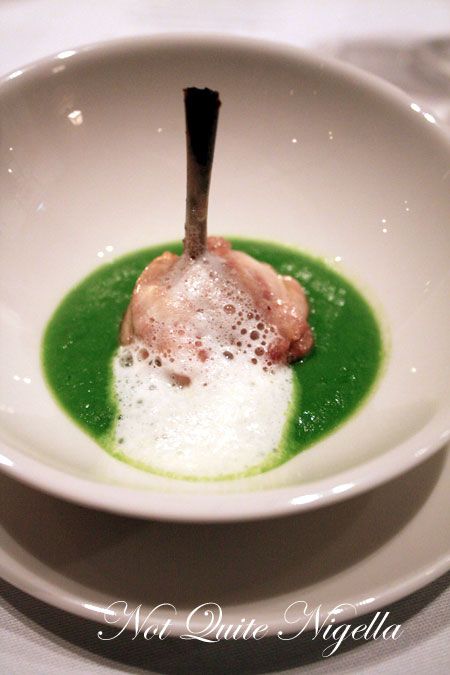 Envirorangic chicken filled with marron mousse in a fresh pea and smoked ham foam
The Envirorganic chicken (the company that makes it) is filled with marron mousse mousse in a fresh pea and smoked ham foam. We are to pick up the chicken by the bone and nibble it. I adore this dish, the chicken is so well cooked and moist and it tastes almost like quail in its succulence. It's really a dish without trickery, just really good technique. The rich pea soup with ham foam are a good complement.
Tempura quail wrapped in nori with a poached yolk, beetroot jam and raw asparagus salad
The tempura quail wrapped in nori with a poached yolk, beetroot jam and raw asparagus salad is interesting. We wonder how many egg yolks got broken (the answer? Five, four of them on the plate so that the whole thing had to be replated). The chef Dwayne Goodman vows not to do this for groups again because of the yolk. The dish is curious, the texture and taste is so strongly reminiscent of fish because of the nori.  The beetroot jam is a nice accompaniment and the raw egg yolk provides a nice dressing for the raw asparagus which incidentally tastes like a iceberg lettuce when raw.
Ruby grapefuit sorbet
The ruby grapefruit sorbet is presented in an ice teardrop. I'd seen chef Kark Beil from the Inter Continental make this on TV once and I remembered that he made it using a  balloon filled with water. The ruby grapefruit is fantastic with almost a marmaladey taste and it's lovely and smooth.
Herb crusted Mandagery venision loin with baby vegetables and delicate potato paper
We then hear from Tim Hansen from Mandagery Creek Farmed Venison who has provided us with the venison for the  herb crusted Mandagery venision loin with baby vegetables and delicate potato paper. It's lovely and rare inside which is good for a lean meat like venison and the herb crust is quite mild in flavour. There is a chervil leaf suspended in the paper thin potato circle which is crispy and delicious and the venison is beautifully tender with a peppery flavour to it.
Hereford Prime rib eye with pearl barley risotto and slow braised rib ragout
The  Hereford Prime rib eye with pearl barley risotto and slow braised rib ragout is the last savoury dish and a special note is made of the wine that matches it. I had greedily finished mine as it was divine (I would have loved a little more jus) before Dan Morice from Hereford Prime spoke about the wine but there are nods of agreement amongst the less greedy members of the table.
Tempus Two moscato sabayon and passionfruit
We have a shotglass glass of lovely Tempus Two moscato sabayon and passionfruit. The mosacto sabayon is distinct and lovely, like a fluffy egg foam which a sabayon is although I didn't taste much passionfruit. There is a toffee crunch which you break through with your spoon and mix with the sabayon.
Trio of Bilpin Apples
The dessert is the last course and I am rather delighted to see an apple dessert (my favourite kind). There is an apple sorbet which is sweet and delicious and just tasting of the purest, sweetest apple, a sour apple jelly which is a half set jelly with a chilled apple consomme on top. The flavour is richer, with some Asian spices in it and the caramelised apple turnover looks like a white bread sandwich corner but breaks open to be a pie pastry with apples inside and a vanilla custard anglaise to accompany it.
I do some work and at 2am when I'm tired and have had my bath (tip: turn on the air conditioning before getting into the bath as my teeth were chattering furiously when I got out), I walk around for a 5 minutes trying to figure out how to switch off the lights. Yes I did mention that I was directionally and technologically challenged right?
Ding dong - room service!
I wake up the next morning, the bed is very comfortable indeed. I need to do some work so I order room service which takes about 20 minutes to arrive. I've ordered an Australian breakfast as well as sugar as it seems to be missing from the minibar. It arrives but without the sugar and without the fruit salad, yogurt, juice and pastries - not that I needed them but I would have liked to have tried them and it's also curious that there are 3 preserves to try, a berry preserve, a marmalade with thinly sliced peel and a smooth strawberry jam. I didn't have time to call them back and I was actually very full from the above breakfast which was perfectly cooked so I doubt I could have fitted them in.
Once we checkout of our rooms, we go down to the 1832 homestead that Ian Kiernan is carefully restoring. We explore the rooms and see how the original inhabitants might have lived and then have a light lunch of deliciously warming artichoke soup and pumpkin soup and rolls as well as ginger beer.
We set off vowing to be back, I'm armed with my arsenal of photos to convince Mr NQN that we really need to spend Christmas here.
So tell me Dear Reader, what is the important thing to you about a hotel or resort? The room service (I confess this is my favourite thing)? The room amenities? Or the Spa?
NQN stayed as a guest of Wolgan Valley resort
Wolgan Valley Resort
2600, Wolgan Road, Wolgan Valley, NSW
Tel: +61 (02) 6350 1800
http://www.emirateshotelsresorts.com/wolgan-valley/en/