Being the way that I am i.e. what some people would politely call "offbeat" or "quirky", means that I'm not often the first choice for some things. I was always the last one picked on a sports team and lord knows I never expected to be asked to do baby sitting. After all I love Halloween and last week tried to buy a Taxidermied Owl. Not exactly babysitting  or Godmother material - and I didn't think that I really wanted the role. But when my good friend from High School Lulu called me asked me to be the Godmother to her new baby Evie I squealed with delight and twittered and facebooked about it for all to hear. I was chuffed! She was entrusting _me _with the spiritual upbringing of her child?
I checked with her "Are you sure? You know that I'm a bit weird right?" and Lulu simply laughed. She's known me since we were 12 years old and we both had to wear our ugly brown and gold Sydney Girls High School uniforms - a uniform that had everyone dubbed 'Brown Cows', how flattering! "We just want you to be you" she said which made me feel so warm and gooey inside. I in turn promised to take her to afternoon tea, buy her Baby Dior dresses and _not _take her to see Bruno.
Older sister Audrey
As they live in the Blue Mountains, we see them a few times a year and every visit is met with excitement. They were coming over for morning tea and this was the second time I'd be meeting my goddaughter Evie. She's absolutely adorable and smiles non stop with nary a grump or a whimper. She's also an avid foodie who Lulu says is dying to try proper food. We witness her tiny hands grabbing for our adult food and her eyes following the food from our spoons to our mouths and in a bizarre shift paradigm I've taken to claiming this as my contribution  to Evie despite me not having a thing to do with her genetics.
_Evie with her eyes on the food
_
Liss introduced me to this darling cookbook by Swedish American cookbook writer Leila Lindholm called A Piece of Cake where she makes a popular Swedish cake called Princess Torte. I remember trying this cake at Ikea and thinking that it would have been my dream cake as a child. All I wanted was a sponge cake filled with jam and cream and topped with pink icing and some years I even got one. It's a lovely cake and quite soft and moreish in texture. Somehow too, it also freezes well as I learnt from Ikea as their version is sold frozen. Buying a sponge cake is a perfectly legal manuveur and is very much encouraged if you don't have the time. You can whip one up ahead of time and should you accidentally forget your Princesses' birthday you can dip into your deep freeze for that special Princess cake. And the cake also works wonders for grown up princesses too.
So tell me Dear Reader, what cake did you request for your birthday growing up or now?
_A mere minute after she put her little paw in my slice of cake :) _
Princess Torte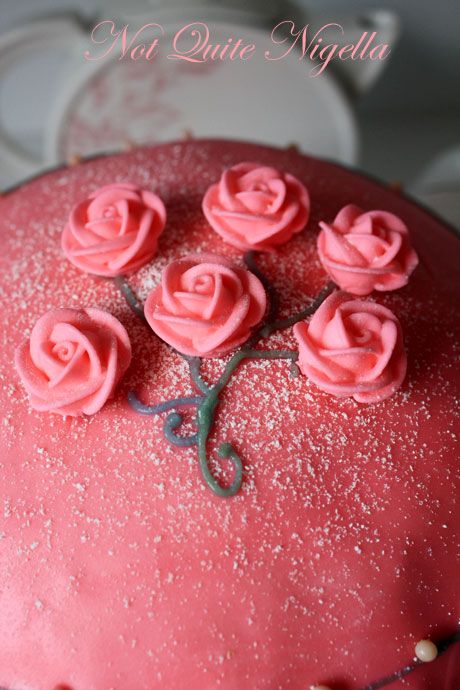 1 lot of creme patisserie (see below)
1 tablespoon icing sugar to dust
Step 1 - Make the creme patisserie and cool. Whip the cream with icing sugar until stiff and keep in the fridge until needed. Cut each of the sponge halves in half horizontally so that there are four rounds.-I only used 3 out of the 4 rounds.
Step 2 - Spread two of the rounds with the raspberry jam and fill a piping bag fitted with a plain nozzle with the creme patisserie. Pipe two circles of creme patisserie around the edge of one of the rounds(this acts as a border to prevent the creme from leaking out of the edges) . Place one round on your serving plate and fill in the centre with whipped cream and using an offset spatula, smooth out. Place the second round on top of this and pipe two borders around the edge on this round too and create a dome using the stiff whipped cream. Place the last sponge layer on top and shape the dome carefully. Place the cake in the fridge while you do the marzipan.
Step 3 - Tint the marzipan with the pink colouring gel and knead until it is completely tinted and there are no streaks. Shape into a disc shape. Dust a clean surface with icing sugar or cornflour and roll out the marzipan large enough to cover the whole dome. I specify 500grams of marzipan but you will only use about 400grams of it but I find it much easier to roll out more and then cut off the excess. Carefully lift it on the back of the rolling pin and lift drape it over the dome. Trim the edges and tuck any excess under the cake.  Dust the top with some icing sugar and decorate with sugar flowers. Draw a circle in icing around the cake and lines between the flowers and affix sugar pearls on top.
Creme Patisserie
1 large egg, plus 1 egg yolk
7 fl oz (200 ml) whole milk
¾ teaspoon pure vanilla extract
Step 1 - To make the pastry cream, break the egg into a medium-sized mixing bowl, then add the egg yolk and sugar. Next, put the milk on to warm over a gentle heat while you whisk the eggs and sugar together until the mixture becomes thickened and creamy – about 1 minute with an electric hand whisk on the first speed. Then sift in the flour and whisk that in.
Step 2 - Now turn the heat up to bring the milk to boiling point and then whisk the milk into the egg mixture. After that return the whole lot to the pan and continue to whisk, this time with a balloon whisk, over a medium heat until the mixture becomes very thick – keep the whisk going all the time because the mixture can catch very easily if you don't. As soon as a bubble on the surface bursts, remove the sauce from the heat and quickly pour it into a bowl, then stir in the vanilla extract.