"What is that new place and why are the colours changing on it?" I asked Mr NQN as we were driving down Phillip Street one evening. We were stopped at the light and the colours on the grey concrete building were transitioning from pink to blue to green to yellow.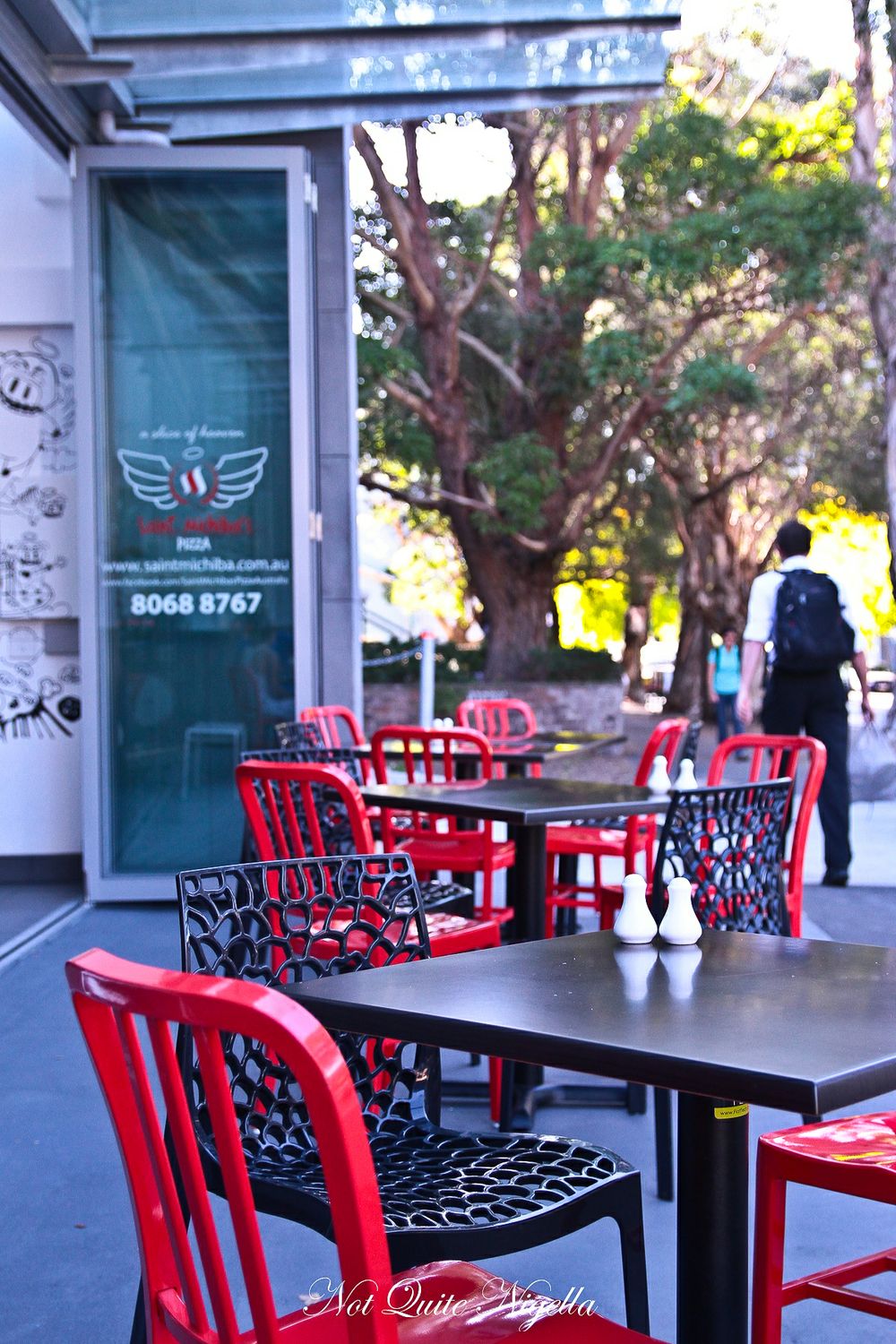 In my slightly odd way of seeing the world I guessed that it was a fancy mechanic's, open late at night crossed with a bar. Mr NQN more sensibly guessed that it was a bar. It turns out that we were both wrong, it was a newly opened pizza place. We watched this new place over over the next few weeks and gradually we'd see more and more crowds eating in or getting pizzas delivered until we decided that it was about time that we visited.
After an afternoon eating ice cream with my gorgeous hairdresser Elly from Stevie English, we decided that in a somewhat backwards move, we'd have dinner after dessert. Named Saint Michiba as a portmanteau of the owner's name Michelle Bautista rather than the Iron Chef Michiba, service is friendly and personable.
I must admit that I'm always pleased when I see that a place offers half and half pizzas, mainly because I find it hard to narrow down pizza choices and that way, you get to try more.The meat pizzas are listed under "The Heavenly Host" while there's a good range of vegetarian pizzas, six in total, in a "The Franciscan Order" section. The names seem to have a saintly or religious aspect to them and a quote from Rokusaburo Michiba, the Japanese Iron Chef beams down on diners while then bathroom has one from Confucius.
Humanitas $12
We start with the humanitas which come four to a serve. They are four smoked salmon pieces twirled around a fat grissini stick. The smoked salmon pieces are large and the grissini are surprisingly light and crispy. We all expected them to be hard and crunchy but these are very good and you just spread it with some of the mustard cream dip and eat. A good party food idea!
Paradise Salad $14
The Paradise salad is made up of king prawns, bocconcini, tomato, beetroot, red onion and mixed lettuce with a honey vinaigrette. They're quite small for king prawns and I didn't feel that the bocconcini gave the mild tasting prawn salad a great deal of flavour.  It wasn't bad but it wasn't as good as the pizzas or the humanitas.
Catani half pizza $12
I tried the Catani pizza first reasoning that vegetarian pizzas are usually milder tasting than their meat counterparts. This had pumpkin, mushroom, spinach, asparagus and feta with garlic infused olive oil. To be honest I don't usually love vegetarian pizzas-veggie burgers are another matter entirely but pizzas can often feel a bit lacking. But this one with the different toppings and the not "wet" pumpkin and the garlicky lick from the olive oil actually makes this one one of my favourites of the lot.
Ariel half pizza $12
Looking quite unusual - I mean you don't often see iceberg lettuce on a pizza, the Ariel has king prawn, pancetta, tomato, red onion, goat's cheese with frayed iceberg lettuce and wasabi mayonnaise. Although the pancetta adds a nice saltiness, the main flavours here are the prawn and wasabi mayonnaise and the slightly crunch and texture from the iceberg lettuce.
Israfil half pizza $11
This was Mr NQN's favourite as he loves spice. The Israfil has chorizo, chicken, jalapenos and caramelised chilli onion and it was quite good although I would have loved a bit more chorizo on it. But then again, I made a potato and chorizo bake with a ratio of 2:1 ;)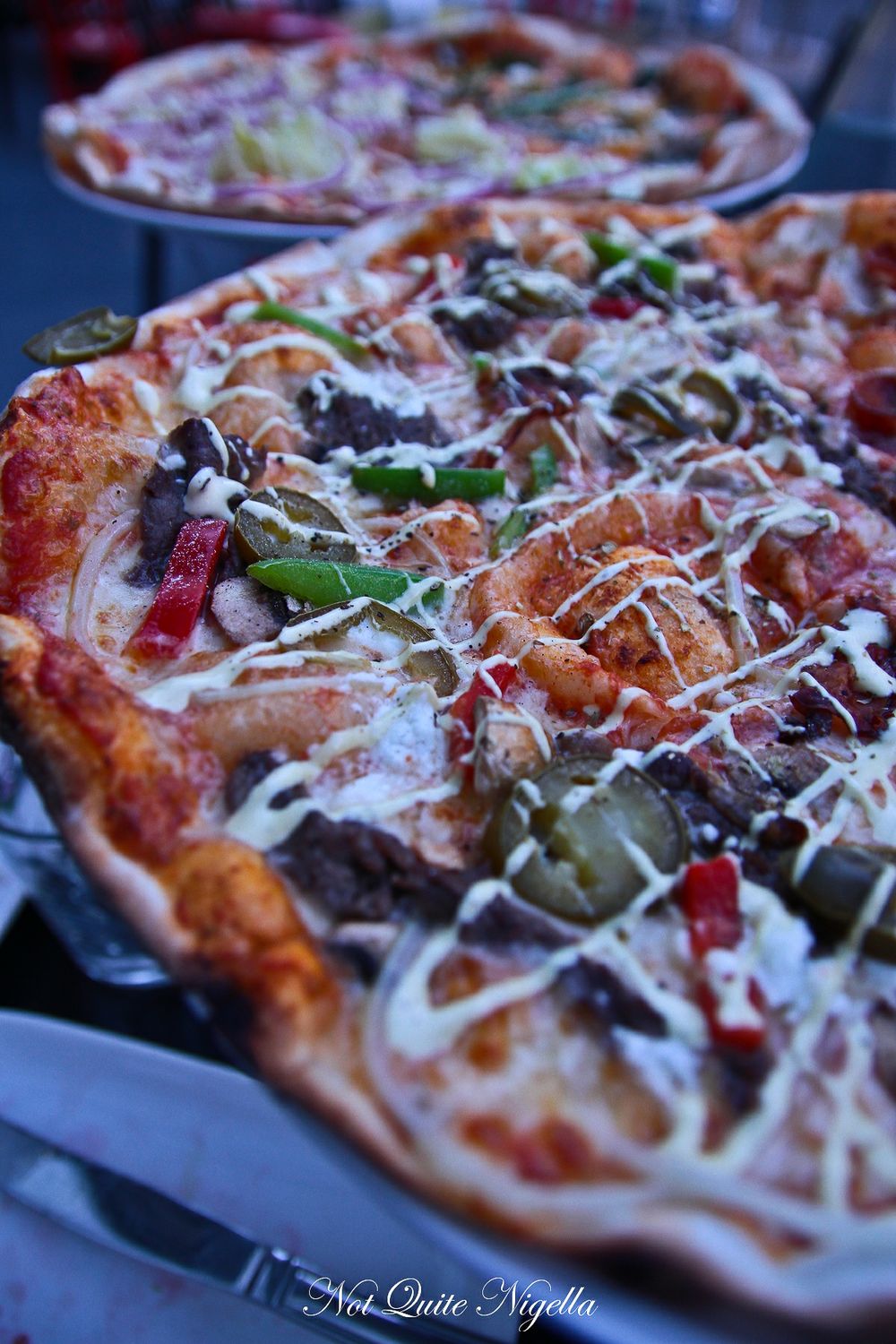 Pellegrino half pizza $13
Although this did sound rather odd with the bearnaise sauce, the pizza topping of scotch fillet, mushroom, goat's cheese, jalapeno, red bell pepper, onion with bearnaise sauce was really quite good. In fact, after the vegetarian Catani, this was my second favourite pizza of the night.
Angel Nutella $12
Sweet pizzas aren't really my sort of thing and whilst I really wanted the banana fritters, Mr NQN suggested the Angel Nutella pizza as he liked the sound of it. It came out looking quite different from other dessert pizzas. It's crunchy and dry like a matzo cracker and spread with Nutella once warm and then topped with thin strawberries. None of us really went for this because it was quite dry and really like eating Nutella on a matzo. Although, given our ice cream fest that afternoon, dessert was really just icing on the cake!
So tell me Dear Reader, do you watch new places that open up in your neighbourhood?
Saint Michiba
Ground Level, Shop 8, 20A Danks St, Waterloo NSW 2017
Tel: +61 (02) 8068 8767