I used to work in the Strand Arcade. At a shoe shop in there to be specific and I used to find that when I went there, because of the lovely architecture that it felt like a step back in time. The store itself was a small cube of a store with no storeroom or back room and just a mirror on one side. There was nowhere to look but out and we later learned that the girls in the shop across from us disliked us because they thought that all we did was stare at them. But there really wasn't anywhere else to look.
Anyway, I digress but I always feel a bit of trepidation and familiarity when I step onto the tiled floors of the Strand Arcade and look up. It's still a beautiful arcade housing many fashion designers and I breathe a sigh of relief when I see that the shoe store is closed for the day and I have therefore managed to again evade my former boss. I make my way towards the Western end of the arcade where I get into an elevator with another couple who seem as lost as I do.
You see I don't know exactly _where _in the Strand Arcade La Rosa is located but I know that it must be somewhat close to Pendolino, its sister restaurant if only because the lower floors hold boutiques. It turns out there are we are all looking for La Rosa and when the elevator doors open on the second floor onto the Pendolino entrance the staff look at us and we look at them. "La Rosa?" they ask and we nod and they point in the opposite direction on the same floor on the Eastern end. Oh well, at least we got the floor right.
This evening was a reunion dinner of sorts with all of us that had travelled to Singapore together. There was Alison from Delicious and Sandra from the Singapore Tourism Board. But the point is, we're all good eaters and nothing is off limits so we choose easily and with firm consensus. It makes sense to try the mixed house cured meats platter as the five tantalising sounding cured meats preceding it sound difficult to choose a favourite from so the platter including them all is ordered. There is a scoop of  Nduja (pronounced n-dooh-yah) a spicy Calabrian cured meat puree which is a popular now item. It is a spreadable sausage in a vivid orange shade with just the right level of spice in it. There is also the Salsicce "Mignon" di Cinghiale, a halved link of cured sausage made with wild boar and black pepper which is waxy with large chunks of fat and surprisingly mild flavoured.
There are also a range of thinly salamis including "Salsicce Montenuovo Calabrese" a finely ground cured pork sausage made from Sangiovese red wine, capsicum puree and Calabrian spices and a "Salame di Wagyu" mixed Wagyu beef and pork salami with wild fennel seeds and garlic. Lastly there is the "Pancetta del Rinascimento" or renaissance pancetta made with mountain herbs, black pepper & coriander seeds and it is wonderful when wrapped around the house baked grissini which is crunchy and moreish and we suspect what all grissini is supposed to taste like but never does. There are also three excellent Sicilian soda cured green olives (and three isn't enough we all agree) and a fantastic giardineria which is well balanced with sweetness and vinegar (I sometimes find giardineria too vinegary).
Our mains all come at once next. Our stuffed shell pasta is filled with a smooth, sweet pumpkin and ricotta filling and baked until caramelised and crunchy on top. It looks almost burnt but it stays on the right side of caramel with some nice crunchy texture on the edges of the pasta. It is paired with a heavily dressed side salad with a mixture of leaves and yellow capsicum.
The pig's trotters were something that we all like but don't get to order that often as sometimes your friends don't want to have them. Lucky we are all fans. It comes out as a roll, slow braised and fall apart soft in a tomato sauce on top of a bed of creamy mashed potato.
Calzone di Ricotta Salsiccia e Ciccoria - Calzone Pizza with a centre of Ricotta, Mozzarella, Wagyu Beef & Fennel Salami and Chicory $22
We tossed up whether to get a pizza or the calzone and the charming waiter's recommendation of the funghi pizza did sound good. Despite this, we order the calzone which has an excellent dough and filled with the warm, steamy milkiness of the melted fresh mozzarella and ricotta along with pieces of the wagyu beef and fennel salami and wilted chicory.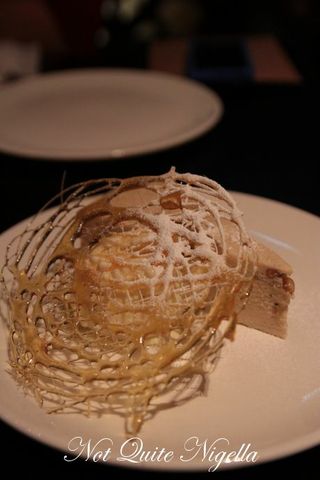 Well with the three of us dessert was always going to be on the cards and we go first for the ricotta cake to see whether it was similar to the famous Pasticceria Papa one. As soon as we see it we realise that it's nothing like it. It's a ricotta cheesecake studded thickly with pine nuts with a hint of citrus. The pine nuts give it a savoury quality and we're not very taken by this dessert.
The same can't be said for the giant zeppola, a swoonworthy potato flour and cinnamon donut that sits proudly in the centre of the plate oozing drips of the melting vanilla bean gelato. The doughnut is heady in cinnamon and sits in a pool of caramel sauce and this is devoured with much relish the crunchy shell and soft interior melting the vanilla ice cream.
Oh yes I'd brave an encounter with that old workplace for this again.
So tell me Dear Reader, do you go back to your old work places ever? And have you ever worked in a shop and if so, what type of shop was it?
La Rosa
Level 2, Strand Arcade, 412-414 George Street, Sydney, NSW 2000
Tel: +61 (02) 9223 1674
Monday to Saturday - 11:30 to Late
http://www.larosabarandpizza.com.au/