Some recipes are just begging to be made. Be it either by name or by look, Monkey bread is a double whammy - not only does it sound cute (and trust me, no monkeys were harmed in the process of making these) but it also looks heart stoppingly good. Like the kind of thing you just stare at open mouthed for a good few minutes contemplating. Or perhaps maybe that was just me. I have a soft spot for monkeys and apes-my favourite simian is the mountain gorilla-a rather large looking but gentle creature. Chimps are all very cute until they start throwing their poo at the crowds whereas gorillas have a peaceful dignity to them.
My friend Kathy sent me a link to a Monkey bread recipe but sadly it required the use of biscuits in a can, a concept that was foreign to me as we don't have biscuits in cans here so I kept it in the back of my mind until I saw a from scratch recipe by Deb on Smitten Kitchen. I was elated that monkey bread would finally be a reality. I wanted to change it slightly as I thought that the little dough balls could be filled with the Hershey's cinnamon chips that we can finally get here (albeit at extortionate prices but hey I'm just grateful that we can get these).
It is complicated and a labour of love. Perhaps I've stuffed many a dumpling in my life but filling each of the 64 squares and making them into a ball turned out less time intensive than I had originally thought and need I tell you that the smell of this baking is also a double whammy - not only is it bread but it's also got cinnamon in it which are two of the best smells when baking. I actually opened my front door while it was baking to collect the mail and my new neighbour (who I was beginning to suspect was Kramer from Seinfeld such was her music choice and ability to slam open and shut doors) was leaving her apartment. She sniffed the air and asked what that heavenly smell was. I knew I was in possession of something rather delicious indeed.
"Please please please come out of the tin easily..." I pray silently
The reason why the bread is called Monkey bread is unclear but theories purport (hehe did I really write "theories purport"? It reminds me of being at Uni) was that it is because the stacked balls remind of a monkey puzzle. They also cite that because it is best eaten with each pieced plucked with eager fingers it is similar to monkey-like behaviour eating behaviour. I will warn you that it is best served hot or at least warm just after it comes out of the oven which is really no hardship given how good this smells.
"Oh hello there! You're so nice and glazed!"
So tell me Dear Reader, do you ever talk to your food? Or to yourself?
Cinnamon Chocolate Monkey Bread
For dough:
4 tablespoons (1/2 stick or 2 ounces) unsalted butter, divided (2 tablespoons softened, 2 tablespoons melted)

1 cup milk, warm (around 110 degrees)

1/3 cup water, warm (also around 110 degrees

1/4 cup granulated sugar

1 package or 2 1/4 teaspoons rapid rise, instant or bread machine yeast

3 1/4 cups all-purpose flour, plus extra for work surface (extra if you are making it by hand)

2 teaspoons table salt
Brown Sugar Coating:
1 cup packed light brown sugar

2 teaspoons ground cinnamon

100grams/3.5ozs unsalted butter, browned
Plus, to stuff the balls of bread:
100g Hershey's cinnamon chips (or 100grams of white chocolate chips melted with 2/3 teaspoon of ground cinnamon and chopped up)
You will also need a Bundt pan (although you can do this in a regular pan if you don't have one)
Buyer's tip: in Australia Hershey's Cinnamon Chips are available at U.S.A. Foods for a very reasonable price of $6. Sugar Fix stores will be stocking them in 2-3 week's time.
Step 1 - Get oven and pan ready: Adjust oven rack to medium-low position and heat oven to 100C/200F. When oven reaches temperature, turn it off. This is to prove the bread a second time after your first rise. Butter Bundt pan with 2 tablespoons softened butter. Set aside.
Step 2 - Make dough: In large measuring cup, mix together milk, water, melted butter, sugar, and yeast.
2a.To proceed with a stand mixer, mix flour and salt in standing mixer fitted with dough hook. Turn machine to low and slowly add milk mixture. After dough comes together, increase speed to medium and mix until dough is shiny and smooth, 6 to 7 minutes. (The dough should be sticky but if it is too wet to come together into anything cohesive, add an additional 2 tablespoons flour.) Turn dough onto lightly floured counter and knead briefly to form smooth, round ball.
2b.To proceed by hand, mix flour and salt in large bowl. Make well in flour, then add milk mixture to well. Using wooden spoon, stir until dough becomes shaggy and is difficult to stir. Turn out onto lightly floured work surface and begin to knead, incorporating shaggy scraps back into dough. Knead until dough is smooth and satiny, about 10 minutes. Shape into taut ball and proceed as directed.
Step 3 - Coat large bowl with nonstick cooking spray or a tablespoon of neutral oil. Place dough in bowl and coat surface of dough with more cooking spray or oil. Cover bowl with plastic wrap and place in warm oven until dough doubles in size, 50 to 60 minutes.
Brown the butter _and remove the foam from the top
_
Step 4 - Meanwhile, brown the butter in a small saucepan. Heat the butter on a medium-high heat watching carefully. Once the butter (check under the foam) has turned a light brown and there is a nutty aroma remove quickly and carefully from the heat.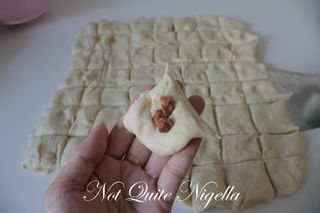 Filling the dough. I started off with about 3-4 chips per piece of dough and then ended up stuffing about 6-7 in each one. It's more fun that way, I promise ;)
Step 5 - Once the dough risen, remove from bowl and shape into a large 8 inch square. Cut into 64 pieces using a dough scraper or knife. Gently flatten each piece a little and place 4-6 chips in each square and pinch the edges and roll up into a ball so that there is no gap. I find it easiest to roll all of these first and then start dipping and rolling in the cinnamon.
6.  With a fork, roll each dough ball in the browned butter and drain well. Roll in the brown sugar and cinnamon mix and then place in the buttered bundt pan. Stack each ball in the pan so that they fill in the gaps of the previous layer. Place in the warmed oven (that has now been turned off) for 50-60 minutes until they expand a bit and reach about an inch or so below the rim. Remove from the oven.
Step 7 - Preheat oven to 350F/180C and bake the bread for 30-35 minutes. Cool only for 5 minutes (not longer or it will get stuck) and turn out onto a serving platter. Allow little monkey fingers to pinch pieces off - kids love eating these as do adults!