The parade of dogs and their owners is the first give away. Then comes the parade of Clydesdale horses, vintage cars with white wall tyres and their owners with the wives waving gloves hands like the Queen. These were followed by a tractor who was then followed by a vintage tractor. The Narooma Oyster Festival had come to town! It was all so utterly country and Queen Viv and I just loved it.
There is a long queue that has formed out front. Entry to the Narooma Oyster festival is $5 and the show starts at 9am where the largest street parade on the South Coast winds it way around the riverside area and onto the streets. Queen Viv and do scout out the various stalls on offer. It's surprisingly large with three rows of stalls covering crafts and food including a 12 metre oyster marquee plus a range of stalls.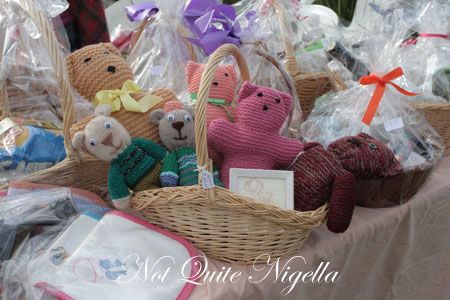 _Knitted bears (I purchased the one on the right lying down)
_
The craft stalls are manned and made by grandmothers and there are some absolutely gorgeous items at completely bargain prices. I nabbed myself a brand new knitted bear for $3 (stick a little scarf on him and a label and I can totally picture in a Woollahra shop window for $30!).
The trend here seems to be Dammit Dolls which are dolls that you can whack in times of frustration - kind of a more actionable figure than a voodoo doll I suppose!
_The "Grey headed grannies" label - love the button and bow details
_
Dried lavender bags
Dried organic herbs-from $3.50
A fabulous looking chocolate caramel slice from the P&C stall
I buy some lovely organic nutmeg (for myself) and chamomile tea flowers (for a gift) and vow to come back for the potted chocolate mint and lemon thyme -although you know I totally forgot at the end to do so! There are stalls raising funds for the schools selling stapled together recipe books and goodies. I almost embarrass myself when I see a glad wrapped tray of cakes and see the price of $4. The $4 is not per cake slice but per plate of cakes-oops!
Plates of home baked goodies
Jams and spreads
Grandma's Homemade Sausage Rolls-_ looking rather authentically home made._
A flotilla of sea creature sculptures makes it way out onto the water but we're transfixed by the food. I buy Mr NQN a panforte from the  Cranky Pants  stall which is rich and fruity and nutty.
Panforte small loaf $5, larger round $8.50
Austrian goodies
_Montague Coffee samples-said to be the best place to have coffee in Narooma
_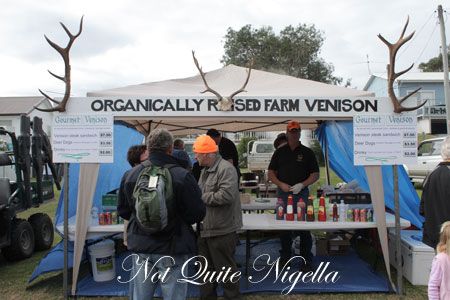 There are samples of organically raised farm venison sausage which they pair with disaster bay chilli sauce (great name!). It's lightly gamey but the spicy chilli sauce offsets this.
I know little girl, I wanted to hug him too!
Fire breathing dragon sand sculpture
Planning your next trip? Ensure you have the right coverage with HeyMondo travel insurance that includes COVID-19 protection. Plus, if you use our link, you'll receive 5% off the price. Find the best deals on flights from all airlines in various currencies with SkyScanner and set up alerts to get notified when prices drop. For reliable transportation options, look no further than 12Go Asia, offering train, bus, ferry, and flight transfers worldwide. Book your transportation now and enjoy a stress-free journey.
When you purchase through these links I will get a small commission at no cost to you. Thank you for supporting me! :)
The fire breathing dragon sand sculpture keeps the children absolutely riveted when they're not busy riding the fairground rides whilst the men folk stare at the various machinery in motion.
There's some action in the tent when Narooma's Michael Stokes, Bannister's Head Chef Julian Lloyd and chefs from the Navy give a cooking demonstration. These go on for a few hours in a marquee while people ask questions from the audience and rush up to the front for a sample of food.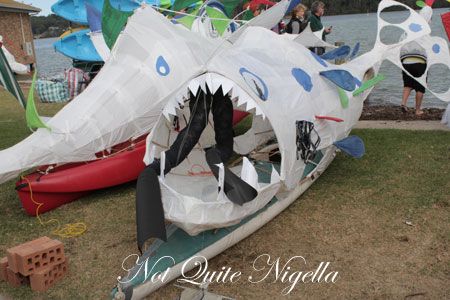 Sea sculpture
After walking around we are busy still digesting our breakfast so we go for a quick walk around the town of Narooma which is actually rather quiet with everyone in attendance at the oyster festival. We visit the Mill Bay Boardwalk which winds around the river and ends off with a group of pelicans grooming themselves (I warn Queen Viv of my love for pelicans and how I have dreams of putting one under an arm and kidnapping it only to discover that our bathtub is no home for a pelican).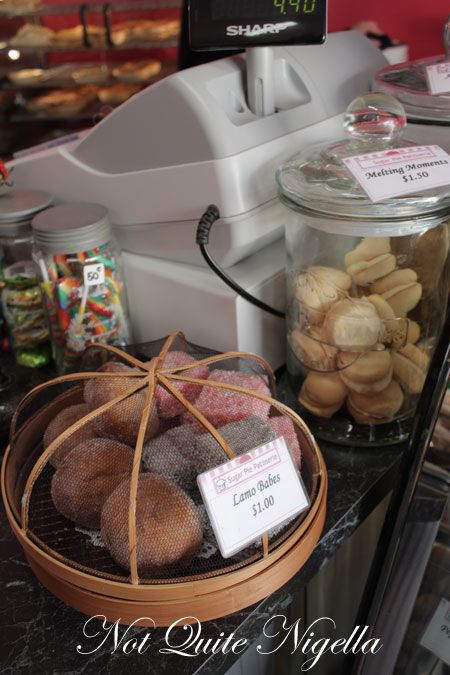 We also visit Sugar Pie patisserie which does a roaring trade in pies and sausage rolls. They also sell tarts (traditional custard, strawberry and lemon), cupcakes and finger buns as well as cute cupcake decorating supplies and spoons. Queen Viv relaxes with a cup of chai tea.
Hunger well and truly worked up we return to stake claim on a dozen oysters. You can have them natural with a wedge of lemon or cooked in kilpatrick, garlic butter or mornay style. As Narooma's oysters are out with an algae bloom the oysters are sourced from nearby Wapengo Lake, Tuross River,  Clyde River  and Pambula Lake. We have them natural and take them and a glass of wine over to a wine barrel where we meet a friendly local Alison Gowen who chats to us and explains that the timber for the whole oyster bar was made from wood that was sourced locally.
A dozen freshly shucked oysters $12
She also tells us that last year the oysters were sold in different stands but this year they've all come together which is a better arrangement. We swallow the Sydney Rock oysters and they are plump, juicy and delicious. She asks us if we've met David Maidment, one of the oyster growers and she brings him over. He grows Sydney Rocks as well as a rare flat species of oyster called the angasi which gets distributed to restaurants in Sydney. The flat oyster is a brother to the fabulous New Zealand Bluff oyster.
We stop by to see Michael who owns Michaels By The Sea. Having worked in Italian wineries in the past he now runs the  beach front cafe in Narooma which is said to serve the South Coast's best salt and pepper squid. He also uses local and sustainable produce and uses home made salami and other ingredients in his dishes. When we reach his stand, it's one of the most popular and has an eager crowd gathered and he is busy tending the frypans with portions of squid.
Salt and pepper squid
Queen Viv and I take a seat and try a plate of the Salt and Pepper squid and it's divinely tender inside and crunchy on the outside. Alison comes over and smiles "I see you've found the best salt and pepper squid on the South Coast!" and Queen Viv and I nod our faces full of the squid. It's sitting atop a rocket salad with black pitted olives, cucumber and spanish onion. "I think that's just about the best salt and pepper squid I've had" intones Queen Viv with authority.
David Maidment shows how to shuck an oyster
It's 1 o'clock now and we make our way back to the tent where we see David giving an oyster demonstration showing how to shuck oysters. Basically you want to avoid cutting the tender oyster flesh with the knife so you run the knife along the top of the shell prising it open.
Then last year's Masterchef winner and cookbook author Julie Goodwin comes out to judge the oyster cooking competition. At one side of the kitchen is the cooked oyster chef and on the other is the raw oyster chef. She is to try a total of 15 oysters and what we didn't realise from her days on the show is that she is a bit of a comedian. "After 15 oysters Mick better watch out for me tonight! Someone better feed him some!" she jokes.
Finger Lime and Coconut Ice cream $4.50
Queen Viv buys some Cobargo home made ice cream in a finger lime and coconut flavour which is creamy and not too sweet. They grow their own finger limes (which seem very popular here). I absolutely adore finger limes as I like their caviar beaded texture.
Scones with jam and cream $3
Before we leave we buy a snack for the road, two Country Womens Association scones with jam and cream (the squirty aerosol kind :( ). They slide a plate of them into a ziplock bag and give us a knife and off we go. With dozens of oysters consumed in a matter of a couple of days, Mr NQN had better watch out for me!
So tell me Dear Readers, are you a fan of oysters and if so, how do you like to eat them? Natural? Kilpatrick? Mornay? And do you believe in their aphrodisiac effects? ;)
Queen Viv's purchase-a horse puppet!
_NQN and Queen Viv attended the Narooma Oyster Festival as a guest of Eurobodalla Tourism
_
Narooma Oyster Festival
14-16 May 2010
Riverside Drive, Narooma, NSW
http://www.narooma.org.au/oysterfestival.html