The Sapphire Coast is one of the shiniest jewels on the South Coast of New South Wales. Located halfway between Sydney and Melbourne visitors can get lost with wildly beautiful landscapes, walk along gorgeous sandy beaches and stop by historic towns. But heads up oyster lovers - not only can you feast on oysters and seafood you can also learn all about how to shuck them and tour oyster leases on an oyster punt!
The Sapphire Coast is located on the far South Coast and begins at Bermagui and includes areas like Eden, Merimbula, Tathra, Pambula, Wonboyn, Bega and Candelo. It was named not after the gem but after the blue sky and the sea. And when you see the blue water in real life you'll realise that it isn't just a gimmick.
It was Mr NQN's birthday and I was trying to think of something special to do. We usually flee overseas in August to attempt to mitigate winter's length but he has a new job and doesn't have any leave accrued. But then it hit me: a Sapphire Coast Oyster Trail @sapphirecoastnsw on the South Coast would be perfect.
How to Shuck An Oyster
"Each oyster takes 3 years to grow. Pause for a second and take that little moment to think about that oyster that has been handled 16-18 times by the farmer, " says Mel of Broadwater Oysters. We are standing at the edge of Pambula Lake where a cluster of oyster farmers have their oyster leases located. They have set up a tasting stand where people can learn all about the humble oyster and how to shuck it.
For Australians Winter isn't usually the season we think of with oysters. However there is a difference between a winter oyster and a summer oyster. During summer, oysters spawn which results in a less flavour forward, softer textured oyster and those in the know seek out winter oysters for the robust, briney flavour and firmer texture. Mel tells us that these "greener" oysters are preferred by the French and indeed if you've ever been lucky enough to attend a French Christmas, oysters always seem to grace the table. Oysters will also change with every season as well as other factors like how much rain they get. Some also say that each estuary tastes different.
The main type of oyster farmed in this area is the Sydney Rock oyster whose technical name is actually the New South Wales Rock Oyster (Sydney Rock is a marketing name). Sydney Rock oysters are easy to transport and are kept at fridge temperatures of 18C/64.4F. The general rule of thumb is that if you're comfortable, they're comfortable and they can be stored for 10-12 days at this temperature.
25 years ago Sue McIntyre and Greg Carton of Broadwater Oysters started their oyster journey and now they have 9 hectares of oyster leases in both Pambula and Merimbula. Merimbula is the first estuary to open after the rains as the water clears quicker. Sue used to be a sheep farmer with a passion for land care and their oyster farm composts waste, uses no plastic netting and serves food on paper trays in an effort to be as environmentally conscious as possible. They also use a new oyster farming technique called FlipFarming which is said to be easier for the oyster farmer. Mel shows us the equipment like the tumble grader with three different sizes holes to capture different sized oysters. Oyster grading used to be done by hand but now a machine dubbed the "Octopus" sorts them out according to size based on 4 photos taken of each oyster.
Mel then demonstrates how to shuck oysters using a special knife specifically designed for Sydney rock oysters. She puts a glove on her non dominant hand and cradles the oyster on the chopping board wrapped in a thick tea towel. She cracks off a little of the end of the "hinge" to get to the dark muscle part that is firm but a little squishy. Then she inserts just the tip of the knife and rocks it back and forth (like turning the throttle of a motorcycle or can opener) until it pops. She slides the knife along the shell to cut the adductor muscle, then removes the top and slices along the cup of the oyster to separate the other side of the adductor muscle. Lastly she flips it over which is the Australian way of serving oysters.
She passes oysters over to us - unrinsed is the best way to eat an oyster so you get the full, briney, savoury flavour of the oyster that you don't tend to get in places that rinse the oysters.
By this time we've eaten a few oysters and now we are shucking some ourselves. Then we get to pair then with a few flavours - there's pink finger lime pearls, a coriander sweet chilli sauce and an umami mayonnaise. For me nothing beats lemon but the coriander sweet chilli adds a lot of flavour too especially good against the stronger, saltier flavour of these oysters.
Oysters flipped over for serving
Getting To Know Oysters
Located right alongside Broadwater Oysters is Captain Sponge's Magical Oyster Tour where you can get up close to the oyster leases. Captain Sponge is Brett Weingarth and these tours are conducted on covered oyster punts on Pambula Lake. Like Broadwater Oysters Captain Sponge has oyster leases in Pambula and Merimbula (the name Captain Sponge was one bestowed on him at university-the version for kids is that he was good at retaining knowledge although there is a more adult version of the story). Tours go for 2 hours for $70 per person and involve tasting, shucking demonstrations and visiting oyster leases.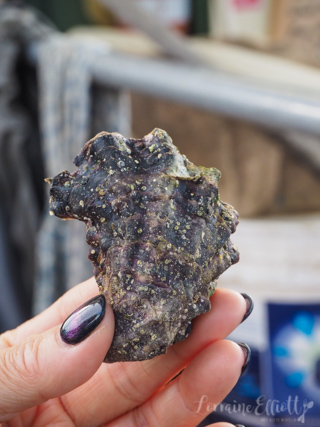 Baby oyster barnacles
In Captain Sponges' place Scotty begins by showing us the life cycle of an oyster. Tiny baby oysters will attach to any solid substrate - in the past they used to cover wooden sticks with tar but now they use plastic venetian blind slats. They start this process in March and April and let nature do its thing for a few months. In November and December they bring these slats back in covered with baby oysters that range in size from matchstick heads to a 20c piece. Most oyster leases are at a shallow depth which allows for easier access for the farmer and the flat bottomed punt can work in very shallow shin deep water.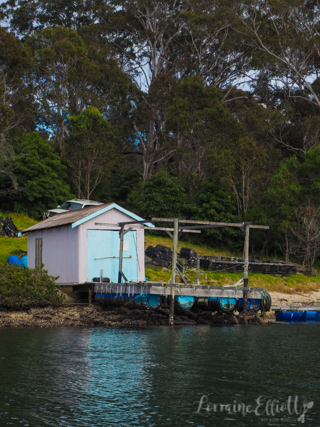 After that they fold the slats and tap and dislodge the baby oysters before transferring them into a round tumbler. The shape of the tumbler allows the oyster to turn in the water and develop the classic Sydney rock oyster teardrop shape teardrop with cup. From the tumblers they go to the baskets (although some oyster farmers skip the tumbler step). "We don't feed them, Mother Nature takes care of it," says Scotty.
Oysters are male for the first year of life and then many turn female once they spawn as they have reproductive organs that can produce both eggs or sperm depending on their need. The main threats to oysters are stingray, octopus, oyster catcher birds and QX disease. Most oyster farmers farm in pairs and it has been a bumper few years. Depending on the number of leases an average oyster farmer can farm around 30-40k dozen oysters a year and they sell them for $8-10 a dozen wholesale. Scotty tells us that all Sydney rock oysters produced on the Eastern side of Australia are consumed within Australia although there is interest in exporting these to Asia.
Scotty brings out a platter of oysters that are devoured quickly, the spent shells thrown overboard. Oysters are graded and at 3 years old they are considered "plate" oysters, 2-2.5 years "bistro" oysters, 18 month are "bottle" oysters and 1 year old oysters are "cocktail". Then he shows us a range of oyster shucking knives and shucks some fresh. There's nothing like a freshly shucked oyster and everyone is enamoured of the flavour and hungry for more.
Where To Enjoy Oysters
Along Tathra there's Pividori, a fine restaurant restaurant located right on Tathra Beach. When you walk into the simple but stylish dining room you're hit with that incredible view. Dolphins swim past in the distance and while it may have the winter sunshine outside, it's cosy inside. Service is lovely and accommodating.
Oysters here are from nearby Wapengo Rocks and these organic oysters have a lovely creamy centre and they are served eitger natural or with mignonette dressing.
Scallops $26
Head Chef Josh Morgan is a local having grown up on the Sapphire Coast but spent time in other areas like Canberra before returning home. He is known for his scallop dish with sliced shiitake mushrooms on a bed of jerusalem artichoke puree with nori burnt butter.
Prawn linguini $32
The prawn linguini is made with fresh linguine with crunchy pangrattato and a chilli, tomato and basil sugo with split, tender prawns that are perfectly cooked.
Beef fillet steak $48
If you're looking for something that isn't seafood the beef fillet steak is an eye fillet served with a a Spanish chorizo goulash sauce, caramelised onion and a generous scoop of mashed potato and horseradish cream.
Blueberry Tart $16
Save a bit of room for the blueberry tart which is buttery and topped with slivered almonds and is served warm along with some blueberry curd, vanilla ice cream and fresh berries.
If you're visiting in summer or coming with kids head to the Merimbula Aquarium and Wharf Restaurant which has one of the most coveted sunset views during summer. The prime spot is on the balcony to watch the sunset - there are not many places on the East Coast of Australia where you get a sunset across the water. Added to this appeal is the aquarium underneath the restaurant.
The aquarium runs a successful breeding program for ocean life and part of the reason for the success is that they have a submersible pump that provides 150,000 litres of seawater so that conditions are just like in the sea. It is an area busy with marine life and during the day there are people fishing on the wharf outside.
The menu at the restaurant focuses on seafood naturally (although owner Anthony points out that there is nothing from the aquarium!). Diners can opt for 2 courses at $60 or 3 courses at $75 with oysters as an optional extra. Service is very friendly.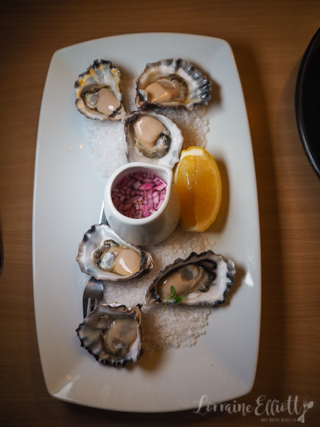 Natural oysters with mignonette dressing ½ Doz $25
The oysters today are from Broadwater oysters and come with lemon and mignonette dressing. The mignonette is delicious with a hit of chilli to it which makes it a bit different from other mignonette dressings.
Blue Swimmer Crab Sambal, Tomato, Ciabatta
I enjoy the crab which is half a blue swimmer crab with garlicky, gingery sambal and slices of ciabatta. You do have to get a bit down and dirty with it but it's worth it.
Orange Roughy, warm potato, tomato, chorizo salad and citrus hollandaise
The orange roughy isn't always seen on the menu and it's locally caught. The fish itself is very soft which pleases Mr NQN and it is served with warm kipflers, tomato, chorizo salad and a citrus hollandaise.
Battered Latchet, chips salad
My main is the battered latchet, a local fish with chips, salad and tartare sauce and seafood sauce. The latchet fish is similar to flathead, a favourite fish of mine in fish and chips and there are four fillets with a good amount of chips and a nice salad.
Chai panna cotta – chai syrup – cream
The chai panna cotta is light in chai spices but is wobbly and creamy. It is served with chai syrup and a quennelle of creme chantilly on the side as well as berries.
If you're looking for something spectacular or for a special occasion head to Wheeler's Seafood Restaurant in Pambula for their two tier seafood platter. There's a restaurant as well as a takeaway area on the side of the building. In the restaurant there's an indoor and outdoor, covered section as well as an outdoor section that is dog friendly. I have that pesky allergy to barramundi so that rules out a couple of dishes that I was going to order so instead we go for the big daddy-the seafood platter especially since it's Mr NQN's birthday.
But first we order a starter from the Fraction Friday menu which is a 3 course set menu with three choices on it. Our starter is the a soft shell crab bao with pickled cucumber, cos lettuce and yuzu mayonnaise. The soft shell crab is so light and beautifully crunchy and there's the perfect amount of crab for the soft, steamed bao. Heaven.
Seafood Platter for Two $169
Then out comes the seafood platter and my goodness it's a beauty. It is a two tier tower with a bottom tier with chips, two beer battered fish fillets, four crumbed scallops with truffle aioli and a salad. I usually gravitate towards the cold seafood items but I have to say that the beer battered fish fillets are so light and crunchy and those scallops are delicious too.
The top layer features around a dozen Australian prawns, Merimbula Sydney Rock oysters, three enormous Moreton Bay Bugs split in half, two Blue Swimmer crabs. There are also three sauces to go with it including a lime aioli, smokey chipotle mayonnaise and a fantastic tartare sauce. There is so much that we can barely finish it but of course we do and Mr NQN put down his crab claw cracker and picker with a happy smile on his face.
Rosemary Creme Caramel $18
And as they sat the dessert stomach is a separate stomach so we finish on a sweet note: the rosemary creme caramel with a black pepper tuile with a honeyed sweetness to it. It's magnificent-creamy with the aroma of rosemary. The sort of dessert that you want to recreate at home it's that good!
Where To Stay
Our home for the weekend is at Hillcrest Merimbula. This renovated 1970's motel boasts 30 rooms and 1 apartment. We are in one of the 6 Exhale Deluxe rooms. The rooms are very well done-although they still have the smaller footprint of a motel, the decor and finishings are well thought out.
There is a Micro Cloud king bed, work desk, tv and day bed. Thoughtful little touches are a little bowl for jewelry by the bed, binoculars for the view and a great tea set up with four loose leaf teas by Mayde designed to revitalise, energise, digest or English breakfast. Each room has a microwave and vintage style plates and cutlery on hand.
Each room has a small balcony and the vibe is contemporary seaside, the sort of place that you can imagine making memories in. The walls are adorned with artwork by Melbourne abstract painter Adela Kusur and there's a curved concrete day bed to relax in.
The bathroom is still quite original although they soften the blow with Kevyn Murphy toiletries. Wifi and parking are free. The only issues we had were with the toiletries running out and not being able to get more as the reception closes at 5:30pm each evening. Also the sheets weren't as smooth as I would have liked and the work desk plugs are too located low to accommodate a Mac charger.
Still there is a lot to like about this hotel. The lobby has and common areas are very nicely outfitted with a great view. Guests can help themselves to tea or coffee and there's also a bar area. There's also a firepit, tennis court and pool available for us by guests included in the tariff.
So tell me Dear Reader, are you an oyster fan? How do you like to eat oysters? And have you ever shucked an oyster?
NQN and Mr NQN stayed as guests of Sapphire Coast Tourism but all opinions remain her own.
Visiting the Sapphire Coast's Oyster Trail? Check out the link here to see what you can do: https://www.sapphirecoast.com.au/oysters and tag @sapphirecoastnsw on your posts