It was Mr NQN's birthday weekend and I was a 155cm tall ball of determination. We were heading down to Kiama on the South Coast and I wanted to surprise him with a well earned massage at a spa. He usually operates as a speed known as "cruisy" so I tried coaxing him into hurrying up keeping in mind the one and a half hour travelling time and his appointment. We drive with my eyes constantly darting at the clock. As we walk up to the spa I scream "SURPRISE!" and reveal that for the next 1.5 hours he would be enjoying a massage. Letting out a sigh of relief, I bid my smiling husband farewell.
While he is enjoying his massage, I busy myself at the Kiama Produce Markets just down the road. Armed with cash in hand and curiosity I buy items like local raw honey, olives, sweet olive spread, cheese, cheesecake, chestnuts, pears, manuka wood smoked garlic and other bits and pieces that pique my curiosity.
My next surprise for Mr NQN is where we are staying. We take the drive to The Pines a working dairy farm and gelato maker. The Pines has luxury self contained accommodation in a three bedroom house that I booked through Alluxia. The drive to The Pines on the edge of the Saddleback Mountain range is short but scenic. And it seems I'm not the only city person that stops the car to take photos-plenty of scene stealers are stopping for a photo.
Although it's only about five minute's drive from the town of Kiama, it's all gorgeous undulating greens dotted by bright red flecked flame trees. As it is Winter these trees aren't as abundant with vivid red foliage but a few red leaves still cling. Horses and cows grazing in paddocks glance over. The birds fly away but the livestock simply turn their heads at us. They've seen this all before.
"The cows like fresh grass about six inches long," Kel Grey a sixth generation dairy farmer tells us. His family owns The Pines, one of the oldest dairy farms in NSW established in 1854. Kel explains that longer grass to cows is like eating stale bread and there is a clear preference reflected in the milk they produce. The more ideal grass they eat, the more milk the cows produce. In Winter there is less milk but it is richer because of the heaveir, slow growing grasses grasses and clover but in summer, lighter milk in larger quantities is produced as they graze on the fast growing kikuyu grass. Kel's favourite cow Pearl sits chewing the best feed in her own enclosure - the placid diva is a favourite for shows.
Pearl is one of The Pines' twelve dairy Holstein cows (there is beef cattle on the farm too) and the small herd allows them to be familiar with the condition of each cow. We watch as Kel's father Garry checks the milk from each cow's teat for mastitis before connecting them to the pumps. The cows then graze on a mixture of corn, wheat and canola meal while they are milked. There is even a stray cat that has made the dairy its home, perhaps lured by the idea of fresh milk. Everything to do with the milk is done on the farm from feeding the cows on pasture to milking, using a slow speed pump to transfer the milk, small batch pasteurising and hand bottling.
We take a look at the calves. They drink eagerly and quickly from their share of the milk. There is one calf sick at the moment. Kel places his fingers in the calf's mouth - it has a sucking reflex so that is a good sign but it has an upset stomach so he will give it a version of an electrolyte drink the next morning. At between 1 week to 4 weeks old these calves are already sizeable.
At the moment, each cow produces about 25 litres of milk a day in their twice a day milking. Much of the milk is sold as milk as there are plenty of stores in Kiama that sell milk from The Pines but 12 months ago, Kel started making gelato. He come back to the farm after time spent doing other jobs including being a ski instructor. One of the conditions of coming back to work on the farm was doing something else in addition to milk production. He and his wife Mahlah travelled the world and saw how other farms added value and there was a time that they thought of making cheese. The bank was less smitten by the sound of the cheese venture and they settled on making gelato instead. Their point of difference with the gelato is one that emphasises the dairy aspect rather than the flavouring aspect.
Kel uses up to 72% milk in his gelato and it is a creamier, milkier product. Holstein milk has smaller fat molecules than Jersey milk so that it slides over the tongue easier. The milk that they sell is pasteurised but non homogenised so that there is a delicious layer of cream on top. I ask Kel about organic and he explains that organic is not necessarily in the best interests of the herd. Using an injection of medicine (which would make it not organic) often quickly clears up any problems that the cows have while other methods may take two weeks and that is two weeks in which the cow suffers ill health. Something he just isn't willing to do to his small herd.
Kel hands us a tray of gelato with two flavours Farmhouse Caramel and Cinnamon with Rhubarb and Ginger and we take it to our accommodation right next to the dairy. Although the cows and farm are close by it's quiet and not once are we disturbed by the noise of the farm. The views from this height are magnificent.
The pink and cream Edwardian weatherboard house looks as pretty as an iced cake. Prior to Kel and Mahlah, it was previously owned by Kel's grandmother Joan who moved in here when she married Owen, Kel's grandfather. The property was originally bought by George Grey when he emigrated from Fermangh Ireland in 1842.
There are genuine vintage touches with many pieces of Joan's furniture and the kitchen even features a church pew with Kel's grandfather's initial "A.O. Grey" carved in the back. The back of the house was built in 1874 while the front section was added in 1914. Joan's pride and joy was the garden which under her reign was an English style garden with manicured hedges. It is now a cottage style garden with two enormous pine trees standing sentry at the entrance to the driveway.
There are three bedrooms in the house starting with a master bedroom at the back. Originally this was the kitchen area which was designed so that the women and cooks were hidden away. This has an ensuite bathroom and the original fireplaces are still visible although these aren't working. There is ducted climate control in the main area of the house that keeps it warm and an air conditioning unit in the main bedroom but this isn't quite as warm. There is fast and free wifi throughout the house.
There are also two bedrooms that are connected by a door-the first is a pretty pink and green hued room with original vintage stained glass panels from 1914 and this connects to an adorable children's bedroom with two single beds. The common bathroom has a claw foot tub, two shower heads and a heated floor. Bathroom amenities consist of shower gel so other items need to be brought along.
The open plan kitchen has a large island and is perfect for self catering which we plan on doing on the second night. There are lovely vintage plates and stands and there is a stock of basics in the pantry. The property is powered by wind and solar hot water.
The lounge and dining room are invitingly warm and I relax on the couch for a while. A piano sits opposite where I can imagine fingers of many generations of this family flew over the keys. I get absorbed in work while nestling a cup of tea made with what else but The Pines milk of course and before I know it my stomach is rumbling. Time to eat!
There are a few choices for breakfast lunch and dinner in the area. When I am in the South Coast area I always consult Jacqueline Weiley of Foodscapes Tours, my go to gal for the South Coast who always recommends great places to eat.
Apparently the best coffee in town is at The Brooding Italian, hidden amongst a cluster of shops just down the road from The Pines on Manning Street. We stop there for a long black for Mr NQN and he enjoys it immensely.
For breakfast, we take the short drive towards the Little Blowhole (as opposed to the big blowhole) and stop by The Little Blowhole Cafe for breakfast. There is a colourful awning and this weekend's weather in Kiama is sunny and almost 18C so many of the outdoor tables are taken. We take a seat inside and scan the menu. There are all day breakfasts and lunches available but we go for the breakfast options.
Berry Smoothie $6.50
There's no freshly squeezed juice today so Mr NQN goes for a berry smoothie. It tastes of fresh strawberries and yogurt and isn't overly sweet which he likes.
Moroccan baked eggs with chorizo and feta $17
You can have the baked eggs plain or with chorizo and feta and we choose the latter. They use free range eggs and there's a bit of chorizo and a tiny sprinkle of feta on top although I would have liked more of both as the chorizo is just sprinkled on top. The tomato needs a bit more balance in the seasoning. It comes with two triangles of crunchy toast.
Corn fritters with bacon and sweet chilli sauce $14
The corn fritters come three to a serve and are crisp and served with a spoonful of sweet chilli sauce and a rasher of bacon. It's a serve on the smaller side so not for those ravenously hungry (alas Mr NQN was after his big 80km ride) but there are big breakfast options for those.
Later on in the day we take a drive to Gerringong for lunch. The Schoolhouse is another of Jacqueline's suggestions. In the 1900's the building on Victoria Street was a schoolhouse but has been several different incarnations after that.
For the last 18 months it has been run as a cheese shop and cafe by Kirsten McHugh and her husband Jack. Everything is house made down to the Foxground tea which is grown organically by Kirsten (and a pot offers diners the chance to help themselves to a small cup of complimentary tea).
The menu changes weekly and there are freshly baked cakes under glass dome displays. We take a seat and watch as she dashes about doing everything from handing out menus, taking orders, cooking and fixing up bills. This means that sometimes the wait is long for food (between 35-45 minutes).
Mezze of Schoolhouse Halloumi, dips, bread $14
Jac recommended the halloumi to us so we ordered the halloumi and dip plate. It comes with two triangles of pan fried halloumi, a fantastic fava bean dip, a red capsicum dip and some lemony pickles. We had assumed that the bread would be a Turkish bread or a flat pita but it's two oval shaped rolls with butter. The halloumi and dips are very good though.
Winter Salad of carrot, parsnip and Crescenza $16
The Winter vegetable salad appealed to me because I love roasted vegetables. This has a range of roasted carrots, quinces, witlof, parsnip and onion with three melting section of crescenza or stracchino, a gorgeous slightly melted cheese.
Pear and cream cheese cake $7
The pear and cream cheese topped cake is wonderfully fresh and soft and comes as two good sized slices with cream cheese icing on top.
Dinner is an easy choice for Mr NQN's birthday as he adores Japanese food. We take the short drive to Kai on Manning, also owned by the same people at Hanoi on Manning at which we dined on a previous visit. It's a small but busy restaurant and the only booking we could get was for 6pm. Our waitress is lovely but we are shown to our table by someone having a rather bad day.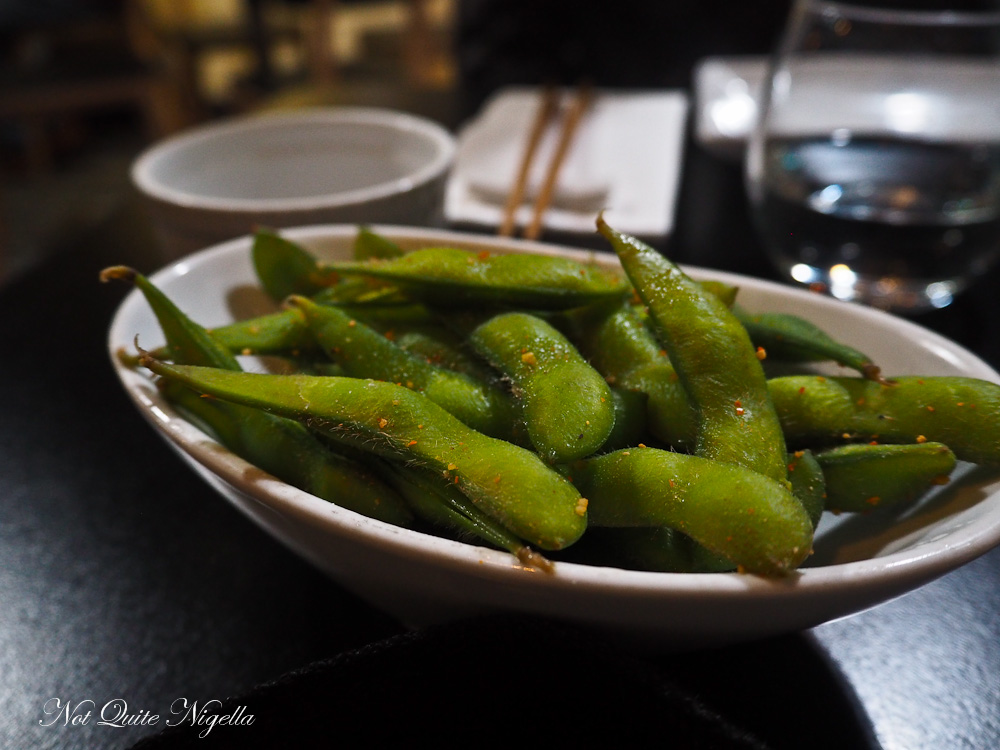 Edamame $6
The menu is filled with Japanese restaurant classics and Mr NQN wants to devour everything. He is peckish so we order some chilli salted edamame for him to nibble on.
Nasu Dengaki $9.90
I am smitten with the eggplant slices, fried and then cooked again so that the centre is meltingly soft. The slices are topped with a white miso paste that brings the eggplant to life.
Seaweed Salad $16.90
There are five types of salads on the menu including two with meat (duck and beef tataki) but I felt more like vegetables and the seaweed salad is our choice. It has both wakame seaweed and spicy seaweed with mixed lettuce, cherry tomato, carrot and Kai's Japanese sesame dressing.
Spicy Spider roll $14.90
I love spider rolls and this is filled with crunchy deep fried soft shell crab with spicy mayo, julienned cucumber and mixed lettuce. It needs a bit more moisture to it so more spicy mayonnaise or roe or both would have been great.
Mix sushi and sashimi platter $29.90
The mix sushi and sashimi platter is very generously portioned and everything is very fresh. We marvel at the value of the platter while we pick up nigiri, slices of sashimi and nori wrapped maki.
Kai Special Sushi Roll $23
Mr NQN signalled that he could eat more and I had misunderstood the waitress when she explained that there are three rolls in the special sushi roll because I was thinking that the price would be for just one roll. It's actually three rolls and my eyes light up when a plate of this goes to another table so we order it. There is a deep fried prawn roll with a tartare style sauce atop - that is my favourite. Another pick is the salmon and avocado roll which is fresh and delicious and the third is more of the spicy spider roll which we already had.
Spring rolls $9
For dessert we decide to go with one of the specials, the dessert spring rolls filled with banana and red bean. They're crunchy and freshly fried with a soft, sweet filling and served with a choice of ice cream-we go for the black sesame which is not as smoky as some that I've had and reminds me of coffee.
The next day's dinner is eaten in the house and is made up of goodies bought from the market including a cheese board, Mexican bake enhanced with smoked garlic, local roasted chestnuts cracked open by a movie, winter pears and two cheesecakes from Lovely Bites. And of course there is the delicious freshly made The Pines gelato made just metres away from cows that graze just outside the window.
So tell me Dear Reader, do you like birthday surprises? Have you ever been surprised or can you usually guess? And have you ever visited a dairy before?
NQN and Mr NQN stayed as guests of The Pines and Alluxia. All meals eaten out were independently paid for.
Alluxia
The Pines
http://www.alluxia.com/accommodation/the-pines-kiama
Little Blowhole Cafe
4 Tingira Crescent, Kiama NSW 2533
Phone:(02) 4232 4990
Open weekdays 9am - 4pm (closed Wednesday)
weekends 8am - 4pm
http://littleblowholecafe.com/
The Schoolhouse
2 Victoria St, Gerringong NSW 2534
Phone:(02) 4234 0050
Thursday to Saturday 10:00 am - 4:00 pm Closed Sunday to Wednesday
http://www.theschoolhouse.com.au/
Kai
68 Manning St, Kiama NSW 2533
Phone:(02) 4233 2886
Saturday to Sunday 11:30 am - 2:30 pm, 5:30-9:30 pm
Monday Closed
http://www.kai-on-manning.com.au/