Camel Pie?
It was Day 2 of our Sydney to Melbourne Coast drive tour and we had just left Paperbark Camp in Jervis Bay. After a bit of a time we drove through to Mollymook in the hope of having lunch at Rick Stein at Bannisters. Sadly the restaurant wasn't open for lunch today so we had to keep going and before long eagle, eyed Mr NQN spots a sign proclaiming "Camel pies" from Hayden's Pies.  We have to stop and try one, after all how often is one offered a camel pie?
Yes Camel Pie!
We chuckle - the address is "166 Princes Pieway" according to the sign. We walk in and service is friendly and we get a square camel, coriander and chickpea pie to eat outside and tomato sauce is from a giant pump dispenser (don't you love free sauce? It's always extra in Sydney). The camel meat (from the camel rump)  is similar to a beef or lamb, although slightly more sinewy and the filling is soft and tender with a tomato-ey base with whole chickpeas and ground coriander and it's a very good pie indeed with is a buttery shortcrust pastry.  Apparently the camel appears often on the menu and if it doesn't, there is usually a game option such as venison, rabbit  or kangaroo.
The Bodalla Dairy Shed
The shop display inside
After a long drive and a quick nap from me, we drive through the town of Bodalla. At the same time Mr NQN and I ask each other the same question "Isn't there a cheese called Bodalla?" and before we know it, we've happened upon a very cute converted dairy shed. It's pure retro country charm and the perfect place to rewater ourselves with an icecream and coffee. Inside is gorgeous with retro chairs, a jukebox, a shop at the front that sells dairy themed items including a milk soap, creamed honey.
We choose a double scoop of ice cream in blueberry cheesecake and passionfruit which is made by the Pure Gelato company and a coffee which comes with a buttery biscuit. Service is very friendly and the gelato is most welcome on this sweltering day. The passionfruit is refreshingly good and just the right amount of sweetness but the boysenberry cheesecake is what we both like as it's pure sweet boysenberry and cheesecake.
Passionfruit ice cream and Boysenbery Cheesecake ice cream
The view in Narooma
Spot the Pelican!
We then check into our room at The Whale Inn at Narooma. Since I was young I've always had a lover of whales and I used to always draw sperm whales as they were so distinctive and easy to draw so I squealed when I heard that we were staying at the Whale Inn. Now I'm not usually a Motel or Motor Inn kind of gal you understand so I'm a little wary when we pull up. The room however is well appointed and with free wifi, and LCD TV and it looks modern and renovated. Mr NQN goes down to nearby Narooma beach for a surf.
That evening, we go downstairs to The Whale Restaurant which has a mesmerising view of Narooma and the water. the inlet to the left is said to set the benchmark for the cleanest water in NSW and when we drove past it, we remarked at how blue it was. Service is very professional and friendly. Sadly as there has been some flooding, the local oysters aren't available which is a pity as Narooma and neighbouring Batemans Bay are known for their oysters. The menu is modern Australian with some local specialities and there are cute details explaining things such as baklava to diners. The opening page tells us how they support the Slow food movement and that they have  Whale Garden and that they try to use as much local produce as possible although we do see a New Zealand salmon dish which is said to be their signature. There's also a two course set menu for $29.
There is an appetiser of eggplant cubes in herbed oil with crispy croutons which is delicious with the soft egglant cubes going well against the crunchy oily croutons. The cheese puff pastry twists are good too especially when dipped in the oil.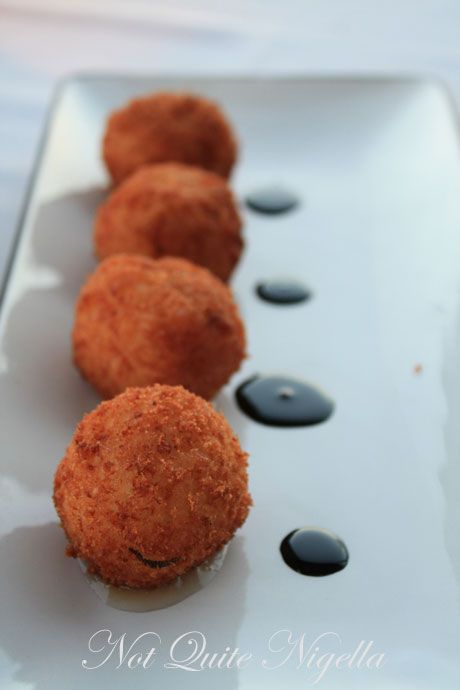 Crispy risotto balls with South Coast pecorino with a finger lime glaze $12.50
The crispy risotto balls are satisfying crunchy on the outside with a stringy pecorino cheese interior. There is a balsamic glaze and a finger lime glaze which give it a bit of added dimension which is something I find often lacking in plain arancini balls.
Chick pea, green bean and smoked fish salad $14.50
There are three different types of fish in this fish salad: Mahi Mahi, conger eel and mullet, all sourced either locally or along the South coast and these are filled and hot smoked by the chef. It's a fresh , tasty salad with fresh herbs, tiny cherry tomatoes and the delicately smoked fish although the green beans are a bit too crunchy. In each corner is a thick balsamic glaze.
Palate cleanser: red wine granita
We then have a palate cleanser in the form of red wine granita which is best described to us as frozen Gluwein. It's true and full of sweetness and aromatics from cloves and cinnamon which give it that Gluwein touch.
Roast NZ organic salmon $28.50
Said to be the chef's signature dish is the New Zealand roasted organic salmon which is coated with a kelp crust served with a finger lime beurre blanc. The salmon with the sauce is fantastic-the kind of dish that you insist that your dining companion try and even though Mr NQN and I are to swap I am reluctant to do so. The saffron jasmine rice isn't really needed but I do like the pickled seaweed and a deep fried spinach dumpling although Mr NQN feels that only the fish is needed in the dish.
Rabbit and mushroom pie $28.50
The piping hot rabbit and mushroom pie comes out with roast potatoes and salad. The pie is made with local rabbit from Bega and it is strong in white wine (perhaps too strong for me). Given that I prefer the salmon and he prefers the pie we agree to taste but then swap back.
Baklava with apple and rhubarb bavarois $12.50
The baklava we're warned is not like a traditional crispy baklava. Mr NQN likes this although I do hanker for a traditional baklava. The bavarois is like a firmer version of pannacotta made with whipped cream and creme anglaise although this doesn't taste very strongly of apple or rhubarb.
Selection of Australian cheeses $16.50
We're a bit floored at the huge portions here (don't you just love going to country areas where sauce is free and servings are generous?). There are four sizeable wedges of cheese where $16.50 is likely to  net you one portion in Sydney. The four cheeses are Maffra Cheddar from Victoria, Meredith Blue from Vic, A South Coast, Brie from Bodalla and a Raclette from Northern NSW. Accompanying it are water crackers, soft cuts of bread, dried apple, peach, prunes as well as house made quince paste. Quince paste and water crackers are my favourite way to eat cheese so I'm in Little Miss Piggy heaven here. The brie, blue and cheddar are lovely although we are less enamoured with the raclette which we're used to having melted rather than fresh.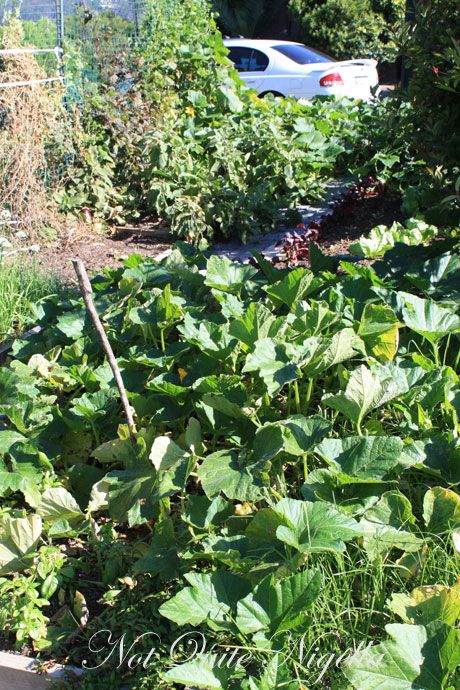 The next morning I have a quick potter around the Whale Garden where fresh herbs and other goodies are grown.
I then sit down to a huge country sized breakfast which I can barely make a dent into no matter how hard I try! Ahh country sized servings, how we appreciate it!
So tell me Dear Reader, what's your favourite thing about the country area to you?
NQN and Mr NQN travelled from Sydney to Melbourne as a guest of Sydney To Melbourne Touring.
Hayden's Pies
166 Princes Highway, Ulladulla
Bodalla Dairy Shed
52 Princes Highway, Bodalla, NSW
Tel: +61 (02) 4473 555
The Whale Inn
104 Wagonga St ( Princes Hwy), Narooma, NSW
Tel: +61 (02) 4476 2411