Exhausted by this year already? It's only March and it feels like I've done half a year's work already. A trip to the South Coast was in order to make the most of the warm weather. On the agenda, sun, swims, good food, good friends and luxury dog friendly accommodation!
The invitation came through a few weeks ago: to check out the brand new pet friendly Hawkes Nest villas in Huskisson. Nina and I had discussed visiting the South Coast with our other halves and like magic it dropped into my inbox at just the right time. Autumn was already showing herself through chilly nights and cooler days but apparently the South Coast hadn't gotten the memo and the weather was balmy.
You know that when you're the cook that the responsibility of cooking falls to you. On a weekend getaway we tend to do one night eating out one night in and usually the night out is a Saturday. I wrote up a huge list of grocery items that accommodated Nina's specific eating habits (Nina: "Is this the most annoying conversation you've had about food?" Me: "Yes lol").
And then Rayma, the lovely manager from Hawkes Nest sent me an email. Hawkes Nest had partnered up with local artisan butcher Vincentia to provide guests with provisions packages for their stay to accommodate people that would be arriving on a Friday night and wanted to have something tasty! The stress about cooking for the group dissipated instantly. And so we bundled Mochi into the car for our little trip.
On Friday we take the 4 hour drive to the South Coast leaving at 3pm. The five villas that opened December 2016 are located on Hawke Street and each villa has its own self contained area with two of them being dog friendly. We are in villa 1 the largest and most luxe villa. We punch in the code, retrieve our key and walk in.
It's light, airy and spotlessly clean. The colour scheme is white, neutrals and blues and there's a downstairs queen bedroom with Egyptian cotton sheets and bathroom as well as a double car lock up garage. The kitchen is well stocked for up to six people and there's a six person dining table next to the comfortable lounges. There is free wifi but this wasn't able to work while I was there (a common issue with Telstra wifi I've found).
Upstairs are two bedrooms: a queen bedroom and one with two single beds. There's also a bathroom up here with a separate bath and a shower as well as another upstairs lounge room with sink and kettle so you can make your own tea up here. And next to this there is also an outside deck area (we immediately earmarked this as the place for late afternoon drinks).
Back downstairs there's a sun filled deck with a Weber Q barbecue which Mr NQN starts to fire up (reluctantly) and a large outdoor table. Which brings me to the food from Vincentia Butchery. There is a wonderful range of provisions from fantastic Terre Rossa extra virgin olive oil, Parnell's black butt honey and Sicilian sea salt along with The Allotment, the butcher's own brand of preserves and spices.
I fossick in the fridge and uncover more treasures including an enormous platter with house made smoked ham (divine!), house smoked chicken, handmade pancetta with green peppercorns, house made chorizo sausage, venison prosciutto, wild boar sopressa, casalinga, Twiggy sticks as well as sun dried tomatoes, olives, artichokes and crudites. The dip is a home made nut butter.
Mr NQN tends to the barbecue and cooks the Tuscan spiced grass fed porterhouse steaks. They've provided vegetarian Nina with stuffed mushrooms. We share the quinoa and goats feta salad and bread from another local business Albert N Miso and drink wine while the sun sets. Everything is delicious and yet there's still plenty left over.
For dessert there are peaches, nectarines, blackberries, grapes, and a box of wonderful Berry Chocolatier chocolates. These boxes are especially handy because there aren't many farm shops or farmer's markets on in the area. They tend to be more regular supermarkets or small convenience stores.
The next morning it's beach time and nearest beach is just a few minutes' walk away. Coffees and teas are procured from Five Little Pigs and then everyone gets to work preparing breakfast. The breakfast selection from Vincentia Butchery is also comprehensive. It's meat heavy which is to be expected from a butcher's but there's great Albert N Miso sourdough bread as well as Vincentia Butchery's legendary house made bacon, sausages, mushrooms and vine tomatoes.
We add some yogurt, avocado and cheese to it and some butter from the store for the bread. Mr NQN gets to work on the sausages and bacon on the barbecue while I cook browned butter scrambled eggs, garlic mushrooms and tomatoes and top natural yogurt with fruit salad and local honey.
The breakfast provisions
Garth prepares the coffee, chia and coconut pudding I had made the day before. The recipe was more for Nina and is from the Merrymaker Sister's new cookbook "Get Merry" which is delicious (they were kind enough to send me a copy). Nina slices mushrooms, bread, cheese and avocado. Breakfast time merges into brunch which merges into lunch and it's not until noon that we shake off the crumbs.
Nina confided to me before this trip that a dream of hers was to pet a cow. She hadn't ever done it and asked if we would be passing any cows. Doubtful I asked the gorgeous Rayma if she knew of a place as the only one that Nina could find was $80 per person to do that. "I have cattle!" says Rayma, "Would you like to come to my farm? It isn't far," she offered.
Nina is practically dancing on her way to the farm. But not only does Rayma have cows, she has a bull, a very friendly bull called Jack. It's rare to be able to have the chance to pat a bull. Usually they're rather intimidating creatures. We walk through the paddocks along the river with Rayma's two beautiful horses trailing us along with her cheeky, spirited dog Chumlee.
Mochi frolics in the grass and before we know it, we spot Jack, resting by the river looking remarkably calm. He is a one tonne beast who made it onto Rayma's farm a few years ago as he was pushed off his land by another bull who bullied (no pun intended) him away. We all take turns petting him and just listening to him breathe is incredible as it sounds like a large wind tunnel.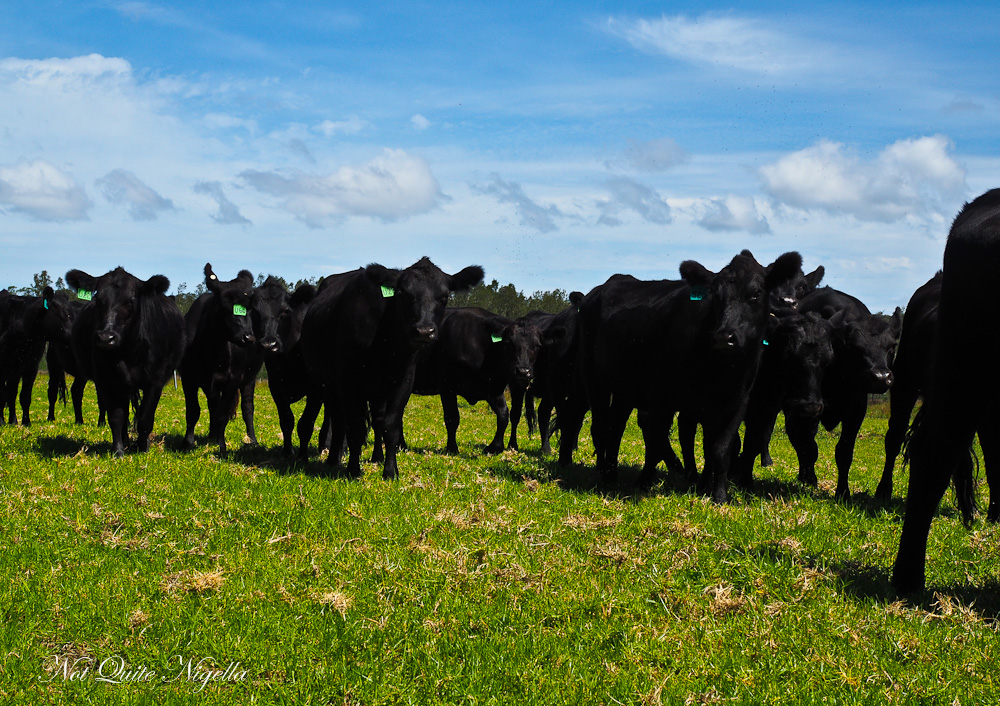 A few minutes later around fifty cows come running towards us stopping a few metres away. They're shy but curious creatures and follow us back to the homestead for some gratefully received cold drinks. "Did I mention that today has been the best day ever?" says Nina and we chat with Rayma about her move from Sydney to Jervis Bay and her life as a muse of Australian artist Charles Billich.
That afternoon we go to buy some more bacon-it's too wonderful to only have the once (the way it crisps up is fantastic!) and we take a drive to the town of Vincentia, a few minutes away from Huskisson. We stop in at Vincentia butcher and meet the family and there in the display is all the wonderful meats that we sampled. The bacon is pride of place and they slice it to order any thickness that you want. I ask for it to be very thinly sliced.
Then we cross the road for some bread from Albert N Miso's and pick up a wonderful fruit bread and a sourdough to take back to Sydney with us. Divine! I have grand plans for these breads.
It's late afternoon by the time we arrive back and we tuck into Albert & Miso's fabulous mini banana breads (and I have to stop myself from having another one they're so good). There's just enough time to get one swim in the beach done before the evening festivities.
After a shower we convene to the upstairs balcony to have a glass of sparkling that I've brought from Sydney. It's a great Vinicola Salton Brazil Intenso Brut that was sent to me on the day that we were departing for the trip so I stashed it in the boot ready for an afternoon drink.
Nina makes Mochi out of playdo
We combined this with a game of playdo. Each person has a pile of playdo and works in a team of two. The other team gives one member an item to shape into playdo and they have a minute to shape it with the other team member guessing what it is. With playdo and wine involved well things degenerated into laughter and accusations.
Actually it's a pretty accurate representation!
Dinner that evening is at Wild Ginger, a pan Asian restaurant on the main street of Huskisson's Owen Street. The atmosphere outside is a bit bar/pub than restaurant. We are sitting outside as we have Mochi and this is where they serve pub drinks and it gets a bit rowdy. Still staff are attentive and very eager to take drink orders. The menu does push you towards a range of degustations but don't miss the bar snacks on the very back page.
There's a complimentary round of betel leaves-apparently every guest of Hawkes Nest that dines here gets these. They're smoked trout with Thai basil mayonnaise and trout roe in betel leaves-the filling is creamy and divine and I want another.
Pork Belly Betel Leaves $6 each
Our betel leaf choice is the pork belly, a juicy and delicious rectangle of luscious pork belly with almonds and chilli jam. It's a different proposition to the creamy trout but no less worthy.
Veal and Chicken Shallot Mousse Di Sum $16.50
Unable to resist the dim sum I didn't realise that the veal and chicken mousse ones were deep fried. I think in my mind I expected something lighter and steamed. They're nice enough and I do like the sauce and the salad.
Whole 600g blackfish $32.50
The mains arrive and we dig into the fish. It's a crispy skinned shallow fried blackfish with a simple shallot and ginger dressing with a side salad. It's sizeable and good and just made for plain steamed rice.
Japanese Katsu Crumbed Pork Loin $32.50
We also ordered a pork loin katsu that is juicy with a crunchy crumbed coating on the outside. This comes with soft rice noodles, black vinegar caramel, mint and bamboo shoots with the sauce appealingly sweet.
3 Hour Braised Beef Cheeks with Southern Style Green Curry $32.50
But my favourite main is the soft three hour beef that absolutely melts into the mouth. It comes with a Southern style green curry sauce, plenty of holy basil and snake beans and I dare you to stop at one spoonful. The creamy coconut, sweet aspect and meltingly soft beef cheeks make for a wonderful dish.
Dal Tadka $32.50
Nina's main is a dahl with yellow lentils, cumin and coriander and small rounds of baked beetroot. It is pricey for what it is and we didn't know the price as there isn't a vegetarian section on the menu, only a vegetarian degustation and people are asked just to choose from that without any prices. In fact a whole 5 course vegetarian banquet is $38.50 so a $32.50 main seems excessive.
By now it's getting very chilly and the crowd around us a bit loud so we leave without dessert and retreat to the warm villa where we lounge around until our eyelids droop.
The next morning Nina, Garth and Mr NQN go for a run and then a swim while I sleep in and have cups of tea with Mochi in my lap. She seems very happy here and happy just to be included in a family holiday that we make it our mission to find more pet friendly accommodation. Check out is usually at 10am but Rayma kindly extended it for us to noon and we start to pack with the intention of going out to breakfast and then doing the final pack before noon. But it seems that the place that we've picked is also the most popular place in town for breakfast.
The queue for 5 Little Pigs is long and we join the queue to wait but it isn't long. The drinks come first and there's a bit of wait for the food to arrive. My chai latte is good-very sweet but good but the conversation, ocean breeze and sunshine makes the time go fast.
Breakfast Salad $17
I try some of Nina's breakfast salad with local tomatoes, avocado, charred broccollini, haloumi, leaves, poached egg, green tahini and hazelnut dukkah. It's pretty good although it could use a slice of toast to go with it. Nina orders one but it doesn't end up arriving before she finishes her breakfast.
Croque Monsieur $12
I adore a good Croque Monsieur and this one is a beauty. It has pan-fried pork belly, gruyere, béchamel and mustard. It's buttery, crispy and gooey all in the same mouthful. Plus what's not to love about the pork scratchings on top?
Zucchini Fritters $17.50
We also tried the zucchini fritters. There are three fritters topped with grilled haloumi, house smoked ocean trout, herb & soybean salad, sorrel yoghurt and chilli jam. This is also good although I found the fritters a bit thick whereas I prefer lighter fritters.
Cinnamon Donut with Rhubarb
Nina usually orders her own thing and I order for Mr NQN, Garth and me. I think Garth may revoke my ordering privilges because I tend to order things like donuts for breakfast. It was a special and I had an inkling it might be good and it's not just that, it's kind of brilliant. It's a cinnamon rolled donut that is filled with a wonderful rhubarb jam with a scoop of ice cream and rhubarb spears on top. Everything sits in a layer of vanilla pastry cream and it's fabulous. And if you're going to eat a donut for breakfast it may as well be this beauty.
It's time to head back to Sydney because Nina and I want to have one last stop on our way home to a town we both adore: Berry. It's such a pretty town that looks like a movie set come to life. This weekend's perfect and unexpectedly warm weather has brought many out. We pop in and out of boutiques and I buy some trinkets for food styling. We stop by Il Locale for a gelato and then the heat gets the better of us so we decide to stop for a caffeine refuel, rest and some sweets.
Our port of call is The Burrows, right next to the Berry Donut Van with its huge queue. There are two tables outside which makes it Mochi friendly. They are super friendly here when Nina and I go in order and ogle at the cakes. We end up with some cold drinks and a couple of slices to share.
We take advantage of the gentle breeze outside and sip our drinks and eat our apricot slice and passionfruit cheesecake slice (both gorgeous in different ways) before we reluctantly force ourselves to leave just before 4pm for the drive back to Sydney that ends a pretty much perfect weekend away!
So tell me Dear Reader, what do you think of the idea of having provisions there for you when you arrive? Would you do this? And if you have a pet what do you do when you go away? Do you find pet friendly accommodation and take them with you or do you board them?
We were guests of Hawkes Nest and Vincentia Butchery but all other food was independently paid for.
Hawkes Nest Villas
44 Hawke Street, Huskisson NSW 2540
Phone 0478 008 814
https://www.hawkesnest.com.au/
Vincentia Butchery
2 Burton St, Vincentia NSW 2540
Phone: (02) 4441 5522
https://www.vincentiabutchery.com/
Albert N Miso
12/5 Burton St, Vincentia NSW 2540
(02) 4441 5876
https://www.facebook.com/albertnmiso/
Wild Ginger
42 Owen St, Huskisson NSW 2540
Open 7 days 9am-9pm
Phone: (02) 4441 5577
www.wild-ginger.com.au/
5 Little Pigs
Shop 4,64-66 Owen Street, Huskisson NSW 2540
Phone: (02) 4441 7056
www.5littlepigs.com.au