The recent long weekend seemed like the perfect time to take a little road trip down to Wollongong with friends. Pizza was the lure we set off just before noon and arrived at Kneading Ruby for an Sunday afternoon lunch of cocktails, pizza and salads.
A message from Ivy came through the night before our little trip to Wollongong. She was happy to drive her convertible if the weather was good and I went to sleep hoping that it would be a sunny day. The next day it was not just sunny, there wasn't a cloud in the sky and the sky rained blue all day.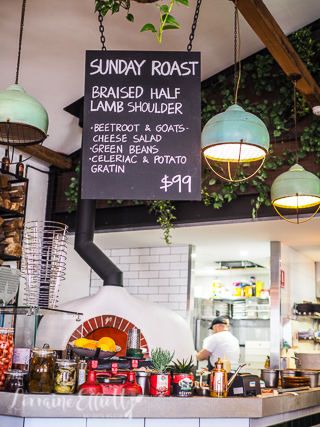 It's an easy drive to Wollongong, scenic if you want it to be or you can also go the faster route down the highway. Louise and Viggo and baby Henry were there waiting for us as they'd left much earlier in the day as they wanted to make a day out of it.
Kneading Ruby is on Crown Lane, just a little bit behind the main CBD area of Wollongong. They have their own car park and we park there and open the enormous wooden doors. The restaurant is large and airy with big windows, a raised booth underneath a drawing of a woman (Ruby we learn is not the proprietor but the name of the builder's daughter). Pizzas are being tossed and the vibe is friendly.
Clockwise from left: Hendrick's Lamar $18, Pineapple Express $17, Mary J's Smoked Sour $17 and Red Apple $8
It's a round of drinks for everyone. Louise orders a Mary J's Smoked Sour with gin mare, lemon, grapefruit and smoked rosemary syrup while Ivy goes for a Hendricks Lamar with Hendricks gin, lime, sugar, cucumber, coriander and pepper. I order the Pineapple Express with vodka, yellow chartreuse, pineapple, lemon and peanut butter (the last ingredient is quite mild). Mr NQN goes for a mocktail called the Fresh Red with fresh apple juice, pineapple, mint and grenadine which we all covet and Viggo has a beer (he also notes all the weed references in the menu).
Gnocco Fritto, Nduja chilli philly $8.50
We start with something that I remember having in the north of Italy a lot - gnocco fritto or fried dough. Usually it was draped or served with prosciutto but here you get it with some nduja topped cream cheese and finely chopped preserved lemon. It's tasty and best eaten while hot although we could have used a couple more pieces of the fried bread.
Mushroom, stracciatella, black garlic, crostini $18
My favourite dish probably of the whole day are the mushrooms with stracciatella cheese and black garlic with a chunk of house made bread. I could have eaten the whole thing and then dipped in more bread to soak up the juices afterwards.
Polenta Chips with gorgonzola and cauliflower sauce $16
There are literally four polenta chips in this serve (and five of us) and they're quite soft, thick numbers. I prefer them to be crispier, more like chips but Ivy likes them this way. They're served on a cauliflower puree with gorgonzola.
Pearl Barley, Cashew nut, celeriac and laver salad $16
There's quite a bit of a gap between receiving our pizzas and all the courses so you definitely want to share when you eat here. This is a delicious pearl barley salad with cashews, roasted celeriac and laver chips on top. It has a lovely texture and the sweet roasted celeriac gives it a nice sweetness.
Prosciutto e rucola pizza $23
We accidentally get this extra pizza due to a miscommunication. I really prefer the oozy, gooeyness of melted cheese on pizza but if you like prosciutto de Parma, torn buffalo mozzarella and fresh cherry tomatoes then this might be for you. I ask for some chilli oil to spice it up but it tastes more like EVOO with a touch of capsicum and not that addictive fiery chilli oil you can get.
Nduja pizza $23
We all love nduja and this pizza is topped with San Marzano, hot salami, leek and capers. The pizza is fine although the slice I get is mostly leek whereas I was hoping for more nduja.
Truffle Salami pizza $23
The truffle salami pizza has San Marzano, gsorgonzola, truffle salami and fresh uncooked onion on top. It's probably my favourite pizza of the three although the truffle aroma competes with the gorgonzola and the fresh onion and the rich cheese dominates so that I forget that there is truffle in the salami.
Pear and mulberry cake $16
There are two desserts on offer and we decide to share one of each. The pear and mulberry cake is a square of cake served warm with vanilla custard. It's a mild tasting cake, perhaps more about texture and warmth with an eggy rich custard sauce.
Tiramisu $16
We all prefer the tiramisu with a good balance of coffee, mascarpone and soft biscuit. It's wonderfully light and topped with dark chocolate and nuts for a bit of change. Before we know it, it's almost 4pm and we aren't even the last table to leave. Don't you just love a long weekend?
So tell me Dear Reader, what do you like to do on long weekends? Do you go for road trips or do you prefer to stay at home? And do you like polenta chips thinner and crispy or thicker and softer?
This meal was independently paid for.
Kneading Ruby
5 Crown Lane, Wollongong NSW 2500
Phone: (02) 4229 7829
Tuesday & Wednesday 5–10pm
Thursday 5–11pm
Friday-Sunday 12–3pm, 5pm–12am
Monday Closed
kneadingruby.com.au