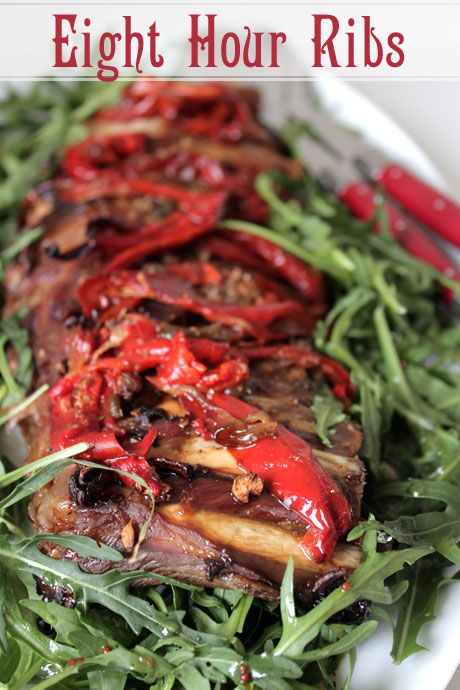 There are a couple of things that I've learnt in life:
Step 1 - Never look in a magnifying mirror unless you want to make a good day turn bad.
Step 2 - Meat tastes better on the bone.
I'm sure I know more but the sight of my reflection in a magnifying mirror has scared the bejeezus out of me ;)
There are certain times when eating with your hands is de rigeur and this is one of them. I recall the first time I ate crab with my hands. I was horrified at the idea of getting sauce all over my fingers. I looked around the table and saw everyone else munching away with their hands coated in this glorious chilli sauce and here I was looking aghast at the concept. I soon realised that eating with your hands meant that you got more of the good stuff. My father however is still persistent and refused to eat it with his hands. Everyone else in the family simply rolls their eyes at him.
This recipe would have to hold the record for the recipe I've wanted to cook for the longest time. I saw it years and years ago on Oprah and usually when I really want to cook something, I just cook it straight away or at least within a few weeks. This baby has been sitting here in my folder for several years. Not for any fear of cooking ribs mind you but just because I completely forgot about it. Then I purchased myself some gorgeous baby back ribs and I thought back to that rib recipe that Oprah had raved about. She said that the meat was slow cooked for so long that the meat just fell off the bone and it's supposed to be her favourite rib recipe of all time.
I prepped the ribs which required two days refrigeration with the spice rub. I wasn't  able to get the Spike seasoning here and I didn't want to use MSG which the original recipe suggested so I used a Le Spice BBQ Dry Rub mixture instead and added a teaspoon of salt. I then sat the ribs on a bed of sliced capsicum and onions. I asked Mr NQN to help out by putting them in the oven before he left for work at 8am so that they would finish a 4pm just when the last waves of sunlight were hitting my kitchen. It doesn't take a genius to realise that having the oven for eight hours on during a chilly day is a pretty fabulous move and keeps you toasty as well as wafting delicious aromas for the entire time. They were soft and just as she describe d they fell off the bone. I prefer my ribs a bit saucier so I served them with a BBQ sauce. And I don't know where they got the suggestion of five racks of ribs feeding eight people. I prefer to do my own Maths and I think one rack per person would do quite nicely ;)
So tell me Dear Reader, what have you learnt in life? ;)
Quincy Jones 8 Hour Thriller Ribs
Adapted from his recipe on Oprah.com
2 teaspoons Spike seasoning (I didn't have access to this so I used 3 teaspoons of Le Spice BBQ Dry Rub mixture)
1/2 teaspoon freshly ground black pepper
5 racks baby back ribs (about 5 pounds/2.5 kgs)
2 large jalapeno peppers , minced
2 large onions , halved and thinly sliced
2 green bell peppers , thinly sliced
2 red bell peppers , thinly sliced
2 yellow bell peppers , thinly sliced (I used all red capsicums for this)
BBQ sauce to serve (I used the Beerenberg Cooper's Ale sauce)
Wild rocket or salad to serve
Directions:
Step 1 - In a cup, combine the seasoning mix, salt and black pepper. Sprinkle 1/4 tsp. seasoning mixture on each side of the rib racks. In a small bowl, combine the minced garlic, jalapeño peppers and remaining seasoning mixture. Rub the garlic mixture on the top and bottom of the ribs. Line a large roasting pan (17 x 11 1/2 inches) with enough foil to wrap all the ribs. Spread a layer of onions and bell peppers on top of the foil. Place 2 rib racks, side by side, on the vegetables. Continue to layer the onions and peppers and the ribs. Tightly wrap the marinated ribs in the foil and refrigerate for 2 days.
Step 2 - Remove the pan from the refrigerator and let it sit at room temperature for 30 minutes. Add the white wine and rewrap tightly. Preheat the oven to 400F/200C.
Step 3 - Before placing the ribs in the oven, reduce the temperature to 300F/150C. Bake the foil-wrapped ribs for 6 to 8 hours. Remove the ribs. Spoon off the fat from the liquid in the pan and discard, reserving the pan juices. Cut each rack into three sections and serve with the vegetables and pan juices, plus sides of rice and chopped tomato-and-cucumber salad.
Recommended ingredients: Spike seasoning is a special blend of 38 herbs, vegetables and exotic spices, combined with a bit of salt. It can be found in most major grocery stores with spices or salt. Ac'cent seasoning is also called M.S.G. (Monosodium Glutamate). It is not a favored seasoning or enhancer in the United States as many people are allergic to it. It is an optional seasoning and can very easily be left out of recipes.