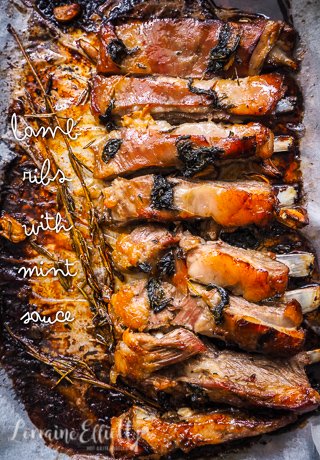 Love lamb and want to make something delicious this Australia Day? While lamb cutlets are delicious, they can be expensive. But not lamb ribs, one of the most delicious and succulent cuts that is also cheap as chips. And what better way to prepare delectable sticky lamb ribs than with a rosemary, garlic and lemon marinade and a mint sauce!
Dear Reader, if you love eating lamb then these are truly mouth watering and lip smackingly good. I made one lot and then quickly regretted it wishing I had made two because they were so good so my recipe is for the double quantity. The rosemary, garlic and lemon is the predominant aroma (for those of you that don't like the aroma of lamb) and they are so deliciously juicy that you may find yourself making these whenever you see lamb ribs.
Having travelled a bit and experienced different cultures, it really shows to me how unique Australians are, particularly with their senses of humour. Aussies don't tend to take a lot of things seriously (that can be a good and bad thing) and are always up for a laugh perhaps because we are relatively carefree, generally speaking of course. For Mr NQN and I, the people we tend to be friends with tend to share a similar sense of humour. Take South African Nina and English Australian Garth who we see quite a bit.
We have a little tradition (warning: off colour language coming up!) whenever we have to transfer each other money from dinner or going out. Nina and I send the funds using dodgy descriptions. She has sent me funds under "butt plug" and I've sent her some under "escort services" and we volley back and forth like that.
This week we needed to send them some money so I asked Mr NQN to do it as he was on his computer at the time. I told him "Put it under 'genital wart removal'".
However he refused to do it. "They're going to think I'm paying her to get them removed from me," he explained.
"Who is they? So what?" I responded. But because he does love a prank or two, a little bit later he started laughing.
"I've got one. It's called a rusty trombone," he said. I have to admit that I didn't know that one specifically (and Dear Reader don't look it up if you're not up for something X rated!). But it was perfect and subtle enough to quell Mr NQN's embarrassment.
I messaged Nina, "He is laughing his head off. I think that means he paid you." "Hahaha I look forward to it," she replied with a laugh.
So tell me Dear Reader, where are most of your friends from? What do you mostly have in common? Do you have a similar sense of humour?
Sticky Lamb Ribs With Mint Sauce