When I was young, cakes and biscuits were a scarcity. So much so that I thought that when we were given them it seemed only on birthdays and special occasions that I would receive them. I would grab a small bag and place some sweeties in it and keep my stash for later. Strange hoarding behaviour I do admit. Monte Carlos were the bees knees. Not only were they from __Monte Carlo and that is where they have princes and princesses (no they weren't of course, but to a hungry child's mind they were) but they had pink and white icing sandwiching them together and ripples on the cookie bit which seemed so...so...ritzy (don't you just love that word?).
When I was  little older but not much, I came across a recipe for the Monte Carlo cookies and proceeded to make them. They weren't too bad actually probably owing to the fact that I used butter in them and not shortening or whatever they tend to use nowadays. The smooshing together of both halves was less successful though and I have visions of a particularly messy looking jumble of cookies. Putting six aside for us we thought that we'd give the remainder to someone else. No-one else was home but my sister and I and so we knocked on our favourite neighbour's door. She wasn't home.
So we knocked on our other neighbour's door, the one we didn't like very much, and handed her a plate of the cookies. She looked at me, a flour smeared child with sticky jam coated fingers and quite frankly some atrocious looking cookies and took the plate hesitatingly and closed the door. I'd like to say that we became friends after that but we didn't. She was just one of those neighbours that wasn't very friendly and being given some strange looking home baked cookies clearly wasn't going to melt her heart. Nor was it meant to. Perhaps she heard that she was a second choice recipient ;)
In any case, I needed to bring a cake to a friend's house and I immediately thought of the recipe that I saw on Adrasteia's blog for the Italian Ricotta Cheesecake. The recipe and video is originally from Maeve O'Meara's fantastic Italian Food Safari show. The cake was said to be very close to the famous Pasticceria Papa ricotta cheesecake. While I was baking it I was tasting it and it seemed quite accurate. And if you do attempt it do watch the video as I misunderstood the pastry directions at first. You are to cut out the base (which is really a shortbread given the ingredients) and you bake that first. Then you re-roll the sweet buttery pastry and cut out sides and then smoosh the raw pastry together joining it with the cooked pastry base and then fill it with a smooth ricotta filling.
I omitted the orange peel as I don't particularly like that but kept the sultanas. I also used my favourite ricotta, the gloriously smooth Paesanella ricotta. I then sat back and prayed that it would work. Would it be like the famous Pasticceria Papa cheesecake? Only time would tell and I dutifully placed it in the fridge to firm up overnight. I sliced it the next day and was impressed. The biscuit base was slightly more golden cooked that the Pasticceria Papa one but that could be easily fixed by baking it for less time. The filling was beautifully smooth and I think the key was the excellent ricotta and the fact that it was beaten until very smooth. It wasn't too sweet just like the Pasticceria Papa one too and tasted like a pretty good imitation of it.
I'm pleased to say that it got a better reception than my Monte Carlo cookies.
So tell me Dear Reader, what can you remember cooking when you were little?
And rather excitingly, I was named one of the Top 50 Bloggers by Kidspot! I know I don't have any kids but I'm guessing that being a child at heart helped! :)
![Italian Ricotta Cheesecake (https://images.notquitenigella.com/images/italian-ricotta-cheesecake-a-version-of-pasticceria-papas-famous-cheesecake/top-50-bloggers-kidspot.jpg)
Italian Ricotta Cheesecake
Recipe from Italian Food Safari
Ingredients
1 x 26 cm disc of shortcrust pastry-baked (see below)
Extra shortcrust pastry to line the pastry ring (see below)
350 g cream cheese, at room temperature
80 g blanched almond meal
80 g diced orange peel- candied or citron
100 g sultanas, soaked in rum or brandy
Icing sugar and cinnamon to dust
*Sweet Shortcrust Dough *
Makes 650 g pastry
1 egg (55g) (The pastry can be made without egg)
Preparation for pastry
Step 1 -  To make the pastry, cream the butter and sugar until light and pale. Add the egg, and continue creaming until absorbed._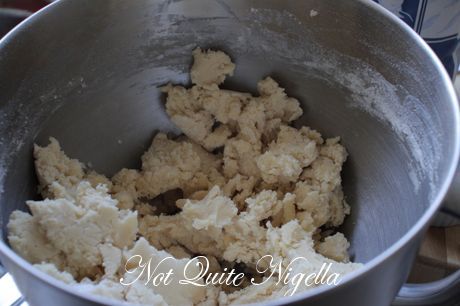 Mixing dough until just combined
Step 2 - Stop mixer and add the flour, mix only until combined. The dough will be very sticky, wrap in plastic and chill prior to use. Knead the chilled dough lightly first to soften (between two sheets of cling wrap makes it a bit easier), roll out with a small amount of dusting flour.
Rolling out the dough between cling wrap
The baked base
Step 3 - Take a round 26cm springform tin (you don't need to butter the tin). Place the round base over the rolled out pastry and trace a circle of pastry and place it on the base and bake at 200C/400F for 15-20 minutes until golden (I'd even suggest baking it for less time to make it more like the Pasticceria Papa one. Roll out the extra pastry and press the dough onto the wall of the ring forming the sides for the cheesecake . Smear the pastry onto the edge of the base to seal the join. Trim off any excess dough with a paring knife. Put aside for filling.
Smooshing and smearing the uncooked dough on the sides to meet the join with the cooked pastry base
Preparation for filling
Paesanella's ricotta
Step 4 - Whisk the eggs and sugar, (60 g) until thick. Set aside. In another bowl, beat the cream cheese and sugar until smooth, then add the ricotta and beat until smooth. Add the cream, then gradually add the whisked eggs. Mix until all ingredients are well combined.
Step 5 - Fold in the almond meal, glacé fruit and sultanas. Transfer into the prepared base.
Step 6 - Bake at 180 ° C for one hour. Cool with the oven door ajar. When cool, dust with icing sugar and cinnamon
Serve at room temperature and store uneaten cheese cake in the refrigerator.