Dear Reader, you simply must make this cheesecake. Rhubarb is a perennial and there's plenty of it right now. This rhubarb unbaked cheesecake is light yet beautifully creamy in texture from cream cheese, ricotta and white chocolate with a full cookie crumb crust and a layer of vanilla poached rhubarb on top. I also share one of my favourite tips for making cheesecake. I called her Millie. This is a pushy recipe Dear Reader!
This is one of my favourite cheesecakes ever my lovelies. It's as much as celebration of the filling as it is the crust. I also love the textures; the cream cheese and ricotta filling is so light and I love the texture of the moreish browned butter cookie crust. This cheesecake is for you fellow cookie crumb lover.
My secrets to making a delicious cheesecake crust:
1 - Add a few tablespoons of raw sugar to the crust to give it a really nice crunch especially when compared to the creamy filling. I am a texture freak so I always appreciate a range of textures.
2 - Use browned butter instead of regular melted butter. The browned butter makes the crust smell wonderfully aromatic.
What are the best cookies for a cheesecake crust?: I know American recipes specify Graham Crackers but these can be hard to find in Australia (try Filipino stores if you really want to use Grahams). I prefer Lotus biscoff cookies because they're so crisp and moreish or Tennis Biscuits (in the South African section of some supermarkets).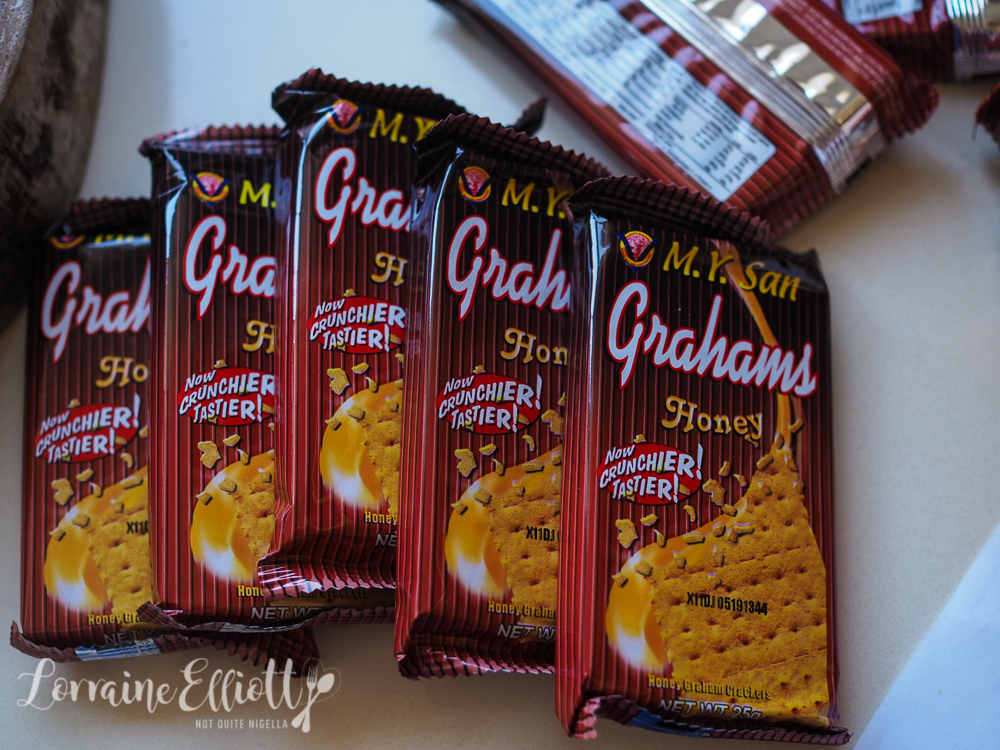 Graham crackers from a Filipino store in Rooty Hill
How to easily make the cheesecake crust: use a flat bottomed glass that doesn't taper up the sides (straight up and down). Use it to press against the base and sides instead of your fingers.
Using a glass to create a smooth base and sides
What can I use instead of rhubarb? Rhubarb not in season? Use raspberries-frozen ones would work well too.
I used Ruby chocolate for the filling which is a type of chocolate introduced in 2017 by Barry Callebaut. Ruby chocolate tastes like fruity white chocolate. But don't worry if you can't get Ruby chocolate. You can also use white chocolate and then add a bit of pink colouring to the cream (don't add to the chocolate). Liquids make chocolate seize but if you do need to incorporate small amounts mix it with the cream and then incorporate with the melted chocolate.
Other rhubarb recipes: Rhubarb Chevron Tart, Rhubarb Fool, Rhubarb, Raspberry & Ginger Custard Tart, Chai Porridge Oats with Rhubarb & Pear Compote, Rhubarb Meringue Cake, Little My's Rhubarb Pie Cake (Gluten Free), Pandan Rhubarb Tarts, Rhubarb Meringue Tart, Upside Down Rhubarb Ginger Cake, Cherry & Rhubarb Oven Pancake, Rhubarb and Strawberry Pie and Rhubarb and Strawberry Pop Tarts!
I brought this cheesecake to dinner at a friend's house. He's a chef that cooks AMAZING food and we ate the fluffiest, fattest focaccia, delicious artichoke pizza, burrata salad and the most incredible gnocchi. Dessert was this cheesecake and I know what you're thinking. What kind of sucker for punishment brings a home made cheesecake to a chef's house? Me, but I already had two cakes at home Your Honour. I was very relieved that they liked it.
He and his girlfriend have a dog called Lola who is a cross between a German Shepherd and a Golden Retriever but looks like a Black Labrador. She was the sweetest girl and very calm for a 7 month old puppy. I took a liking to her straight away and I think she sensed that I was the cheesecake lady because she gave me kisses and would sit at my feet occasionally licking my leg or toes for much of the time.
During the night I accidentally lightly kicked her when I was repositioning my feet. "Oh I'm so sorry sweet girl!!" I said cooing at Lola at my feet. "Are you ok sweet baby? I didn't see you there," I said bending down to pat her. I reached down and pet her. Instead of feeling warm, soft fur, I felt something else.
It wasn't Lola at all, I was busy cooing at and petting my black handbag that was sitting on the floor! I got new contact lenses and they aren't quite right for me (clearly right! LOL)! Nobody else noticed as Lola was somewhere else under the table but Mr NQN who was sitting next to me did and he just rolled his eyes and laughed. Yep, classic me!
So tell me Dear Reader, are you a fan of the cheesecake crust or filling more? Are you a textural person? Do you have a favourite texture?
DID YOU MAKE THIS RECIPE? Share your creations by tagging @notquitenigella on Instagram with the hashtag #notquitenigella
Rhubarb & Ricotta Cheesecake
Rated 5.0 out of 5 by 2 readers
An Original Recipe by Lorraine Elliott
Preparation time: 60 minutes plus overnight setting
Cooking time: 15 minutes
This cake is best started 1 day ahead
For Crust
300g/10.6ozs. graham crackers or Lotus biscoff cookies
150g/5ozs. melted browned butter
4 tablespoons/50g/1.7ozs raw sugar
For filling
200g/7ozs. rhubarb
100g/3.5ozs. white sugar
1/2 cup/125ml/4flozs water
100ml/3.5ozs double cream
200g/7ozs. ruby or white chocolate, chopped
4 teaspoons gelatine powder
60ml/2flozs. water
300ml/10.6ozs double cream, chilled well
375g/13.2ozs. ricotta cheese
375g/13.2ozs. cream cheese, softened at room temperature
1 teaspoon vanilla
For rhubarb decoration
4-5 sticks rhubarb (300g/10.6ozs. or so)
2 cups/500ml/17.6flozs. water
1 cup/211g/7.4ozs. sugar
Step 1 - First line a 20cm/8inch springform tin on the base and sides. Place the cookies in a food processor or Thermomix (10 seconds, speed 7) until very fine (this is very important) and then mix with the melted butter and sugar until the crumbs start to cling together when pressed together (if not, add more butter). Press some of the crumbs into the base of your prepared tin and then press some into the sides using a straight sided glass to press into the sides. Place in the freezer until needed.
Step 2 - Cook the rhubarb with the sugar and water until very soft (it will take less than 10 minutes). Cool completely.
Step 3 - Heat the 100ml/3.5flozs cream until almost boiling and then pour on top of chocolate and allow to melt and stir to create a ganache. Set aside.
Step 4 - Sprinkle the gelatine over the water in a wide bowl and microwave for 20 seconds until liquid.
Step 5 - Whip the remaining cream until soft peaks and set aside. Beat the ricotta, cream cheese and vanilla until smooth and then add the ganache and gelatine mixture and beat to incorporate. Fold in the whipped cream.
Step 6 - Add the rhubarb and swirl through the mixture (do not over-stir or the rhubarb will disappear into the cream). Scoop into the prepared tin and refrigerate overnight.
Step 7 - Line a tray with paper towels. Using a mandolin on setting 2 (the middle setting) carefully slice each stick of rhubarb-I got three slices from each stick of rhubarb.
Step 8 - Heat a frying pan on medium heat and add the water and sugar and melt the sugar. Reduce heat to low and gently poach the rhubarb sticks. Watch them carefully as they will turn to mush if they are overcooked and it should only take 1-2 minutes. Lay out on paper towels to cool. Then overlap the rhubarb slices on top of the cake trimming to fit the cake with a pair of scissors. Tip: this is best cut with a very sharp knife.