I was taking a nap in the hotel room and I was moaning a bit. My flu had morphed into bronchitis while I was in Melbourne and I had only intended to lie down only to find myself minutes later dreaming. I awoke with a start. I was dreaming about food (as you do) and my internal clock reminded me that I had a meal waiting for me. "You were moaning a bit" Mr NQN told me as I roused from my two hour nap. I didn't have the guts to tell him that I was moaning about dreamt food.
We go upstairs to the 28th floor of the Crown Metropol where there are complimentary drinks for guests between 5:30pm-7pm. I have a sparkling wine and Mr NQN has a red wine. There are also spirits and soft drinks available.
Soon after we arrive at Cutler & Co in Fitzroy where we meet Kirsten. With two hats in the 2010 Good Food Guide, recently voted as the restaurant of the year by Gourmet Traveller magazine and a Chef of the Year crown to its name, it's packed on this cold Sunday evening. The space, particularly towards the back, reminds me of a cross between an art gallery, stables and a warehouse. All done up very nicely with lighting fixtures that remind me of stormy dark clouds and luxurious booths. Service is serious but pleasant.
Angassi Oysters $4 each
I recall hearing about the rare flat Angassi oyster at the Narooma Oyster festival where oyster grower David Maidment tells me that the Angassi is a close breed to the New Zealand Bluff oyster. They come out natural with lemon and I enjoy the enormously flat slightly smokey flavour of them.
Mandarin Duck $26
The Mandarin duck was a crispy leg portion with a smoked fillet and they had kindly given us an extra foie gras cigar so that we could each have some. The texture of this is crunchy and crispy but still moist and the foie gras cigar burst like creamy liquid on the tongue when you bite into the thin outer. I particularly enjoy the textures to this dish.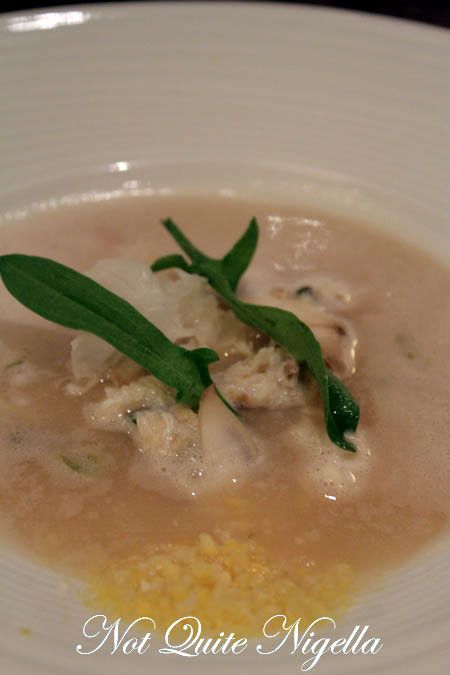 Abalone Soup $22
The spanner crab, abalone and sweet corn soup comes with  a frozen corn powder which we are to scoop up with each spoonful. The cloud ear mushrooms lend a nice subtle crunch to it and the soup is flavoured with ginger and chives and is light but still filling with a generous amount of crab and abalone.
Snapper $40
We chose the snapper as it was a line caught local snapper which comes out with a romesco sauce with a lovely crispy skin and a small sprinkling of strong and slightly bitter orange dust to the side. It's accompanied by a small copper saucepan of braised surf clam, chorizo and fregola which is similar to an Israeli couscous and has some lovely flavours of the sea from the clams and bold flavour from the small chorizo pieces.
Pheasant $48
Now this is my kind of dish. I think in fact that this was the dish I was dreaming about when I was moaning in my sleep (and actually I have had dreams about the future that have come true!). This dish is slow roasted pheasant, brussel sprouts, chestnuts and quince. The pheasant has three different cuts with three different treatments. A mustard breadcrumbed leg, a a sous vide breast and a pancetta wrapped pheasant scattered with chopped chestnuts. The crumbed dark leg meat is gorgeously soft and crunchy whilst the sous vide breast and pancetta wrapped portion are  tender and pink. There is  super crispy layered potato stack, quince puree and crispy brussel sprouts.
Suckling Pig $43
Said to be as close to their signature dish as could be, the roast suckling pig, mustard puree, a white balsamic reduction, braised greens and pearl barley is delectably good. There is a crunchier than thou crackling on top of the melt in the mouth pork. It is what everyone tries to do with their pork. the white balsamic reduction is aromatic and sweet and the pearl barley is a warming and suitable accompaniment and the mustard puree is mild.
Pre dessert
We cleanse our palate with a pre dessert of a shot glass with sour cream, finely diced rhubarb and a verjuice and black pepper granita which is cleansing yet intriguing.
Steamed Quince Pudding $18
Inhaling deeply I relieved to see that I still have my sense of smell for this dish. It is a steamed Quince and suet gingerbread, rosemary jelly, chestnut ice cream. The quince and suet gingerbread is warm and soft and sits in a pool of syrup, the rosemary jelly adds more aroma and texture. The gingerbread crumbs add crunch and the chestnut ice cream is sweet and delectably good (mental note: make chestnut ice cream while we still have chestnuts!) . I find myself questioning my sense of smell and taste due to my cold and I swear that I am tasting candied....fennel? We ask and it seems like we are. Phew I thought I was going mad for a moment.
Violet Ice Cream $18
Kirsten and I both loved the sound of the violet ice cream-I realise that we did order a lot of ice creams and that in itself is peculiar given the Antarctic winds that we were experiencing but when violet ice cream pops up on a menu one just has to order it as it rarely does. On this plate, in a meandering line there is violet ice cream, almond sponge, thin tiles of clove meringue, chocolate ganache and sour cherry puree with a fine powder that melted on the mouth.
Ice Cream Sandwich $18
The Chocolate ice cream sandwich filled with vanilla parfait in a molten liquid pool of salted caramel was delicious and the salting was just perfect. The only issue was cutting it up as the chocolate biscuit (which was more like a thin cake slash biscuit) which was a bit hard to cut with a fork or spoon.
Vanilla poached apple $17
Well you may know that I adore apple desserts and it was with regret that I passed up the vanilla poached apple, fromage frais and crumble. Thankfully someone in the dessert kitchen is looking out for me and sends us out the vanilla poached apple dessert. I had originally not ordered it as I had mistakenly thought that it was less unusual than the others but it ends up being my favourite for it's comfort factor. It's perfectly cooked apple pieces, a buttery crumble, and a dollop of creme fraiche.
Ahh ok Melbourne, you're definitely making me want to stay!
So tell me Dear Reader, do your dreams ever come true?
NQN and Mr NQN travelled to Melbourne and dined at Cutler & Co as guests of Tourism Victoria
Cutler & Co
55-57 Gertrude St, Fitzroy, Victoria
Tel: +61 (03) 9419 4888
www.cutlerandco.com.au