Reams of paper or bytes of data have been written about Melbourne's EARL Canteen and their pork belly sandwiches- musings and speak that were heard and lusted after all the way from Sydney. Since opening in April 2010, hordes of people have flocked to EARL Canteen, conveniently situated under Movida Aqui in Little Bourke Street for their sandwich fix. The idea for EARL was formed by two waiters who came up with the idea of opening EARL  after watching chefs prepare snacks out of ingredients that were being served to restaurant diners. It was the ultimate staff meal and fancy snack.
"For the first two weeks we wondered what we had done" owner Jackie says. They were surrounded by financial district people, some of whom love their white bread sandwiches. The issue? EARL Canteen don't do plain white bread sandwiches, they do sandwiches with fillings like organic asparagus with mushy peas, slow cooked egg, tallegio cream and hazelnuts on a baguette and 12 hour slow cooked lamb, honeyed carrots, gremolata on a baguette. A ham and cheese sandwich on plastic white bread barely belongs in the same category.
Originally a takeaway sandwich store there is limited seating because of this. At lunch, lines stretch out the door and owner Jackie takes orders in the queue. I'm visiting EARL on their first "EARL at night" Friday night where they're doing cocktails and wine along with their sandwiches as an experiment (although I hear that they no longer open at night).
Small pork belly roll $6
The famous pork belly roll features crunchy skinned Otway pork belly with apple, cabbage and fennel coleslaw with wilted silver beet on a baguette. The pork is soft cooked and done so in an oven which cooks it long and slow so that it falls apart. There are two batons of blistered crunchy pork crackling on top to give it texture. The prized pork even sits under a spotlight to keep it warm. There is a note that the baguette is made by Dench and if diners prefer a softer roll they can have one. I personally may have preferred a softer roll as the baguette's chewiness took away slightly from the soft gorgeousness of the pork (but given the raves everyone has for it I think I'm in the minority). The mayonnaise is made on the premises using "green eggs" which are said to be so sought after that there is a waiting list for these eggs. You put your name down for the eggs and wait for them to call you!
Duck confit with caramelized wild figs, walnuts, onion jam, radicchio, watercress and ciabatta $16
This is my favourite sandwich with the softer than soft duck confit paired with caramelised small wild figs, sweet onion jam and slightly bitter radicchio, watercress and the occasional walnut morsel on a toasted ciabatta bread. The ratio of bread to filling is ideal here and it is a softer bread that is toasted. Heaven.
They also do salads but I didn't try this. I was in sandwich mode...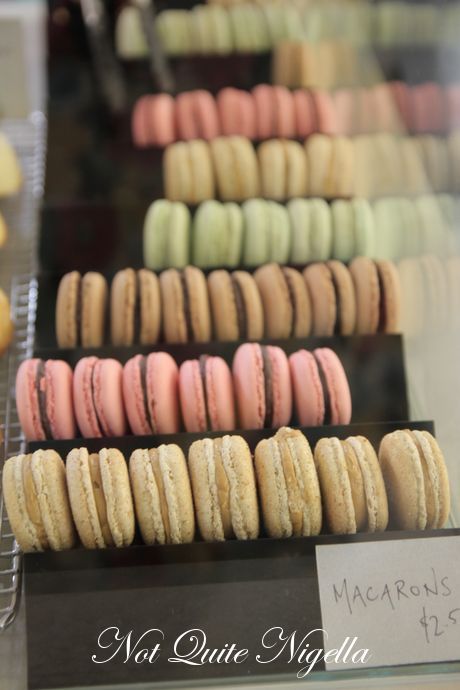 On the sweet side there is also macarons in salted caramel, raspberry, pistachio and Baileys (the last one made just for tonight). They're very well made and the salted caramel and raspberry are favorites. There are also home-made jams to buy, chocolate mousse tarts, brûlée topped tarts, lemon curd and blueberry tarts which I didn't get to try.
Although I am a total seafood freak I had to give the EARL Luxe ciabatta a miss so that I could try the pork belly. It wasn't easy though-get an eyeful of this: southern rock lobster, Yarra Valley salmon roe, watercress, beurre blanc on ciabatta. Hurt me...
So tell me Dear Reader, what is your favourite sandwich filling and bread combo?
EARL Canteen
Ground level, 500 Bourke Street, Lt Bourke St Courtyard, Melbourne
Tel: +61 (03) 9600 1995
Open: 7.30am – 5pm Monday to Friday