Dear Melbourne, I have one small complaint whenever I visit your shores. Please make things less tempting because I have the tendency to overeat. That's all, thank you for your time :)
With that in mind, I've been doing some serious eating in the Victorian capital and I have got 6 hot spots in Melbourne to eat with something for everyone here! From vegans to Instagram worthy breakfasts to celebrity chefs, Melbourne has got something for just about anyone.
For A Snack: Short Stop Donuts, Melbourne CBD
The driver points at a building on La Trobe street. "That's Sutherland Street," he says. "No, that's not a street it's a building," I reply confused. Nevertheless I get out of the cab and wander around finding myself in the company of two guys who also happen to be looking for Short Stop donuts feeling a little like Dorothy in the Wizard of Oz. My friend Erin is already there having polished off a caramel fennel and salted donut. "I was starving!" she exclaims.
It's a small place with a glass display of donuts that reminds me of a museum or an art gallery. When they were first open the donuts sold out by noon but it's been a year and things have settled. That doesn't mean that things are quiet. People come in waves and seats are hotly contested. Staff are very friendly and helpful and we order a mixture of donuts.
The pick is the sea salt and Australian honey cruller with a nutty flavour to it (it's said to come from their use of rice bran oil to fry their donuts). The combination is well balanced but the true magic lies with the light, airy texture. Another favourite is the maple walnut brown butter which is light and fluffy. There are four types of donut: risen, cake, filled and cruller.
The caramel fennel and salt is nice but the dough is thicker and denser than the maple walnut (which prompts a conversation about glazes and when they were cooked etc.) and the Earl Grey is pretty but drier and cakey. Erin adores the coconut and lemon meringue which is nice but light on coconut flavour.
For Breakfast or Brunch: The Kettle Black, South Melbourne
Don't they say that you should start the day with breakfast? Australians do breakfast or brunch like champions. South Melbourne's The Kettle Black is a mix of a modern building and an older one. Literally it is split down the middle. It's a very popular place and I'd guess that part of the reason is the Instagram crowd - the food here is picture perfect. Service is wonderful, details are styled and despite the fact that the signage is very subtle the whole space feels welcoming.
The chai lattes are excellent, even the soy milk version. A salami special doesn't quite have the finesse of the regular menu favourites like the pancakes (a mistake, we didn't order them as they sounded ordinary but got serious food envy when a neighbouring table got them).
The chilli scrambled eggs however are delicious. The dish is made up of creamy chilli flecked eggs with house cured kangaroo - even those that don't really love kangaroo may find themselves devouring the tender, flavoursome but not gamey kangaroo meat. There's a display of small cakes and sweets too if you're after a little something sweet after your main.
For The Vegans: Smith & Deli, Fitzroy
A vegan deli? One selling Reubens, Cuban sandwiches, chicken salad and egg salad? They weave some sort of magic here at Smith & Deli located in Fitzroy where there's no shortage of vegan and vegetarian offerings. The retro styled takeaway store does a fast business and dishes up fare with names like "Maury Ballstein" (meatball roll) and "The Eggs-orcist" (egg salad with shredded iceberg). The sweets counter also changes daily and includes brownies, buns, donuts, cakes and even vegan croissants (apparently the hardest thing to crack for the chef). The staff are lovely and the hardest thing will be deciding which puntastic item to eat from a very extensive list.
We take our spoils to the nearby park to eat. The "Home Alone" with turkey, stuffing roasted Brussels sprouts, cranberry sauce, mashed potato and gravy on a crunchy toasted roll tastes just like the real thing. And the Reubenstein with pastrami, sauerkraut, pickles and Russian dressing on rye is freakishly close to a Reuben.
Chef Shannon Martinez (check out an interview with her and Mo Wyse here on Veggie Mama) isn't a vegan and this may one of her advantages to making sure that the food tastes like the meaty counterpart. Some of it is made out of seitan (wheat gluten) so it's not gluten free but given how good it tastes, you need to pick your battles. And P.S. we need one in Sydney pretty please.
For a Pre-Dinner Drink Bar: Borsch, Vodka and Tears, Chapel Street, Windsor
Chapel street is a very long street and in the past several years the Windsor end, previously inhabited by junkies has spruced itself up with vintage stores and eateries. Hawker Street is there (the new eatery by the Chin Chin people) and there's also Sydney's Gelato Messina.
But if you're looking for an interesting bar, Borsch, Vodka and Tears serves up over a hundred types of vodka and Polish food. The first seven pages of their menu is made up of vodkas from reserve vodkas, infused vodkas, clear, rye and grain vodkas to something called a Sobieski Mandarin said to be "packed into every Polish kid's lunch box."
I try a fluffy sweet walnut cream (walnut vodka shaken with coffee and cream) that is deceptively dangerous. It's essentially a drinkable dessert with a alcoholic punch that comes from nowhere while Mr NQN goes for a reserve vodka called Piasecki Mazurska Okowita Miodowa 45% made from honey in the Masuria region that spends 3 years in oak barrels. To go with this is a plate of potato blintzes with horseradish pickles, dill and a pot of sour cream.
For the Celebrity Chef Fans: Gazi, Melbourne CBD
Gazi is MasterChef judge George Colombaris's casual eating place taking up residence where The Press Club used to (it is around the corner). The outfitting is street style with plenty of graffiti and thousands of terracotta pots upturned and hanging from the ceiling. Gazi is named after Colomabaris's favourite Greek neighbourhood.
Service is friendly and unflappable with a tempting food and drink menu. The "Kios" cocktail is made with Scotch Whisky, Fig & Coffee and The Thebes is delightful and just the ticket for a warm day. The menu is cheeky with set menus called "Doing it Greek Style" and "Bend over box".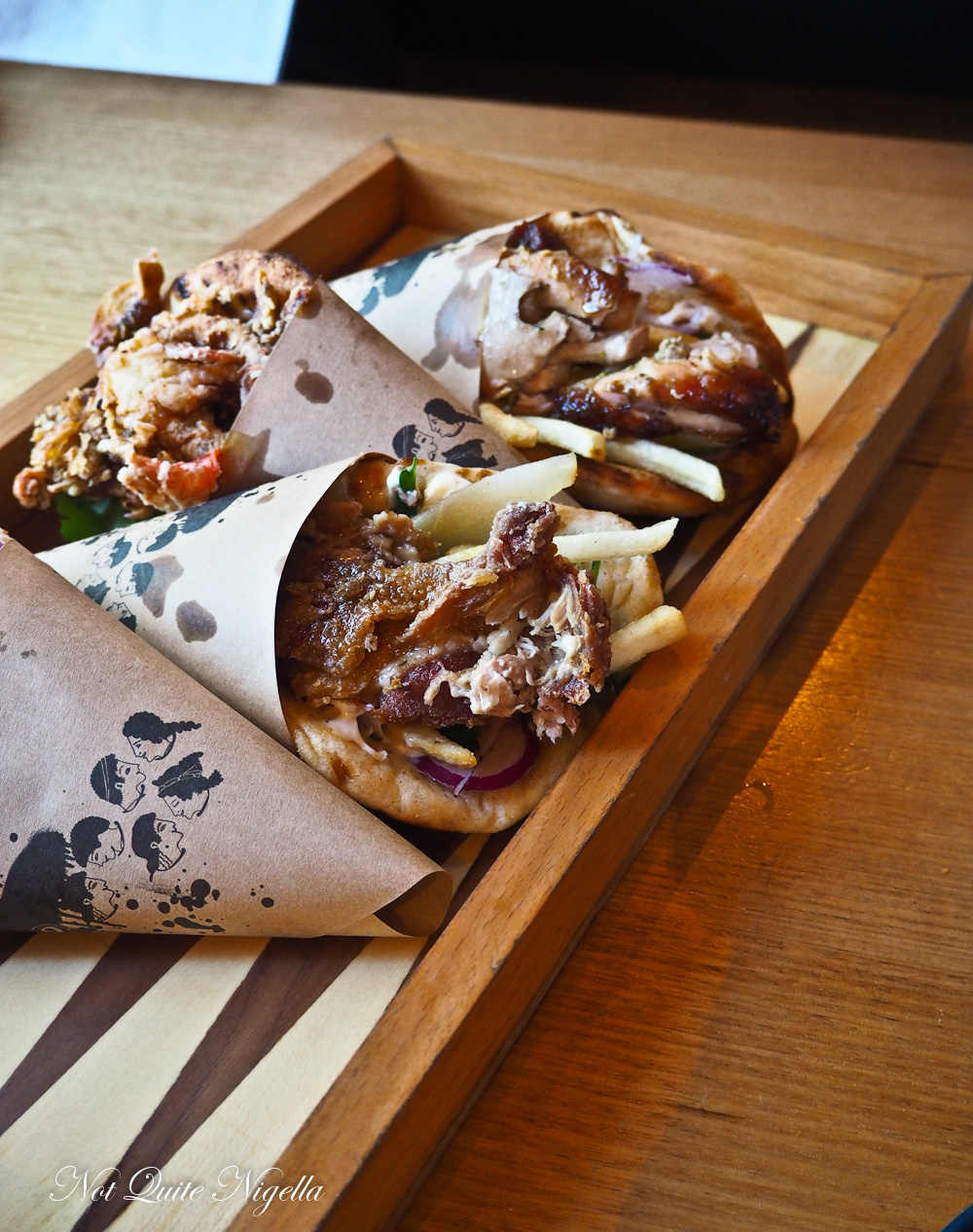 It is all pretty much a safe bet (and probably why even on a mid week day lunch it is completely full). The Garida or crispy kataifi pastry, tiger prawn, aleppo mayo, honey and smoked almonds is divine as is the saganaki cheese with figs and balsamic honey and any of the gryos. And lamb of course, you can't go past the lamb.
For the Blogger: Kong BBQ
Melbourne bloggers love Chin Chin as well as the new place Kong BBQ in Cremorne, Melbourne. It's pan Asian with treats like a range of soft foldover steamed buns. Simple things are done well like Korean style fried chicken with gochujang mayonnaise or other items are given a makeover like Kalbi beef short rib with pine nut ssamjang and daikon kimchi.
One item to try is the Kong Bossam BBQ tray with pulled chicken and pork, pork belly (and crackling), beef brisket slices. It comes with cos lettuce leaves, pickles, kimchi and walnut ssamjang. The pork belly and crackling melts in the mouth and the other flavours and textures are wrapped in a lettuce leaf and eaten for a crunchy, smoky bbq sensation.
And with that, I'll put my napkin and fork and knife down! That was a whole lot of food but then again, Melbourne is a whole lot of city.
So tell me Dear Reader, which place piqued your interest the most? Have you been to any of these places and what did you think of them? What do you think of the vegan offering? Would you eat it more if it were tasty?
These meals were all independently paid for.
Short Shop Donuts
12 Sutherland St, Melbourne VIC 3000
(no telephone)
https://www.short-stop.com.au/
Open 7 days from 7:30am-4:30pm
The Kettle Black
50 Albert Rd, South Melbourne VIC 3205
Phone:(03) 9088 0721
Monday to Friday 7:00 am – 4:00 pm
Weekends 8:00 am – 4:00 pm
http://thekettleblack.com.au/
Smith & Deli
111 Moor St, Fitzroy VIC 3065
Phone:(03) 9042 4117
Open Tuesday to Saturday 8am-7pm
Closed Sunday and Monday
Borsch, Vodka and Tears
173 Chapel St, Windsor VIC 3181
Phone:(03) 9530 2694
http://borschvodkaandtears.com/
Monday to Friday 8am-late
Weekends 9am-late
Gazi
2 Exhibition St, Melbourne VIC 3000
Phone:(03) 9207 7444
Open 7 days 11:30am-11pm
http://www.gazirestaurant.com.au/
Kong BBQ
599 Church St, Cremorne VIC 3121
Phone:(03) 9427 1307
OPen 7 days 11am-late
https://www.kongbbq.com.au/