A glimpse into one of the three Christmas events staged by three hand picked Grand Hyatt's around the world. The first event was held at the Grand Hyatt Melbourne followed by Berlin and New York. The Melbourne event celebrated Christmas Australian style with a little surprise or two thrown in.
It started with a smooth flight from Sydney to Melbourne. A chauffeur holding a Grand Hyatt sign greeted me, took my bags and opened the door for me. In the limo were cold towels, mints, jelly beans, a newspaper and two types of water. It was a quick 30 minute trip before we arrived at the Grand Hyatt. I had previously stayed at the Grand Hyatt Melbourne a few years ago. Mr NQN and I had loved it making full use of their fantastic club lounge for dinner and a view.
I am shown to my room for in room check in. My Grand suite king #2720 is a corner suite with expansive windows looking out to Melbourne's CBD. The waiting room is spacious with a large desk and three comfortable leather chairs, modular lounge and large flat screen television. There is also a visitor's bathroom. A glass orb containing meringues and crumbs resembles a forest scene inside a terrarium.
The bedroom is large and also has two enormous windows and a chaise lounge. The bed is dressed with Egyptian linen. To the right is a walk in closet-I always immediately think of Carrie Bradshaw and her shoes when I see one of these.
To the left is a large marble bathroom with June Jacobs amenities. There is a separate shower and spa bath and there is plenty of space in the bathroom. The amenities box includes a toothbrush, razor and loofah along with all the usual amenities.
But the view, oh to just gaze at the 180 degree view for a while. But I can't because before long there is a knock on the door. All guests of the Grand Hyatt can either opt to have their spa treatments in the spa or in their room. For me, as I've just checked in, I love the idea of having it in my room. My therapist Cherrie sets things up closing the curtains, dimming the lights and turning on classical music.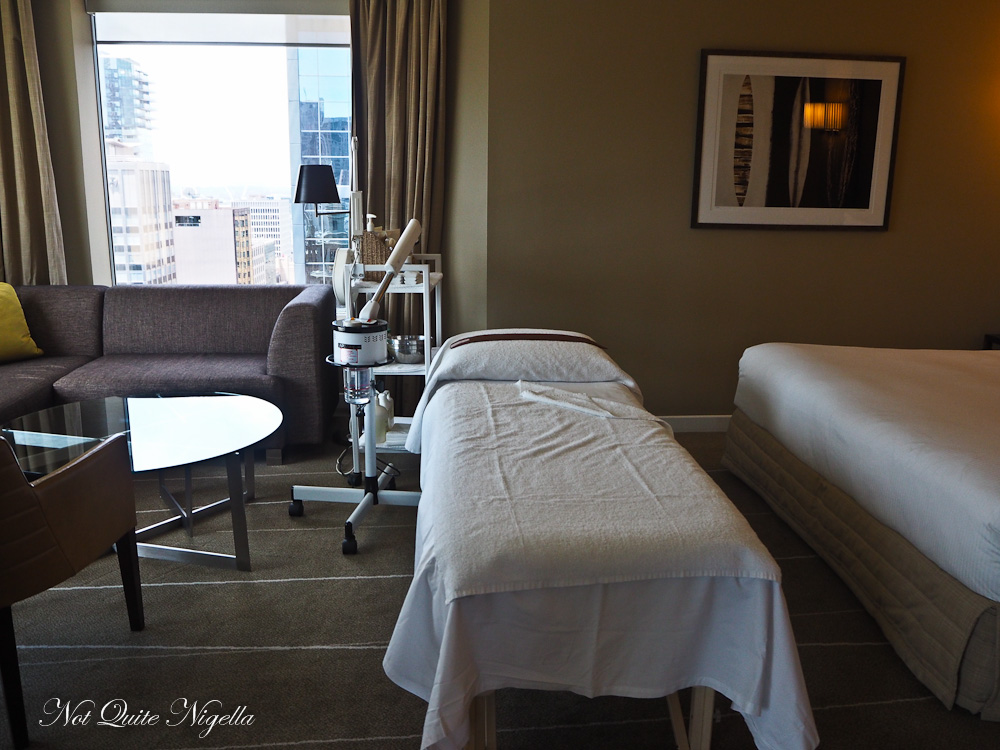 The signature facial uses June Jacobs products that are fortuitously food themed in cranberry and pumpkin. They are luxurious and Cherrie is gentle and deferential but when I ask her to go firm on the massage portion she follows instructions. At the end, there are three masks applied simultaneously and by the end, my skin that has been suffering the effects of quite frankly too much rich food and caaake! is glowing.
Tonight I am getting ready for a special Christmas celebration. There are three Grand Hyatts in the world that have been chosen for a very special event. Melbourne's Grand Hyatt is one of them along with Berlin and New York. Each Hyatt will present their very own version of a Christmas celebration with its own unique spin pertaining to the city itself.
I head downstairs to the Collins Street lobby where after some welcome champagne we are led to the event space called "The Residence". The atrium space is bedecked in a wooded wonderland scene with a woodland canopy with tens of glass terrariums with tea lights hanging.
The stunning scene by Styled by Nature causes everyone to ooh and ahh before taking out cameras to snap the scene quickly, as if it may change. They bring around Nasturtium macarons and oyster with ginger jelly, caviar and beer froth. The macarons are surprisingly salty while the oysters are surprisingly sweet, perhaps an indication that tonight's event is not what you would expect.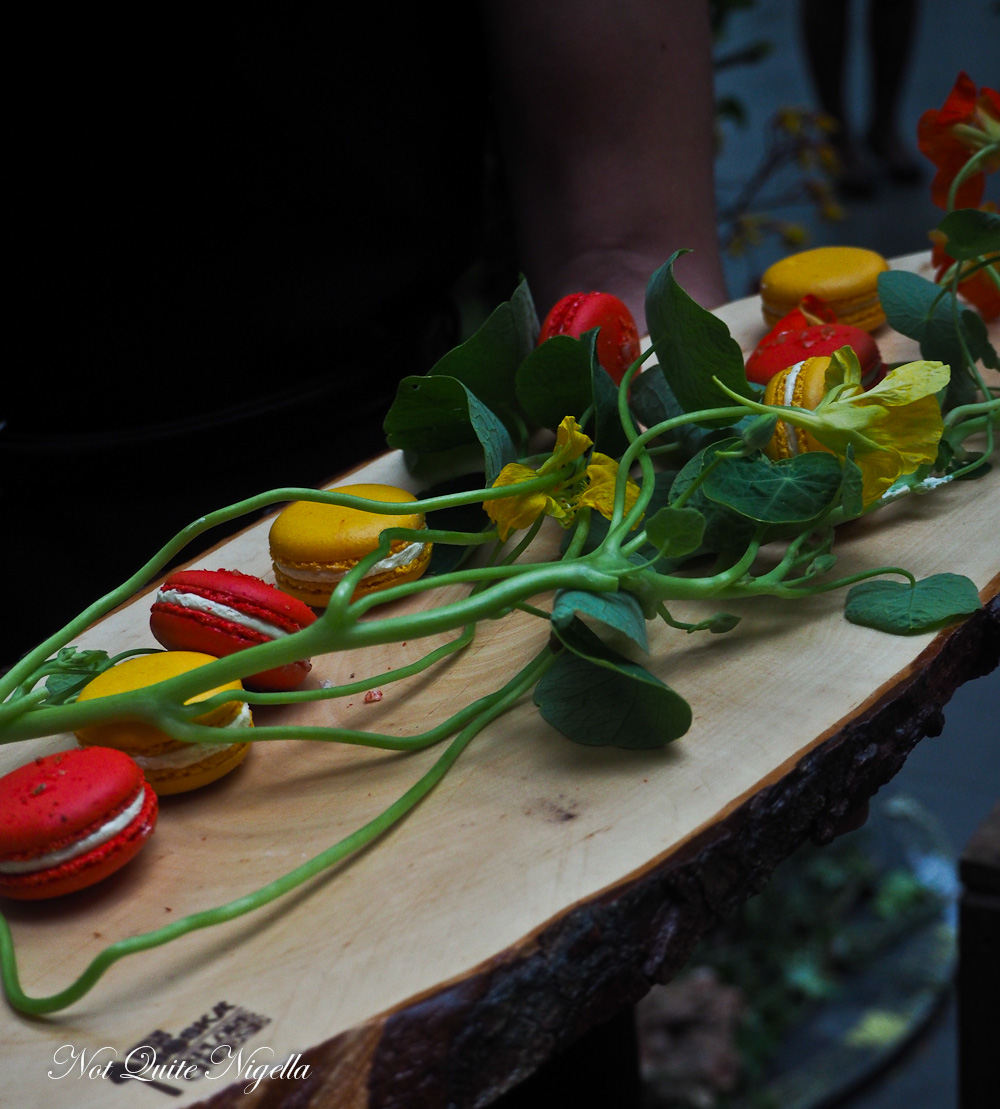 We take our seats under the lights and they bring out our first course. We look at the plate of three bon bons with curiosity. They explain that each bon bon contains a small morsel. The bon bons are already cut so we just slide apart the two halves. The first bon bon contains lobster encased in crispy potato slices with watercress and mayonnaise.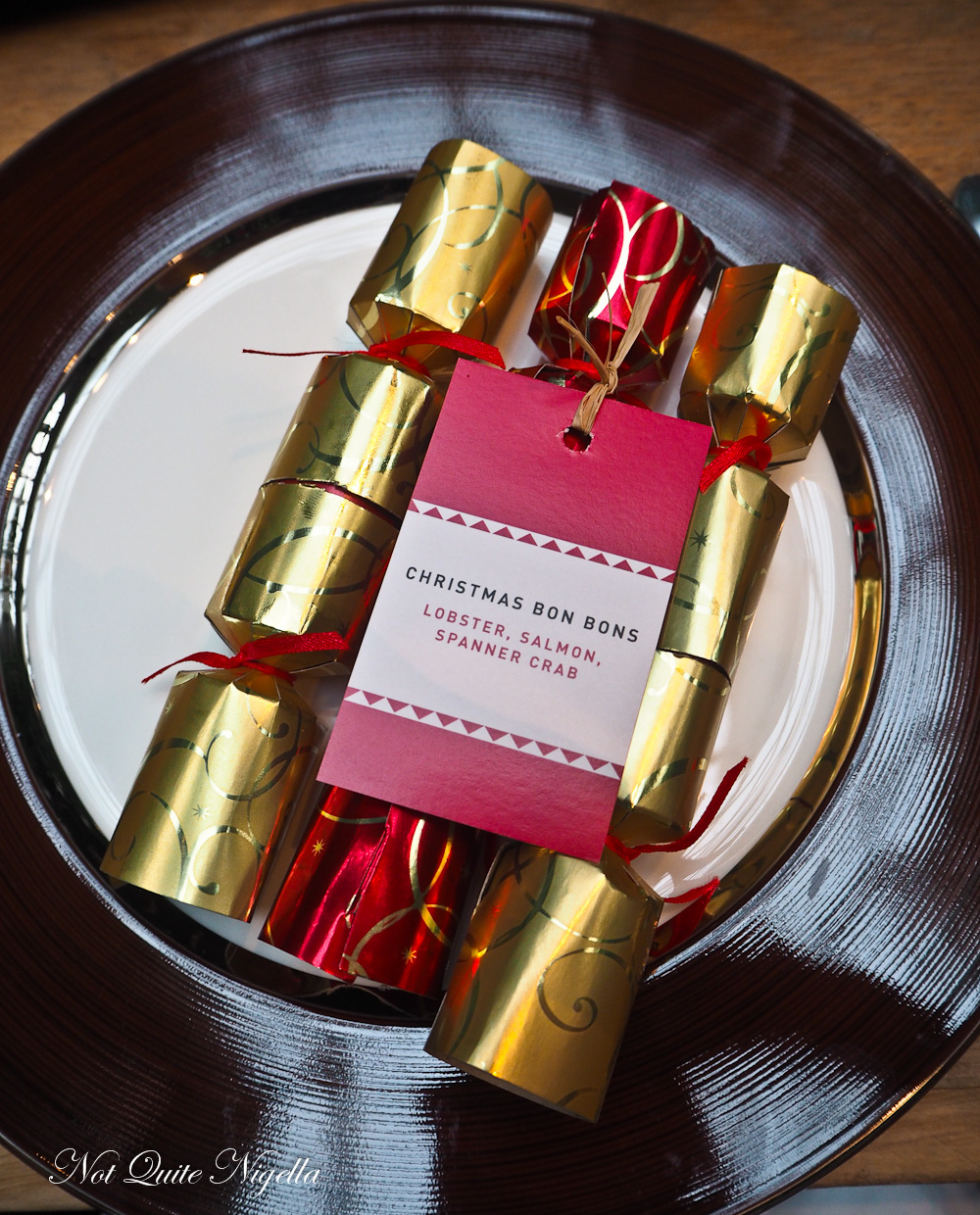 The second is a Tasmanian salmon tartare with lemon creme fraiche, sorrel and Yarra Valley salmon roe. The third is sous vide spanner crab, celeriac and apple leather. I like the different flavours and textures but the favourite of the three is the spanner crab with judiciously balanced flavours.
The next course is getting its final preparations by executive chef Jason Oven. He looks to be busy shovelling dirt into little terracotta pots but inside are actually an edible vegetable and herb garden. There are mini carrots, crispy onion, peas, potatoes and "dirt". And what exactly makes up dirt? It is dried potato with organic chicory root blended with almond meal with butter, sugar, salt. This is all baked with some squid ink for colour and resembles if doesn't taste like dirt. It's a fun way to present things and everyone loves the novelty of it all.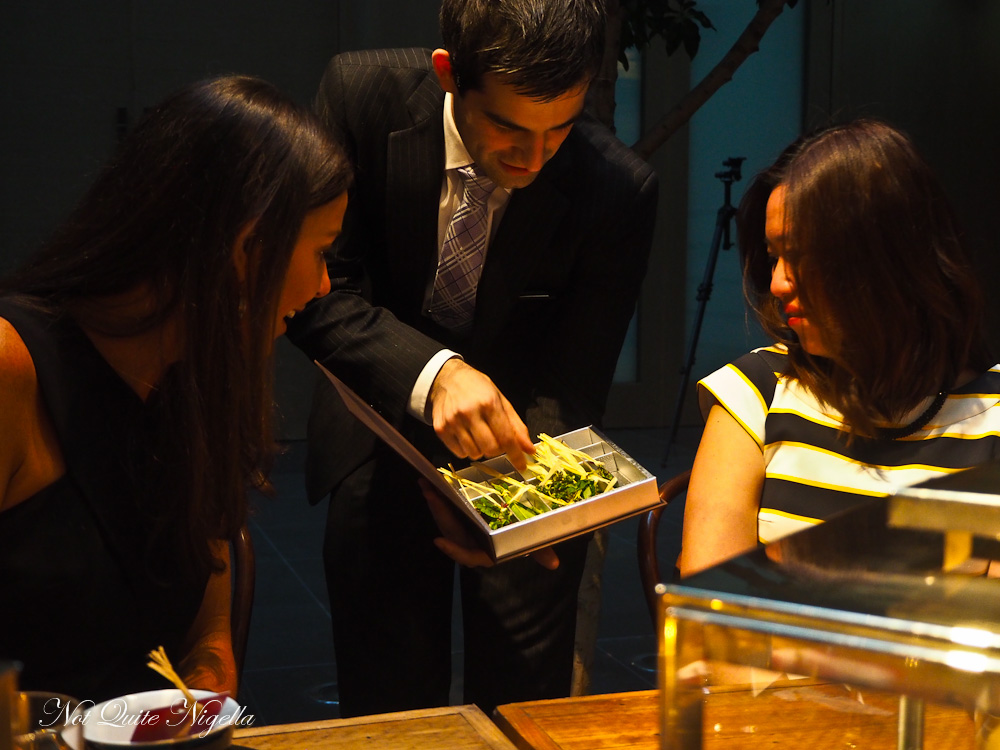 Our next savoury course comes out presented simultaneously to guests. It is a "Billy tea", a uniquely Australian item and chef Jason Ovens comes out wearing an akubra hat. The tea comes out in small hat boxes where they lift the ribbon and reveal a tea cup. We are to choose either beetroot or lemon thyme bundles and they place this in the cup and pour heirloom tomato tea over this. We have a choice of three "sugar cubes" and these are either darjeeling tea, citrus or black tea that inject a boost of flavour into the delicate tomato tea.
Our last savoury course involves the simultaneous lifting of glass cloches to reveal our main course. Called "Smokey Underglass" it is made up of Australian aged lamb saddle with a variety of purees including eggplant puree and smoked yogurt.
In the chocolate box above are a mixture of additions or condiments that you can add to customise the tender saddle of lamb. The lamb shoulder in the croquette is fantastic and I pair this with slices of chilli - heaven!!
We're all in the midst of chatting eagerly about tonight's meal when suddenly a guest says loudly "Stop it! Just stop it!!" while blinking in disbelief. Because behind us file in a large group of people all wearing masks and a conductor. The lights dim and the music starts up with the rousing sounds of Carl Orr's "O Fortuna". It's a spectacle indeed and a man dressed as a snow nymph dances past us while they build a crescendo. It's Melbourne Opera on a break in their nightly performance and they are serenading us. To many an open mouthed guest I must admit (myself included).
A door swings open and suddenly we glimpse a scene that looks like it is straight from the Cirque de Soleil. Dancers and acrobats are surrounded by swirling faux snow. It looks like a Winter Wonderland. They dance and contort to music. Singer Annabelle Eve sings "Enter the Circus" by Christina Aguilera to the crowd and you genuinely don't know where to look or who to look at as it's such a sight to behold. "Wow" is the oft quoted phrase during this time.
Some of the dancers re-enter carrying the glass terrariums on invisible string. They hang these up on Christmas trees and we are handed a bag with a pair of ornate scissors and we are to snip the dessert of our choice. I team up with the lovely MsIhua and Zeboy and Aaron and we all try one dessert. There is a mango bouche blanc, a mango mini bûche de Noël with pieces of mango. There is also a pavlova and a raspberry lamington with fresh raspberries and a mini strawberry and passionfruit pavlova.
But that's not all, head pastry chef Marius Cauvin is busy with the foam canisters. He squirts some foam into a bucket of liquid nitrogen and we end up with three ice cream flavours: a meringue, an orange and a licorice which they drizzle with Belvedere vodka. The licorice is fantastic, all brown sugar sweetness but we also love the refreshing element of the orange.
And that is not the end because they bring out a ball of chocolate upon which they pour some caramel to reveal chocolate truffles inside.
We end the evening by taking a Santa stocking from the wall and filling it from Santa's Candy bar. It's all a little surreal by the end. I go upstairs to my room and check the photos on my camera wondering if it was just a flight of fancy of my imagination.
So tell me Dear Reader, what was your favourite part of this event and which course did you think was the most impressive?
NQN attended as a guest of the Hyatt Grand
Grand Hyatt Melbourne ##
123 Collins Street, Melbourne VIC 3000
Tel: +61 (03) 9657 1234
http://www.melbourne.grand.hyatt.com/