"Honey don't take this the wrong way but that's the best looking kitchen of chefs I've ever seen" I whisper to Mr NQN. He laughs and says "If you think so, if you think so honey". Tonight seems to be a casting call for a chef drama show. It's Saturday night and at 8.30pm we have entered Attica, a restaurant featured in the Top 100 restaurants of the world (at number 73) and with two hats in the Age Good Food Guide from 2008-2010. Attica's New Zealand born chef Ben Shewry features in the "Coco" book where established chefs nominate up and coming chefs.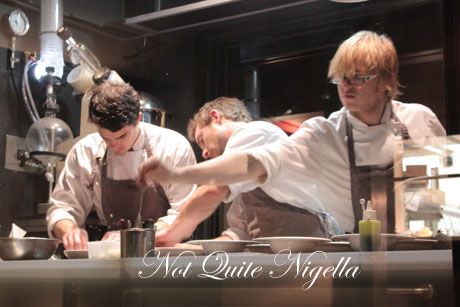 My flu has turned nasty and morphed into bronchitis and I am coughing . The restaurant manager Ainslie immediately offers me a hot lemon drink which I immediately and gratefully accept (after all there is tasting to do! ;) ). Luckily I haven't quite lost my sense of smell and taste and throughout the evening aromas waft past me.
We start with a sourdough and multigrain bread. It comes as a generous half roll of each with a whipped olive oil with black sea salt and a butter. The whipped olive oil with sea salt is voluptuously creamy and spreads like a soft jelly. It is whipped with a gelatin to keep its soft jelly-like texture and it is cold smoked to give it a light smokey flavour.
Amuse bouche: carrots
This pretty amuse bouche comprised of heirloom and Dutch carrots in yellow, orange and purple varieties that are compressed in their own juice. They're served with raw chestnuts with a Meredith blue goat's cheese and paper thin raw Dutch carrot slices. It's decorated with carrot leaves and it is served in a bed of sweet, thick carrot reduction which tastes like sweet, syrupy carrot juice.
Snow Crab
Peeking under the snow capped mountain...
I've seen this dish across the blogosphere and always wondered what lay beneath the snowy blanket exterior. With a cast of a thousand ingredients (ok I'm exaggerating) it was created as a tribute to Mount Taranaki in New Zealand to resemble the snow topped mountain. In it there is snow crab, verjus granita, trout roe, puffed rice, barberry seeds, char grilled leek ash, shaved witlof, freeze dried coconut and horseradish powder. I enter the mountain with my spoon and it's a textural delight. As I take each spoonful a new ingredient reveals itself to me and I find myself saying "Mmm there's the trout roe" and then "Yes I can taste the snow crab".  It's like each ingredient takes its turn lining up and introducing itself to our tastebuds. And I know how truly bizarre that sounds and how I could enter an Iron Chef Japan judging contest with a line like that but it's true.
Mr NQN chooses a Sorrenberg Sauvignon Blanc
Osmanthus & chrysanthemum broth, abalone, cuttlefish
The soup was poured over the non liquid elements at the table. It features cold smoked abalone, spicy fried cuttlefish and a subtle but lovely osmanthus flower and chrysanthemum broth. it's finished off with rice paddy herbs. It is delicate and an exercise in subtlety and we both adore it.
A simple dish of potato cooked in the earth it was grown
This dish comprised of a potato baked in earth much like a hangi. It sits on a bed with goat's curd, tiny shreds of yellowfin tuna, ground coffee, saltbush. It is topped with a generous shaving of earthy black truffle (now in season until August from Manjimup in Western Australia). The potato is slightly grainy and waxy and whilst it was certainly earthy, especially with the goat's cheese and truffle, it wasn't a dish that both of us particularly went for.
Bass groper, almonds, garlic
The bass groper is a fantastic dish full of lovely textures with oven roasted bass groper, toasted, chopped almonds, paper thin slices of lemon, garlic and a subtle infusion of chorizo. It is finished off with what else but rosemary flowers that they picked near the train station! The whole dish is simple but so effective and beautiful and reminds me of the food at The Royal Mail Hotel (down to the picking of the flowers).
Lamb, mushrooms roasted over wood, sauce of forbs
The cut of Wiltshire Horn lamb is a single piece of deboned lamb leg. It is served with slippery jack and pine mushrooms, pine nut and pine oil dressing, deep fried jeruselum artichokes, white cabbage flower. There are also deep fried labne cheese coated with red quinoa and a lamb jus. The deep fried labne balls with the quinoa are a revelation and I find that a bit taken with a portion of this is heavenly (although I could do with 1 more portion of the ball to meter out the portions correctly. The lamb is tender and the accompaniments well matched. I also met the end of my stomach during this course so I hand it over to Mr NQN. I was lucky enough to receive some more detailed notes from Ben.
"The lamb dish is built around the careful sourcing of Wiltshire Horn lamb rack and is an interplay of textures and tastes. The forbs puree forms a culinary bridge between animal and the land.
The Wiltshire Horn lamb is farmed in Murray Bridge, South Australia. It is 'export quality' and is usually exclusively exported to the United States. We have managed to source a supply of the rack cutlet, which is renowned for its tenderness and flavour. The lambs are reared on milk and grass for four to six months before being fed on grain for 60 days.
Once trimmed of excess fat the cutlet is roasted to medium and deboned. Mushrooms from Daylesford are smoked over hickory wood, mixed with roasted Jerusalem artichokes and brushed with a pine nut and pine oil dressing. Small balls made of shanklish (fresh sheep's milk cheese) and labne (hung yoghurt) are coated with toasted red quinoa (pron: keen-wah). Quinoa is grain from Central America, originally harvested by the Aztecs. Forbs is a broad term used to describe the clovers, flowers and grasses that grow in grass and form part of the diet of spring lambs. Avocado and macadamia nuts are added to the forbs puree. The dish is dressed with small yellow wild cabbage flowers and dark green cabbage leaves which are gathered near by."
When I come back from the bathroom Mr NQN is laughing to himself. Apparently while I was in the bathroom  my faux fur stole was sitting on the back of my seat. The waitress came by and did a triple take and thought that it was a furry creature that had somehow gotten into the restaurant! I laughed so hard imaging the scene that tears ran down my face. He had thought that her triple take when staring at my seat was that she thought that I had disappeared or shrunken. I resist the urge to scream out "Oh my god! Has anyone seen my badger?" ;)
Beef, seagrass, white cabbage
I only intended to try a little of this. It's oven roasted black Angus with white cabbage stem with prawn floss and seagrass and potato soaked in soy and miso and grains of paradise spice mix. The beef is tender but it's the matching of it it to the accompaniments that really has me excited. The white cabbage stem is slightly crunchy and the so and miso soaked potatoes are fantastic and the grains of paradise are nutty and brings it all together. It's also perfectly seasoned. Mr NQN orders a glass of  Jamsheed Syrah 2007 - Great western, Victoria which is created by biodynamic farmer Tamara Irish.
The laboratory evaporator on the left
In the open pastry kitchen, we spy a  laboratory evaporator which we enquire about. Around this time they start preparing desserts in a bit of theatre for the other patrons.
Terroir
Terroir is a wine making term which means earth and this dish looks fabulously earthy with its vivid purple and dark shades and petite sour clover leaves and sorrel ice. It's a rather fancy alternative to a palate cleansing course and underneath the mound of frozen and dried raspberries there is yogurt sorbet, golden kiwifruit cubes, avocado and vanilla jelly cubes, brewer's malt and crumbled beetroot and almond cake. Like the snow crab, it's full of wonderful textures and is not too sweet with the tartness from the berries and yogurt sorbet and an earthiness from the beetroot with a slight creaminess from the yogurt.
Notes from the kitchen: "This dish is specifically a homage to Ben's father, who worked the land for many years with little thanks. It is a dish designed to look like a pile of red soil and again, marries texture, earthiness, sour and sweet. The name terroir, is borrowed from the French wine-making term, which translates as 'expression of the earth', and refers to how all the elements surrounding a vineyard come together to make good wine. In effect, this dish is Ben's 'expression of the earth'; an expression of raw ingredients and respect for the land and its produce.
Cake made with beetroot and almond is grated and added to crumbled raspberries. Throughout the mix are various spices (including pepper and four-spice) and brewer's malt. A raw dice of golden kiwi fruit sits on the bottom of the plate with an avocado and vanilla jelly that is set with agar-agar, rather than gelatine. A green sorrel ice sits on top, along with some locally picked sorrel leaves. Underneath is an organic yoghurt sorbet."
Apple, olive, warm shredded wheat
Our last course is the dessert course with finely grated pink lady apples and apple skin ribbons topped with a blanket of molasses and olive custard with warm cinnamon shredded wheat on top which resembles more a fine brown sugar crumble topping in looks. I know the sound of apple skin doesn't sound particularly appealing and the idea of molasses and olive custard may sound like the stuff that someone rather eccentric would make up but they are fantastic together. The apple skins and celery are fine enough so that they aren't too hard and crisp. The shredded wheat (which is made up of candied oats and ground hazelnuts and almonds), custard and apples work to make an apple crumble of sorts. The better sort really.
Notes from the kitchen: "New season pink lady apples are compressed and raw and dressed with a distillation of granny smith apple. A custard is made and a small amount of olive and molasses is added to the mixture. Some raw and finely julienned celery sits on top of this. Dehydrated Braeburn apple is grated on top.  The dish is then taken to the table and topped with 'warm shredded wheat'.  The 'wheat' is made with a brown butter powder that contains candied oats and ground hazelnuts. This 'wheat' is gluten free."
We end off each with a cube of divinely rich chocolate fudge topped with black salt.
"What did you think of that meal?" I asked Mr NQN.
"Bloody good" he replied. "Bloody good" patting his tummy.
So tell me Dear Reader, do you like open kitchens where you can watch the action taking place?
NQN and Mr NQN travelled to and dined at Attica as guests of Tourism Victoria.
Attica
74 Glen Eira Rd, Ripponlea Victoria
Tel: +61 (03) 9530 0111
www.attica.com.au